1. Overview of Yogyakarta
Jogjakarta is one of the tourist cities in Indonesia besides Bali. This city is always visited by local and foreign tourists during holidays. Yogyakarta has many attractive tourist objects. Jogja tourism is famous for nature, culture, shopping, history, and culinary tourism. You will need a long time to explore Jogja.
Then, you can search for the most popular tourist attractions in Jogjakarta by looking at our reviews. Therefore, you must make a note of a wide selection of attractive tourist destinations to make your vacation even more exciting. Several popular Yogyakarta tourist attractions such as Borobudur Temple, Prambanan Temple, Malioboro Street, and Puri Taman Sari. However, besides that, there are many other destinations that we recommend to visit with family. The following is a list of the most popular tourist attractions in Jogja that you must visit. Hopefully, our review below can be a guide for your tour. Welcome to our review!
Borobudur temple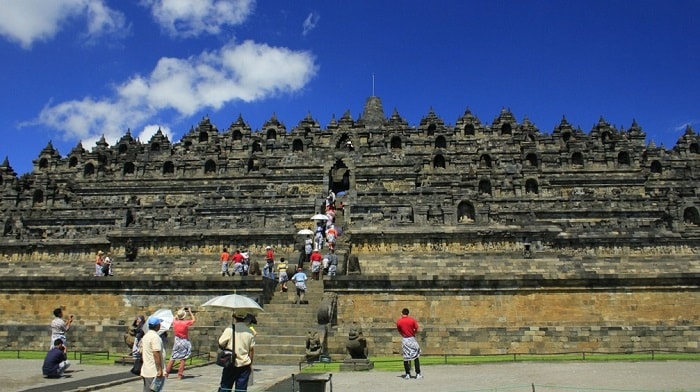 The tourist object of Borobudur Temple is already very famous in the world. This temple is included in the UNESCO World Heritage list. This temple is the largest and most complete Buddhist temple in the world. Viewed from above, the shape of the Borobudur Temple resembles a lotus flower. If you come to this place, it looks very beautiful, especially at sunrise or sunset.
Borobudur Temple is actually included in the Magelang area, Central Java. However, tourists who vacation in Jogja often include the Borobudur temple as a place to visit. That's why we have included this tourist object in the list of tourist attractions in Jogja.
Borobudur is Located about 40 km northwest of Yogyakarta. This temple is one of the main holiday destinations, both domestic and foreign. This temple has a very large area and is surrounded by a green garden. However, if you are tired of walking, you can use a tour car to go to the temple which is located in the middle of the area. Hopefully, this tourist object can make you and your family more cheerful.
Prambanan temple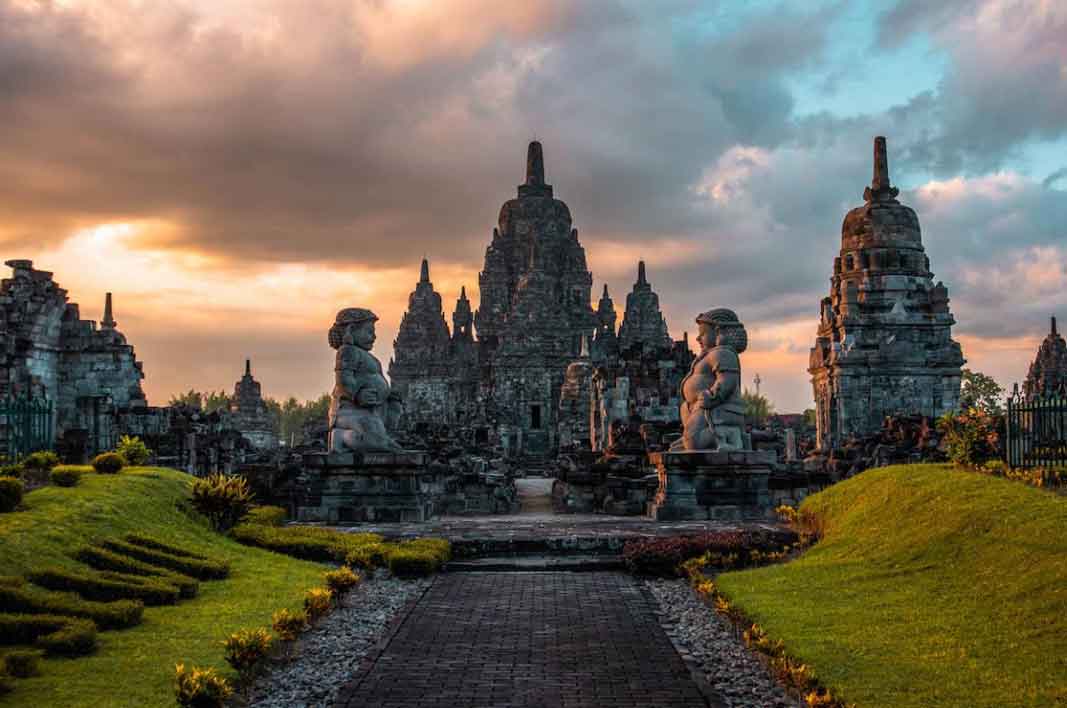 This tourist object is located about 17 Km from the center of Yogyakarta city. Prambanan Temple is the largest Hindu temple in Indonesia. This temple has reliefs that tell stories about Ramayana and Krishnayana. In this temple also the performance of Rama Shinta was held. On normal days the show is held indoors. However, on a full moon night, the show is almost always held in an open space. With Prambanan Temple acting as a backdrop providing a beautiful view.
Because it is located not too far from the city center, it is not difficult to reach this temple. Public transportation is also available to this place for those of you who do not bring private vehicles. This place is never less interesting than other new tourist spots in Jogja that keep popping up. Relics in the form of stone inscriptions for making canti are still scattered around the location. Then, the position of the temple is located around the white sand garden. Thus, the location of the temple looks more beautiful and enchanting.
Indrayanti Beach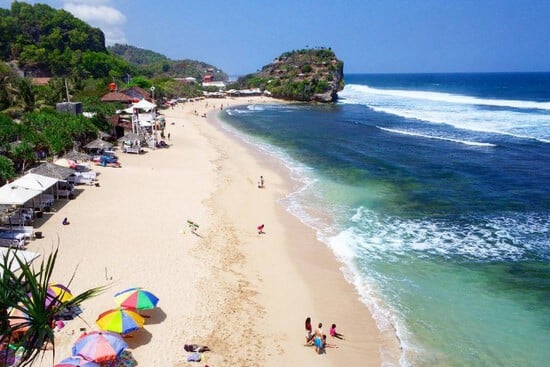 Indrayanti Beach is one of the beach's popular tourist destinations in Jogja which is now quite popular. With stretches of clean white sand typical of the south coast, beautiful scenery, and quite complete facilities, this beach has become a tourist destination. In addition, the location is not far from other popular beaches. For example, Krakal Beach, Sundak Beach, or single Pok Beach. So, you can simultaneously visit various other tourist attractions that are not far away. In this place, delicious and delicious Jogjakarta specialties are also available. You can buy it in the beach area. Then, there are also beach umbrellas, so you don't get sunburned. Have a nice holiday with your family, and have fun.
Nglambor Beach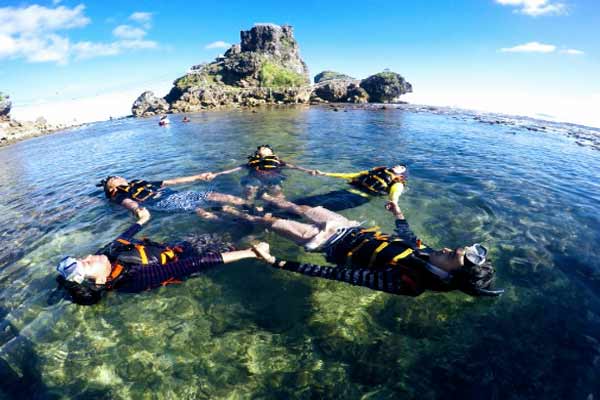 This tourist object in Yogya there is a beach that can be used for snorkeling and diving. This activity is located on Nglambor Beach. Unlike other southern beaches, here there is a lagoon with fairly calm water. Besides that, you can enjoy the richness of nature while snorkeling. Apart from that, there are also various unique and fun spots for taking pictures. In this place, you can also cross to a small island using a rope bridge, while testing your guts! Therefore, you must visit this Jogja tourist destination.
Malioboro Street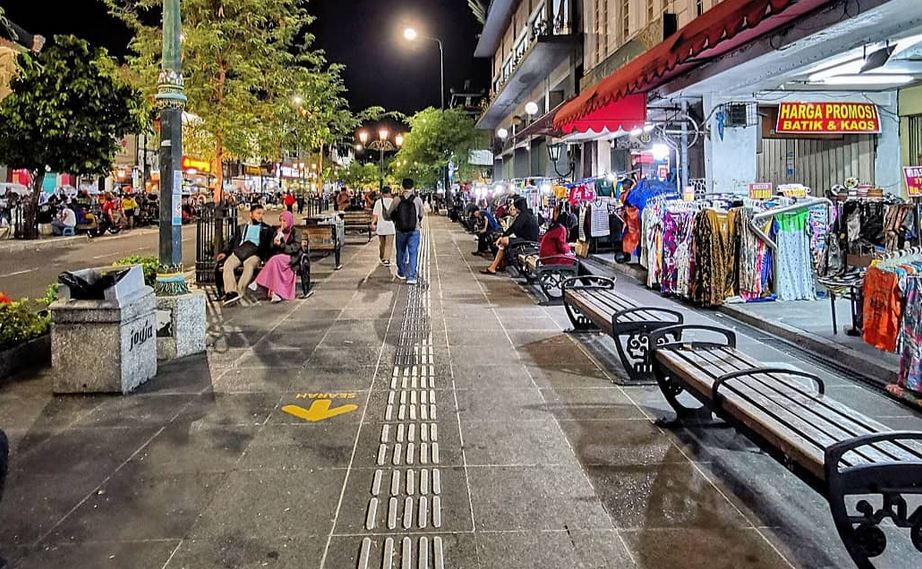 The most enjoyable tour is walking around the city while shopping. In Jogja there is one place, Jalan Malioboro. Along this street, there are shops and street vendors selling all kinds of goods, from clothing, handicrafts to food. One of the things that is unique about Malioboro is the Lesehan food vendors. You can enjoy typical Jogja food along this road. Lesehan is where you eat while sitting on the floor.
This Lesehan food seller will hold their Lesehan after 5 pm. Jalan Malioboro will be more crowded at night because in several places there will be several groups of street musicians who will entertain visitors with their songs. Apart from that, at night you can also see several people wearing various costumes who are willing to be photographed for free. Jalan Malioboro is always interesting to visit. The atmosphere of this street is indeed unique. So for those of you who are looking for Jogja tours at night, you can take a leisurely walk here. Enjoy your holiday in Jogj
Vredeburg Fort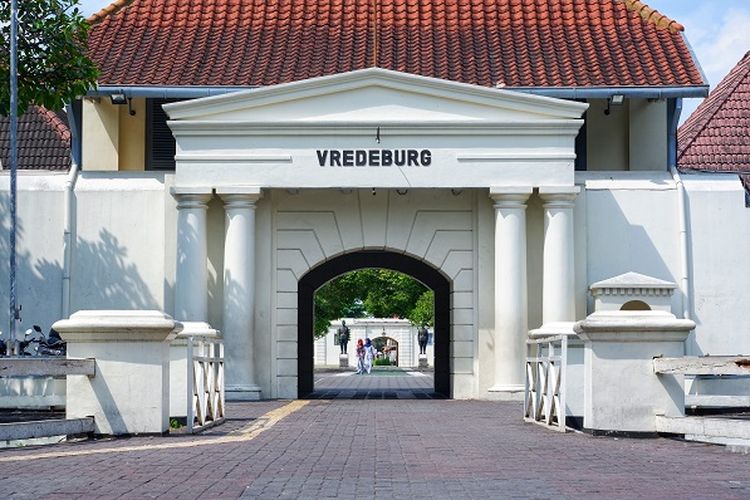 One more tourist spot in Jogja near Malioboro. If you visit this place then you will find Vredeburg Fort. This fort is also located on Malioboro Street, in front of Gedung Agung to be exact. The fort, which has now become a museum containing dioramas about Indonesian history, is perfect for those of you who want to gain insight into Indonesian history.
At certain times the fort is also used as a venue for several cultural festivals. If you just want to just relax while enjoying the atmosphere in this Dutch fort, then visit the cafe that serves Dutch specialties inside the fort, called Indische Koffie. That way, you can enjoy your vacation in Jogjakarta.
Ullen Sentalu Museum
The Ullen Sentalu Museum is located at Boyong Street Km 25 West Kaliurang, Sleman, Yogyakarta. This Sleman tourist spot was built over an area of ​​1.2 hectares with temperatures around 15-20 degrees Celsius. The architecture of this museum is very unique, the entrance to the museum itself consists of steps, turns, and labyrinths that lead to one of the exhibition halls which is underground.
The Ullen Sentalu Museum contains collections on the history and culture of the Mataram Kingdom which was the forerunner of the Yogyakarta and Solo Kingdoms. Visiting Ullen Sentalu will add to your insight into the history of Javanese culture. The guide at this museum will give a detailed explanation of all the art objects in this museum. The Ullen Sentalu Museum has very strict rules.
Visitors are not allowed to take photos of all the objects on display in this museum during the tour. It's very unfortunate indeed, but one added value of this rule is that you will really focus on listening to the guide's explanation, enjoying and appreciating the art objects in this museum. The Ullen Sentalu Museum deserves to be visited as an educational and cultural tourism destination.
Yogyakarta Palace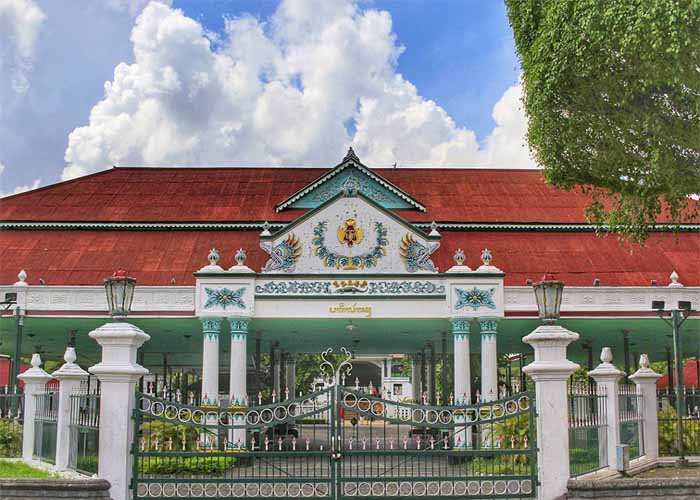 The Yogyakarta Palace is one of the tourist destinations that you must visit when on vacation in Jogja. Your vacation isn't complete if you haven't come to the Jogja Palace. This place is a favorite place for local and foreign tourists. In this place, you will be treated to the architecture of the Jogja Palace buildings and can learn the history of the founding of the Jogja Palace.
Even though the Yogyakarta sultanate officially became part of the Republic of Indonesia in 1950, the palace building complex is still the residence of the sultan and his royal household still carries out all royal traditions to this day. Part of the palace complex is a museum that houses various imperial collections such as replicas of palace heirlooms, gifts given by European kings in ancient times, gamelan, and various relics of the previous kings of Jogja from Sri Sultan Hamengku Buwono 1 to 10. Then, in terms of the Yogyakarta Palace building, it is one of the best examples of Javanese palace architecture, which has a luxurious hall and spacious pavilion. Welcome to Yogyakarta.
Yogyakarta museum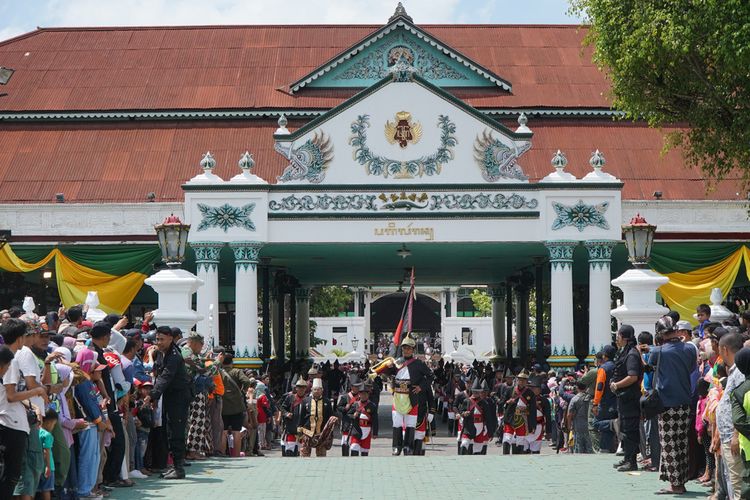 One of the other cultural attractions in Yogyakarta is the Yogyakarta Museum. This place is one of the historical buildings of the Yogyakarta sultanate which was occupied by the Sultan and the Sultan's family. In this place, there is also exhibits of items from the Yogyakarta sultanate, from household items to unique items, some of which were gifts from European kings.
The best time to visit the palace is in the morning because this place is only open until 2 pm. If you are interested, you can also hire a guide that has been provided by the palace to explain the architecture and history of the palace at a price that is not so expensive. Welcome to the city of Yogyakarta
Mount Merapi museum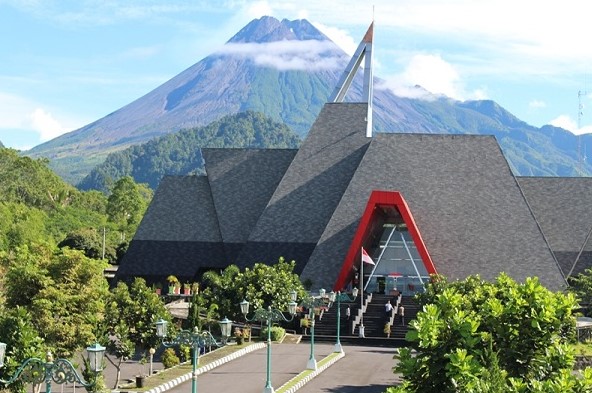 This tourist object is located in Kaliurang. This place is in the mountains and is a must-visit. The Mount Merapi Museum was inaugurated in 2009 and is located about 5 Km from Kaliurang. This museum is a means of education and information about volcanoes and other geological disasters. In this place, works of art are also exhibited depicting the fairy tale of the origin of Mount Merapi until the eruption occurred. To get to this place you have to take a vehicle to the mountain.
Parangtritis beach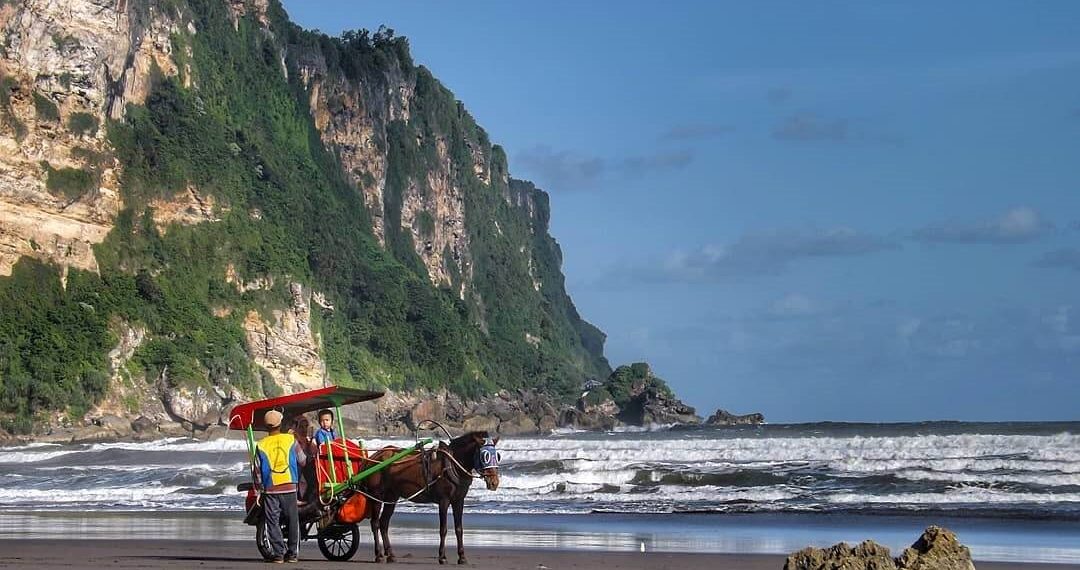 The tourist attraction Parangtritis Beach is the most famous beach in Yogyakarta, which is why this beach is always crowded with visitors. This beach has quite big and strong waves. In this place, you can also try paragliding on Parangdong Hill. Parangtritis Beach has located 25 Km from the center of Yogyakarta city. However, this place is still one of the visitors' favorites and is not inferior to the various newest Jogja tourist attractions that are now popping up.
This place is one of the southern beaches of Jogja which offers a variety of complete and cheap facilities. To enter it is only subject to an entrance fee of Rp. 10,000, as well as a parking fee for a motorcycle of Rp. 3,000 or a car of Rp. 10,000. Well, you are interested in going to this one tourist spot. Happy holidays.
Tumpeng Menoreh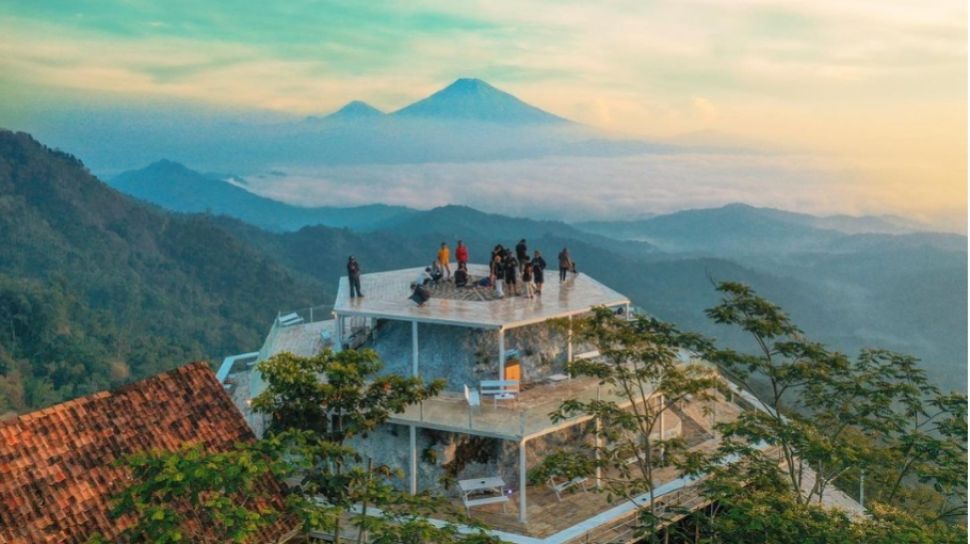 If you want to enjoy culinary delights in Yogyakarta, you can choose a culinary tour that is fully open 24 hours a day, and this place is in the Menoreh Hill area. This Menoreh Tumpeng culinary tour has beautiful natural scenery with cool air away from cities.
This hexagon-shaped tourist attraction was founded by band vocalist Endang Soekamti and was named "Tumpeng" as a philosophy of prayers. If you visit it when the weather is clear, you will have the opportunity to see views of Mount Sumbing, Mount Merapi, Mount Sindoro, and Borobudur Temple.
Kaliurang Tourism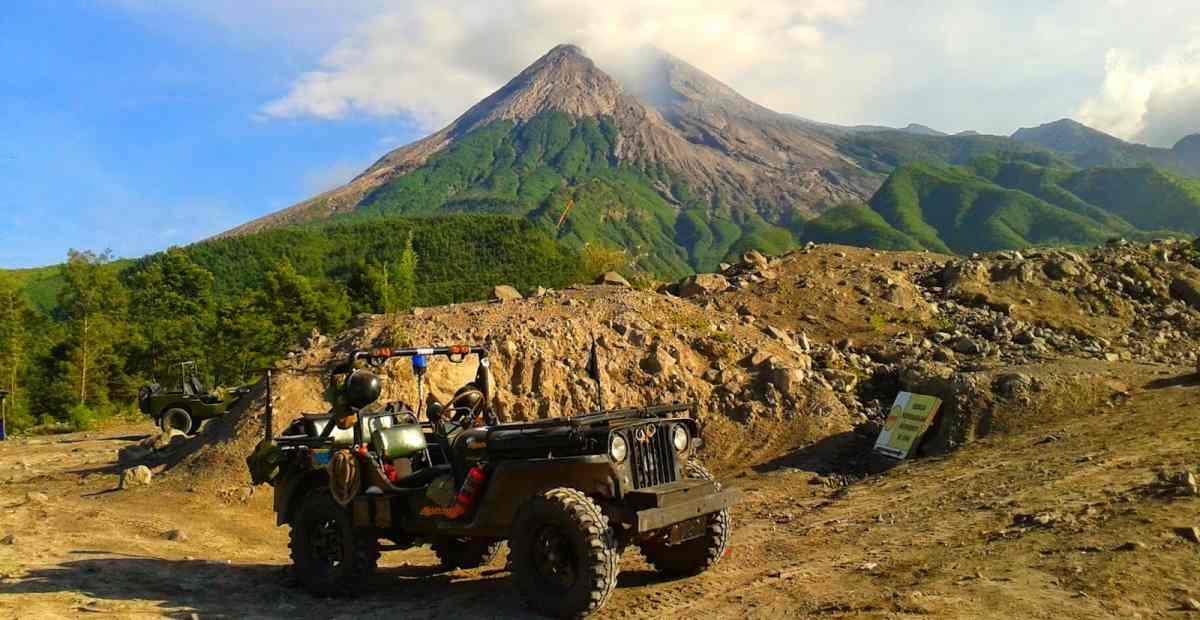 This one beautiful tourist attraction is indeed amazing. The Kaliurang tourist attraction is located in the highlands not far from the center of Jogja. With the cold air, being at the foot of Mount Merapi, and the unique beauty of the mountains, it's only natural that Kaliurang tourism is one of the favorites in Yogyakarta. In this place, you can see the eruption site of Mount Merapi by riding a mobile Jeep. In addition, you can see relics of objects that are still left due to the eruption of Mount Merapi and also villages buried in the ashes of Mount Merapi. However, to get to this location you have to spend money to charter a mobile Jeep for 500,000 IDR. Happy holidays in Yogyakarta.
2. Conclusion
The city of Jogjakarta is an amazing Tourist Place located in Java that you must visit. Apart from that, there are still many things that we can still explore in Jogja. So you don't have to just go to fancy places because you can enjoy other tourist attractions like our review above. Hopefully, this article can help those of you who want to take a vacation to the city of Jogja. Happy holidays!