Indonesia is rich in cultures, wonders, ethnicities, and cuisine. Over 1.300 ethnic groups in Indonesia have different languages, traditional costume and cuisine as well. However, the diversity of Indonesian culture made this country have a variety of cuisine and recipes.
Indonesia has around 5,350 traditional recipes, with 30 of them considered the most important. Indonesia's cuisine may include rice, noodle, and soup dishes in modest local eateries to street-side snacks and top-dollar plates. So if you are planning to travel in Indonesia, here are the top 5 authentic Indonesian dishes that you must try!
1. Rendang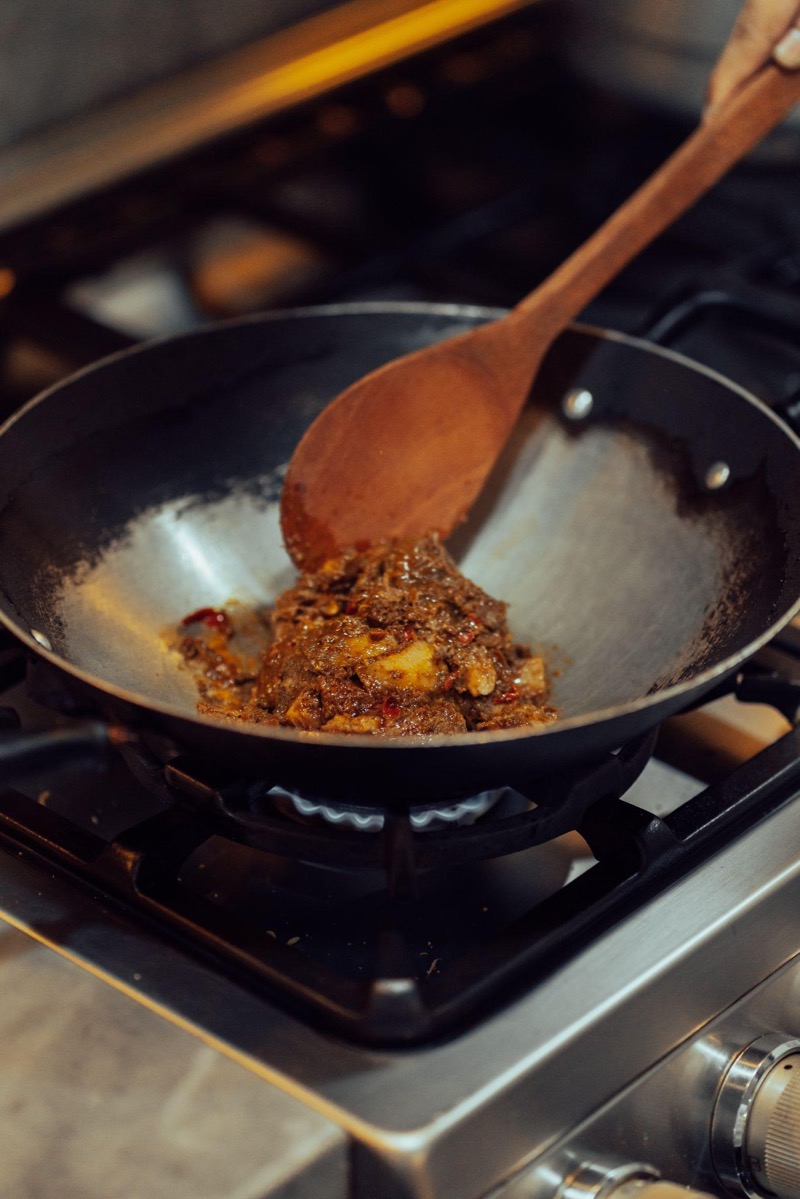 This dish comes from Padang (Minangkabau), West Sumatera.  Rich and spicy buffalo meat or beef dish, which is also the signature dish of Minangkabau culture. Rendang was made out of buffalo meat and was only served on special occasions or traditional ceremonies. In the past, Rendang was considered a sacred dish. Actually, Rendang is not a name for a dish. It is basically a philosophical term or process that refers to how to make beef tender, dry, and flavorful. It will take about 7 to 8 hours to cook rendang but it is worth the effort. Did you know that Internationally‐renowned chef Gordon Ramsay was challenged by William Wongso to cook rendang on one of his episodes Gordon Ramsay: Uncharted.
2. Nasi Goreng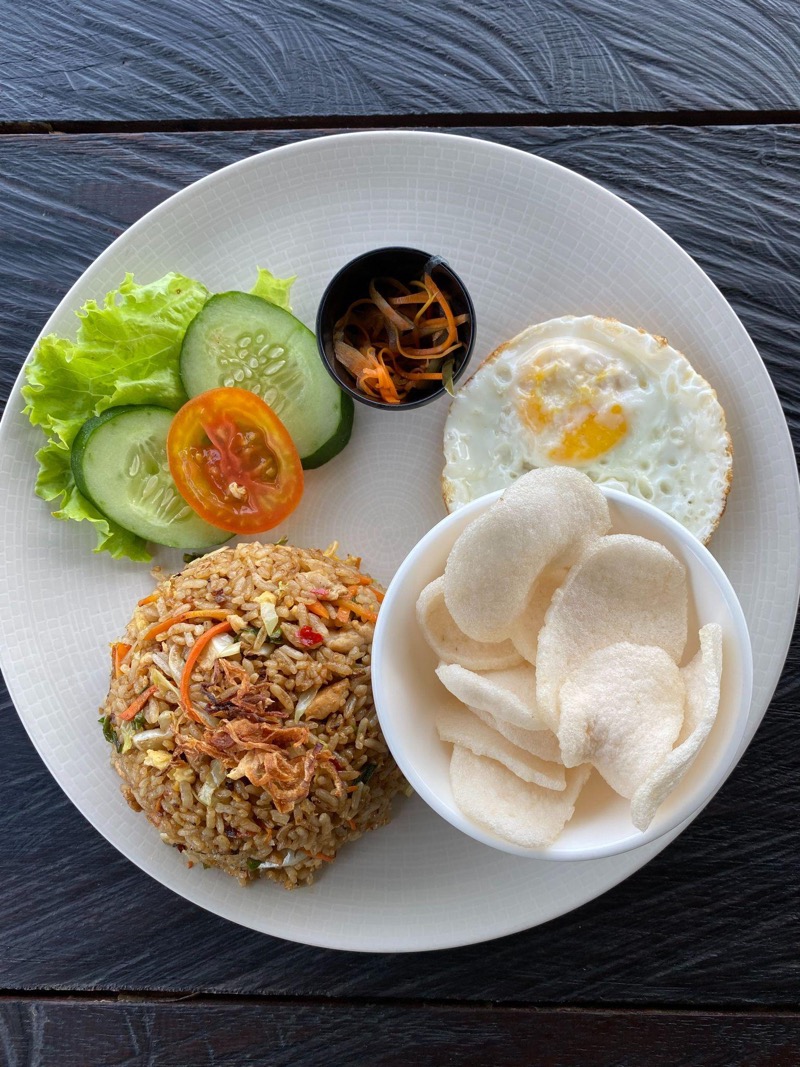 Another dish that you should try is Nasi Goreng or Fried Rice. It is one of the National dishes of Indonesia. The tradition of frying rice has come from Chinese culture. Adopted from the Chinese tradition to not waste food. Nasi Goreng is made from the leftover rice from the previous day and is usually eaten for breakfast. Since then, Nasi Goreng was created. The ingredients to make Nasi Goreng are easy, you need to prepare the rice, oil, garlic, shallot, and chilli. Also, don't forget to put sweet soy sauce in it to make the taste so scrumptious and distinguished from the other varieties of Nasi Goreng. Usually, it will be served with a sunny side up, mixed in the rice, or fried egg on the side. Yummy!!!
3. Sate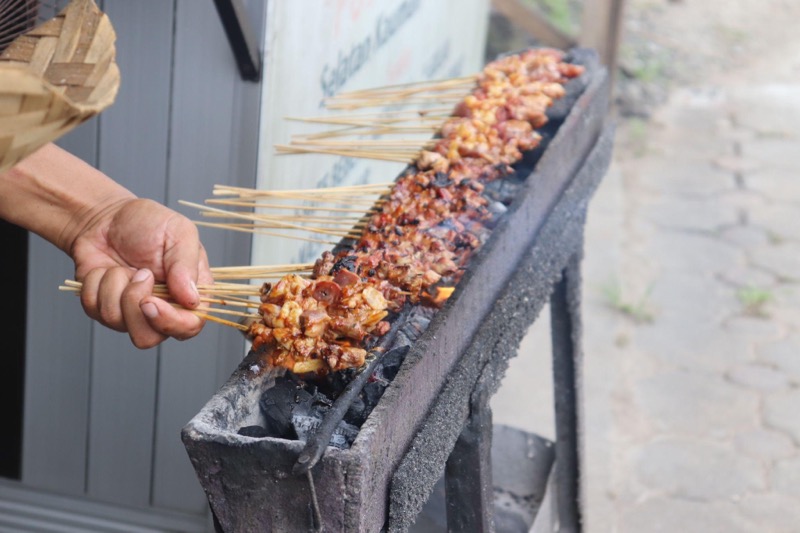 As one of the National Foods, Sate or Satay is easily found sold by a local vendor on the street to the upper class restaurant and hotel. This Chicken Satay is made of chicken chunks that have been marinated in soy sauce and spices then grilled. It will be served with delicious peanut sauce on top and steam rice (lontong) on the side. However, there are so many other options of Satay such as Lamb Satay (Sate Kambing), Pork Satay (Sate Babi), Padang Satay (Sate Padang). It is  a must try food when you are travelling here.
4. Gado-gado
Gado-gado is known from Jakarta (Betawi). The word Gado-gado means a mix of many things. And the word Gado itself means to snack. It is an Indonesian mixed salad that consists of boiled vegetables, tempeh, tofu, boiled egg, and boiled potatoes and then mixed with yummy peanut sauce. Addition to the dish are crackers and fried shallots. The dish is a true representative of Indonesian street food, and it has been present in Indonesian culture since the 16th century. This dish is also easy to find and sold by a local vendor on the street, restaurant or hotel as well.
5. Soto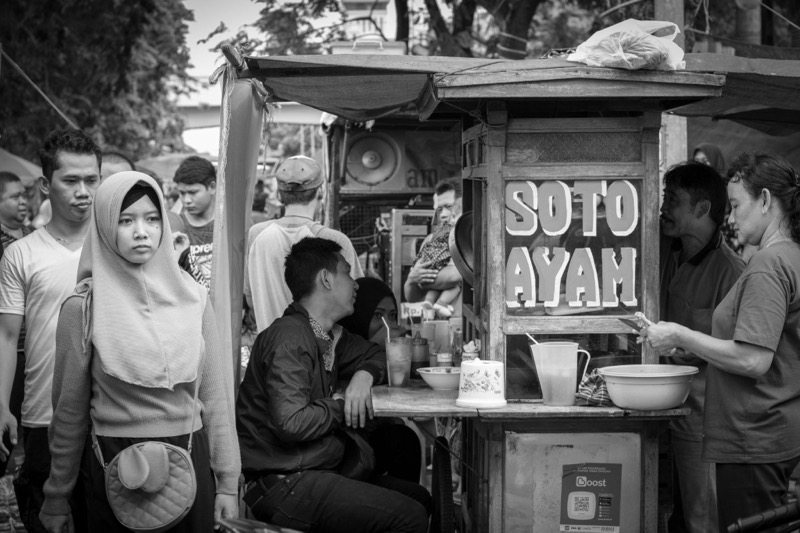 Soto is usually referred to as a traditional Indonesian soup. It can be prepared with chicken (ayam) or beef (daging). Soto Ayam (Chicken Soup) is a soup in a yellowish spicy broth that contains rice vermicelli, shredded chicken, vegetables, and fried potato. It's served with rice, half boiled egg, fried shallot on top and lime on the side. If you like it spicy, you can add sambal but make  sure not to add too much. Soto Ayam is also known as a comfort food in Indonesia yet if you catch a cold this is a recommended dish for you. Soto Ayam is easily found sold by a local vendor on the street, restaurants and hotels as well.
That's top 5 authentic Indonesian dishes that you must try when you're in Indonesia. There's one more interesting food that you can't miss while you're travelling to Indonesia. Check this out!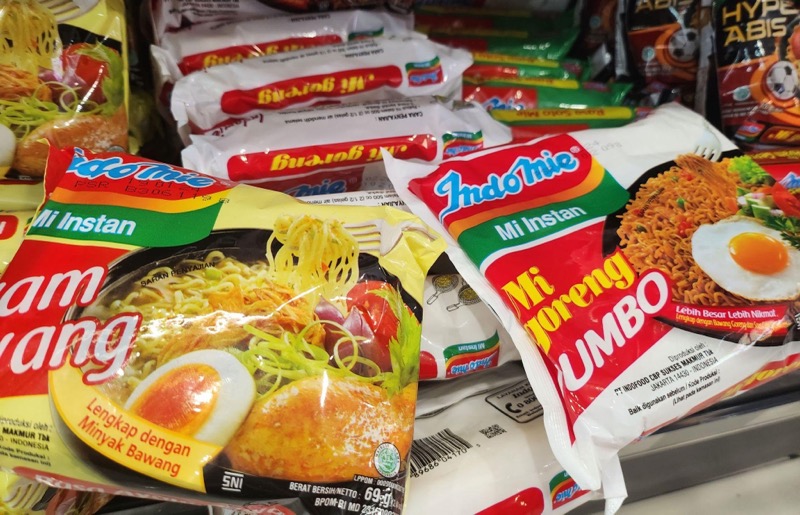 The famous instant noodle brand in Indonesia is Indomie. Indomie comes in many varieties from the classic soup flavours such as Chicken, Vegetable, and Chicken Curry, to the most popular flavour Indomie Mie Goreng. Indonesians typically eat Indomie for breakfast, lunch, and dinner or just for midnight snack. Not only does it taste heavenly, Indomie is also a must try food if you're in Indonesia. You can buy it in supermarkets, and small grocery shops (warung) on the street. Add some vegetables, egg (fried/boiled), meatballs and sausage to make your Indomie even more delicious! Which flavour of Indomie have you tried?
With its diverse culture and history, Indonesia is an amazing country to visit, and you will find some amazing food all along the way, so what are you waiting for?