Foodntravelling.com – The summer has come and offer us the warmth and cheerful clear sky that means it's a perfect time to travel! If you are going to travel to Europe, Istanbul must be on your list! Istanbul the capital city of Turkey is offered wonderful attractions, historical destinations, cool shops, and for sure excellent food. Let's say the famous world destination for such the Sultan Ahmet Camii in Local name or often said as the Blue mosque. You will adore the Medieval architecture style in the blue mosque. Exploring Istanbul city without trying the local food feels invalid.
In this writing, we will introduce you to the amazing Turkish Breakfast that will satisfy your taste bud. If you are a fan of the egg dish, then you can try the bubbling hot and wonderful Turkish egg dish. Get ready to start the Istanbul food tour with an amazing Menemen Turkish breakfast, let's dig in!
Menemen with pide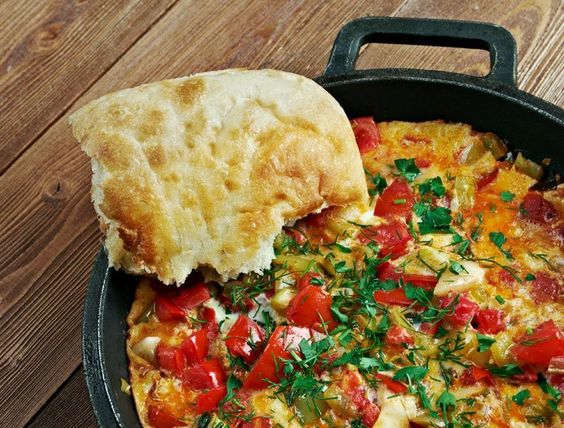 When you travel to Turkey, don't forget to try Turkish breakfast before leaving. At least one dish for such Menemen or you will regret it in your lifetime! Turkish breakfast is so famous. Where you can try Menemen? Don't worry about that, cause you will find a lot of cafes around the touristy areas. We found that Istanbul city interesting, if you're going to explore the city you will find a lot of hidden gems that serve authentic Turkish food.
To begin your day in Turkey, let's start the Istanbul food tour with an amazing Turkish egg dish called Menemen. Basically, Menemen is a scrambled egg that has a fried and baked version. The scrambled egg mix with tomatoes, cheese, and some herbs combined together creating the wonderful egg dish. It commonly serves with hardy bread, so you can scoop up the Menemen with your bread. In the picture above, the bread called pide, a famous Turkish bread that tops with sesame seed. Usually, they make pide a lot in Ramadan ( the holy month of Muslims), so that pide is the specialty bread in Ramadan.
The taste of this Turkish scrambled egg style is creamy and so aromatic! After you enjoy your meal, washed it down with a cup of tea. Then follow with some common desserts in Turkish breakfast is cheese, olives, and honey. Let's have a taste!
Turkish scrambled egg style Menemen baked version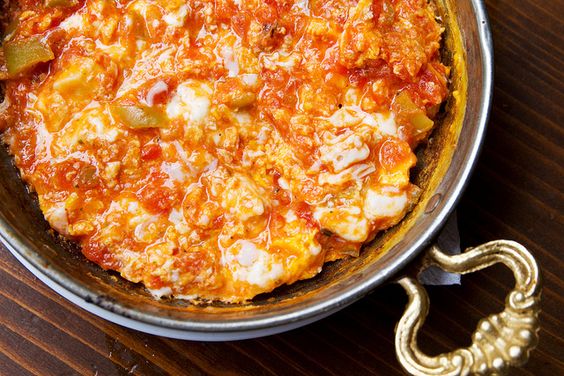 As we alluded to earlier the Menemen has the fried and baked version. In this hot pan, the Menemen is served with baked version, I personally love the baked version most, because the herbs are more aromatic. Serving Menemen in the hot pan will keep the hot temperature. To make this egg dish not overcooked, they usually take it out of from the oven when they are half cook. Because the Menemen will continue to cook in the hot pan, be careful when you get into the first bite because they are extremely hot. Let it cool down for a while before you dig in the first bite of your mouth. In addition, we can add some fresh pepper on top of it, so it's more aromatic and the hint of spice will increase the taste of the egg dish!
Menemen is served with hardy bread textures so that you can scoop the hot scrambled egg. Same as the fried Menemen, the baked version has tomato, eggs, and some kind of herbs in it. To make this egg dish more creamy, they also add some butter and cheese to the recipe! Follow the hot Turkish scrambled egg style with a cup of tea. Then, you are ready to continue on the next Istanbul attraction and food tour!
Menemen with shredded chicken topping and simit bread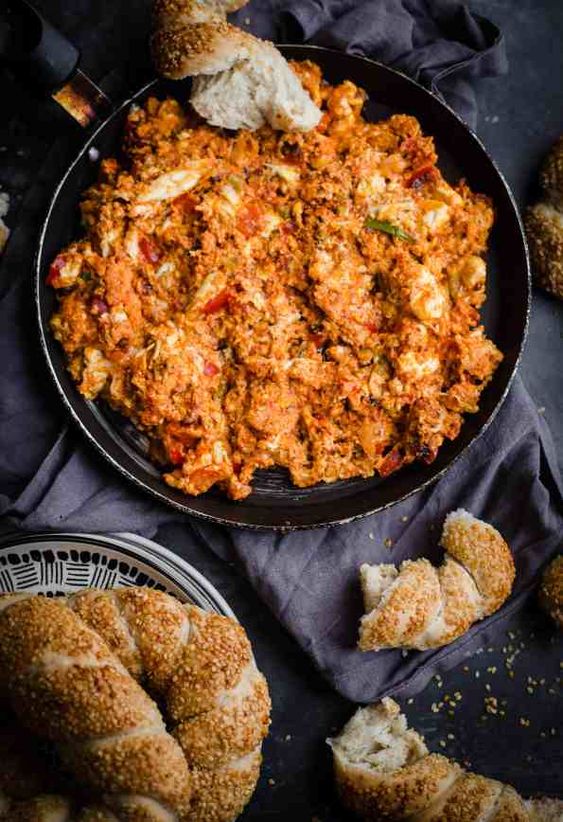 If you feel not enough with the scrambled egg only, you can order Menemen with shredded chicken on top of it! If you are wondering the name of the bread type in the picture above, it's called simit. The circular bread shape and covered with sesame seeds, you will find a lot the cart selling simit all around Istanbul street. The taste is quite plain and such a hardy bread. People usually buy simit for the snack on the go. And this hardy bread also fit to be eaten with Menemen, we can scoop the scrambled egg with the hardy bread.
Walking through Istanbul street, you can order the Menemen for breakfast. Actually, there are many restaurants and cafes selling Menemen with various toppings. For instance, the Menemen with braised beef, chicken shredded, and Turkish sausage topping. You can choose happily based on your taste!
Kaymak and honey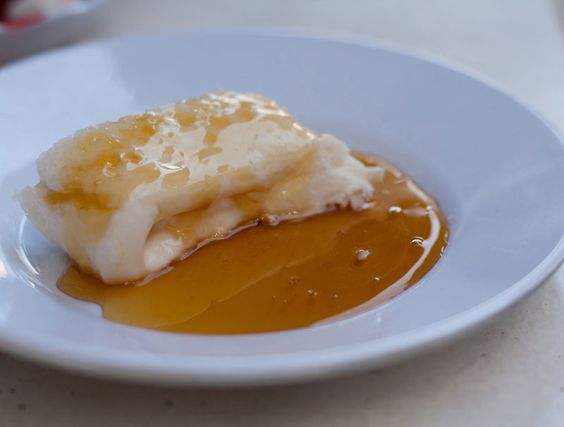 When we finished breakfast in the restaurant, they usually give us dessert. The common Turkish dessert that can wash down your heavy meal is the combination of Kaymak and honey. What is Kaymak? It's a Turkish clotted cream combine with honey, it's very sweet actually. The locals also eat Kaymak and honey with bread if they want a sweet breakfast version. Do you want to try it?
Kuymak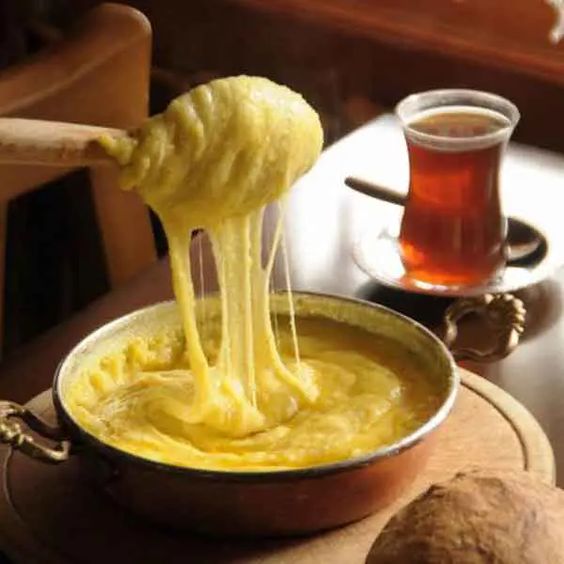 Talking about Turkish breakfast is vary, we're not getting enough only display Menemen for your breakfast opt. Another common and delicious meal for breakfast is Turkish cheesy cornmeal called kaymak. This common breakfast came from the black sea region, Trabzon. The Kaymak main ingredient is cornflour and then mix with cheese into the stingy consistency. This Turkish cornmeal is so heavy and will fill your stomach which means you are ready for your trip to Istanbul. Although Kuymak is from the black sea region, we can find a lot in restaurants around Istanbul. Let's have a try!
Conclusion
With the warm weather of summer, it's a perfect time to unfold the new places. If you are having a plan to travel to Europe, Turkey should be on your list to visit! This country offers fabulous attractions and historical sites to visit. If you're going to travel to Turkey, you can start by visiting Istanbul, the only city that separated by the Bosphorus strait.
Talking about traveling to Turkey, our mind directly lead to the famous site, the Blue Mosque. This mosque is ancient and has great medieval architecture. The magnitude of it will make us amazed and just adore the beauty of the historical site.
To complete our journey in Istanbul, we can try some local food there. Starting from abundant street food to the classy restaurant available there. get ready to start the Istanbul food tour with an amazing Turkish breakfast called Menemen, the wonderful Turkish egg dish. After you charge your energy with an essential Turkish breakfast. Then, you are ready to step forward on your next journey in Istanbul!