Foodntravelling.com – Istanbul is the city where it offers a lot of history, attractions, and a bunch of tasty street food. Istanbul is the only city that has both sides of the Asian and European sides that divided with the Bosphorus strait. This what makes Istanbul so rich in history and food. There are many historical buildings in Istanbul to visit, such as the Hagia Sofia that made with the Byzantine empire. We can enjoy and adore the impactful Medieval architecture in Hagia Sofia. A brief description of this historical building in Europe that was functioned as the church by the Roman Empire. But then, the Ottoman Empire was successfully knock down the Roman Empire and then functioning Hagia Sofia as a Museum. And they build the same architecture style right the Hagia Sofia called Sultan Ahmet Camii or well-known as the Blue Mosque.
As a Muslim majority country, Turkey serves dozen of halal food. So, it can be a good option for the Muslim traveler who wants to travel to Europe.
There are lots and lots of historic buildings to visit in Istanbul. This city does not only offer good attractions but also the hospitality of Turkish people that will make your trip an enjoyable and remarkable experience. If you are going to plan to go to Turkey, then we will be sharing tons of Istanbul street food knowledge to enlighten your mind about delicious Turkish food. Alright, down below we will be sharing with you some must-eat Istanbul street food tour that you will never stop licking your finger! Let's dig in
Simit (Turkish Bagel style)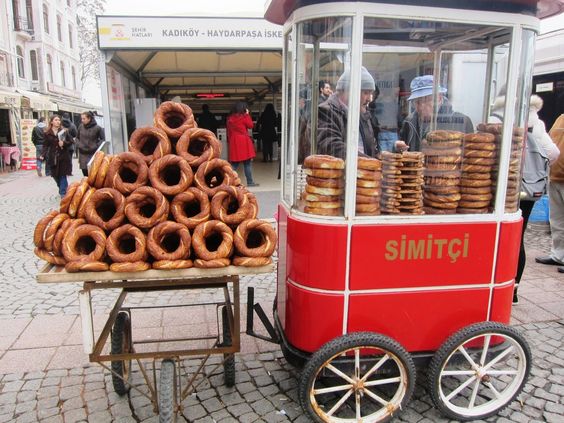 As food lovers, we're not gonna leave the journey without trying local street food. Overall Istanbul street food is clean, so we don't have to worry much about the dirty street vendors. In addition, we can say honestly that Istanbul is not an expensive European city. So, if you wanna travel to Europe but you only have a budget, then traveling to Istanbul is the right choice! We're pretty sure, it will not drain your wallet!
In Istanbul, we will find a lot the cart selling simit. It's the Turkish bagel style. The texture is hardy and covered with sesame seeds, the taste is quite plain but the sesame seeds all around the bread that gives the texture, usually cost 1 TL per one, maybe the price is getting higher now. Turkish people usually buy a simit to snack on the go or if they's haven't breakfast yet, they will take simit for a quick breakfast.
Kofte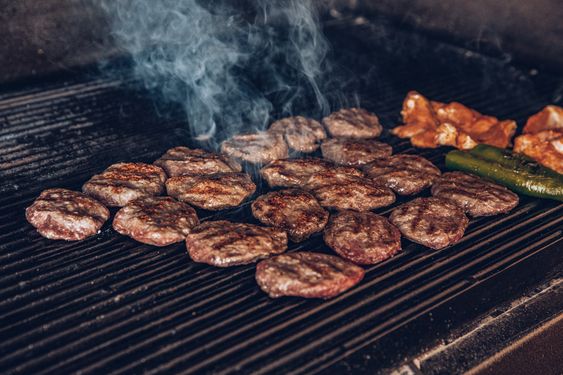 Kofte is kind of the meat patties, it is grilled that's why you can smell the smoky aroma on it. Typically, Kofte is served with grilled green chilies and tomatoes and some extra vegetable salads. The taste is salty, combined with the smoky green chilies that will shake your taste bud cause they are so good!
Sandwich kofte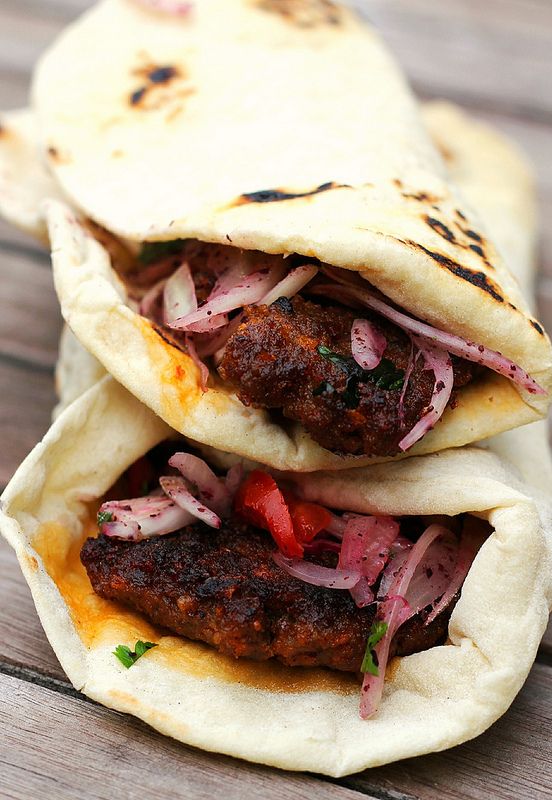 If you already have the original kofte, then you can go with the sandwich kofte patties. We will find a lot the sandwich kofte patties in all of the Istanbul street stalls. First of all, grill the bread, there are the loaf thick bread and thin bread for the usual kofte sandwich. Grilling the beef meat patties and combine with the thinly sliced onion, grilled green chilies, and tomatoes, season with some herbs, and sprinkle some salt. This kofte sandwich smells so aromatic.
Turkish delight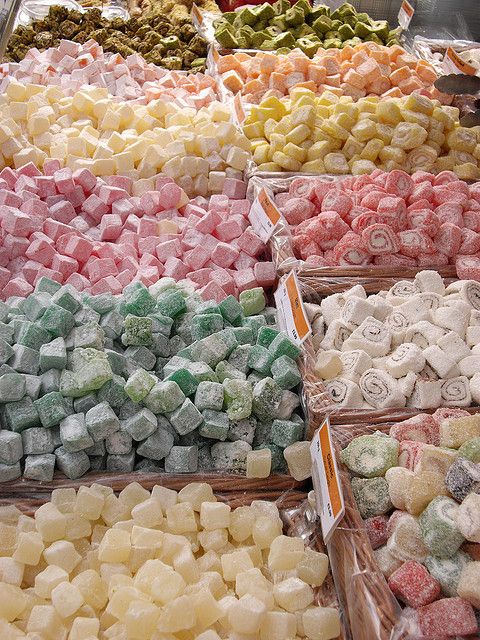 When you come to Turkey, don't forget to try Turkish delight. There lots of cool shops selling Turkish delight especially in the Grand Bazar, one of the oldest markets in the world. The Grand Bazaar is located in Fatih district and you will find it close to Sultan Ahmet Camii. Alright, let's figure out how the Turkish delight taste gonna be, we can say it's very, very sweet, but the texture is so chewy and gummy. Turkish delight is made from gel and starch lots of sugar that's why it's very sweet. And it flavored with rosewater, bergamot orange, and lemon often.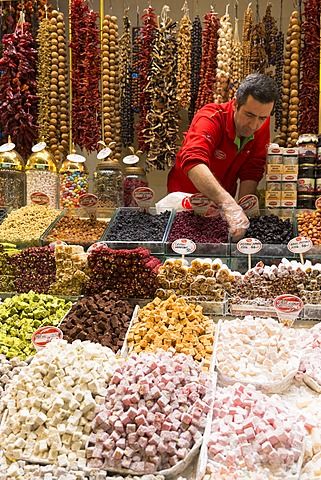 It's very nice to just walk around through the covered market grand bazaar. You will find a lot of herbs, tea, fruit stall, and for sure Turkish delight! The view of the grand bazaar is so colorful and this market is full of herb aroma, my k/inda type of market!
Turkish coffee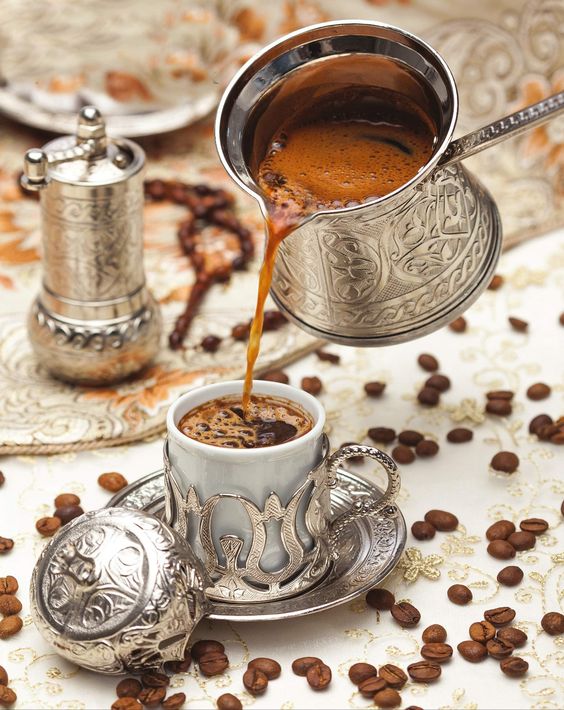 If you are going to Turkey, don't forget to try Turkish coffee. It's rich, dark, and murky. What I like about Turkish coffee is that they have a brewing system that boiled the coffee into bubbling hot. We will find a lot the Turkish coffee shop in the little alley around Istanbul street. Basically, they are provided the cubes of sugar beside the plate. So, you can add it according to your taste.
Midye Dolma: Stuffed mussels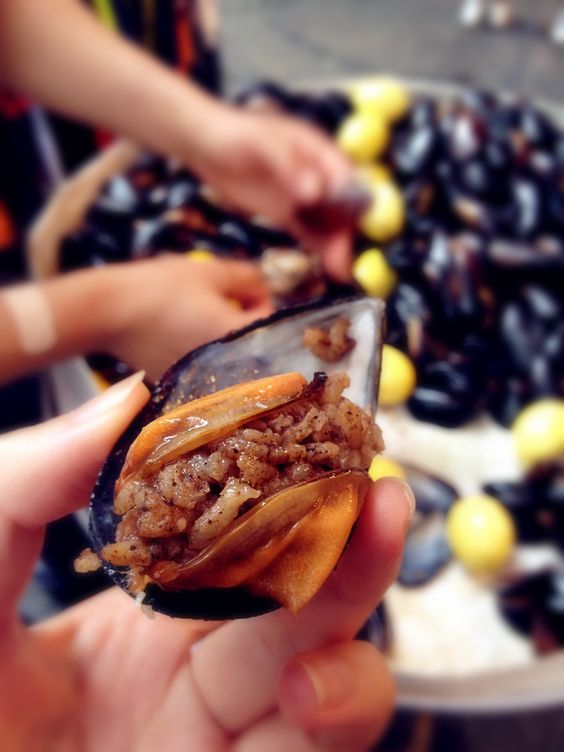 Another famous Istanbul food tour is midye dolma or stuffed mussels. You will find a lot the cart selling midye dolma around the street. You can eat it standing on the street. These mussels are stuffed with rice and raisins. Midye dolma is eaten with a squeeze of lemon, the sticky stuffed mussels meet the lemon gives a refreshing taste.
Doner kebab sandwich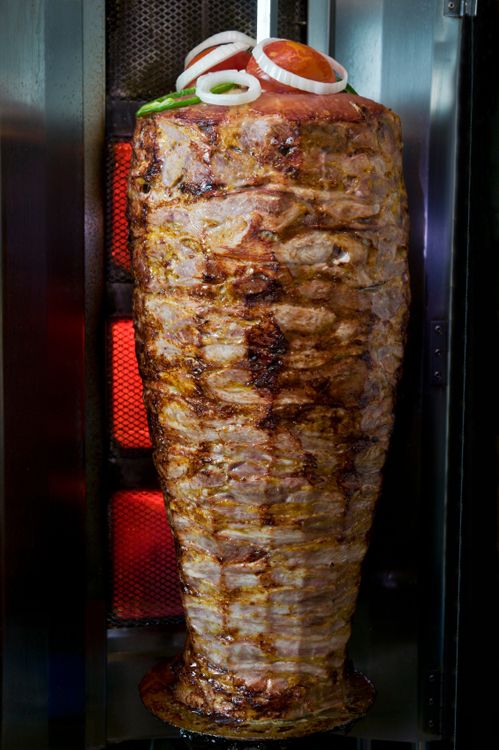 To complete the journey in Turkey, we have another must-eat Istanbul street food is doner kebab. There are beef, lamb, and chicken grilled version that stacked on the vertical line just like in the picture above. The meat juices fall apart from that meat. It's very interesting to see them slice the meat into a very thin shape, it's literally satisfying. But if you're trying to slice the meat, we guarantee it's not that easy as it looks tho! They expertly slice the meat with an amazing experience, so we have got a plate of perfect thin meat slices!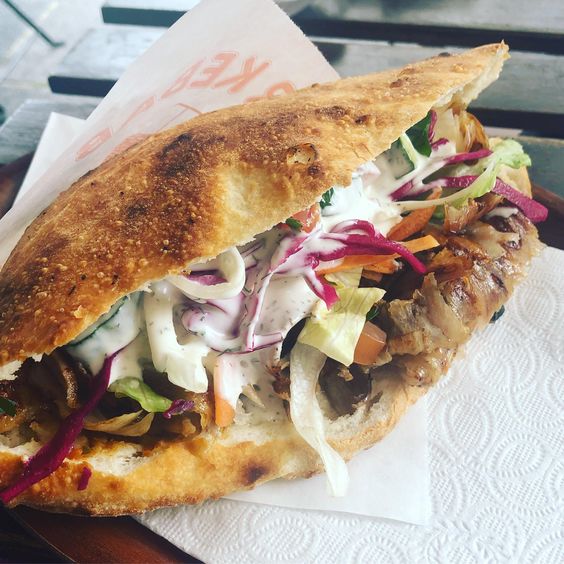 When you order the doner kebab, you will get the flatbread stuffed with sliced grilled meat, onions, some vegetables, and tomato sauce. The taste is salty and a little bit sweet from vegetables and tomato sauce. The perfect ratio of grilled meat gives the smoky aroma when you bite it. If you are going to order the doner kebab, then you have to choose the meat version that will be stuffed into your sandwich. There are chicken, beef, and lamb doner kebab.
Conclusion
When you are planning to go to Europe, Istanbul, Turkey should be on your list. It offers a lot of historic places and abundant delicious street food paradise. In this writing, we already shared with you some of the best Istanbul street food tours that could be your inspo. We hope you enjoy the street food recommendations we have shared and might help you to find delicious food while being in Istanbul.