Foodntravelling.com –  Living in a metropolitan city like Madrid, a home for more than three million people, we do need some green areas to enjoy the fresh air outside. Luckily, there are some beautiful parks and gardens in Madrid that reduce air pollution and provide relaxing outdoor space for citizens and tourists too!
There is El Retiro and many more parks in Madrid that are covered the city area. So, it's not difficult to find green space in all of the city. There are some attractions in some gardens, for such playground area, and sometimes it features the Spanish culture show. As a result, we can see that the gardens and parks in Madrid are very attractive. Here, we have some lists of green space in the capital of Spain you can add to your itinerary too!
Parque del Buen Retiro ( El Retiro Park)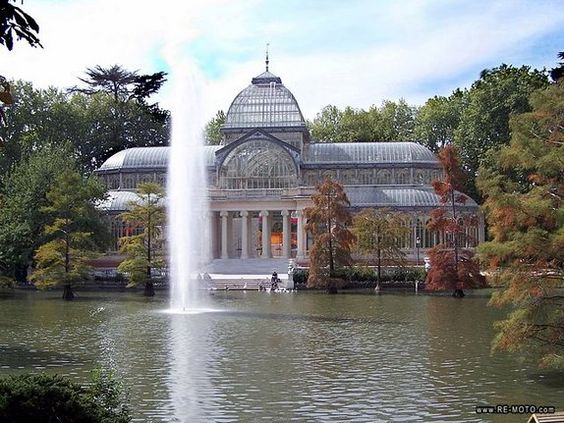 One of the most famous and largest parks all over Madrid must come to Parque del Buen Retiro. This old park belongs to the Spanish monarchy until the 19th century. There are some outstanding features we can see in this garden. There is a huge artificial pond with an excellent fountain. Behind the pond, there is a beautiful building, Palacio de Cristal. This building is aimed at the human zoo. The place that displays the primitive human doing some attraction in this palace. It is a shame that this European culture treats the non-European race as a show.
Now, this palace is shown as the beautiful building that accompanies the pond view. There are still lots of attractions we can visit in this large park. There is a monument of King Alfonso XII, the rose garden, and having a boat trip on the artificial park. In addition, watching the sunset in this green space is so beautiful! El Retiro Park is a historical and attractive green living space in Madrid that is worth visiting!
Real Jardín Botánico de Madrid ( Royal Botanic Garden)
If you kind of person who loves hanging out in the green space on Sunday. Then, when you travel to Madrid, you are fall in love with this city already. How can we deny the lush large outdoor space that fulfills with flowers, plants, and herbaceous plants? Real Jardín Botánico de Madrid or royal botanic garden translated into English. It is home to around 30.000 plants and discovered species in the 8 hectares of ground wide. This place was founded in the 17th century by King Ferdinand VI. This botanic garden is so closed to Prado Museum. It is the Spanish pride place in developing and having research of the plants. So, visiting this garden will educate us to get know more about many varieties of plants on earth. Besides that, there are lots of spectacular picturesque spots that are irresistible to enjoy!
Parque de Juan Carlos I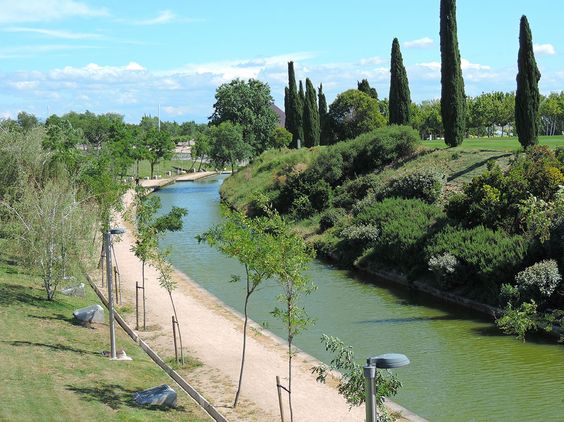 Parque de Juan Carlos I is an immense park that covered an area of around 160 hectares. This park has been open to the public since 1992. There are a few main attractions we can try in this green space. There is a cool entertainment auditorium, skating, bike rentals, to go fishing all day long in warm weather that is so pleasing! There are hedge trees all around the garden in a symmetrical shape, the green lawn everywhere, and the river along the way, it is such a beautiful place to just sit and hang out admiring the natural view! There are some little trains that operating in this area and come to every 30 minutes.
Casa de Campo Park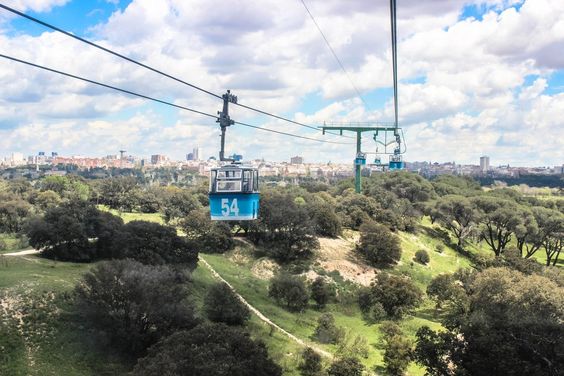 As we alluded to earlier, Madrid is a metropolis city that has abundant green space open for the public. Now, we are sharing with you one of the largest parks in Madrid is called Casa de Campo. The name has been translated into English as the country house. Because there are some royal houses ready for rentals, designs in Spanish traditional houses surround the lush green area. It is such a great place to hang relax and breathe the fresh air right located in the heart of the city! In addition, this place also offers some entertainment to enjoy or we can call it as the amusement park. There is a skylight attraction we can ride to see a beautiful view from above. It is also well-known as a home for some bushed and Mediterranean trees and bushes!
Parque de El Capricho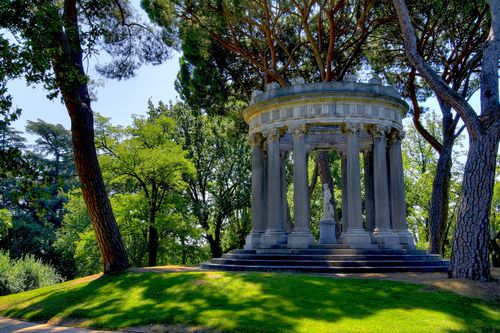 Another beautiful park in Madrid is Parque de El Capricho, the green space retreat for Duchess Osuna with family and friends. This park is packed with ancient Greek, French, Italian, and English architecture. In the picture above, there is a monument Greek style that shows columns and marble statues, it is such a royal European park landscaping style. Surrounded by green lawn and trees it is such a perfect place to laidback on a warm day. Having a picnic with family is such a pleasure!
Rio Park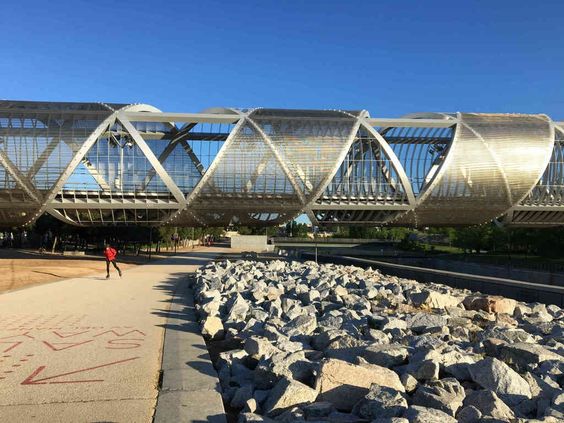 The coolest urban park in Madrid, Rio park is well-designed for enjoying the sport. You can happily ride a bicycle, skateboard, or having exercise trying sports facilities in this park. This park is designed by French architect, Dominique Perrault. One of the most highlight features in this garden is a modern bridge. It has a spiral designed made from metal that keeps the bridge in good condition for any weather. This modern bridge has connected the riverside of Arganzuela on the north side to the Carabanchel neighborhood to the south side. Under the bridge, there are amazing rock landscaping and bicycle path. Besides the modern look landscaping style, there are some friendly natural settings. The colorful flowers and labyrinth shade garden are also worth exploring in this park!
Conclusion
Madrid is such an attractive city in Europe, offers an abundance of tourist attractions all year round. From the unique and tempting cuisine to the magnificent building that packs old history in it. On the other side, the environment of this metropolis city is also neighborhood friendly. There are lots of green spaces open to the public to provide fresh air and environment to all citizens. In this writing, we have shared with you some of the best and beautiful parks and gardens in Madrid that are worth visiting! From the lists above which garden or park do you want to visit when traveling to Spain?