Foodntravelling.com – Europe offers an abundance of incredible destination places. There is a lot of history waiting to unfold for travelers around the globe. Now we are heading on to the southwestern of Europe, Spain. The warm temperature, welcoming hospitalization from the local makes love to explore the city! The capital of Spain, Madrid is not only famous for the home of football lovers, Real Madrid. More than that, this city offers lots of destination places and classic Spanish food waiting for us! One thing we could not miss is eating famous Spanish tapas, they are just mind-blowing dishes!
When we come to any big city in Spain like Madrid, Barcelona, and Granada. These cities are full of tapas bars on every corner. Here we will find lots of tapas menu that will be great to accompany a glass of beer. You might have heard about Spanish tapa, but if you're not, we will be sharing what it is and some common tapas menu that serves in the bar. So, make sure you keep on reading all the information we bring to you down below. We feel so excited to discuss Spanish tapas and the culture of the eating community in this country!
What are tapas?
Before we dig into the various most famous tapas all around Madrid's bars. Do we better know what exactly tapas are? It is various small dishes that we can find in many bars all over the city. It's a kind of Spanish appetizer, that could be cold or warm food or even sweet nor salty. Basically, every region in Spain has its own classic tapas that serve on the local bar. In Madrid, we can find many tapas bars that serve delicious plates of Spanish appetizers or to accompany the drink chit-chat with friends.
Tapas are such a huge community eating and drinking culture. If you come to Spain without trying and hang out in the bar, you miss something social community drinking culture in this country. When you heard about the drinking culture around the bars for lots of young people. It's not just aiming for drinking or get drunk. It is the place where Spaniards enjoy their light meals and having good times with friends. Eating simple delicious dishes accompanied with fewer alcoholic drinks is such a good meet gathering to enjoy the afternoon among young people. Alright, we cannot wait to share with you all of the best and delicious tapas in Madrid you could possibly eat, let's dig in!
Pimientos de padrón fritos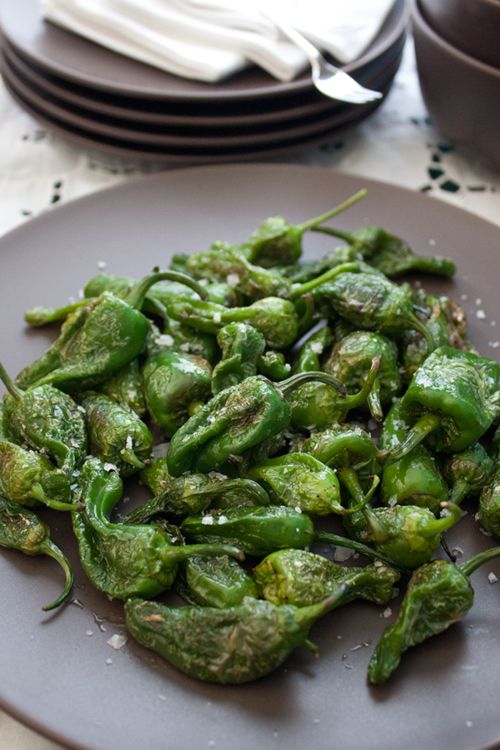 The first famous tapas we share with you now is the fried green chilies or in Spanish called Pimientos de padrón Fritos. This tapa use a local green chilli called pimientos de padron. The simple dish only fries and then season with plenty of sea salt. You can taste and see the quality of salt on top of them. The green chilies are not spicy too much and it provides lots of flavors, only season with salt and this tapa is ready to enjoy. Ordering a glass of beer or coffee and eating a plate of this classic tapa. You already know how to enjoy a good time in Spain like a local!
Pan con Tomate y Jamón Serrano – A bread with tomato and Ham Serrano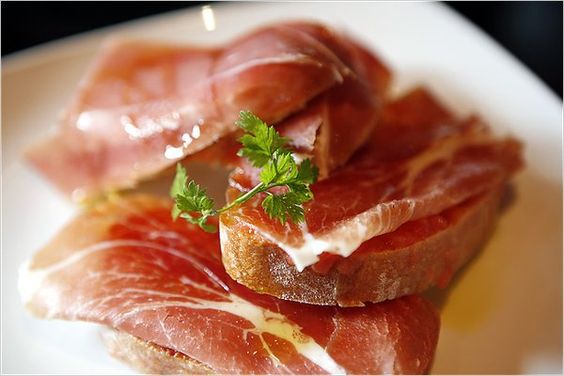 The most popular Spanish tapas all over Spain is definitely Pan con Tomate y Jamón Serrano or translate in English as the bread with tomato and slices of ham Serano. You can imagine the crispy bread topped with tomato sauce and a few slices of Jamon Serrano. It is absolutely delicious! The chewy texture from the ham mix with the crispy bagel is such a Spanish appetizer delicacy! You can find this dish in many bars or restaurants around the streets, it is absolutely famous tapas in Spain!
Croquetas de Puerro (Spanish Leek Croquettes)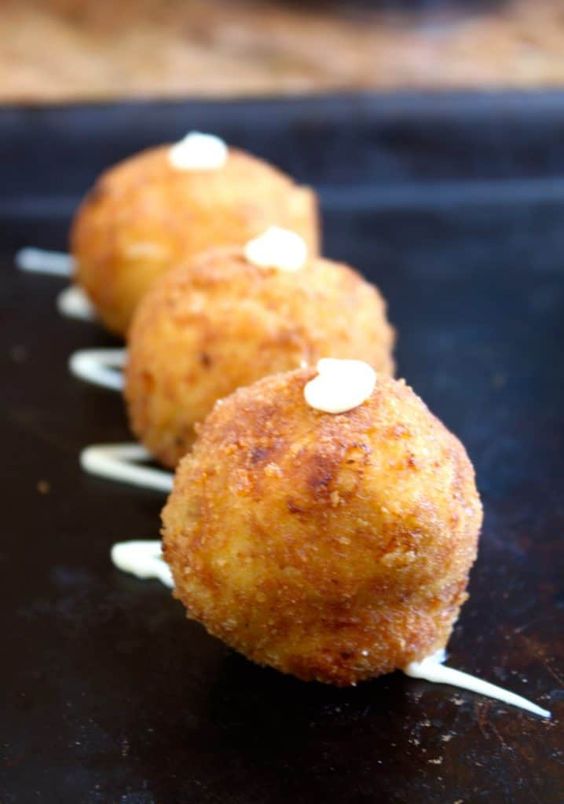 Get a laidback afternoon time drinking a glass of beer or a cup of coffee in a bar is a huge culture in Spain. In metropolis cities like Madrid, Barcelona, Granada, we will find tons of bars selling drinks and offers tapas menu. Another delicious light meal in a Spanish bar is a plate of Spanish Leek Croquettes. The small fried balls are made from leek and soft battered inside, crispy outside. A delicious meal to enjoy your relaxed time when you travel to Madrid or any city in Spain!
Tortilla de patatas – Spanish omelette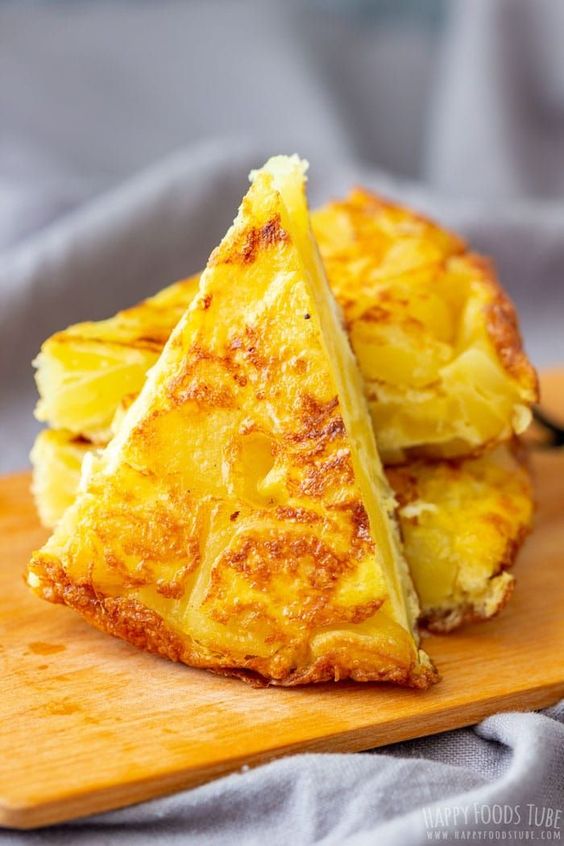 Every country has its own style to cook the egg. One thing that is so popular about the simple and yummy Spanish food is tortilla de patatas. It is their omelet style that is packed with slices of potatoes inside. The simple ingredient and seasoning that only needs salt and pepper. Makes this simple dish are favorite to all Spaniards and even the world. It is the dish that is commonly served for breakfast, lunch, dinner, and even on the tapas bars menu. This classic Spanish omelet you really need to taste otherwise we can cook it at home. Because it is that so easy, delicious, and make your tummy full and happy! It's a worth-trying dish!
fried sardines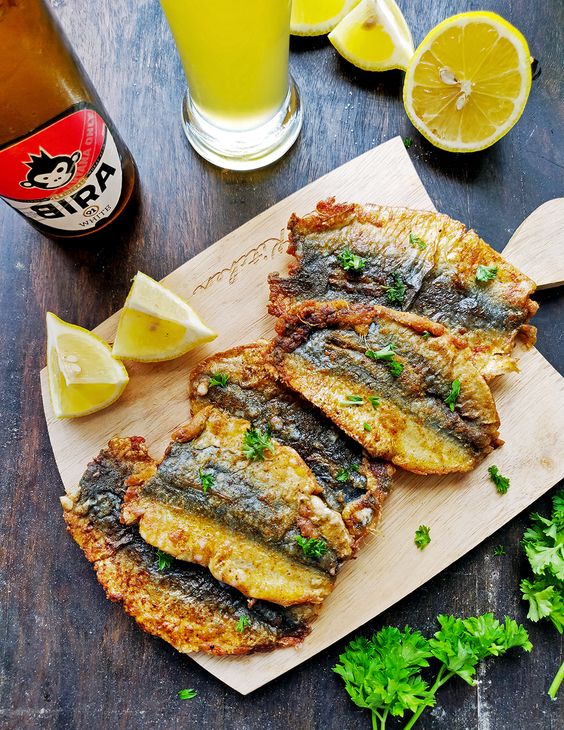 If you wanna snacking the taste from the Mediterranian sea. Then, the fried sardine tapa is an absolutely winning dish you can eat in the bar! They are fried them dusted in light flour make them crispy outside but remain perfect for natural seafood tasting. Chopped parsley and then sprinkle some sea salt on top of it so tempting! In addition, clean the fishy taste by squeezing a little bit of fresh lemon juice on top of them. It is so delicious eating a small dish with a glass of beer!
Jamon Iberico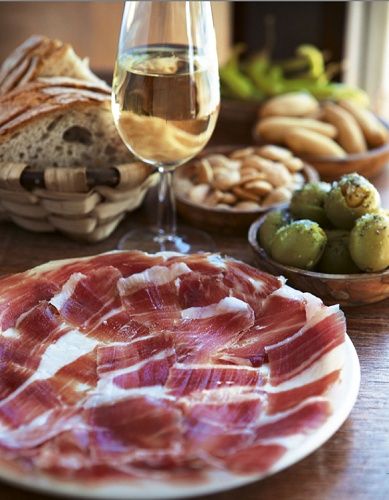 What is make Spanish ham is loved by almost all Europeans and around the globe? It is because they have the special pigs from the Iberico land and their local farmer. And there is various meat cured we can find in many stores in the city. The smoky aroma and perfectly salted ham are a delicious meal to accompany your drink. You can also order the preserved olives, nuts, and bread to compliment tapa time in Madrid!
Fried calamari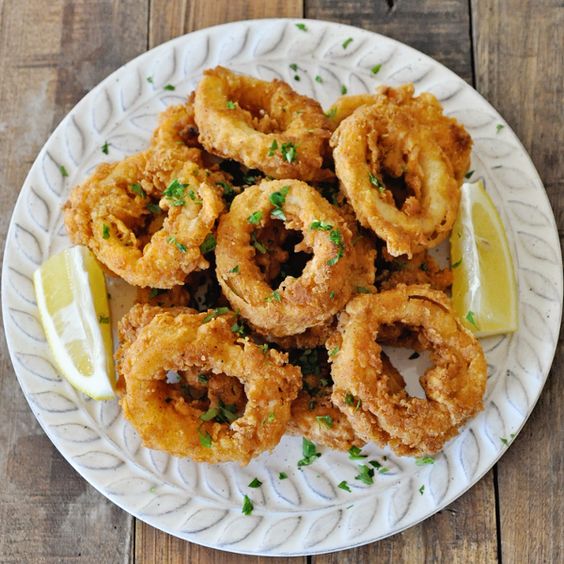 Swaying in the perfect warm weather in Madrid city by enjoying a quick tapa time would be a great time while you travel to! Another famous tapas menu you can find in the bar is fried calamari. The salty and crunchy dish topped with paprika powder is the taste that irresistible to relish when you sit in the tapa bar. Then, squeeze the lemon juice is a must, the citrusy taste always makes seafood taste better! It's an easy tapa menu you can order in many bars in Madrid, enjoy it!
Final thoughts
Tapas is a huge Spanish cuisine and culture that brought to the world. The small portion of salty and sweet dishes served in all tapas bars to enjoy the drink is something we could not see in any other places. We can eat some of the delicious Spanish appetizer delicacies. Basically, every bar and restaurant has its own tapas menu. So, you cannot expect the same dish in every bar all over Madrid and widely all around Spain. But, there are some famous and extremely delicious Spanish tapas you have to know. We have shared all of them with you above, the classic dishes that will shake your taste bud and complement the good glass of beer or wine!
One thing that makes tapas bars are so popular in Spain. Where young people love to hang out and enjoy their meal with friends is so relatable! Enjoying the laidback time, for such afternoon meal is an attractive point that we could not find in any other European countries! So, when you have a chance to visit this country make sure you do not wanna miss enjoying a delicious tapa in the bar. Having a great time and enjoying the meal like a local is something relatable. Or for those who have been eating tapas in Spanish bars. We are pretty sure, you want to roll back and sith there! It is such a great ambiance to enjoy the food!