Foodntravelling.com – Merhaba, Istanbul'a hoş geldiniz. Welcome to Istanbul! When you are planning to go on summer trips all around Europe, make sure you do not wanna miss Istanbul on your list to visit! This city offers spectacular historical sites, a welcoming ambiance, and a budget travel city! If you wanna travel to Europe but considering your budget, then Istanbul is the best offer for you! If you are not going to spend your money on shopping but only focusses on the attractions, knowing where good local food is, and find a budget rental. We're pretty sure you are worth spending your money without drain your wallet a lot!
Istanbul is the Holy city that straddled between Asia and the European continent. This location makes Istanbul has a great history and a lot of cultures. Including the old historical building and all of them are well-kept. From the ground, over the sea, to the underground tour, this city will satisfy our hunger for exploration! In this writing, we will be sharing with you a great history of the Basilica Cistern, one of the biggest and oldest cisterns in Istanbul, let's dig in!
The History of Basilica Cistern (Yerebatan Sarniçi)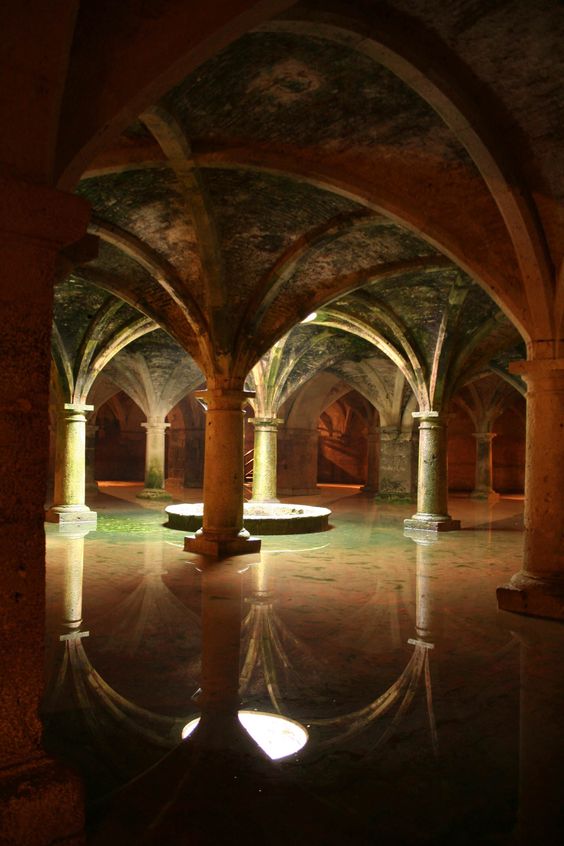 One of the most noticeable Istanbul destination places is Basilica Cistern. Even it took underground, but when we come inside, it feels like we're in a giant palace. It was aiming as the main important system in all of Istanbul. This cistern relocates a lot of water.
Basilica Cistern is the largest and oldest cistern in Istanbul. It was built by Byzantine Emperor Justinian I in 6 century to kept the water source of Hagia Sophia. This cistern is only 150 meters away from the Istanbul historical sites, Hagia Sophia and the Blue mosque. So, when you are vising both the Blue Mosque and Hagia Sophia, make sure you do not wanna miss visiting this underground tour, Basilica cistern. To allow access for some tourists to keep in, this cistern is kept in the shallow water, so we can come inside and have a tour inside this underground cistern.
The busy street above Basilica cistern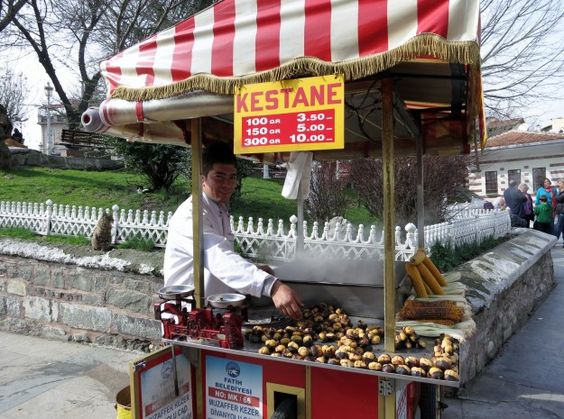 Located around the sultan Ahmet district, the Basilica cistern lay in the same place as Hagia Sophia and The Blue Mosque. When you enter the underground of Sultan Ahmet street, there you will find a mystical Basilica cistern down there. On the contrary, above this cistern, there is a very busy walking street. We can find some people selling some kind of snacks and people just come across right above the cistern!
Giant column for the solid construction of the cistern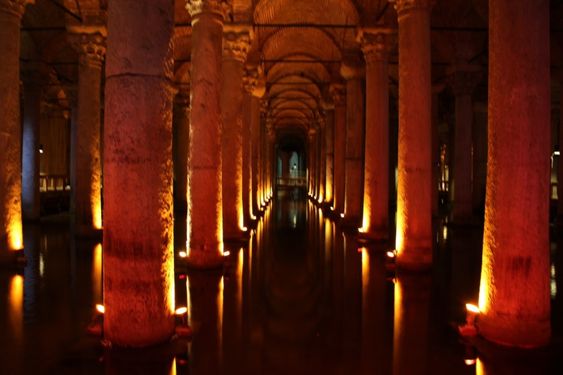 The Basilica cistern covered the all area of 9.800 square meters in total that makes this cistern is the largest and oldest underground cistern in Istanbul. It is constructed with giant marble columns which make this building so sturdy! This giant cistern has 336 columns, there are lined in 12 rows, each row has 28 columns. The height of the column is approximately has 9 m tall. For the large total; area of this cistern, it can cover around 100,000 tons of water storage capacity. It's very dark inside this underground cistern, but since this cistern is open to the public. The government installing some lamps to adjust some lighting. So, we can access the cistern and have an underground cistern with a little bit of lighting!
The great construction of the Basilica cistern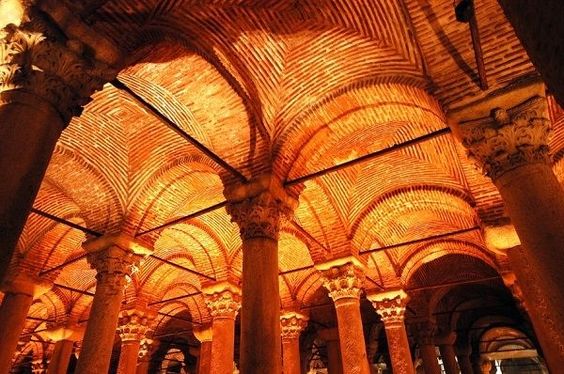 There are lots of giant columns are installed to hold this cistern even on the underground. What makes us impressed by this site, is that the architecture inside is spectacular. The Roman empire has created a lot of spectacular architectural sites when the reign of their wealthy age. We can see some carving on the columns itself which makes them look so amazing. In addition, there are brick walls are installed and fulfilled the giant dome above.
For the flooring style, this cistern is covered by bricks and then plastered by a very thick brick dust mortar, this plaster is useful for water tightness. Just like the Hagia Sophia that has many domes inside the building. This Basilica cistern also has many domes inside of it. Only it was constructed underground.
People find it spooky or romantic in this underground cistern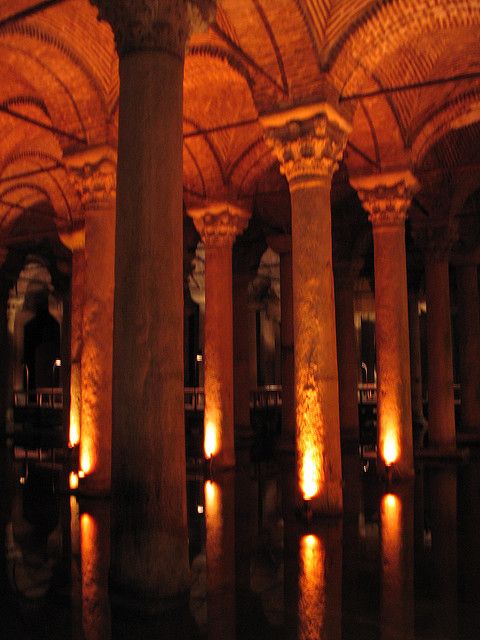 Reportedly the couple who entering this underground cistern finds it spooky or on the contrary, some people might think it romantic. The dark large room environment with a little lighting adjustment creating a lot of feels while being inside of it. Moreover, it was built so long in ancient age ago, make us feel a great magnitude and sense of the ancient feel while being inside. Some lamps which are settled in this cistern give a dramatic view inside this cistern.
Medusa head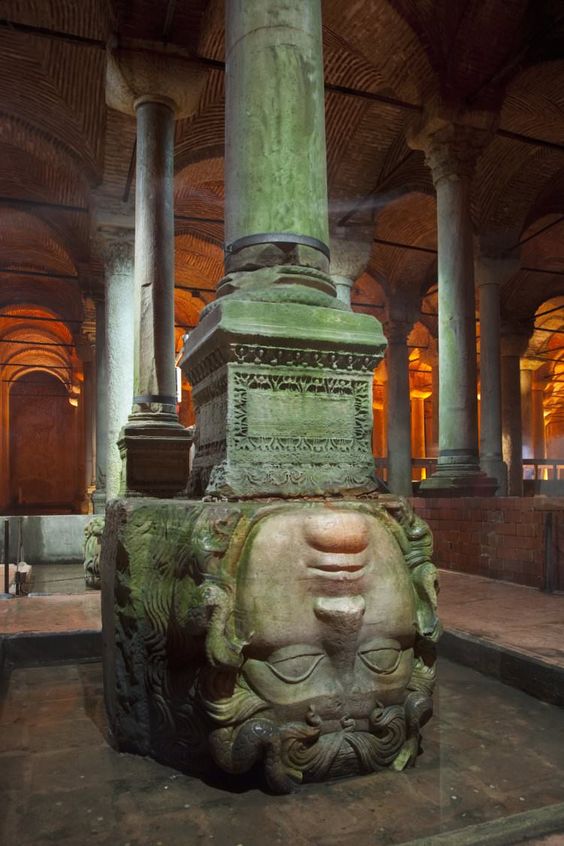 One of the highlight things about visiting the Basilica cistern is seeing Medusa head. It is the female head statue that has been settled at the base of the column. It has the purpose to support the columns inside this cistern. Medusa statue is one of the greatest statue construction of the Roman empire.
Dating back to history, from Greek mythology, Medusa is a girl, a beautiful girl who loves Perseus, the son of Zeus. But, the other girl called Athena also loves Persues. Athena punished Medusa into a stone. Her hair turned into snakes, and her skin into a greenish hue. Now, we can see Medusa in the Basilica cistern, right under the column.
That is all the highlights of visiting the largest and oldest cistern in Istanbul. Completing the brief history of the Basilica cistern we already shared with you. So, don't miss this cistern when you are in Istanbul!
Conclusion
Located in the heart city of Istanbul, the Basilica cistern has the same location as Hagia Sophia and the Blue Mosque area. There is no reason to leave this historical underground Istanbul cistern! We can buy a ticket to enter this cistern, we can pay around 20TL per person. It is very worth spending that money to see the historical and ancient cistern while being in Istanbul!
There are lots of affordable rentals to afford our living in Istanbul. The Sultanahmet district is one of the main touristy areas all over Istanbul. There is some elegant high-class hotel, and also there are lots of budget rentals to afford us. So, we can choose whatever your budget is. Moreover, transportation in Istanbul is quite easy and very accessible. There are busses, tramways, to catch a taxi, it's pretty easy to have transportation in Sultanahmet district!
We hope you enjoy our writing, about visiting the largest and oldest cistern in Istanbul. The Basilica cistern is a must-visit underground tour in Istanbul! Enjoy your journey in this beautiful city with some historical and architectural sites!