Foodntravelling.com – Merhaba! Do you have in mind to travel to Istanbul soon? If so, we will be sharing with you some travel tips where you can shop some souvenirs to bring back to your home! There is nothing better to shops some antiques stuffs from the local when we traveling to any city we visit. It gives us the reminiscent of a beautiful and unforgettable experience while traveling to that place!
Istanbul is a beautiful city that offers a complete tourist destination and cool shopping places. Visiting the most well-known Istanbul historical sites the Blue mosque and Hagia Sophia and many more spectacular tourist attractions in this city. Besides that, there is a worth visit the oldest covered market in Istanbul you do not wanna miss before leaving is definitely the Grand Bazaar! There you will find a lot of Turkish calligraphy, Ottoman rugs, and many more things you could imagine about Turkey! In addition, we will guide you to visit the Egyptian bazaar which offers colorful herbs, when you entering this market, you will immediately smell the aroma of herbs in the air! Let's dig into the wonderful journey!
The Grand Bazaar (kapalı çarşı)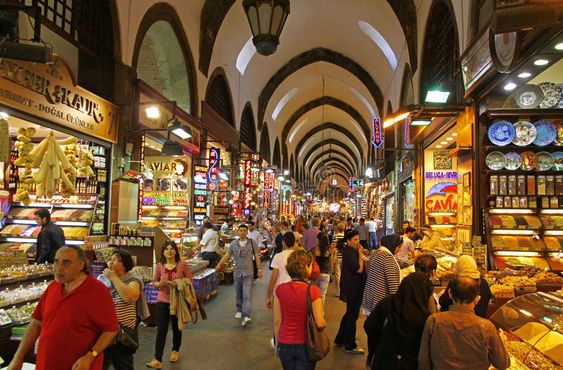 The grand bazaar is one of the oldest markets in the world. It was constructed in 1455, it took an important role as a trading center since the Ottoman empire. The strategic place of Istanbul, straddling between three continents, Asia, Europe, and Africa. It makes the center trading of the Mediterranean region.
The Grand Bazaar or commonly known as kapalı çarşı in local was built by Fatih Sultan Mehmet, Ottoman Empire. The location that near the Hagia Sophia, he made the Grand Bazaar as the trading center for their artisan to sell their art products. And now, the grand bazaar turns into the financial assets of Istanbul.
Ottoman's architectural design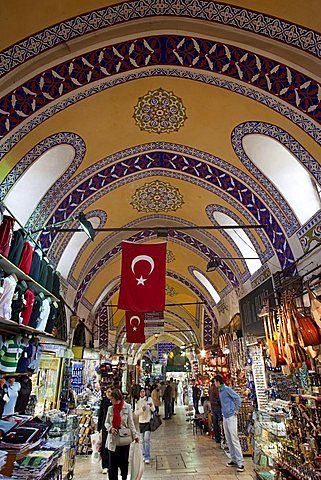 With the predicate of one of the oldest markets in the world, the Grand Bazaar is not only rich in history. But also has a great architectural building. The quite significant Ottoman architecture building, we can see clearly from the many domes inside. It is very similar to Hagia Sophia, The Blue Mosque which has many domes that shows the Ottoman's architectural design.
When you entering this market, you will immediately lead into the date back to the ancient atmosphere. Because the Grand Bazaar does not have a lot of renovation since it was built. So, the circumstances quite significantly remind us of ancient history.
Inside the building, we will find a lot of hand-made blue ceramic tiles and Muslim building styles. This oldest covered market is the world's biggest market covering an area of 54.653 square meters. So, if you come to this market, make sure you charge your energy to explore all around and what's inside in this market!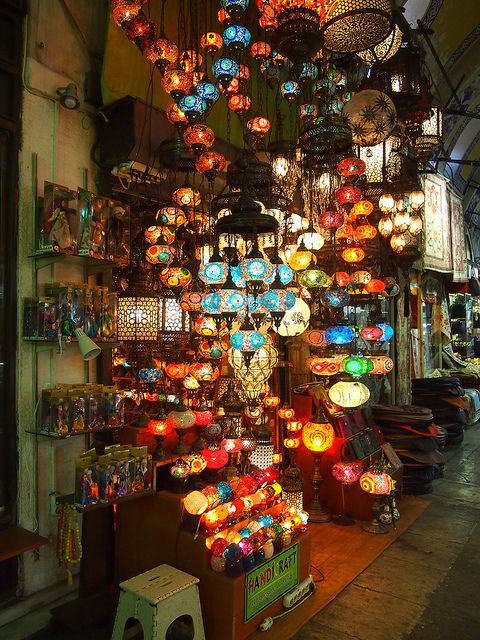 With the large area of a biggest covered market in the world. The Grand Bazaar offers an abundance of products from jewelry, beauty product, Turkish carpet, food and beverage, and so on. And if you are looking for some unique Turkish handicraft, it is possible to get into this market.
When you entering this market, you will find the lantern section. There are many stalls selling beautiful Turkish lanterns. They are so beautiful and colorful. If you wanna buy some things in Grand Bazaar, make sure you can bargain like a local, so you will not get too high a price to get some souvenirs.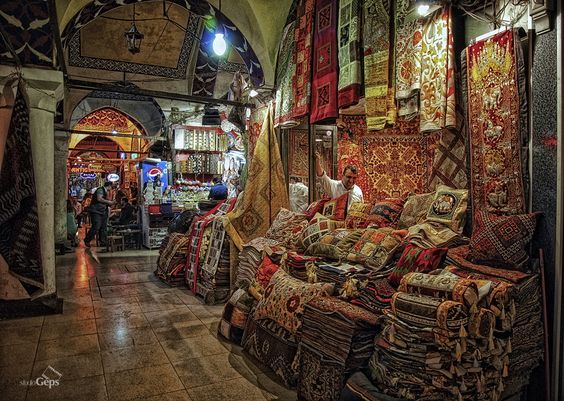 If you are looking for Turkish textiles products to shop to grab to your home. The Grand Bazaar is a paradise, there are lots of beautiful Turkish textiles you can find easily in this market. One of the most Turkish textile products must be a Turkish carpet or also well-known as Ottoman carpet. The beautiful design and high-quality textiles make Turkish carpet in great demand across the globe!
Enjoying Turkish coffee while exploring the Grand Bazaar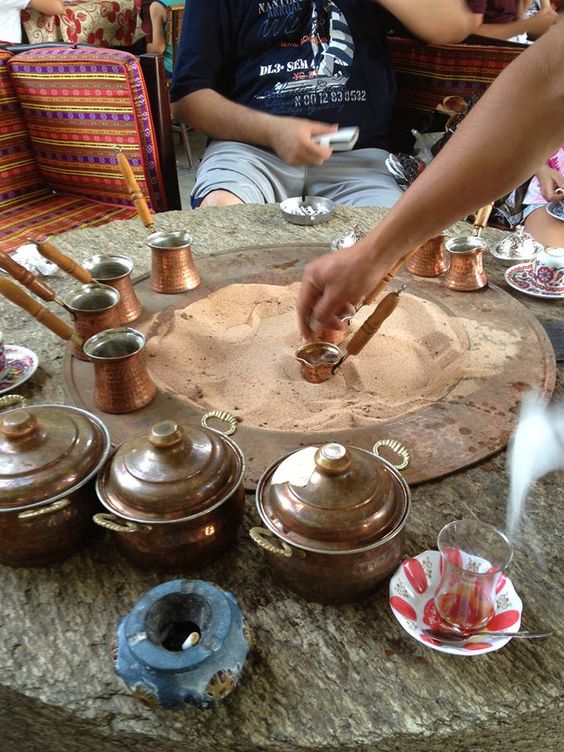 While shopping in this cool covered market, you find yourself tired and just wanna relax to keep going for the next souvenir hunting. There is nothing better to sit and relax in the tea stall in this market. Besides selling tea, they also offer Turkish coffee that will recharge your energy! Drinking a cup of dark, thick, and murky Turkish coffee in the oldest and historically covered market of Istanbul just feels beyond the actual journey!
Spice Bazaar (Mısır Çarşısı)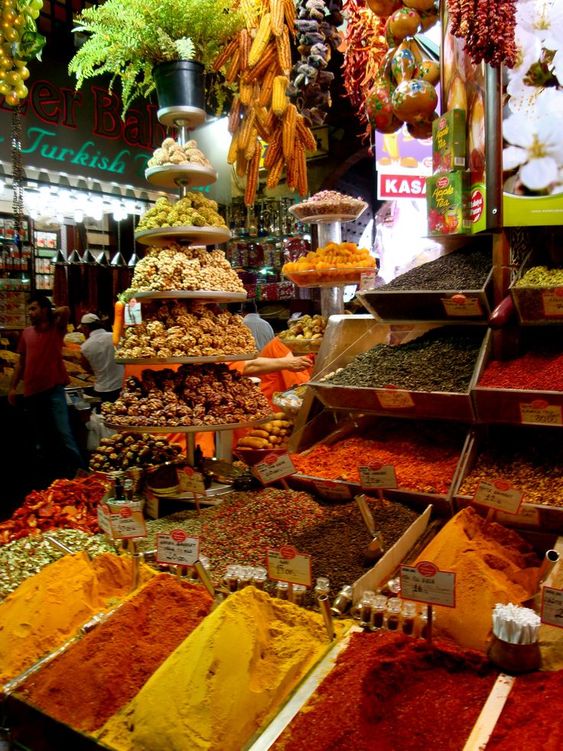 Another must-visit shopping place in Istanbul must be a spice bazaar or commonly local name as Mısır Çarşısı. This market is located in the Eminonou district of Istanbul next to the Galata bridge. This market as much as famous as the Grand Bazaar. If you are looking for a food tour in Istanbul. This spice bazaar is the right place you need to visit!
The spice bazaar is given name to this market because there are lots of colorful and different spices you might never see in any other place. Especially if you love cooking, visiting this market is such a paradise for you! When you come into this market, immediately you will smell the aroma of many spices in the air, there are saffron, turmeric, and many more spices aroma. That's insane!
Turkish delight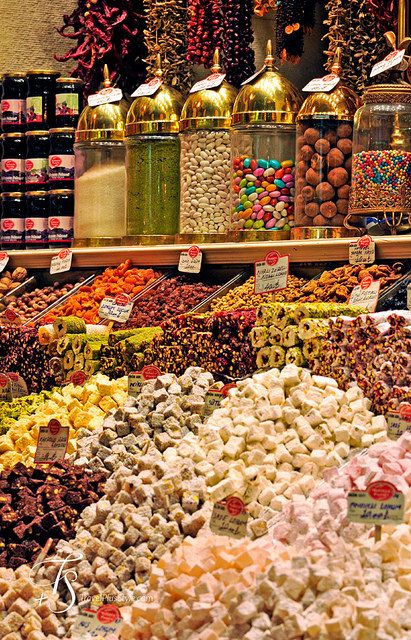 The spice bazaar is not only offers us spices, but also a bunch of delicious Turkish food. For such this kind of sweet snack is called lokum or commonly known as Turkish delight. You have to try this famous Turkish delight once you are in Istanbul. It is made from gelatine, cornflour, sugar, and rosewater. The texture is gooey, it is unique. So, you can grab these sweet snacks to accompany your tea time or enjoy it by drinking Turkish coffee. It definitely will satisfy your tastebud about Turkish food!
Dried fruit and nuts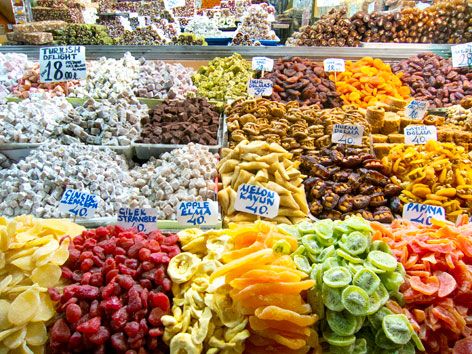 You will not find the Turkish rug in the spice bazaar! This market is truly a food paradise, there are colorful and mixed spices for you who love cooking. But, not only spices that attract our eyes in this market, there is a bounty of dried fruits and nuts available in this market! They look so fantastic, so we can buy some for snacking while traveling. The pile of colorful dried fruit in the stalls is looking so fantastic!
Tea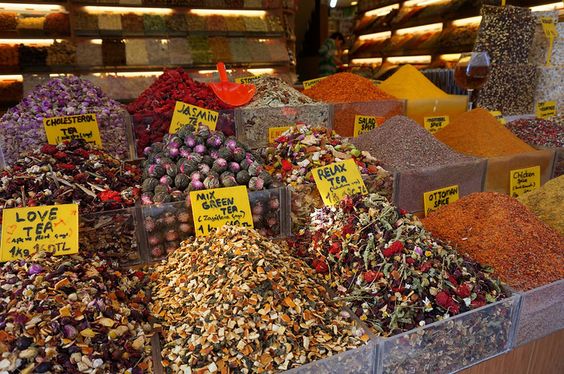 You will find a lot of various mixed tea styles in this market. From jasmine, chamomile, and mixed Turkish tea style to accompany your laidback time. Considering Turkish people love to drink tea, and much more than Japanese, it has been a culture itself to drink tea every single day. So, if you love drinking tea, it's worth buying some tea products in Istanbul to take home!
Besides that, we can find some fresh produce, fish stall in this market. And some nice place to eat in the little alley. If you are a food lover, and when you travel to Istanbul, the spice bazaar is a must-visit shopping place in Istanbul!
Conclusion
There are many things to do and tons of mesmerizing tourist destinations all around Istanbul. Besides that, this city offers a lot of delicious food and beautiful handicrafts to bring back to your home after traveling!
When you come to Istanbul, there is two irresistible shopping place you do not wanna miss. They are Grand Bazaar and Spice Bazaar. Both are equally amazing! If you are looking for some souvenirs then the Grand Bazaar is the perfect place you can visit. There are Turkish rugs, antique handicrafts, Turkish jewelry, lantern, and many more that will remind you about Turkey, You can shop in this oldest and biggest covered market!
Another important shopping place in Istanbul you do not wanna miss is the spice bazaar. It is not as big as the grand bazaar. But it has equally captivating as the Grand Bazaar! There we will find various spices, tea, nuts, dried fruits, and some fresh produce. This market is such a paradise for food hunters!
Visiting these two important markets in Istanbul is enough to complete your journey in Istanbul! And bring some souvenirs for your lovely family when you back home to complete your journey! We hope you enjoy our tips and recommended shopping places in Istanbul we have shared with you. Don't miss much more of our upcoming writing about food and travel tips we will share with you. Unfold the beautiful places around the world with some knowledgeable travel tips, so you don't need to be worry to step forward traveling across the globe!