Headed out on a camping trip? Whether you're packing a rolling cooler for the entire family or a personal cooler for a solo camping trip, you want to bring along food that's enjoyable and easy to make. From crowd-pleasers to snacks that stick to the ribs and offer plenty of nutrients, here are seven classic camping snacks to prepare for your next trip that are sure to please everyone.
Once you choose a few snacks from the list below, learn how to keep food cold while camping and organize your cooler so everyone can find their favorite snacks right away.
#1 Chili and Cornbread
Chili is just one of those classic camping snacks and meals that leaves everyone feeling full and content. So whether you break out the chili for a filling lunch or dinner, it's a great option to have in your back pocket.
To make the chili, we suggest preparing it at home before you leave for your trip and freezing the container or freezer bag overnight. This method allows you to use it to keep the inside of your cooler cold.
Choose kidney and pinto beans, combined with a protein like sausages, ground beef or veggie meats, along with stewed tomatoes, onions and peppers, and voila — your chili is ready! Also, be sure to make the chili mild and without tons of spices. Instead, let each person doctor it up the way they like with extras like hot sauce, sliced jalapenos or even Ghost pepper flakes, if that's what it takes to wake up their taste buds.
Don't forget to bake some cornbread and serve it with the chili, too. It's a combination as classic as PB&J.
#2 Trail Mix or GORP
Trail mix and GORP, an acronym for Good Old Raisins and Peanuts, is one tried-and-true classic camping snack that never gets old (pun intended). Even if you do a modern or gourmet take on the old classic, it offers a great quick snack you can take camping or on the trail.
Traditionally, a GORP trail mix has a combination of raisins and peanuts, of course, and a sweet ingredient addition like M&Ms or chocolate chips. However, for family members with peanut allergies, you can easily swap the peanuts with pretzels or cereal like Chex or Cheerios. And if raisins are not a huge hit, use another type of dried fruit like craisins or dried apricots.
Ultimately, you want a trail mix that is salty, sweet and satisfying.
#3 Popcorn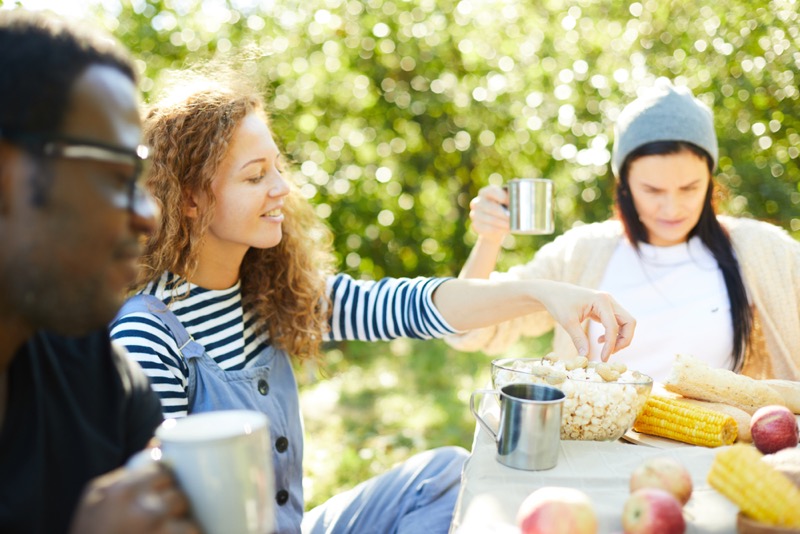 Like trail mix, popcorn is one of those classic camping snacks that can be a crowd-pleaser. Except, without a microwave, what do you do? You have three options. The first is to pick up a premade Jiffy Pop. Then, you can pop the kernels on a stove or the wood fire's grill, but never directly over the flame.
The second option is to use a campfire corn popper, a specialty camping device with long handles and a pot at the end. All you have to do is add a little oil to the pot and toss in the kernels. Once the popping stops, top off the popcorn with a bit of butter and salt.
However, if you don't want to add one more piece of camp gear to your ever-growing collection, the third option is pretty straightforward. Basically, you take a foil pie pan and add a little vegetable oil and the kernels. Cover it tightly with aluminum foil, creating a dome to give the kernels room to pop up and shake the pie tin with tongs over the fire. Easy peasy!
Once you get the hang of cooking popcorn over a fire, it will be one of the most accessible snacks you can make.
#4 Franks and Beans
One classic camping snack and dish that's somewhat similar to chili is franks and beans. A real crowd-pleaser and packed with fiber and protein, this snack is also very simple to whip up. Grill up the hot dogs beforehand and place them in the cooler. Bring a can or two of baked beans in your dry goods container, open them at the site and stir the two together. Fry up some onions to garnish, too.
Feel like something more gourmet than regular franks? Pick up gourmet sausages with herbs, spices and fillings like apples, jalapeno and pineapple. You can even make your own baked beans, too, making them as sweet or spicy as you like and adding condiments like ketchup or even a splash of maple syrup for a sweet tanginess.
#5 Baked Potatoes
Baked potatoes are an effortless meal and classic camping snack. Before your camping trip, prepare a bunch of baked potatoes — one for each person — wrap them in foil and store them in a plastic container or bag. Bring toppings to make loaded baked potatoes for dinner or make a nacho-like spread for a lunch snack.
For toppings, bring along sour cream, precooked bacon bits, shredded cheese and even some onions if you like. Slice and spread out the potatoes like nachos to warm up and melt the cheese or offer each person to dress an open-faced potato as they like for a wholesome meal.
#6 Hobo Pies and Sandwiches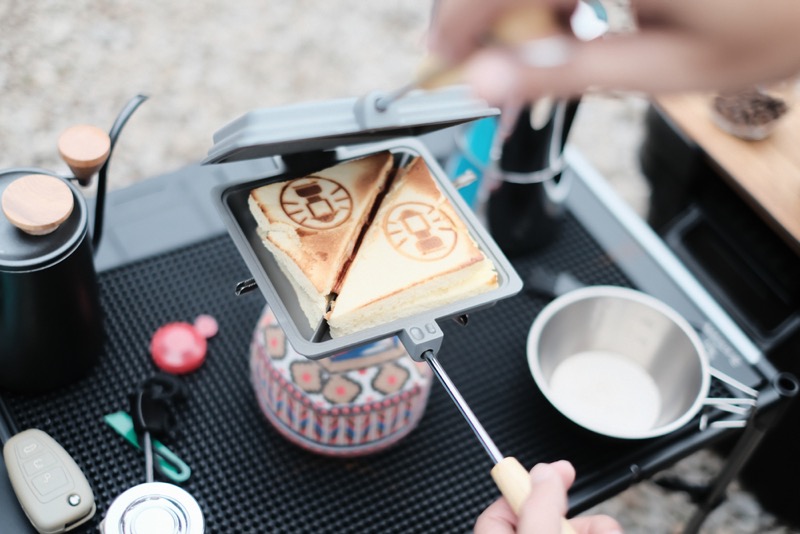 Another great classic camping snack is the hobo pie. Think of hobo pies as a warm panini sandwich, but without the advantage of a panini press. Instead, you will use a hobo pie maker cooking iron, consisting of two metal plates hinged together at the end of two handles. You can pick these up at an outdoor recreation store for around 20 bucks. You might even be able to find them at the camp canteen or store.
With the iron hobo pie maker, you can create anything from grilled cheese to Reubens to pizza-based and Philly Cheesesteak hobos, pressing together two slices of bread and whatever fixings you want in between. However, it does help to pick a meltable cheese to make it all stick and meld together easily.
You can even use a hobo pie maker for more dessert-based pies. Just put whatever sweet treats you want between the two sweet bread slices like cinnamon swirl or french brioche. For the inside, think strawberry filling and cream cheese or caramel and apples.
#7 S'mores
S'mores are less of a snack and more of a dessert. But they're such a classic camping staple they have to be mentioned. If you've never made s'mores or have a camping friend or kid who's never tried one of these delicious dessert treats, it's a must!
Classic s'mores consist of marshmallows, melted at the end of a stick or extendable metal rod, topped with a chocolate square that is then smashed between two graham crackers. While this is the time-honored tradition, there are other varieties of s'mores that suit different tastes.
For example, these days, you can find vegetarian and vegan marshmallows for specific diets. You can also get creative with your toppings, swapping chocolate squares with banana slices, peanut butter cups and whatever makes your mouth water. Prefer your marshmallow slightly warm and gooey or burnt to a crisp with a little char? The choice is yours!