Foodntravelling.com – The best way to experience great pleasure, especially during winter is by taking a hot spring bath. Soaking in hot water can increase the body's metabolism, cleanse the skin, and provide a sense of comfort and relief from aches and stress. Many countries have hot springs, as well as Australia has some beautiful and fun baths. Besides that, you are planning a vacation to Australia and want to try to relax your body. Therefore, here is a discussion of 11 Wonderful Hot Springs Places in Australia for Best Relaxation. So don't miss a dip while you're there!
Hepburn Springs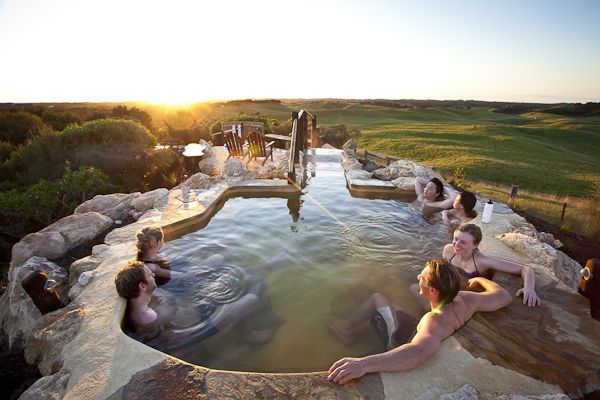 The first hot springs in Australia are Hepburn. This place is the only historic bath in Victoria, Australia which was founded in 1895. In addition to hot springs, this place also offers a spa for various skin rejuvenation therapies. However, the main highlight is the Sanctuary Retreat. This place combines the healing concept of natural mineral baths with ancient cultural spa traditions. Which is also equipped with five-star luxury villas that can be used as accommodation overnight after soaking and relaxing.
1 of 11
Deep Blue Geothermal Baths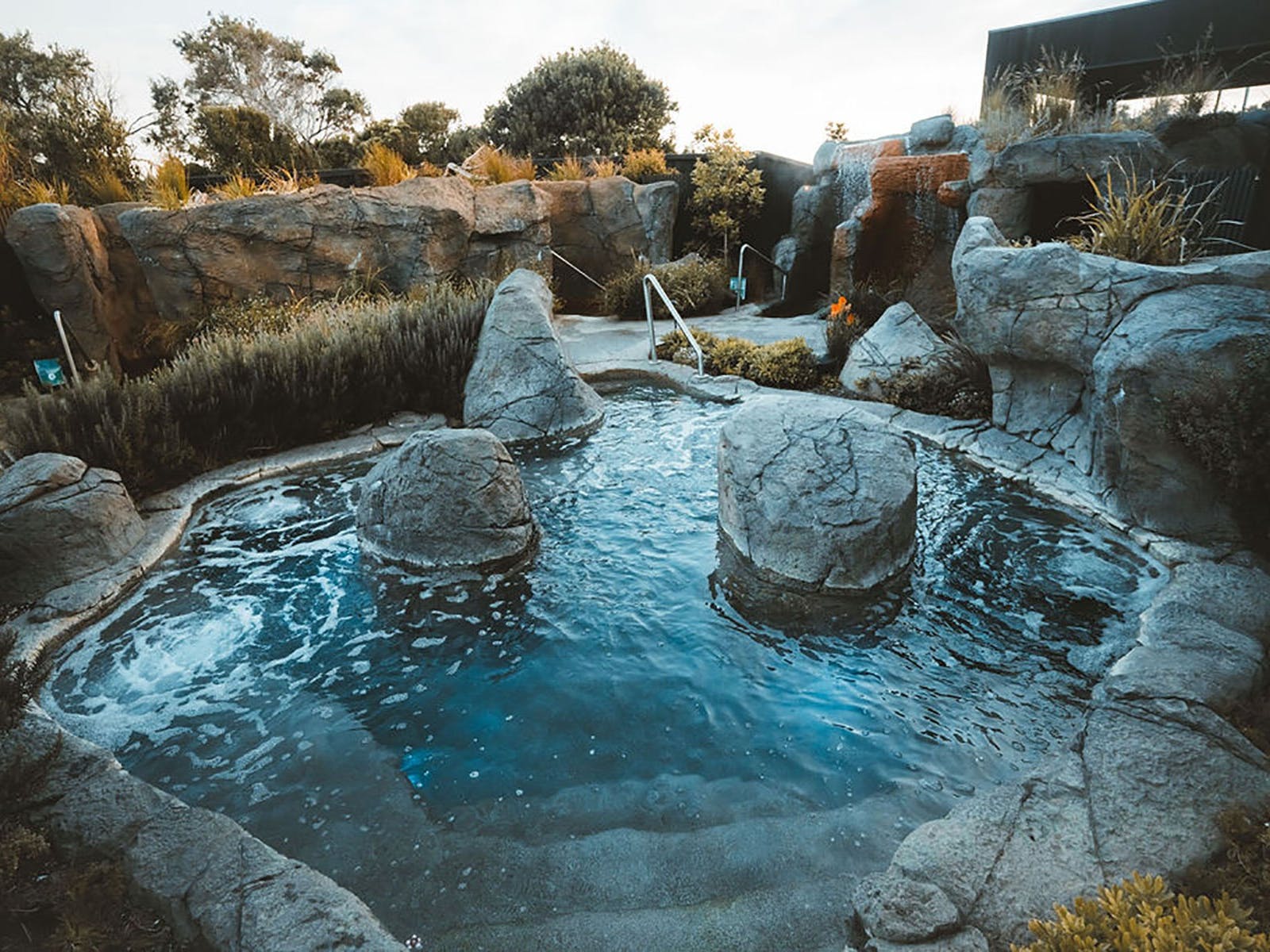 The Deep Blue Resort at Warrnambool in west Victoria has spa facilities and one of them is the Deep Blue Geothermal Baths. In this place, the water used for swimming or bathing comes from ancient underground sources. Commonly known as the Dilwyn Aquifer. The first hot springs or mineral baths in this area were created in the late 19th century. In addition, there is currently one open geothermal mineral pool and four private hot mineral pools at your disposal.
2 of 11
Mornington Peninsula Hot Springs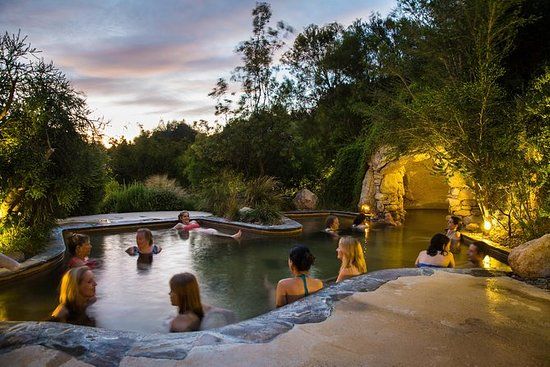 These hot springs are in the middle of the Mornington, Peninsula and are located south of Melbourne. You will find yourself in a peaceful and secluded environment. You can follow this by the presence of steep caves and rock pools filled with pure thermal mineral water. This place was created because it was inspired by Japanese bathing culture. Where you can relax to know yourself more and be one with nature. In addition, it offers 20 different hot springs including a cave pool. And also, you will find a mineral massage shower and hilltop pool.
3 of 11
Bitter Springs
The next hot springs in Australia are Bitter Springs. The Mataranka area has several natural hot springs, one of which is Bitter Springs. This place has a slow current that flows into the river, allowing you to follow the water flow up to 100 meters. Because Bitter Springs is included in, and also this place is not suitable for small children. However, you can enjoy a relaxing and calm experience at the hot springs. If you are interested in Bitter Springs you will create an extraordinary atmosphere.
4 of 11
Yarrangobilly Caves Thermal Pool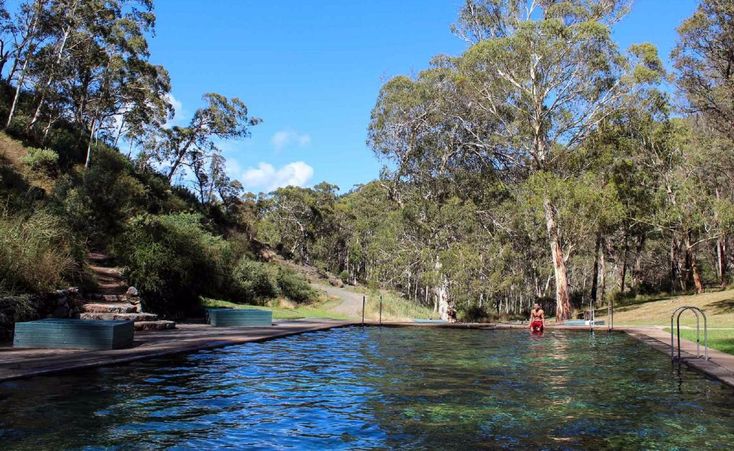 This pool is located within the Kosciuszko National park and is filled with natural hot springs that flow like waterfalls. The waterfall in this hot spring makes you feel refreshed. The waterfall in this hot spring makes you feel refreshed. You need to know, this place which is in a remote area makes the atmosphere of the pool very calm. So that this hot tub has become a favorite place for local residents.
5 of 11
Dalhousie Springs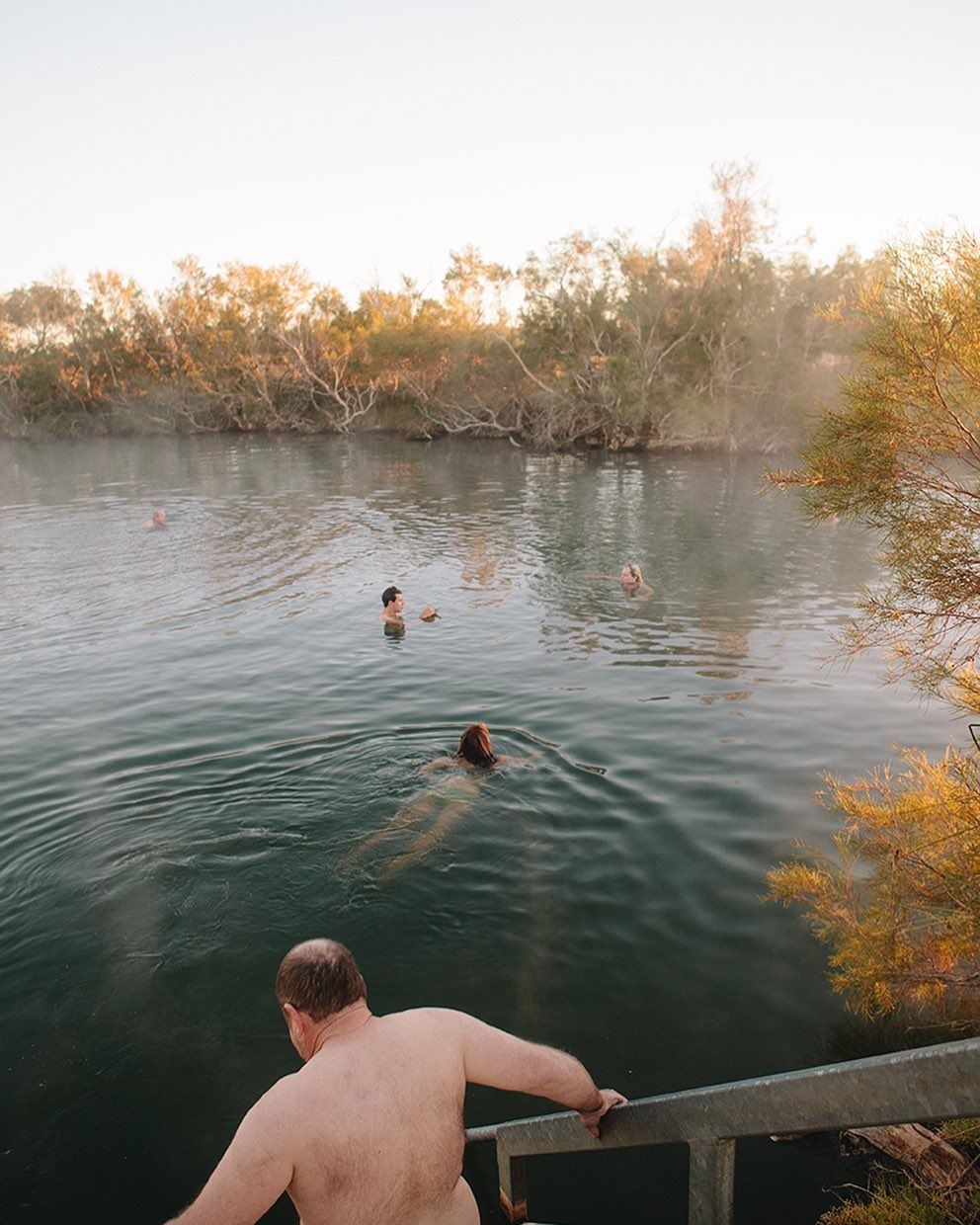 Located in Witjira National Park, South Australia you will find Dalhousie springs. It is one of the most famous oases in the country. This place is a collection of sixty natural hot springs. This hot spring is big enough so you can swim freely. And of course with its calm atmosphere in temperatures varying from 37 to 43 degrees. In addition, this place forms an oasis of interior nuance that is so natural. So that the local indigenous tribes consider this spring as a sacred place.
6 of 11
Lightning Ridge Bore Baths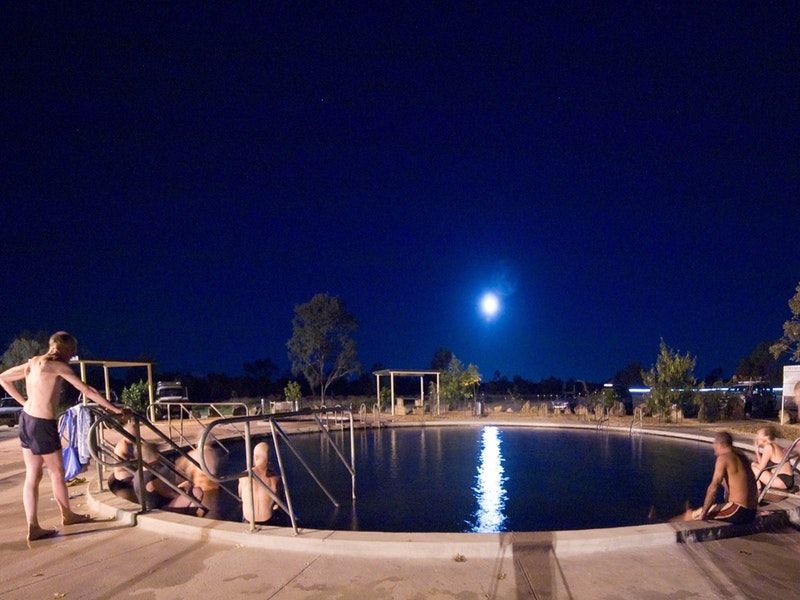 The baths are located near Sydney, just outside the Opal Lightning Ridge mine. This mine is recognized as one of the best hot springs. The water supplying the Lightning Ridge Bore Baths came from the Great Artesian Basin. The Great Artesian Basin is the largest and deepest artesian basin in the world, dating back about two million years. On the other hand, this hot spring never closes and is always crowded with visitors. So you can visit whenever you want during your holiday in this country. When you are in this bath, you will find a hole. Which is where the hole serves to push new water to the surface with a temperature of around 40 to 50 Celsius.
7 of 11
Kimberley Warm Springs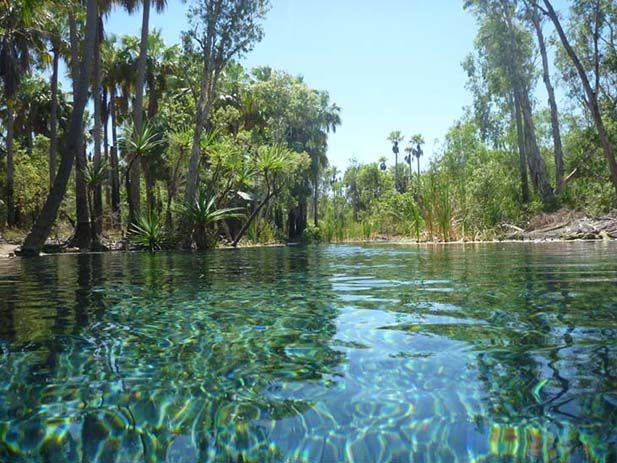 A spring located in northern Tasmania within the Kimberley Warm Springs Reserve. And managed directly by Tasmania's Parks and Wildlife Service this is a hidden gem. The geothermal springs that supply this large natural pool come from below the surface about 350 meters. The temperature of this spring is quite stable around 25 degrees Celsius which makes you feel comfortable in cold weather.
8 of 11
Mataranka Thermal Pool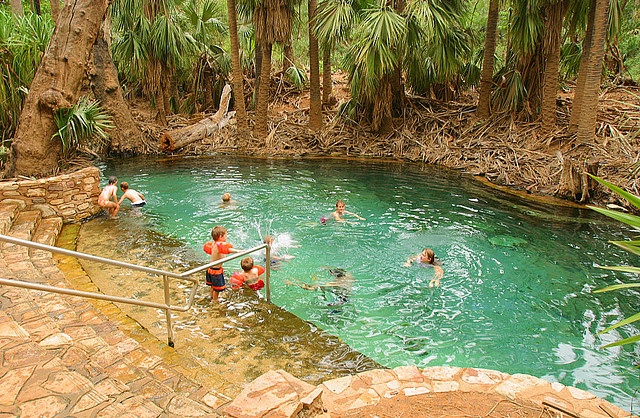 This pond surrounded by towering palm trees and green fields is one of the most popular spots in Elsey National Park. In addition to soothing the eyes with the view, it also adds joy and serenity to the soul. This Mataranka Thermal Pool has an underground mineral water source that continuously pumps warm water into the pool to keep the water fresh and refreshing.
9 of 11
Katherine Hot Springs
This hot spring is near a small town called Katherine. This bath is a very fitting place for a picnic lunch and recreation. If you are interested in camping, the hot springs here provide a spot for you to camp. Katherine's hot springs average around 32 degrees. If you are interested in camping, the hot springs here provide a spot for you to camp.So that makes this place very suitable and tempting when winter.
10 of 11
Innot Hot Springs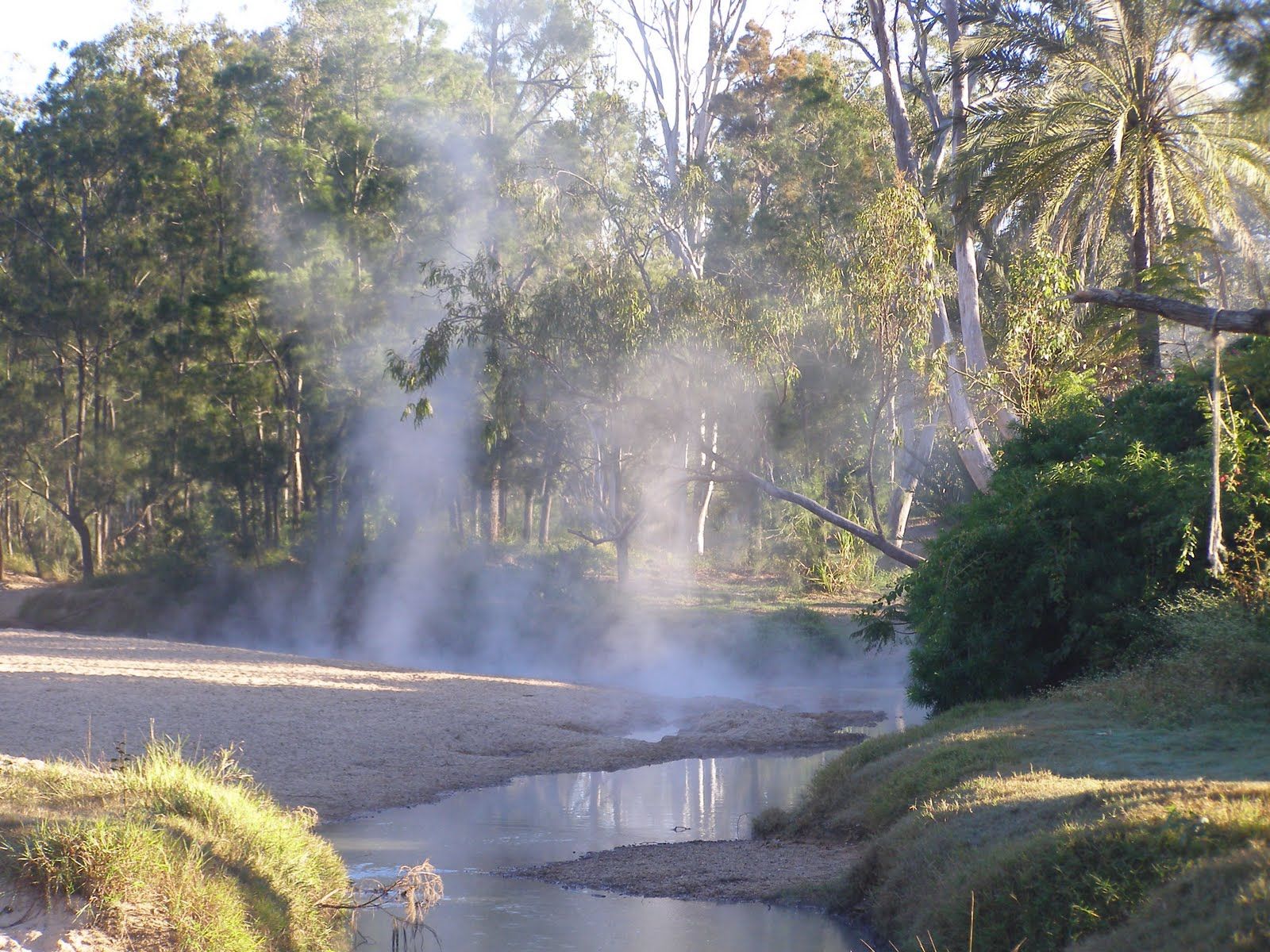 Innot Hot Springs is located in a small town in the Tableland region. You'll find Innot Hot Springs which first came to attention about 100 years ago. When the water found at Nettle Creek was packaged and shipped to Europe. On the other hand, this bath combines six public swimming pools and has its own bottled water product. This pool of water is quite shallow and is often visited by international tourists and local residents. However, you have to be careful because the temperature can rise above 75 degrees Celsius.
11 of 11
Thus discussion of 11 Wonderful Hot Springs Places in Australia for Best Relaxation. There are so many amazing hot springs in Australia for relaxation as well as beauty. Besides, the beauty of the surroundings cannot be expressed in words. Natural hot mineral water and fresh air can help you relax and rejuvenate your skin cells. For years, Australia's hot springs have caught everyone's attention. So, are you one of them? Hopefully, you can visit one of the hot springs on this list. Happy traveling!