1. Denmark at a glance
Denmark is one of the countries in Europe that has a popular tourist attraction. So if you talk about Denmark, you can't be separated from its very dense cultures, such as Scandinavian culture. Scandinavia itself is a collection of regions in northern Europe and is known for its design style. That way, you will to know about the life of the Vikings. Their own lives are part of Scandinavia itself. And Denmark is a more attractive Scandinavian country to discuss. Therefore, in our review, there is some information regarding recommendations for tourist attractions in Denmark.
Denmark, along with other Scandinavian countries, is nicknamed the Nordic Country, which means the country is located in the north. The country is bordered by Germany to the south, Sweden to the east, and Norway to the north. You can use English to communicate with them. While the official language they use is Danish (Dansk) and the official currency is the Danish Krone (DKK). To go to Denmark you can land at the main international airport in this country, namely, Copenhagen International Airport (CPH) which is located in Kastrup, Copenhagen.
Geographically, the territory of Denmark includes the entire peninsular area of ​​the surrounding islands, the largest of which are the Zealand, Funen, and North Jutlandic Islands. Almost all the major islands in this country have connected by bridges with each other. The territory of the Danish kingdom also includes two autonomous countries in the North Atlantic Ocean, namely Greenland and the Faroe Islands. The capital of Denmark is located in Copenhagen on the Island of Zealand.
2. Denmark tourist attraction
As you know, Denmark is one of the most beautiful, and romantic, and has many tourist attractions in Europe. This country has a rich history, magnificent buildings, and beautiful natural landscapes. Apart from that, Denmark is famous for its amazing tourist spots. In this country, there are many interesting tourist attractions to visit, such as North Jutland National Park, Kronborg Castle, and Copenhagen Old Town. Then, you too can enjoy the beauty of nature, learn about history, and enjoy delicious local dishes. Therefore, we provide some recommendations for tourist attractions in Denmark that are worth your visit. Hopefully, our review can be used as input for you to travel around Europe. Welcome to our review!
Tourist Attractions in Copenhagen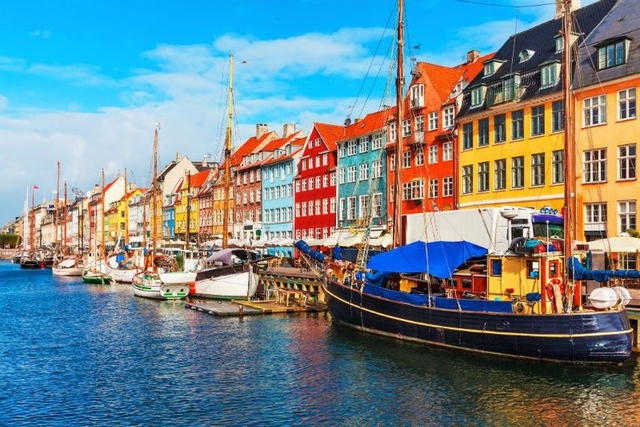 As the capital city of Denmark, Copenhagen is one of the first destinations you should visit. Apart from being the capital city of the country, it turns out that Copenhagen itself is the largest city in Denmark. Geographically, the city is located on the east coast of Zealand Island, the eastern region of Denmark.
Then, a small part of this city area is also located on Amager Island. From Malmo, Sweden, Amager is separated by the Oresund Strait and connected by the Oresund Bridge. The population of this city is around 764 thousand inhabitants. Formerly Copenhagen was a fishing village of the Vikings that was built around the 10th century. In the early 15th century, the city later became the capital of the Kingdom of Denmark. Some of the main landmarks in Copenhagen include Tivoli Gardens, The Little Mermaid, Rosenborg Castle, Amelienborg, Christiansborg Palace, and Nyhavn. Copenhagen is also one of the world's cyclist-friendly cities.
Aarhus tourist attractions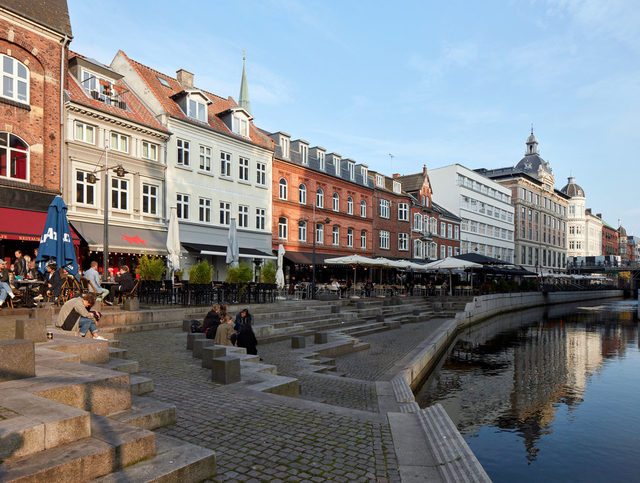 After you are satisfied enjoying Copenhagen city, then continue the journey to visit Aarhus. Aarhus is the second largest city in the country. Geographically, the city and located on the east coast of the Jutland Peninsula, the central region of Denmark. From Copenhagen, Aarhus is about 187 Km to the northwest. The population of this city is about 335 thousand inhabitants.
The city of Aarhus was first inhabited by the Vikings in the 8th century. This city has a strategic position, namely by the coast of a fjord and a natural harbor. Just like Copenhagen. In addition, the city of Aarhus is also a friendly city for bicycle users. Here there is a free bike-sharing system, Aarhus Byckler, which allows users to share bikes with each other for free. The main landmarks in the city include Aarhus City Hall, Isbjerget, Park Alle, Bellvue Beach, and Mindeparken. From Copenhagen, Aarhus can be reached by the DSB train or by taking the Mols-Linien ferry.
Bornholm tourist attractions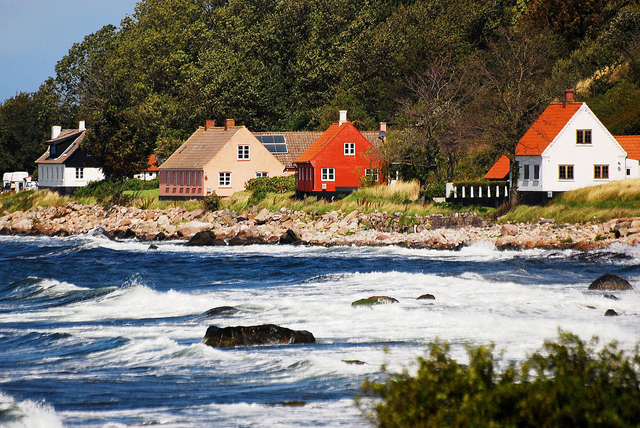 After Aarhus, your trip will continue to Bornholm. Bornholm is a small beautiful island in the Baltic Sea. Geographically, this island is located at the eastern end of Denmark, south of mainland Sweden, and northeast of mainland Germany.
The population of Bornholm is about 39 thousand people. The largest city on the island is Ronne. In summer, Bornholm is always crowded with tourists. This island is often nicknamed solskinsoen or The Sunshine Island because it is always sunny in summer, and Klippeoen because of the island's mainland structure which is mostly composed of granite rocks. From Copenhagen, Bornholm can be reached in 3 hours, 1 hour by car, then 2 hours by ferry via Ystad, Sweden. You can plan a trip to this city to see interesting tourist objects.
Helsingor tourist attractions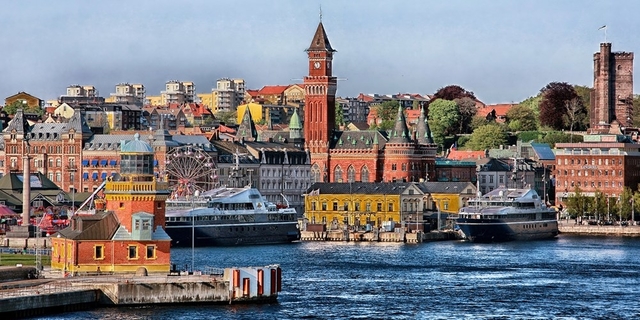 After you are satisfied visiting Bornholm, then the trip continues to Helsingor. Helsingor is a city located in the northeastern region of the island of Zealand. Helsingborg, Sweden, the city is linked by the Gerry HH line. The line is one of the busiest ferry lines in the world, with more than 70 departures daily. The population of Heldingor is around 61 thousand people.
In this city, there is the castle of Kronborg, where William Shakespeare played the opera, Hamlet. With Copenhagen, Helsingor is connected by a train line that runs every 20 minutes. The main train station in the city is Helsingor Station, other train stations include Ferry Terminal, Snekkersten, Espergaerde, and Mordru. Immediately arrange your trip to this city. Hope it's fun and memorable.
Rosenborg Castle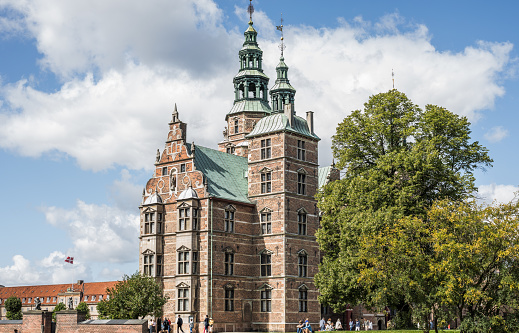 This beautiful tourist object is many visited by local and foreign tourists. This castle tourism object was built with magnificent architecture and still looks more attractive even though it has reached more than four hundred years of age. Then until now, this Rosenborg castle still maintains the majesty and simplicity that have made it a popular tourist spot in Denmark. The castle is surrounded by a beautiful garden that has decorated with many beautiful flowers. Then, to complete your trip to Denmark, you can visit this magnificent Rosenborg castle.
Råbjerg Mile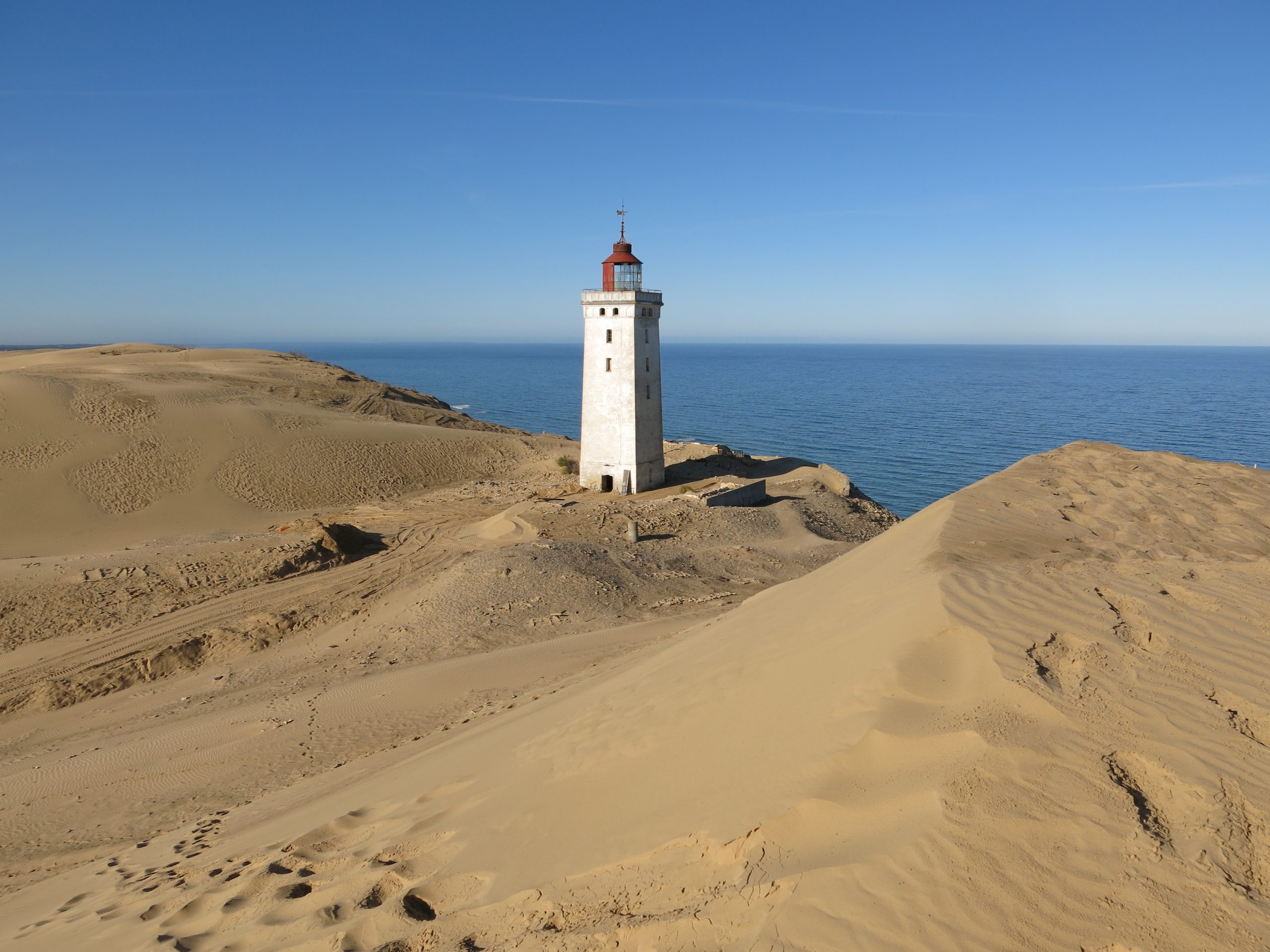 These beautiful sand dunes are one of the best places to visit in Denmark in winter. Råbjerg Mile itself is known as an Instagramable tourist spot in Denmark which is recommended for picnics. To reach this place, there are several modes of transportation that you can use, one of which is by driving a car from Kandestedvej. If you prefer to explore the dunes via bicycle, then start your journey from the west coast route of Vestkystein. When you are at this location, you will be greeted with an amazing view that is definitely a must to capture. Denmark is a great place to spend your holidays. Don't forget to bring your camera so you can capture these beautiful moments forever. Have a great holiday and enjoy the natural beauty of Denmark!
Tivoli Gardens, Copenhagen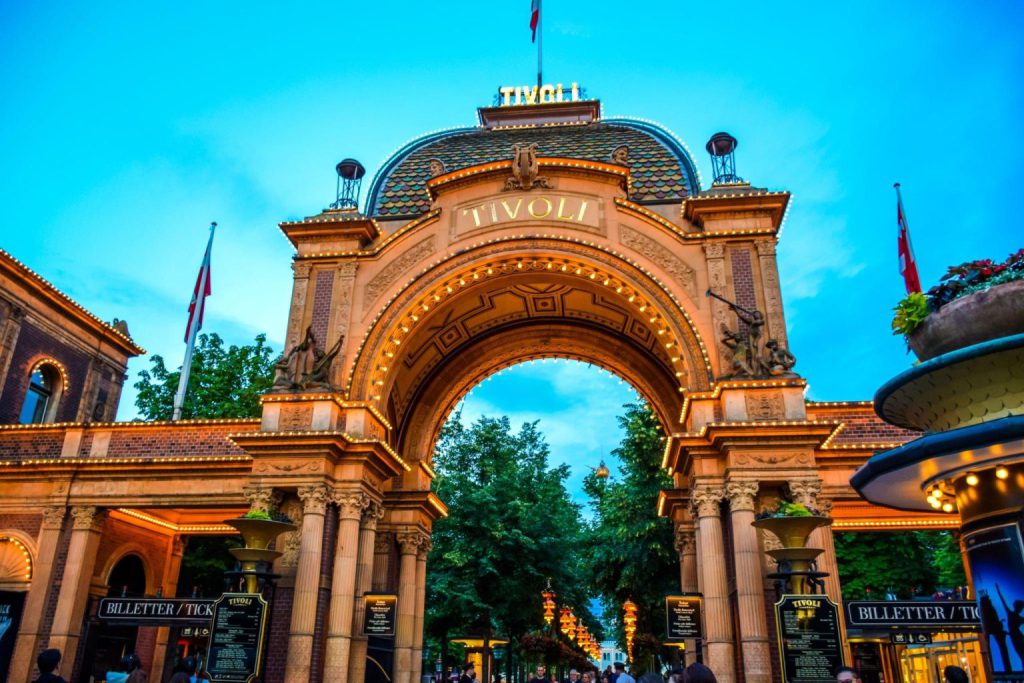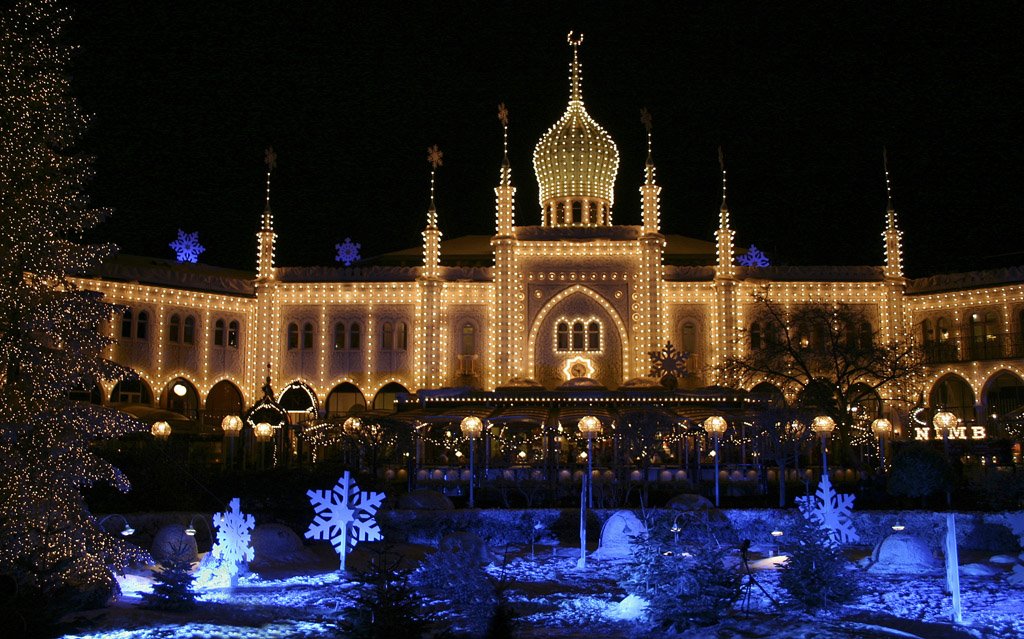 This one tourist object is Tivoli Gardens, Copenhagen. This amusement park has been around since 1843 and is one of the tourist attractions in Denmark and the oldest amusement park in the world. Tivoli Gardens offers a wide variety of fun rides and shows, including roller coasters, carousels and more, as well as a beautiful garden with flower gardens and charming cottages.
The park also offers a variety of restaurants and shops selling typical Danish food and drink. Tivoli Gardens is a great place to have fun with family and friends.
Danish national museum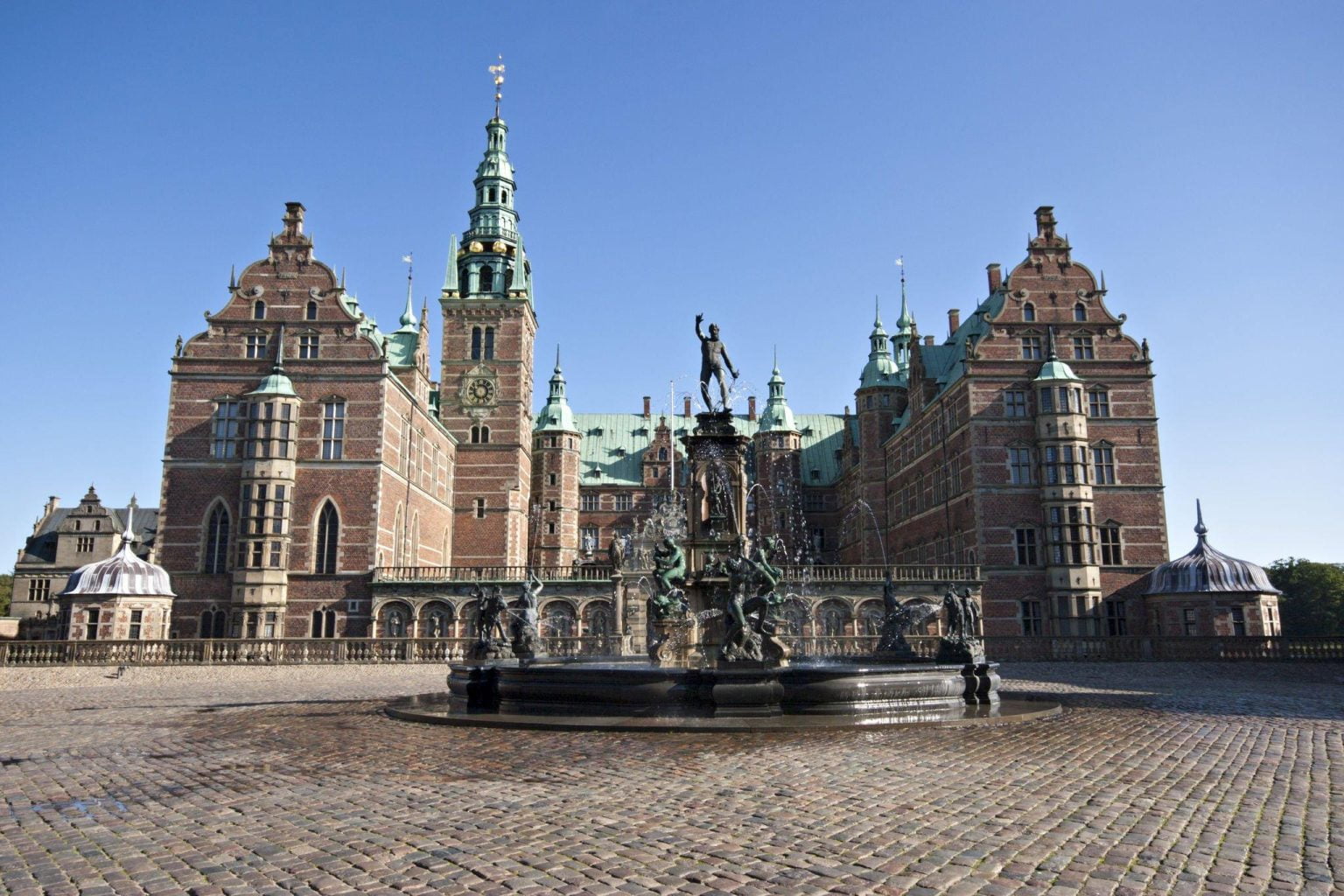 For those of you who like collections of historical objects, you can visit the Danish National Museum. This museum is located in Copenhagen, Denmark. The museum houses a collection of artifacts related to Danish history and culture, including art, history, and archeology, and includes a Scandinavian art gallery.
The National Museum of Denmark offers a wide variety of attractive exhibits, as well as interactive shows and demonstrations that allow visitors to learn about Danish history and culture. This museum is a good tourist spot in Denmark to study Danish history and culture. In this place, you can learn about historical objects from the Danish kingdom of the past.
Viking museum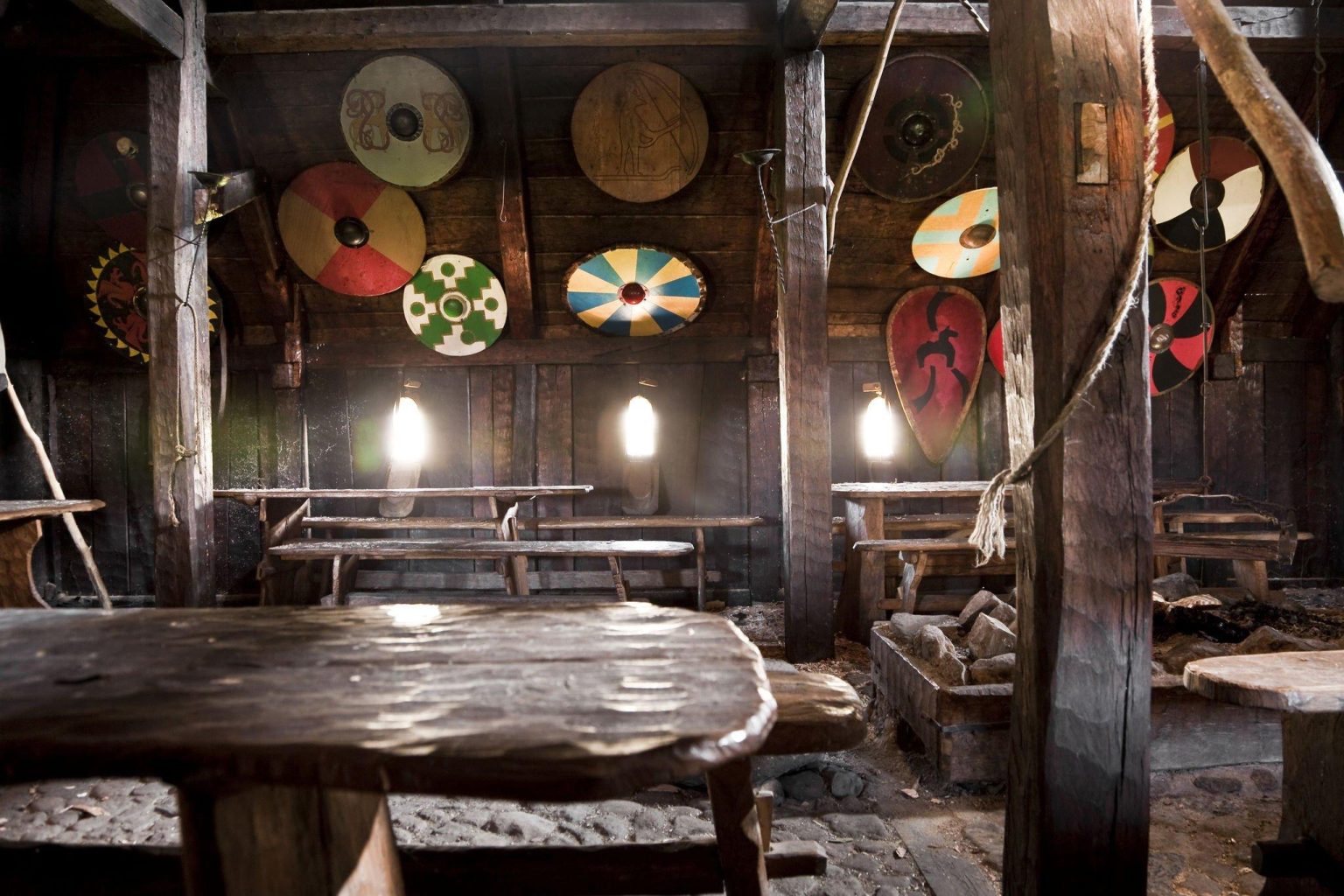 Next, you can see the tourist object of the Viking Museum located in Roskilde, Denmark. This museum is dedicated to displaying artifacts and historical objects related to the Viking civilization. This museum is located in Roskilde, Denmark, and is one of the largest history museums in the country.
The Viking Museum displays artifacts and objects found at archaeological sites throughout Denmark, including Viking ships found at Roskilde and rocky hills worked by Vikings. This museum is also one of the tourist attractions in Denmark and always organizes various events and activities related to Viking culture and history. You can include this museum in your visit list.
Legoland Denmark, Billund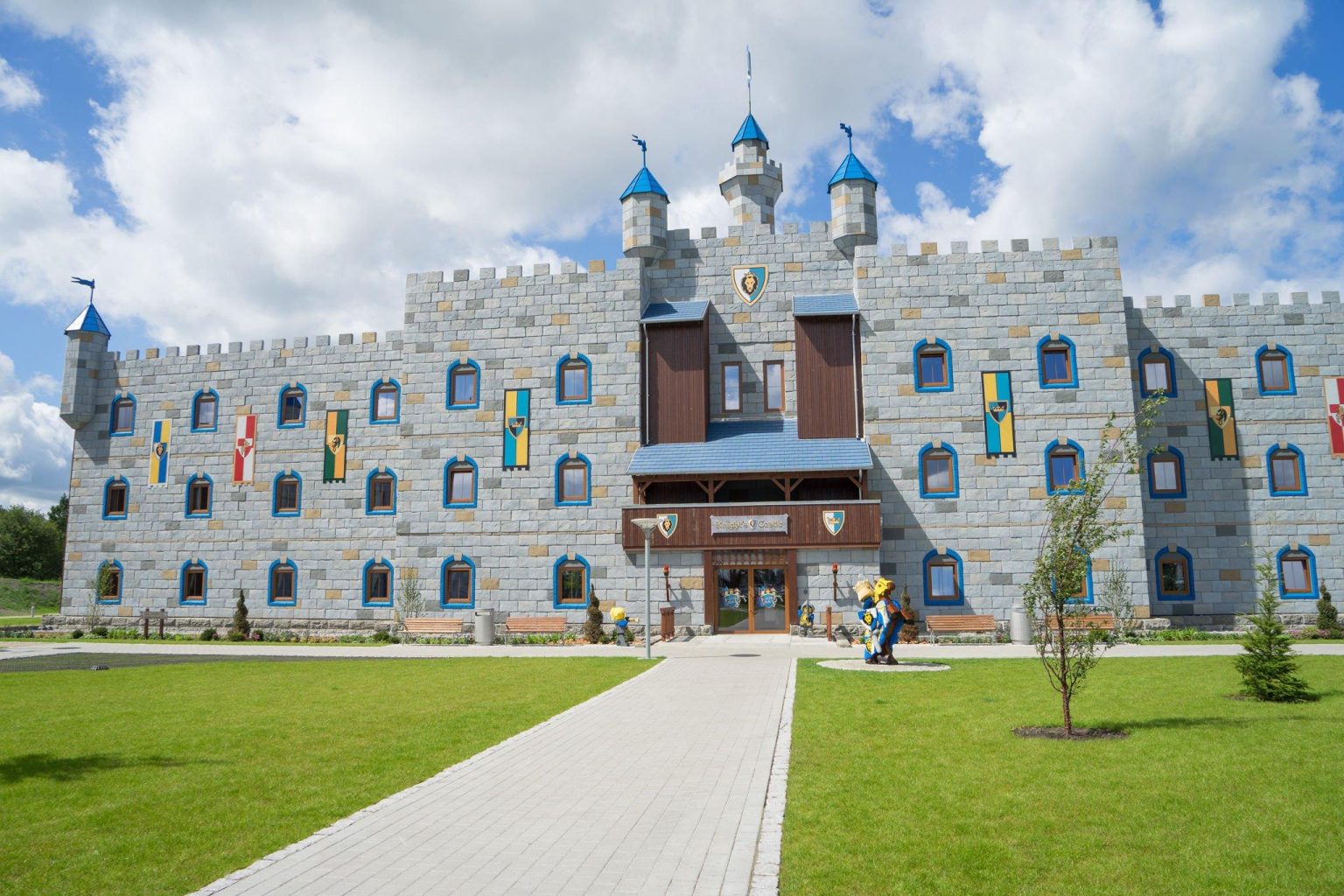 This Legoland Denmark tourist attraction is located in Billund. This popular park featuring attractions and games based on LEGO toys is visited by many local tourists for their leisure. The park is divided into several thematic areas, including Miniland, LEGO City, and the Imagination Zone, and offers a variety of activities for visitors of all ages. Here you can witness several popular attractions including Dragon Train, LEGO Friends Heartlake City, and LEGO NINJAGO World. So for those of you who want to relax with your family, you can join local tourists.
Rundetårn tower, Copenhagen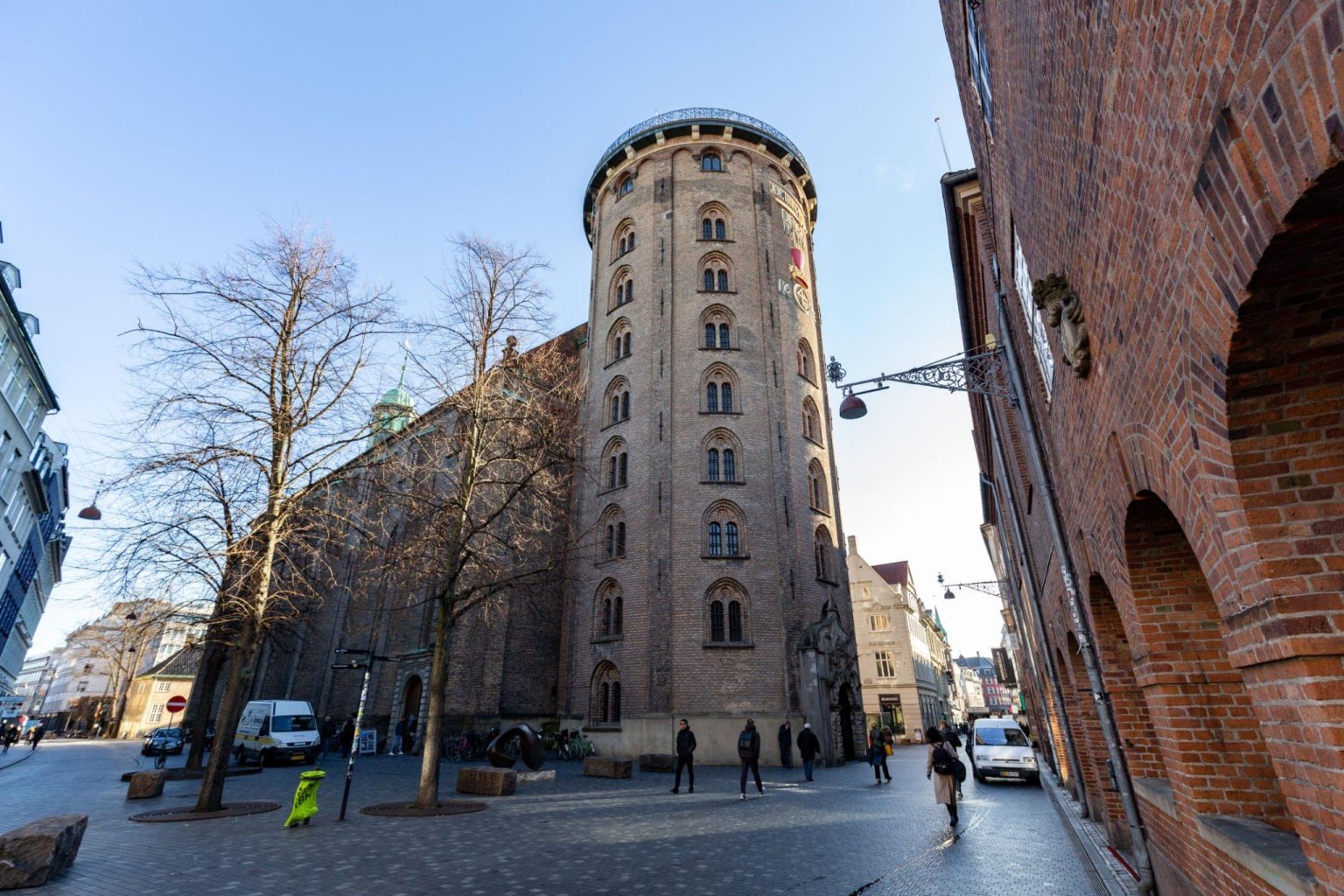 Witnessing historic old buildings is exciting. As you can see, Rundetårn Tower, Copenhagen is a circular tower located in Copenhagen, Denmark. The tower was built in 1637 by architect Christian IV as part of a project to expand Copenhagen westward.
This tower, located in Købmagergade is the Round Tower (Rundetårn), a 36-meter-high structure built as an observatory in 1642. Today it also houses a small collection connected with the famous Danish astronomer, Tycho Brahe. A special treat is the platforms, which are reached by a wide spiral ramp. From the top, you can see an incredible panoramic view of the city.
A new attraction is the glass floor that hovers 25 meters above the ground and from here you can peer into the castle's core. If a Hans Christian Andersen Fan knows, he will be pleased to know that the tower features in his famous story The Tinderbox – "eyes as big as the Round Tower became popular. After visiting this place, you return and continue with a short walk around the Old Town. Then, you can Explore by way of Skindergade and Kejsergade to Gråbrødretorv, one of Copenhagen's most charming squares with brightly colored old houses.
Odense city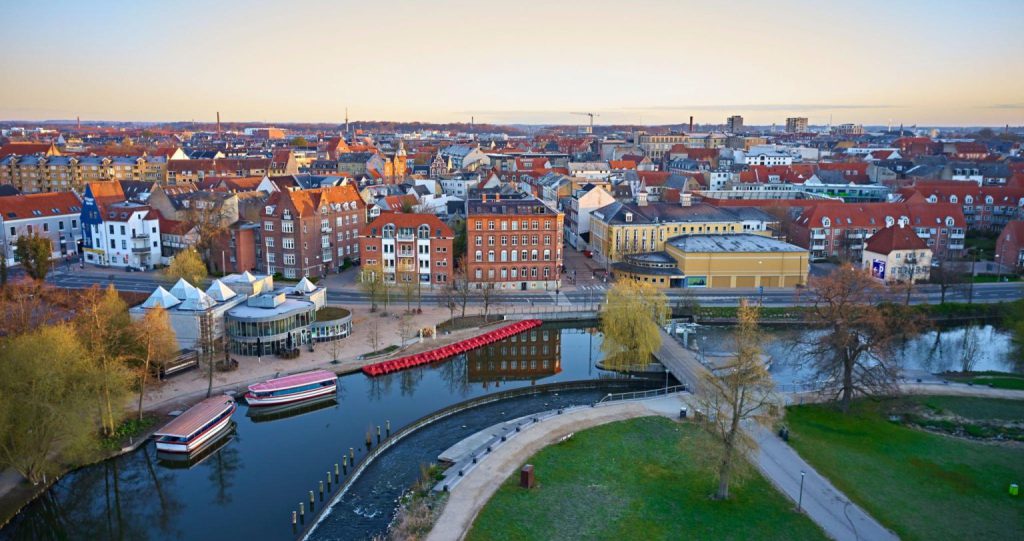 The next amazing tourist attraction that you can visit is Odense City. This city is the second largest city in Denmark after Copenhagen. This city is located on the island of Fyn, in the center of Denmark. Odense is famous as the hometown of the famous Danish poet, Hans Christian Andersen.
The city is also home to many museums and art galleries, including the Hans Christian Andersen Museum, the Danish Language Museum, and the Danmarks Art Gallery. In addition, Odense is also the center of business, industry, and tourist attractions in Denmark, with many technology and defense companies based in the city. Therefore, don't miss your visit to the most popular tourist object in the world. Enjoy your holiday!
Søndervig Beach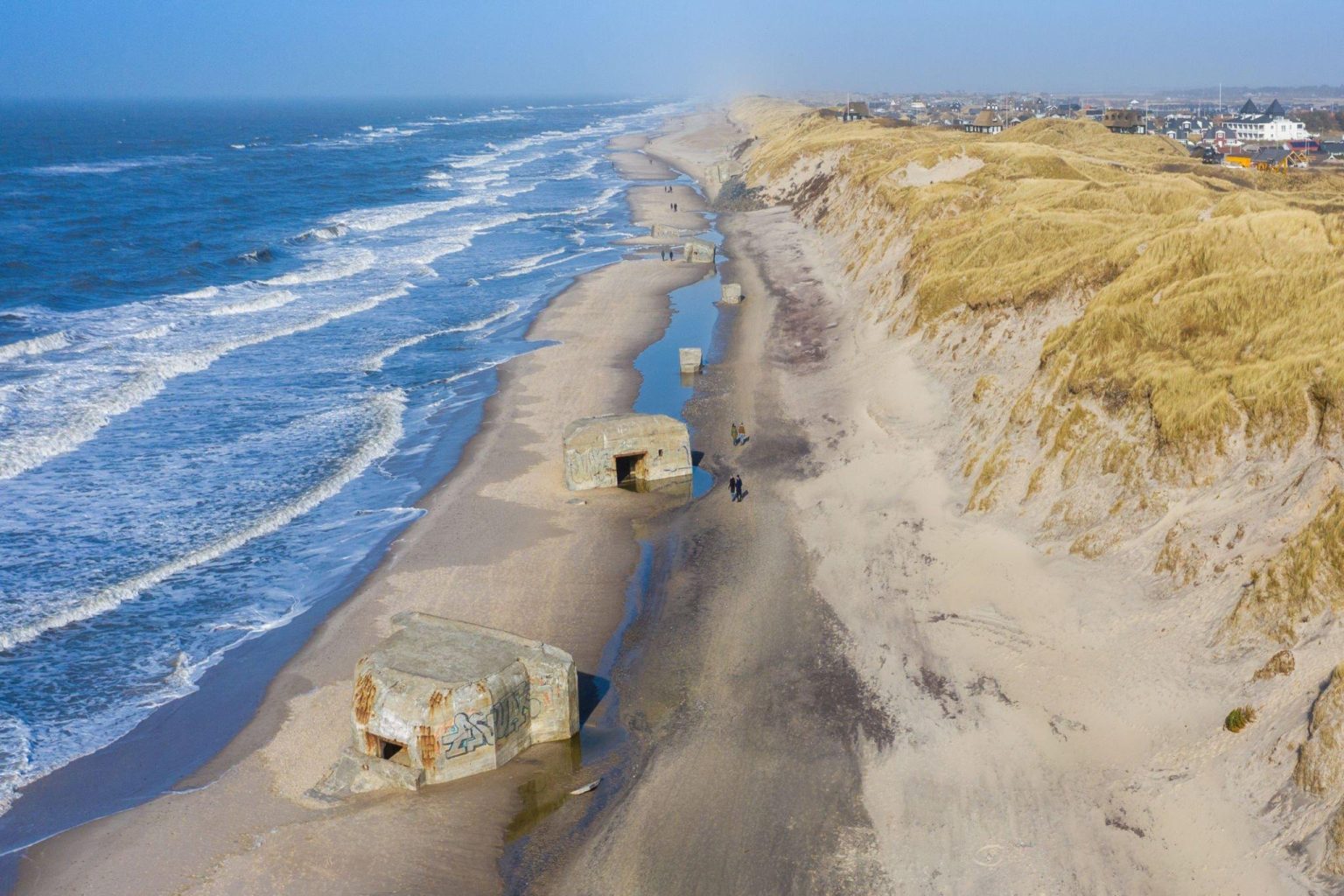 Everyone will be happy if they are taken on a trip to the beach. In this place, you can enjoy the rhythm of the waves of seawater. Then, you can also play in the sand on the beach. As you can see in the picture above, Søndervig Beach is a beach in the Ringkøbing-Skjern area, Denmark. This beach is located along the West Jutland Sea and offers beautiful views and activities such as surfing, sand walks, and playing in the water.
Søndervig is also a popular Danish tourist spot for nature lovers, with its pine forests and humid plains offering many hiking and biking trails. In addition, this beach also offers a variety of accommodation options, from renting houses to holidays and luxury resorts. So you don't need to worry about staying a few nights at this place.
Jelling Monument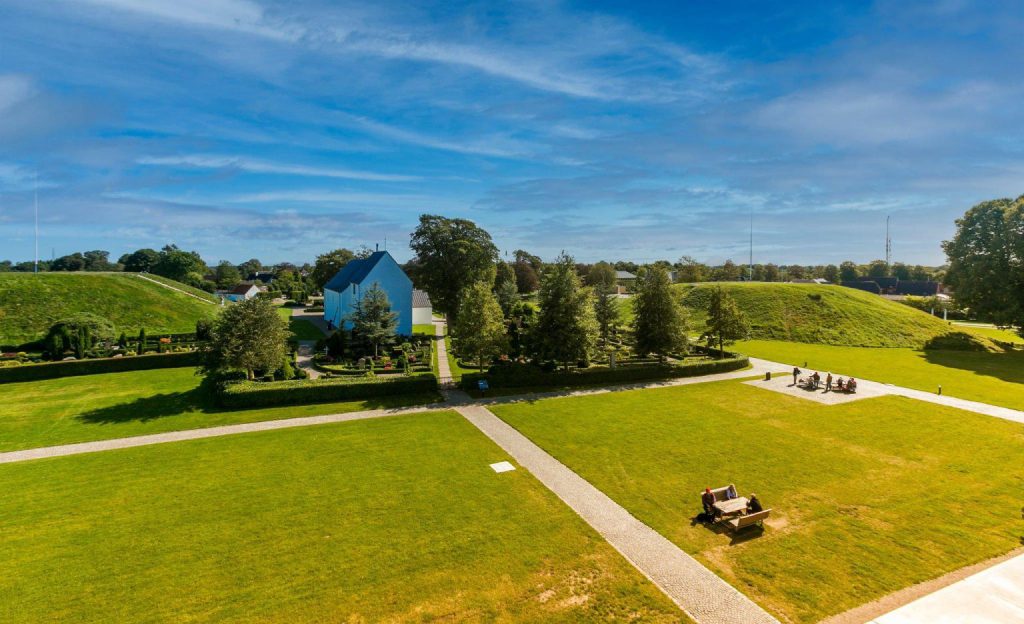 The Jelling Monument tourist attraction is a historic site located in Jelling, Denmark. The monument consists of two tombstones that are over 1000 years old and were built by King Harald Bluetooth in the 10th century. The tombstone contains runic inscriptions that tell about the history and development of religion in Denmark.
The Jelling Monument is also a UNESCO-listed cultural heritage and is one of the most popular tourist attractions. In addition to the tombstones, the site also features a museum presenting artifacts and historical objects found in the area. So for those of you who want to see this historic relic, you can include the location of this tourist object on your visit list.
Amalienborg Tourist Attractions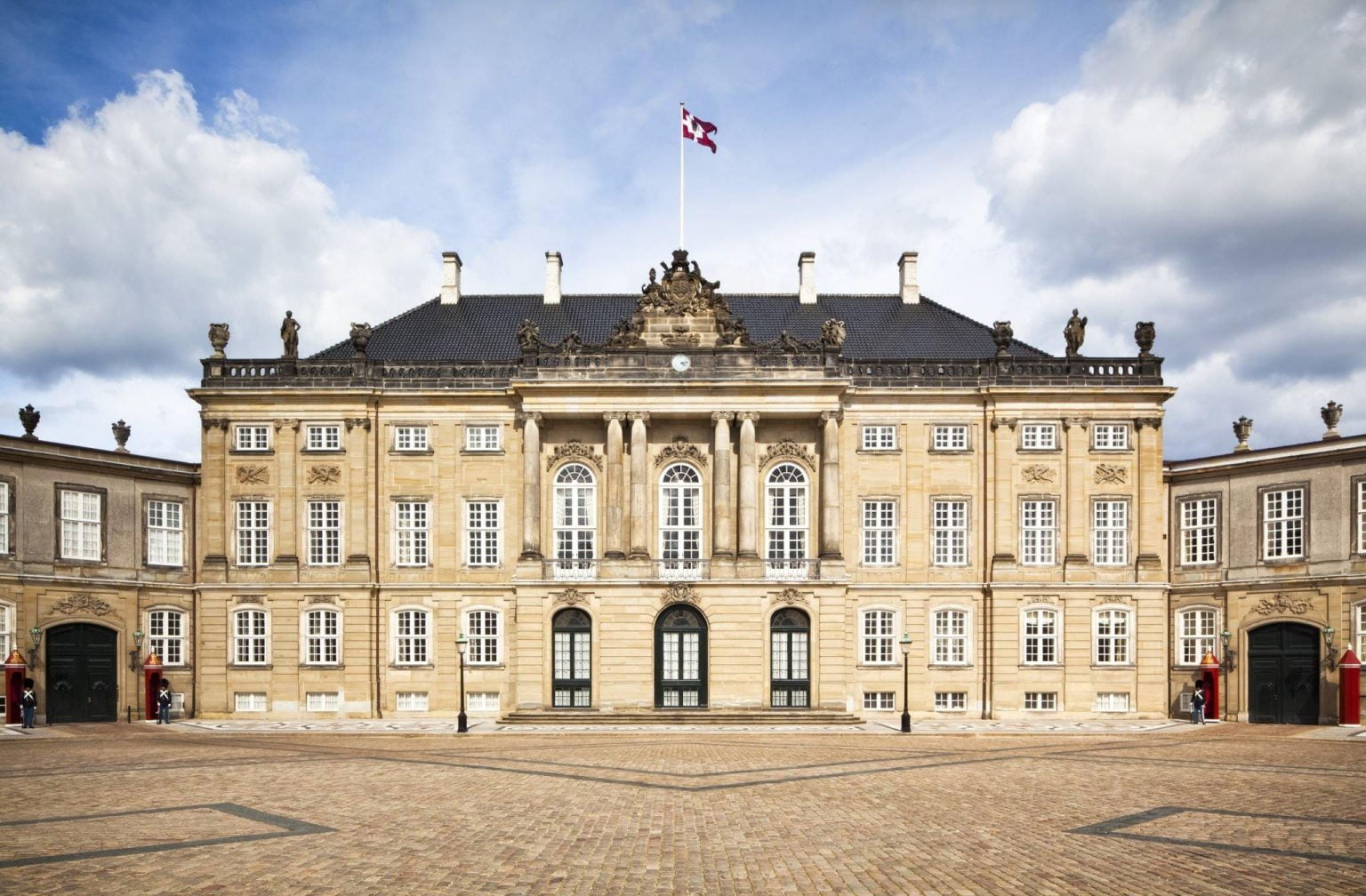 Popular Tourist Attractions Amalienborg is a complex of buildings in Copenhagen, Denmark. The name Amalienborg comes from the name of the Danish royal family, Amalienborg is the official residency of Queen Margaret II of Denmark. The complex consists of four buildings built in the 18th century, and each is known as a "palace block".
The buildings are surrounded by a beautiful garden, and in the center is a statue of Frederik V, the king of Denmark at that time. Amalienborg is one of the most popular tourist attractions in Denmark in Copenhagen and is often a place for official events and music performances.
Danish national aquarium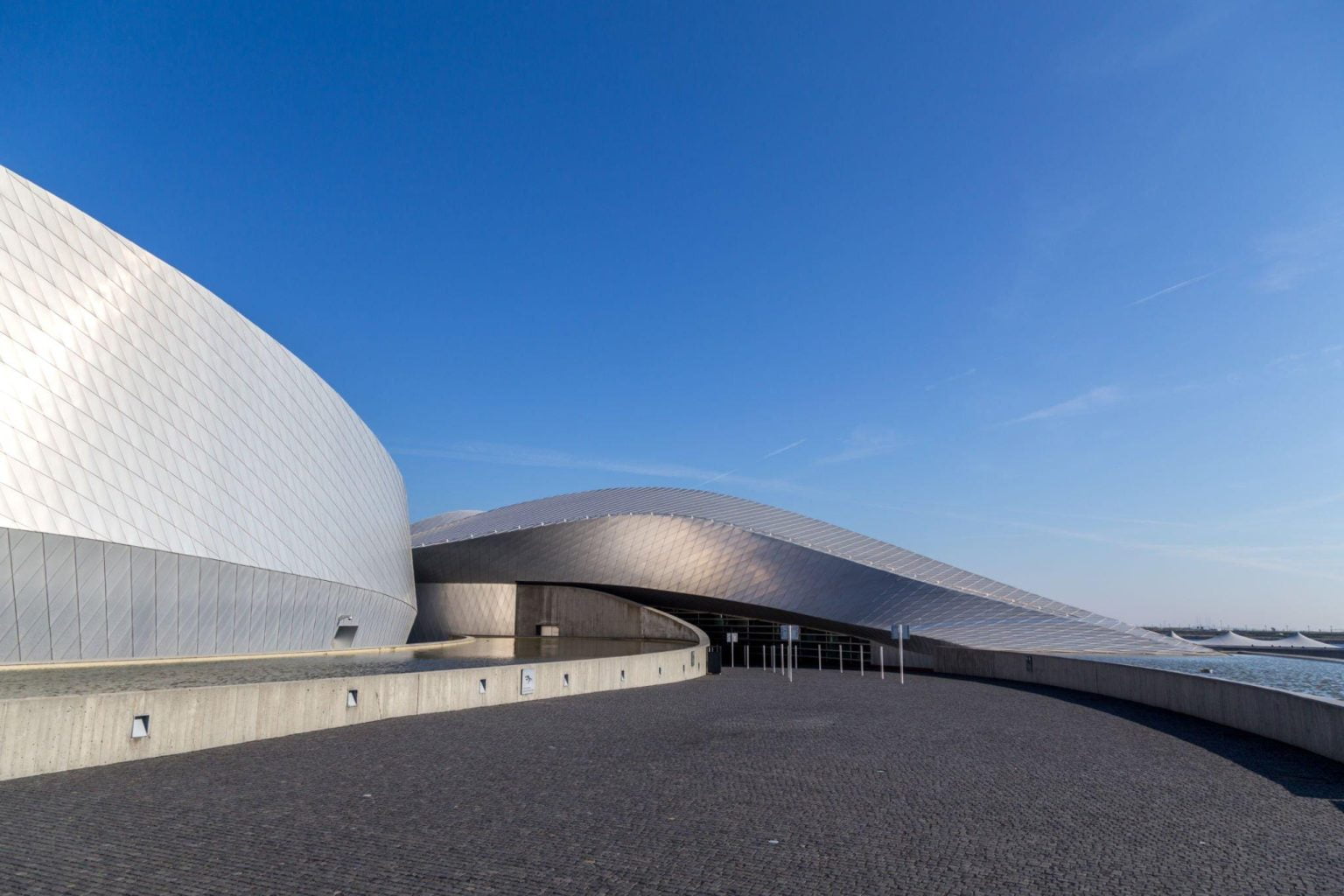 If you have ever seen the largest marine museum in your country, then this Danish National Aquarium tourist object is a national aquarium located in Copenhagen, Denmark. This aquarium was founded in 1939 and is one of the largest aquariums in the world. Denmark's National Aquarium has more than 20,000 marine animals of around 700 different species, including fish, turtles, whales, and sharks.
The aquarium also has a variety of fun events and activities, such as beautiful underwater views and amazing fish shows. National Aquarium Denmark is one of the tourist attractions in Denmark and is often a destination for tourists who want to learn more about marine life. Then, to complete your trip to Europe, bring your family to visit this place.
Den Gamle By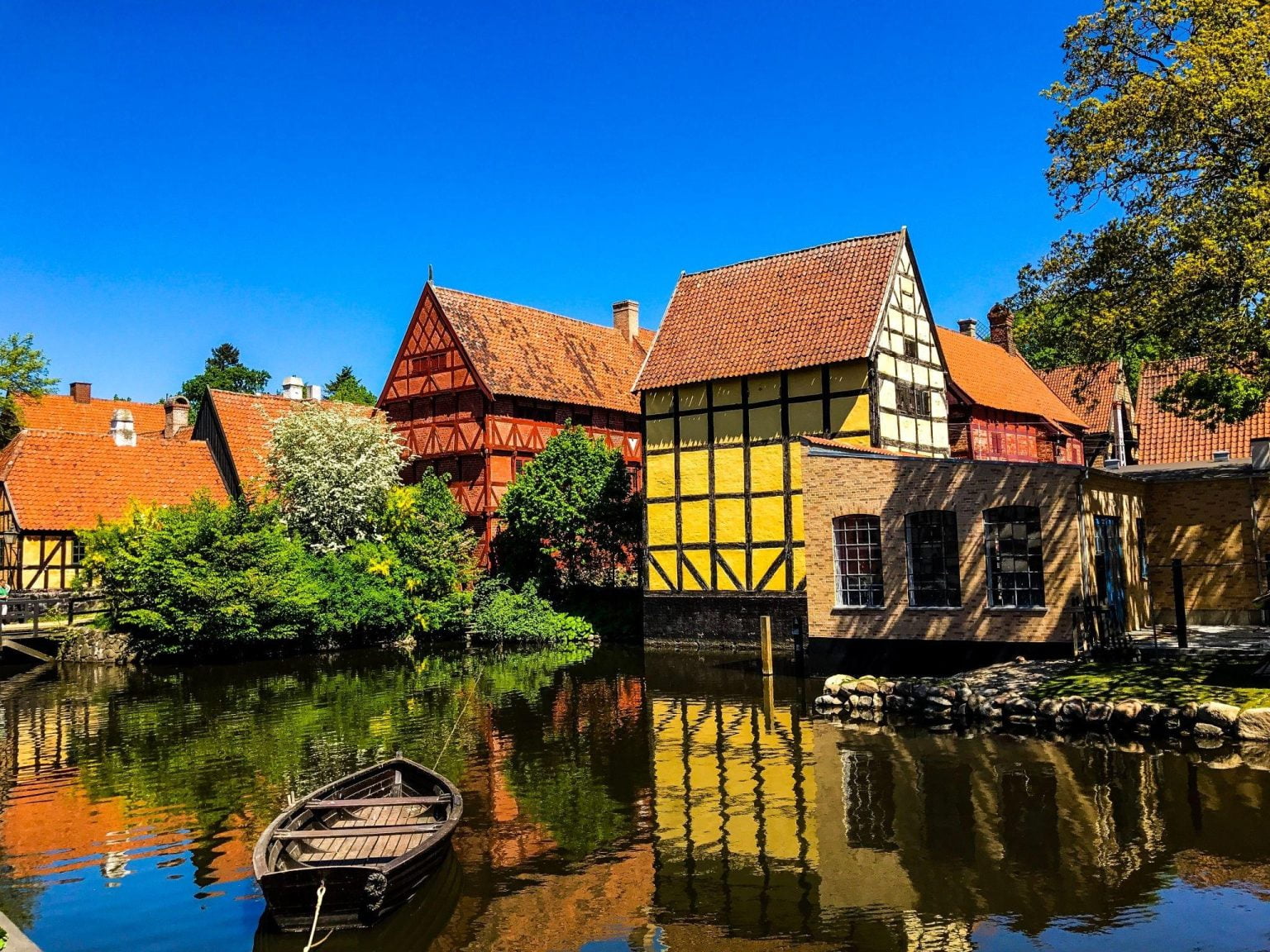 This museum looks unique and attractive because Den Gamle By is the only outdoor museum located in Aarhus, Denmark. The museum was founded in 1914 and displays an accurate replica of the old Danish town, with buildings made of wood and stone. Den Gamle By features more than 75 old buildings that were removed from various parts of Denmark and neatly laid out to create a vibrant old town.
The museum also provides a variety of fun events and activities, such as traditional music and art performances, as well as opportunities to try a wide variety of traditional Danish food and drink. Den Gamle By is one of the most popular tourist attractions in Denmark in Aarhus and is often a destination for tourists who want to learn more about Danish history and culture.
Bakken park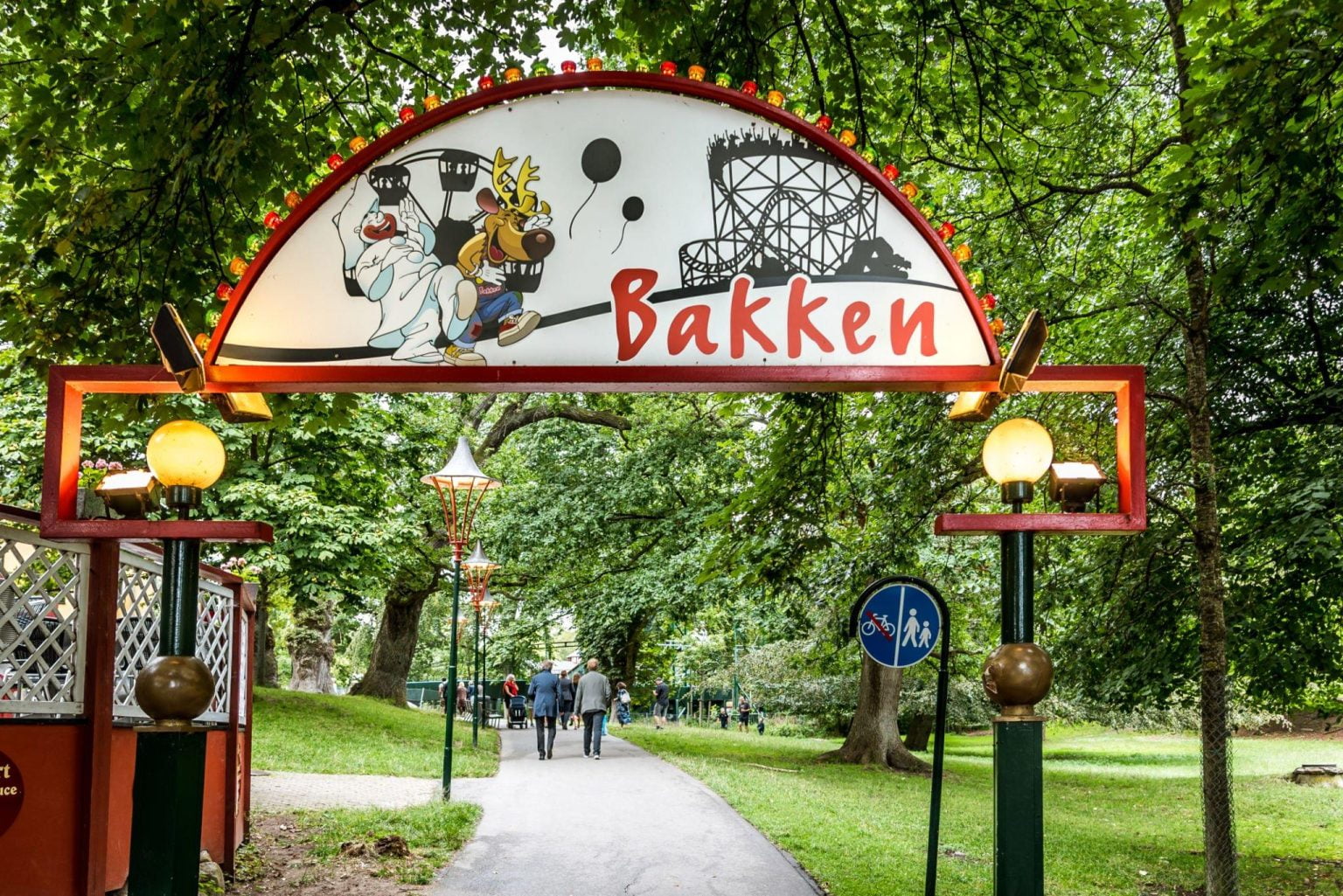 Bakken is an amusement park and tourist attraction in Denmark located near the city of Klampenborg, Denmark. This park was opened in 1583. Bakken is the oldest amusement park in the world that is still operating. It is known for offering a wide variety of games and rides, including gear wheels, windmills, and cable cars.
The Bakken also offers a variety of shows, including music, theater, and dog shows. In addition, the park also offers a wide variety of food and drink, including famous restaurants and cafes. That way, you can relax and enjoy the atmosphere in this park while tasting delicious Bakken culinary delights.
Rosenborg Castle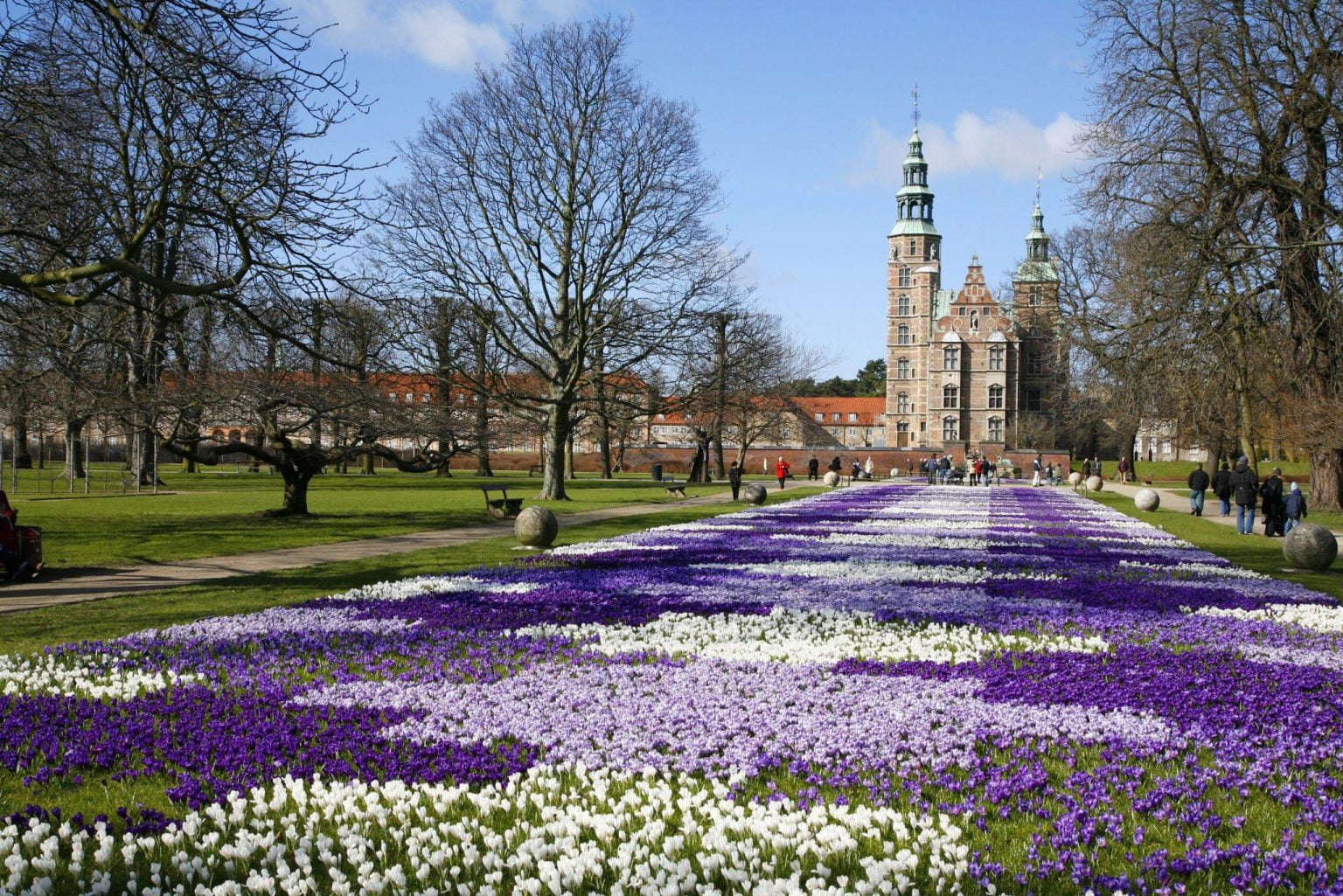 The next tourist destination is Rosenborg Castle, which is a castle located in Copenhagen, Denmark. Built in the 17th century, this castle was the official residence of the Danish kings for over 200 years.
Rosenborg Castle is now a museum displaying various art and historical collections and is one of the top tourist attractions in Denmark, such as jewelry, works of art, and artifacts from the past. Rosenborg Castle also offers tours for visitors who want to know more about Danish history and culture. For that, you can use the tour leader to go deeper.
Charming Old Town Tour in Denmark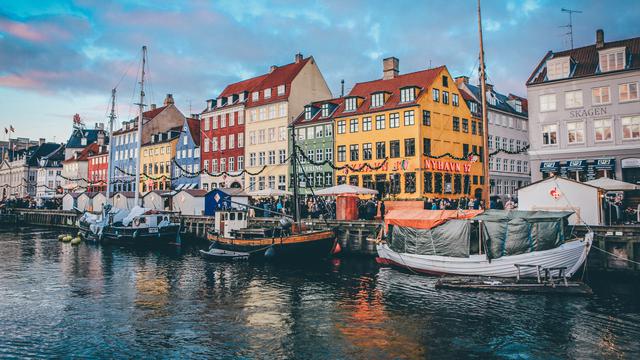 The next popular tourist object that you must visit is the Old Town in Denmark. This city offers a variety of beauties that will surely spoil the eyes of the visitors. This area offers a variety of captivating sights, such as small boat harbors, classical Baroque and Renaissance-style buildings, to beautiful natural scenery.
This area has lots to see and hear. You can enjoy the various statues and gardens that can be found along the streets of this city. You can also see historic buildings that have high historical and architectural value. One of the places that you must visit is the Danish National Museum. The museum features a wide variety of art and archaeological collections that can be viewed. You can also visit the Church of St. Alban, which is a historic church built in 1240.
Therefore, the Old Town in Denmark is the best tourist attraction for local and foreign tourists. Various kinds of captivating scenery as well as various kinds of culture and history contained in it will make you want to come back here again. So, if you want to enjoy some amazing and fun views, make sure you visit the Old Town in Denmark.
istana kopenhagen
Ibukota Denmark, Kopenhagen, sejauh ini adalah kota terbesar di negara ini. Di sini, Anda akan menemukan Parlemen (Folketing) di Christiansborg, akrab bagi banyak orang melalui serial TV terkenal Denmark Borgen, dan kediaman Keluarga Kerajaan di Amalienborg. Bisa dibilang ibu kota Skandinavia yang paling santai, Kopenhagen memiliki perasaan khas Eropa, kehidupan jalanan yang ramah, dan budaya kafe yang unik yang akan membuat Anda ingin kembali lagi dan lagi. Kota ini sempurna untuk berkeliaran di waktu luang Anda, atau alternatifnya, seperti lokal dan naik sepeda, moda transportasi yang disukai banyak orang. Di seluruh kota, ada getaran bahari yang tercermin di rumah-rumah sisi pantai yang beraneka warna Nyhavn dan kapal-kapal tinggi merapat di sepanjang dermaga. Ingat juga, bahwa ini adalah di mana banyak orang akan mengklaim banyak kebanggaan Revolusi makanan Nordic dimulai. Sebagai akibatnya, Kopenhagen adalah rumah bagi sejumlah besar restoran mutakhir termasuk Noma yang terkenal di dunia di mana tabel harus dipesan berbulan-bulan, jika tidak bertahun-tahun, di muka.
Christiansborg Palace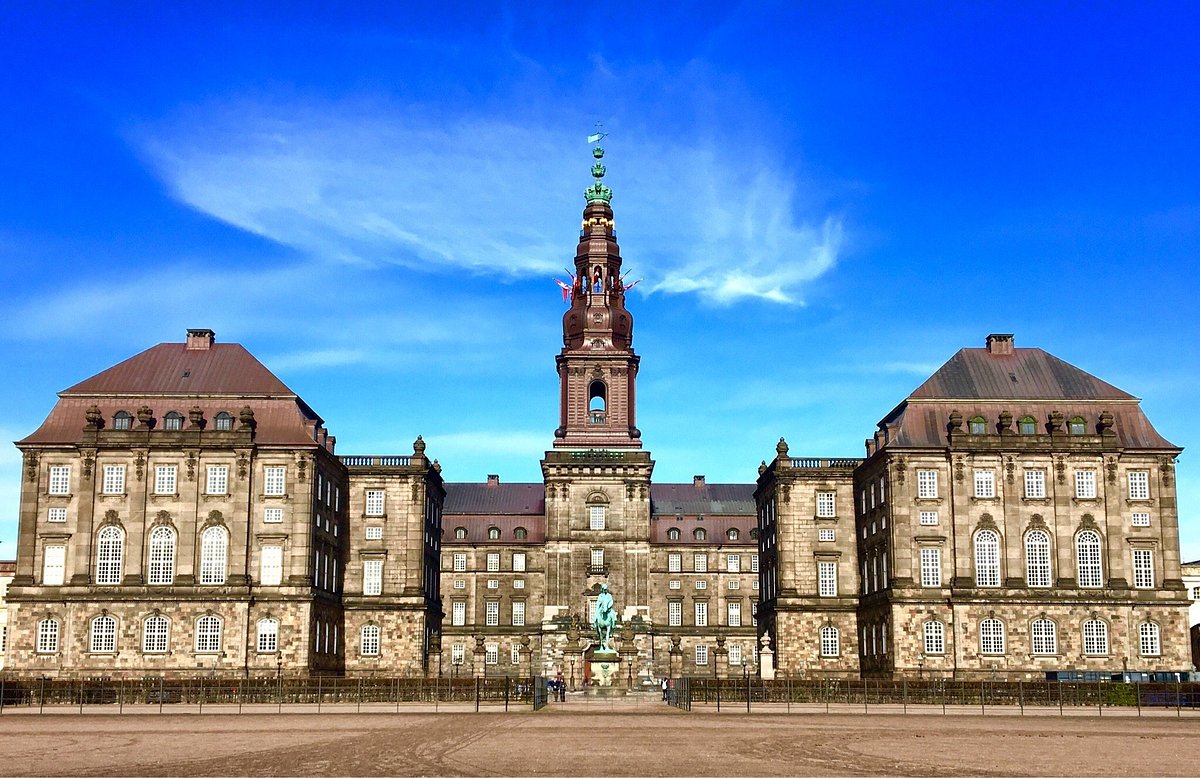 The small island of Slotsholmen is the seat of the Danish government, and this island has such charm that many visitors come here. Christiansborg Palace boasts over 800 years of history to this day. The palace is home to the Parliament, the Prime Minister's Office, and the Supreme Court. In addition, some parts are still in use by the Royal House, although many are open to the public. It occupies the spot where Bishop Absalon built the city's earliest fortifications in 1167. In this place, you will find the ruins of the bishop's castle and the medieval fortress when the palace was under construction. Until now, they can still be seen by visitors. Therefore, organize your vacation by visiting this place because you will feel a different nuance when you get here.
 Nyhavn Harbor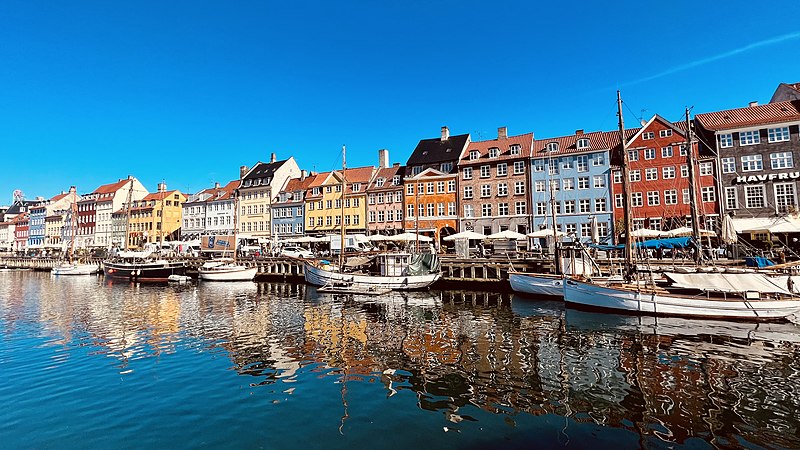 Your trip to Denmark will be even more enjoyable if you visit the places we recommend. It will be memorable and hard for you to leave this beautiful country. Next, you will visit Amalienborg, Nyhavn (New Port), which is flanked by the street of the same name. At the end of the harbor, there is an anchor as a memorial to the Danish sailors who lost their lives in World War II.
Nyhavn used to be an unsavory part of town, but now, with its brightly painted shady houses, and many restaurants and cafes, it makes a very charming appearance. Exquisite museum ships lie at anchor, including the lightship (Fyrskib) dating from 1885. The vessel is ready to take you from Nyhavn, a hydrofoil with a catamaran service operating to Sweden. Ready to serve your tour in the port and along the canal?
Stroget Shopping Mile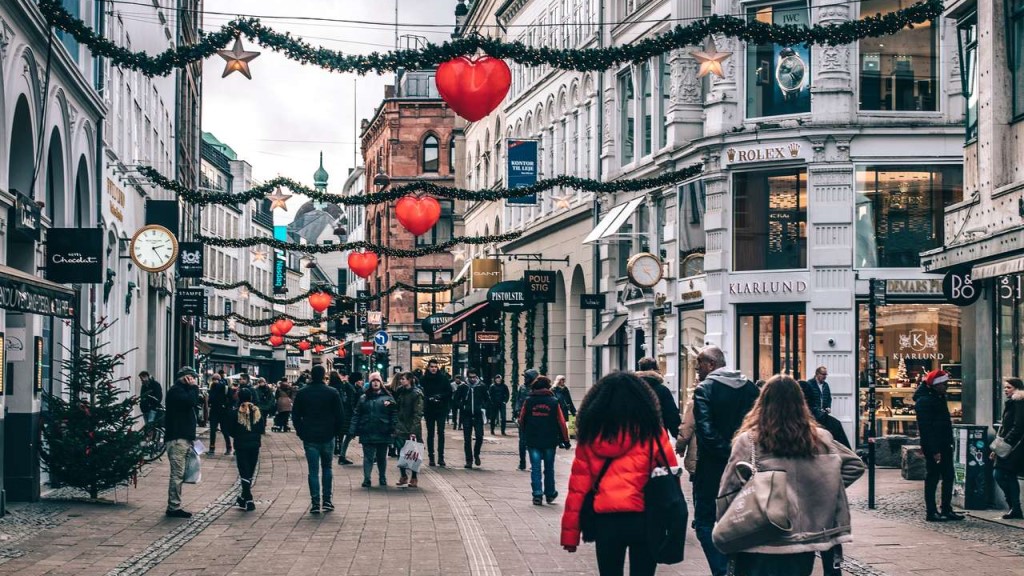 After you are satisfied visiting some of the tourist objects in this city, you can take a walk for about five minutes in Christiansborg to take you to the Strøget shopping area which is bustling with tourists. In this city, you will find many boutiques, cafes, and restaurants. Strøget, a nickname from the 1800s, consists of several streets criss-crossing each other, starting at Town Hall Square (Rådhuspladsen) and ending at Kongens Nytorv.
Then, Several adjoining roads in the north have also been traversed by pedestrians. In this place many international brand stores such as Max Mara, Prada, Louis Vuitton, and Hermès are at the end of the street facing Kongens Nytorv. You can follow Strøget towards City Hall Square for more affordable shopping at H&M.
Kastellet & The Little Mermaid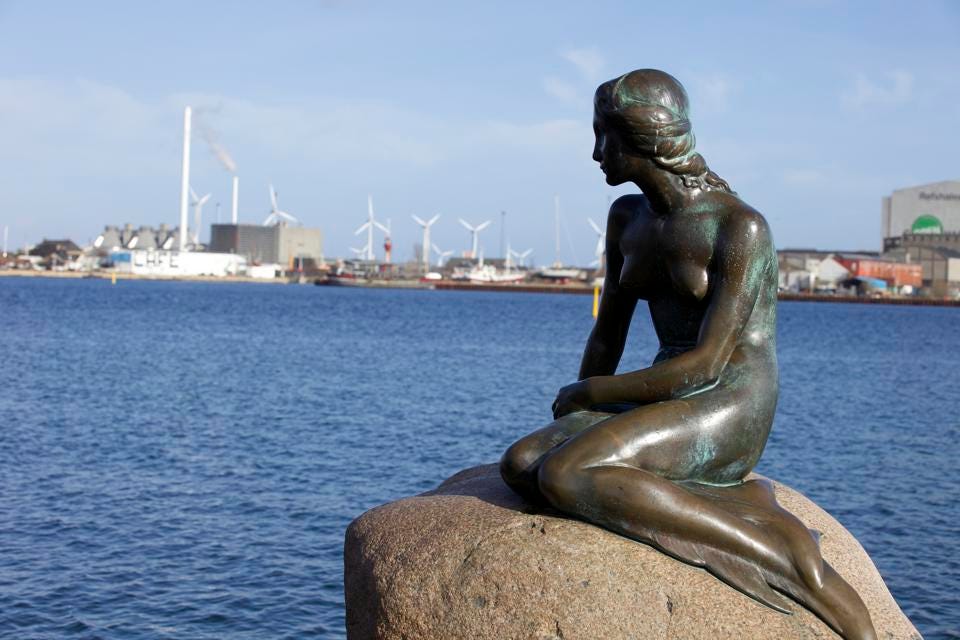 Your tour will be memorable if you visit popular tourist spots in this country. Therefore, you can't visit the Danish capital without seeing The Little Mermaid, head along the waterfront from Nyhavn to Kastellet (less than two kilometers), and take in the iconic statue and surroundings.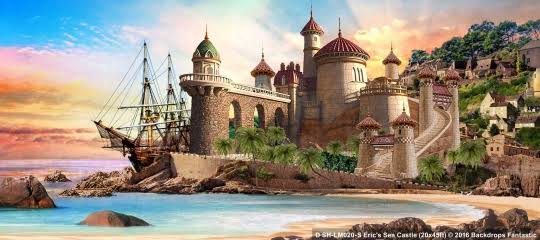 Kastellet is the former Frederikshavn Fort, the oldest part of which dates back to 1625. The Fort buildings are well preserved and are worth exploring. The Little Mermaid (Den Lille Havfrue), which you will see from the beach, is the official symbol of Copenhagen. The bronze statue, created by Edvard Eriksen in 1913, is based on a theme from one of Hans Christian Andersen's fairy tales, which tells of a mermaid who once came out of the depths of the sea because she had fallen in love with a prince.
Town hall square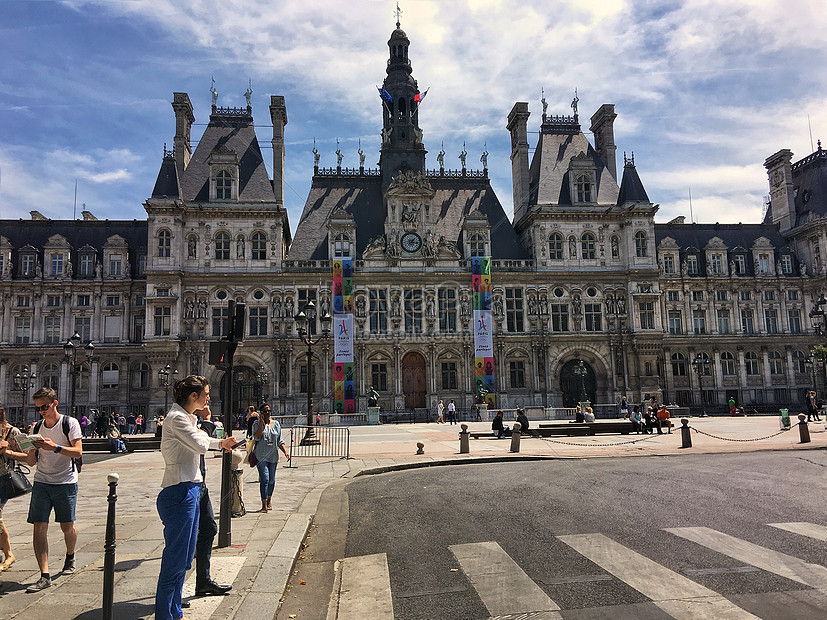 After you are tired of exploring the tourist objects in Denmark, you can rest at Busy Town Hall Square (Rådhuspladsen). This place is the Copenhagen City Hall (built between 1892 and 1905), which is based on a mix of Italian Renaissance and medieval Danish architecture. For great views, you can climb the tower; at 106 meters high, it is the tallest in the city. The building is richly decorated with statues and paintings.
Above the main entrance is the figure of Bishop Absalon in gilded copper, and in the Great Hall are busts of such Danes as Martin Nyrop (1849-1921), the architect who designed the building, the sculptor Bertel Thorvaldsen (1770-1840), Hans Christian Andersen ( 1805-76), and the physicist Niels Bohr (1885-1962). The World Clock at the main entrance was designed and built by Jens Olsen in 1955 and shows not only the time and date but also various astronomical constellations. What an attractive sight you will see. Therefore, at the end of your trip, you must visit Town Hall Square. Happy planning a vacation to Denmark. Have fun!
3. Conclusion
Those are some of the recommendations for beautiful and amazing tourist attractions in Denmark that we recommend. However, there are many more popular tourist attractions in this country that have not been visited by many tourists. Therefore, we want to share ideas with you to explore some beautiful tourist attractions. For that, don't forget to complete your holiday trip by following our review. Welcome to visit Denmark.