1. Overview of Türkiye
This country is known as a beautiful tourist object and charming destination. Turki is located on the continents of Europe and Asia. In addition, Turkey is one of the countries that are able to present the beauty of a blend of classic and modern cultures. This country has always been a favorite of foreign tourists every year. This country had closed its borders due to the COVID-19 pandemic. However, now Turkey has reopened its country to tourists from any country, including Indonesia.
That way, you can plan your trip to Türkiye. If you want to plan a vacation to this country from now on, you must set a budget for your holiday trip. Let's first look at some exciting tourist objects in Türkiye. Welcome to our review!
Cappadocia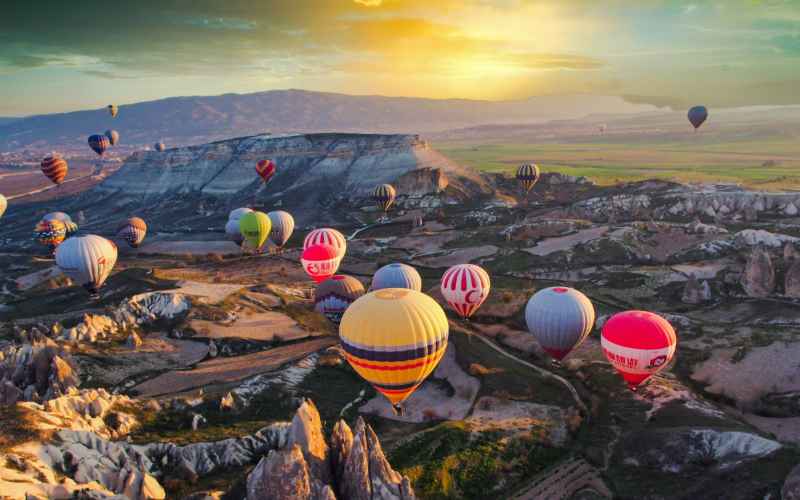 This one top tourist popular destinations in the world should be on the top list when you visit Turkey. Here, you can see the beautiful gifts of nature. This location is located on a plateau, so the panorama that looks can spoil the eye.
A popular tourist object that is excellent in Cappadocia is the giant hot air balloon. In a way, the best-selling attractions there are getting into the hot air balloon and circling around the area. There are also historical caves and museums that you can enjoy while in Cappadocia. Therefore, you can spend your whole day in this place. In order not to tire you on the way, you can stay overnight in this area.
Grand Bazaar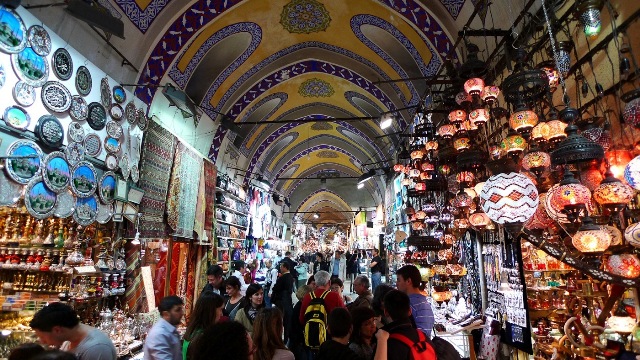 This tourist object is known as a paradise for souvenir shopping in Turkey. Grand Bazaar Istanbul is known as one of the largest and oldest covered indoor markets in the world. It is said that the Grand Bazaar has been around since the 1400s.
In this place, you can find a variety of interesting items to be used as souvenirs, such as Turkish antiques and interesting knick-knacks. The location of the Grand Bazaar is not too far from other interesting tourist objects, such as the Blue Mosque. So you can organize your trip in one area. In addition, it can save your vacation budget because you don't spend a lot of money on transportation.
Hagia Sophia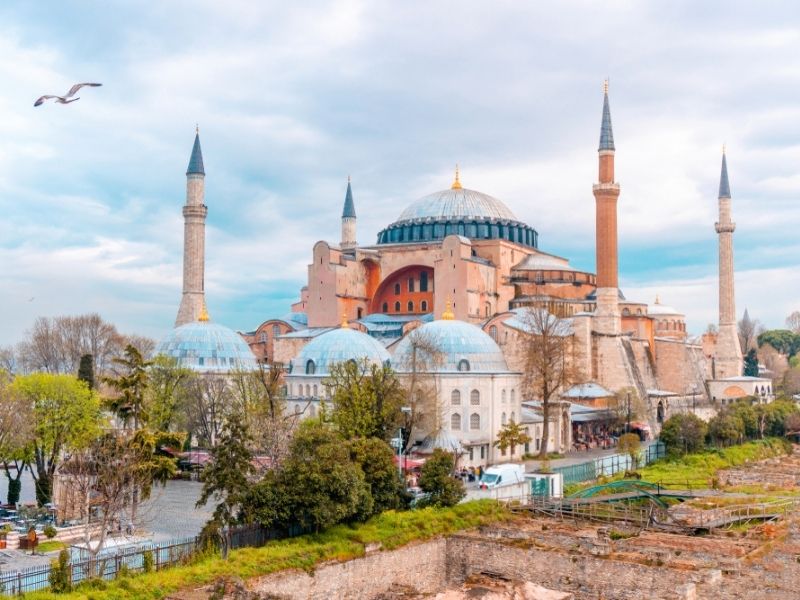 The Hagia Sophia tourist attraction is a legendary building in Türkiye. You can visit this magnificent classic building to witness the history of civilization in this country. As of July 2020, Hagia Sophia officially changed its function from a museum to a mosque. This place is said to be a favorite place for those who want to worship. In addition, one of the icons of the Hagia Sophia Mosque is a cute cat named Gli who has lived there for 16 years. Hopefully, this cute cat can make tourists who come to this place happy.
Galata Bridge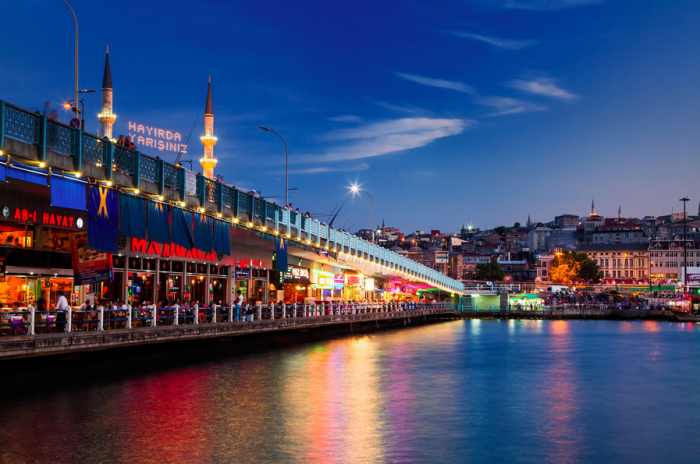 This beautiful tourist object was built in 1836. Galata Bridge is a bridge structure in Turkey with a blend of European and Asian architectural styles. Apart from the unique architecture, the reason why this Turkish tourist attraction is worth your visit is the existence of unique cafes and restaurants which are at the bottom of the bridge.
Another uniqueness of this place is its terraced structure where the upper part is used as a transportation and pedestrian route and the lower part is for cafe stalls and restaurants. This location, is not far from the Blue Mosque, only 16 minutes away by public transportation you will arrive at the Galata Bridge or the Galata Bridge
Even the historical natural scenery here is no less good than in other places. You can see Topkapi Palace, Karakoy, and also ships passing by at sea. This place is perfect if you want to take a leisurely walk or sit for a while enjoying the beautiful scenery while eating. Moreover, the view at night is even more beautiful decorated with colorful lights and makes this place very good as a tourist object for taking pictures.
Rumeli Hisari Fort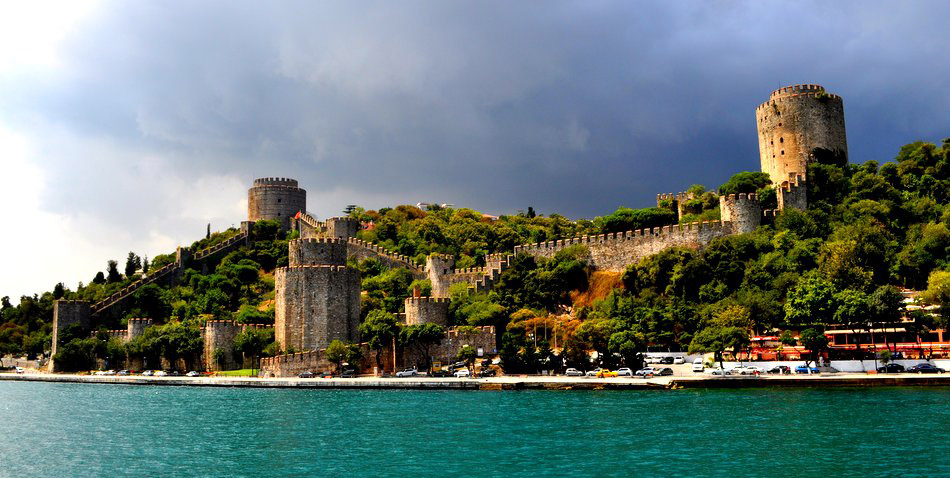 If you want to see the remnants of the splendor of the Ottoman Empire in the past, this Turkish tourist attraction could be your destination. Fort Rumelli is a defense building built on the initiative of Sultan Mahmed II to maintain regional security. Until now, the Rumelli Fort building is still standing strong and is one of the most favorite tourist destinations in Turkey.
Rumeli Hisari is a historic fortress and played an important role in its time in the city of Istanbul. The fort was built between 1451 and 1452 by Mehmed II, the Ottoman Sultan at the time. The fortress is located on the coast of the Bosphorus and can often be seen from cruise ships crossing the Bosphorus. Historically, the Rumeli Hisari fortress served to besiege and seize Constantinople. Where Sultan Mehmed learned from his father's efforts that naval strategy against the Byzantine fleet was very important.
Apart from military purposes, the construction of the fort was also aimed at controlling sea traffic along the Bosphorus Strait. The real name of this fort is actually Boğazkesen which in Turkish means "throat". This refers to its geographical location in the Bosphorus Strait. Meanwhile, the name Rumeli Hisari, which was given in modern times, means "fortress in the land of the Romans". The uniqueness of this fort building is the layout design of Rumeli Hisari which is deliberately designed in the shape of the name Muhammad when viewed from above. In the Arabic script, the name refers both to Islam's last name and to Sultan Mehmed II himself. However, after the fall of Constantinople in May 1453, the fort served as a customs checkpoint but eventually lost its strategic importance and became a prison during the 17th century AD.
Dolmabahce Palace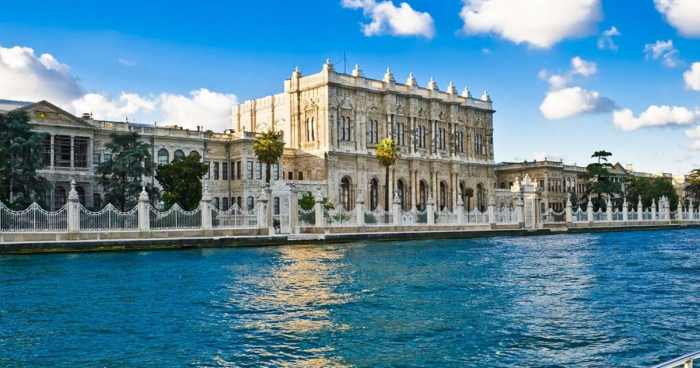 Another tourist attraction in Türkiye that you can visit is Dolambahce Palace. This palace building is a legacy of the Turkish Ottoman Empire which was on the shoreline of the Bosphorus Strait. This building used to function as the administrative center of government from 1869 to 1922. It is different from other historic buildings in Turkey which are synonymous with classical Ottoman architecture. This Turkish tourist spot, this one is synonymous with Baroque Architecture, which is famous for its luxury, so you can find quite a lot of gold and crystal decorations if you visit this Turkish tourist attraction. Your tour will not be complete if you don't visit this historic palace.
Tours in Istanbul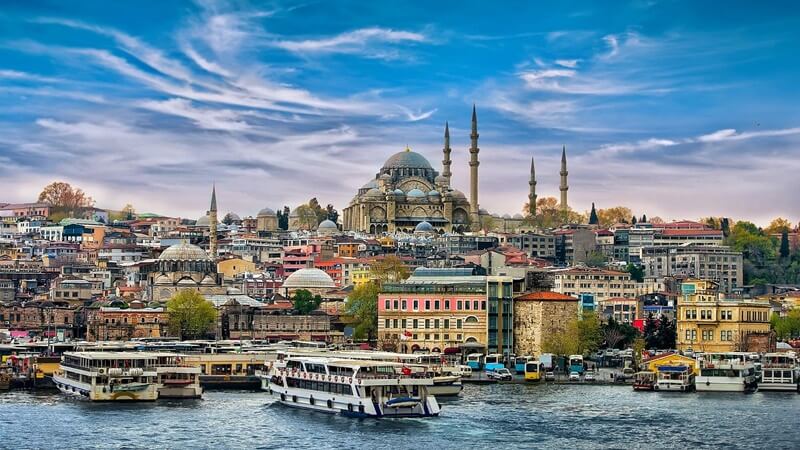 Istanbul Is one of the major cities in Turkey which is famous in the world for its stunning views and rich history and culture. One of the famous is the Bosphorus strait, the strait that separates Asia and Europe which is connected by the Bosphorus Bridge. In this place, you can take a ferry around the strait to see the beauty of the city of Istanbul.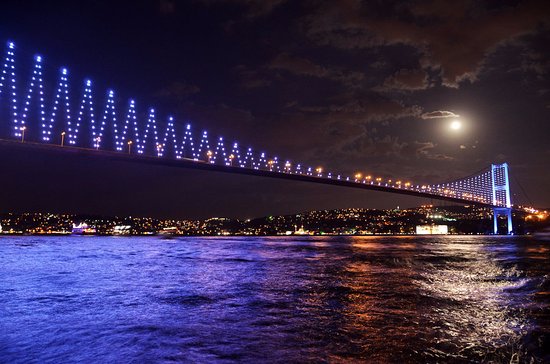 This 1,501-meter-long bridge is also a tourist object for foreign tourists and photographers because apart from the beautiful architecture, this place is accompanied by very beautiful views of the city of Turkey and the Bosphorus Strait. You can also take a boat or cruise across the Bosphorus Strait to enjoy the beauty of historical buildings. At night it is no less beautiful, beautiful LED lights will decorate the bridge. Türkiye is really beautiful at night. Don't forget to organize your vacation to Türkiye.
Blue Mosque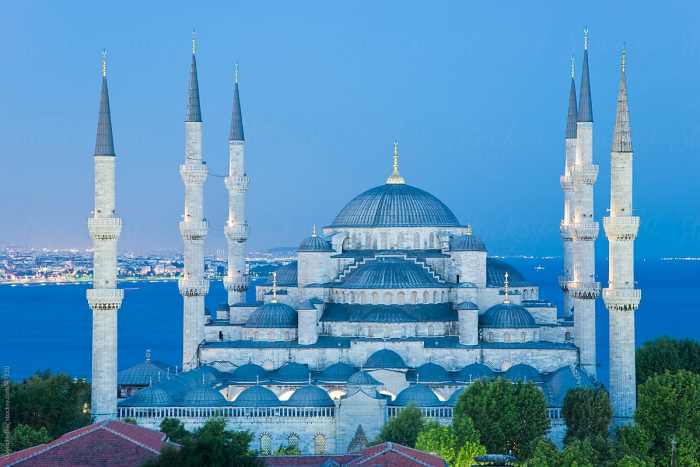 Another tourist attraction in Türkiye that you can visit is Dolambahce Palace. This palace building is a legacy of the Turkish Ottoman Empire which was on the shoreline of the Bosphorus Strait. This building used to function as the administrative center of government from 1869 to 1922. It is different from other historic buildings in Turkey which are synonymous with classical Ottoman architecture. This Turkish tourist spot, this one is synonymous with Baroque Architecture, which is famous for its luxury, so you can find quite a lot of gold and crystal decorations if you visit this Turkish tourist attraction. Your tour will not be complete if you don't visit this historic palace.
Topkapi Palace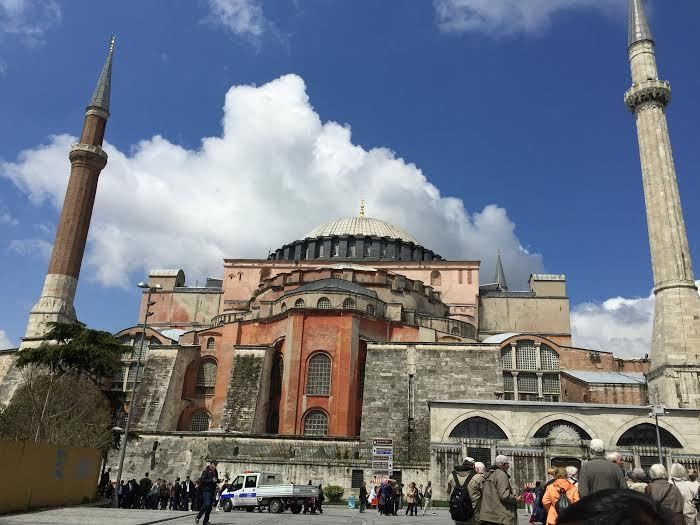 This beautiful tourist object is Topkapi Palace. This magnificent palace was once the seat of government and the residence of the Ottoman Sultans. However, now the palace has been used as a museum and a favorite historical destination for foreign tourists. Besides the beauty of the architecture and the diversity of motifs and calligraphy in the palace, there you can see beautiful views of the Galata Bridge and the Golden Horn, Turkey's main urban waterways. For those of you who come to Turkey, you can see this popular tourist object in the world. Immediately plan your trip to Türkiye for a vacation.
Türkiye tour in Bursa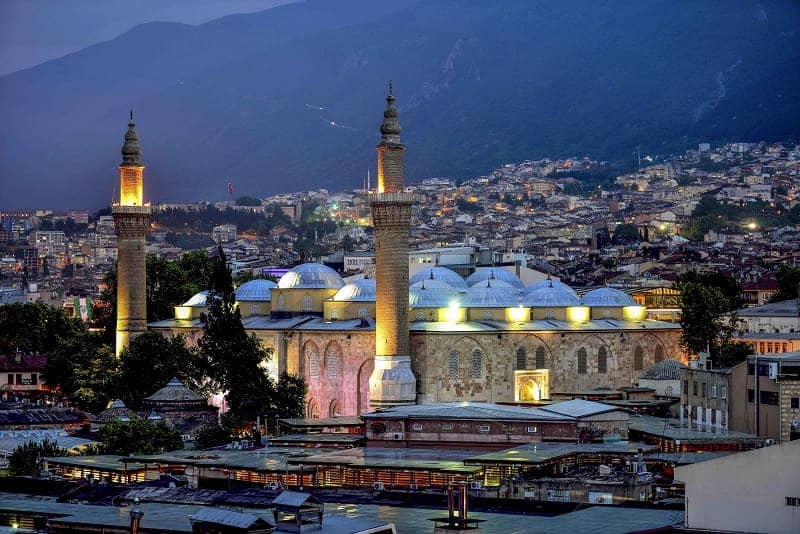 The trip to Türkiye was indeed very pleasant. In this country, you can go around the city of Istanbul and enjoy delicious culinary delights. After you are satisfied exploring Turkey, take the time to visit the city of Bursa, which is the fourth most populous city in Turkey. as well as one of the country's industrial centers, such as automotive.
This city is no less than Istanbul. In the city of Bursa, there are also very interesting tourist destinations, such as visiting the beautiful Irgandi Bridge or the Great Mosque. The Great Mosque is one of the mosques left by the Ottomans. It was built as a form of commemorating the victory of Sultan Bayezid I between 1396 and 1399 at the Battle of Nicopolis. With this typical Ottoman feel, this mosque is certainly no less beautiful than the one in Istambul.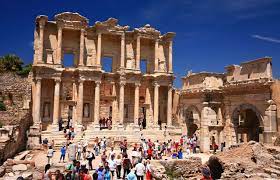 In addition, there are several tourist attractions that we recommend that you visit, such as the Maiden's Tower, Goreme Open Air Museum, and also the Blue Mosque. That way, when you arrive in Bursa, you won't be confused about which tourist locations you want to stop by during your vacation here.
Uludag Mountain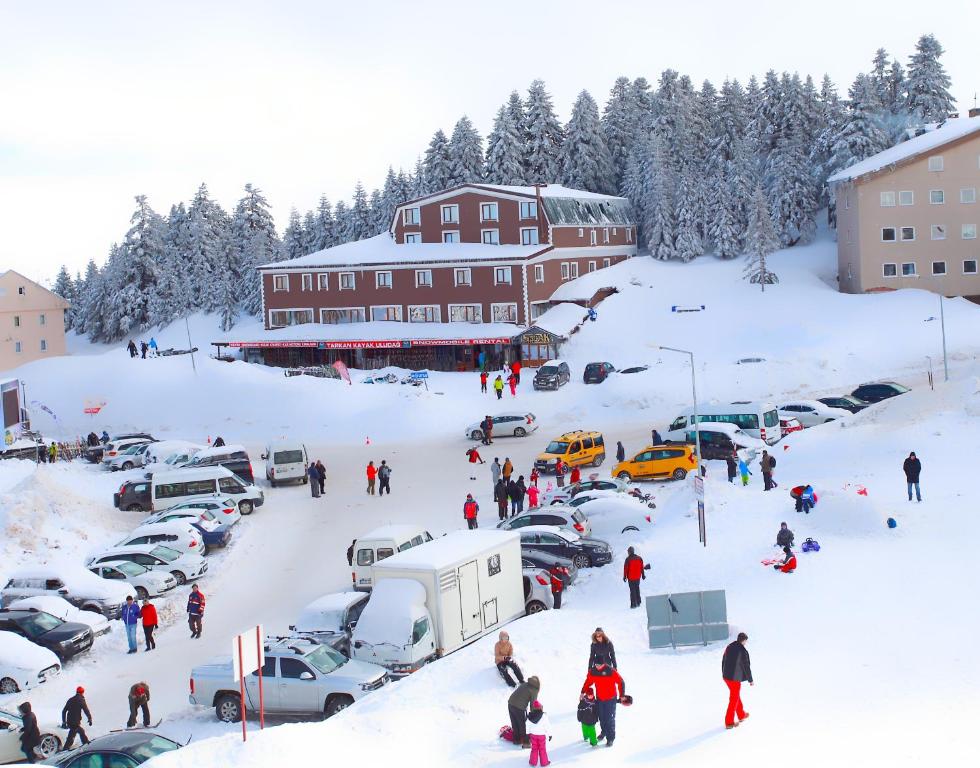 The Uludağ Mountain tourist attraction has included in the Uludag National Park area. Interestingly, there is snow covering the mountain here, and offering ski tours. This region is also equipped with an 8.3 km long Teleferik or Cable Car and is the longest cable car in the world. Not only skiing but here also provides snow motorbikes and shops that provide warm clothing to complete your snow vacation.
Then, to enjoy snow and skiing at Uludag Mountain, the right time is during winter, around November to December. So if you can't stand the cold, you can enjoy the pile of snow from January to March. Happy holidays to Türkiye.
Silk Market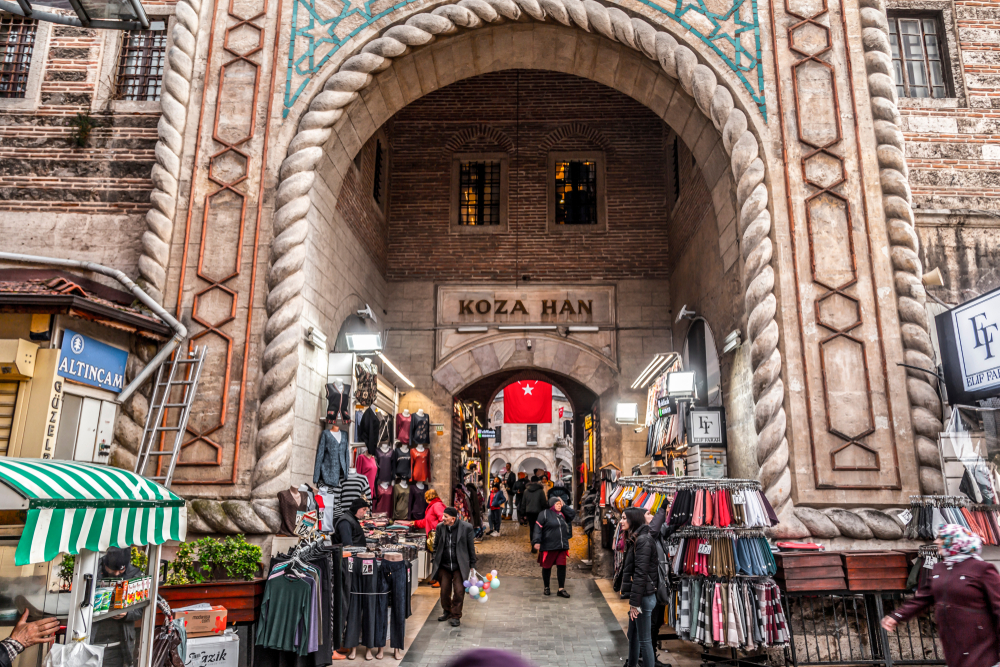 Not far from the Grand Mosque, you will find Silk Market. This famous shopping place in Turkey provides silk products and a variety of beautiful accessories. So if you want to bring something interesting, you can visit this place. Here you can buy various kinds of goods by bargaining. We hope that your trip to Türkiye will be memorable and enjoyable.
Ephesus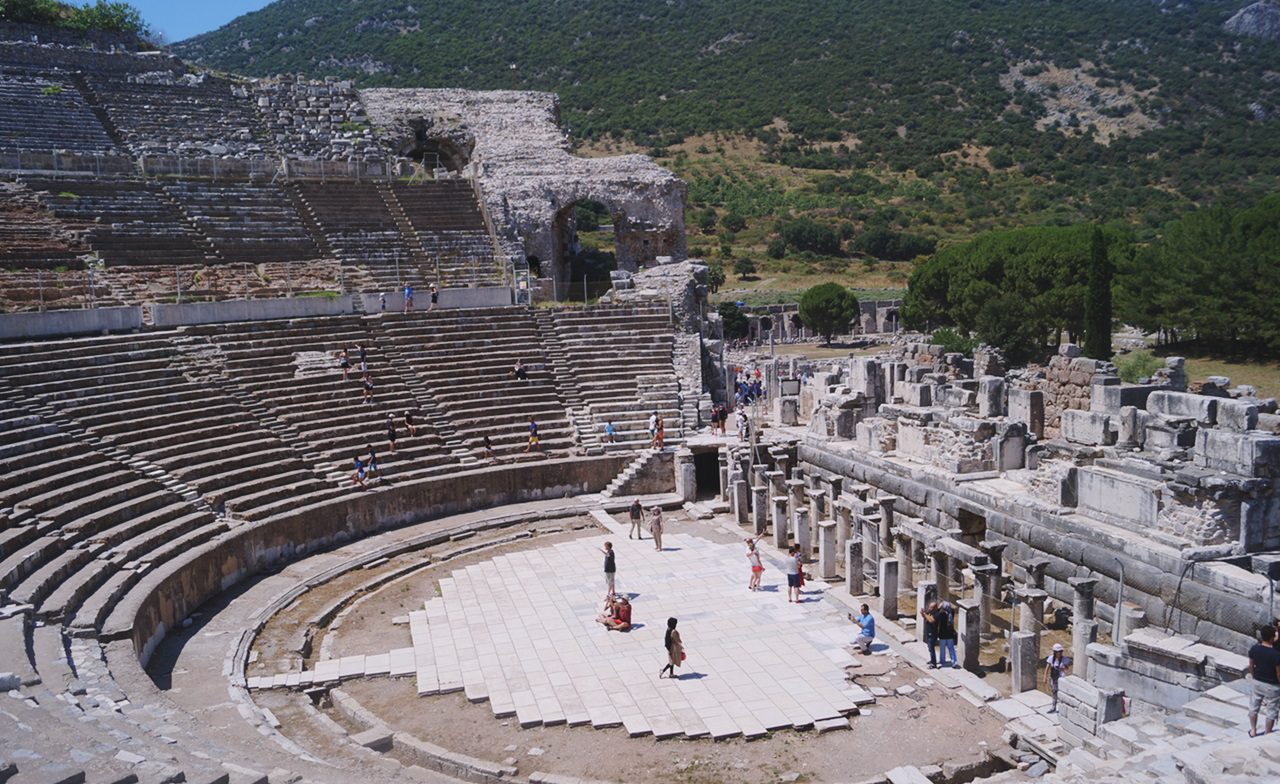 Not far from Kusadasi City, you will find Ephesus. Ephesus is an ancient Greek city built around the 10th century BC, which was later taken over by the Roman Empire. This old building is similar to the buildings of the Roman Empire in ancient times. Here you will find the remains of the historic heritage buildings which still look beautiful. In addition, you can also see the open theater which was a place for spectacles and entertainment at that time. So the remains of this building indicate that Roman culture has long entered this city. Then, it affects the civilization in this place.
Pamukkale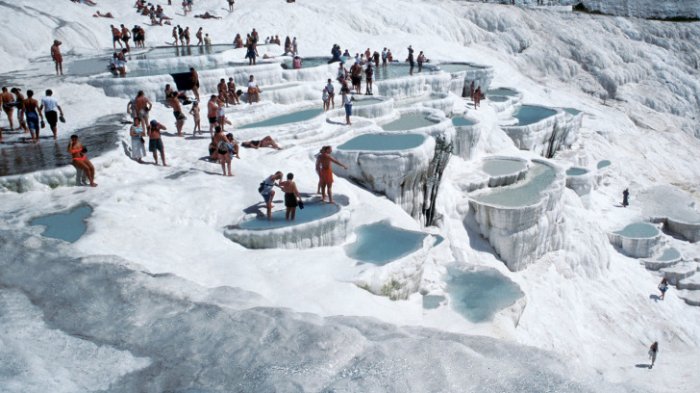 The beauty of natural tourist objects in Turkey is no less beautiful than historical buildings in other countries. Pamukkale tourist attraction in Turkish means cotton castle, as the name suggests. This place offers an all-white view. The white color is produced from calcium carbonate released by hot water, which when it reaches the surface precipitates and then hardens which crystallizes to form a frozen waterfall-like appearance.
This famous tourist object in Türkiye also offers hot spring baths. The springs that come out here range from 35 – 100°C and also contain healthy minerals that have been used by aristocratic families since ancient Greece and are now used as a famous tourist attraction in Turkey. Therefore, we recommend to you, If you want to enjoy Pamukkale, come in April – May (spring) and September – October (autumn) because it's not too crowded and the weather is perfect. That way you really enjoy your vacation in Türkiye.
Salt Lake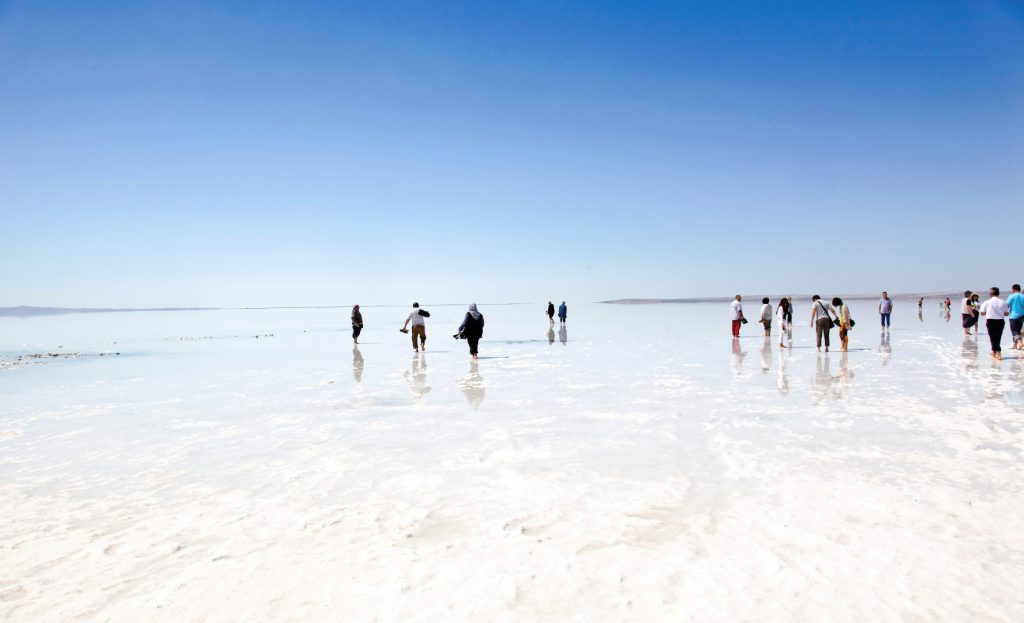 Another attractive tourist object that is no less interesting for you to visit is Salt Lake. This place is the saltiest salt lake in the world and is one of the destinations that must be visited while in Ankara, Turkey. Here you will see white salt stretched from end to end. Besides the beautiful view of the salt, there are many shops selling salt-based cosmetics which are said to be very good for the skin. Therefore, don't miss this interesting and unique tourist spot. Enjoy your holiday in Turkey.
Ankara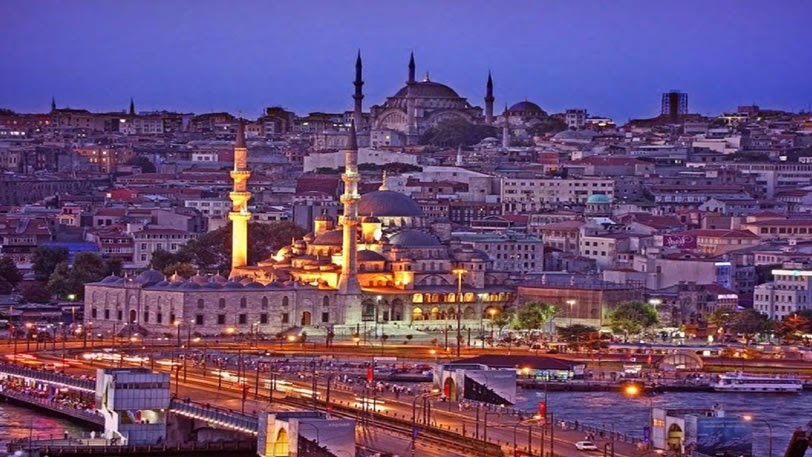 As many people told, the beautiful Turkey building has a tourist attraction for tourists. One of the cities that has beautiful buildings is the capital city of Ankara. This city is famous for its history. Therefore, museums in Ankara must be included in your visit list. The first museum that you can visit is the Museum of Anatolian Civilization. Here you can see past historical relics, such as wall paintings, ceramics with various shapes to symbolize gods, stone slabs with inscriptions, and various other relics.
After being satisfied with the first museum, continue your journey to Anıtkabir or Mustafa Kemal Ataturk Mausoleum. One of the museums to commemorate and honor the nation's leaders. This museum has always been the target of local and international tourists. In this area, you will find a mosque with various halal restaurants.
Antalya
Your trip to Turkey will be enjoyable after you are satisfied with seeing the beauty of buildings and nature in Turkey. Apart from these cities, Antalya is one of the most popular cities in Türkiye. Here you can see historic sites and stretches of sandy beaches with beautiful blue seas. But if you want to bask in the sun, visit Lara Beach with its beautiful white sand.
Not only that, in this place, there are also various water activities such as jet skiing, paddle boarding, and swimming which are popular among tourists. Just walking in the old city will provide an attractive experience and serenity in itself. The street maze will offer lodging places, shops, and various halal restaurants that you can enjoy. After seen our review, Turkey is an ideal tourist destination that you can visit with your family or closest friends. This city is said to be a friendly Muslim country. Enjoy your holiday with your family.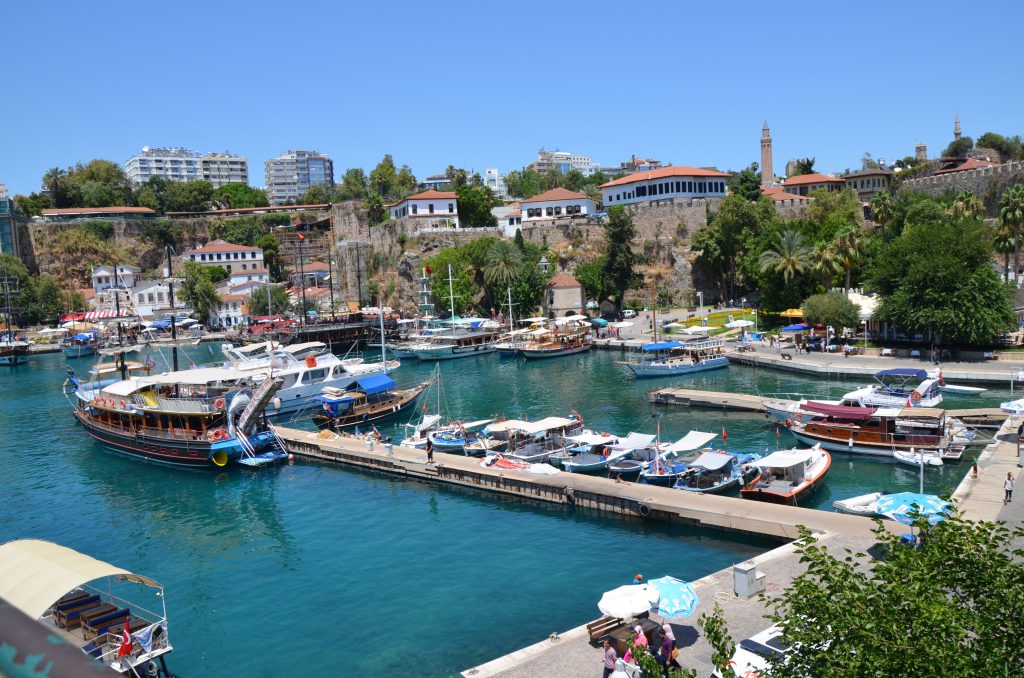 This Antalya tourist attraction is located in a depression in the cliffs of the old port. Antalya is a beautiful place of boutiques, chic cafes, bazaars, and yachts that look subdued overlooking the glistening Mediterranean. With such a pleasant atmosphere on board, it's hard to imagine this place being Antalya's main economic hub. From the 2nd century to the mid-20th century, this port brought trade and prosperity to the surrounding area.
Therefore, you can come here to shop and then watch the sunset over the sea while sipping coffee. Plus, you can head out into the Mediterranean on one of the many cruises to swim, sightsee, and spread your towel ashore. What a beautiful trip you have!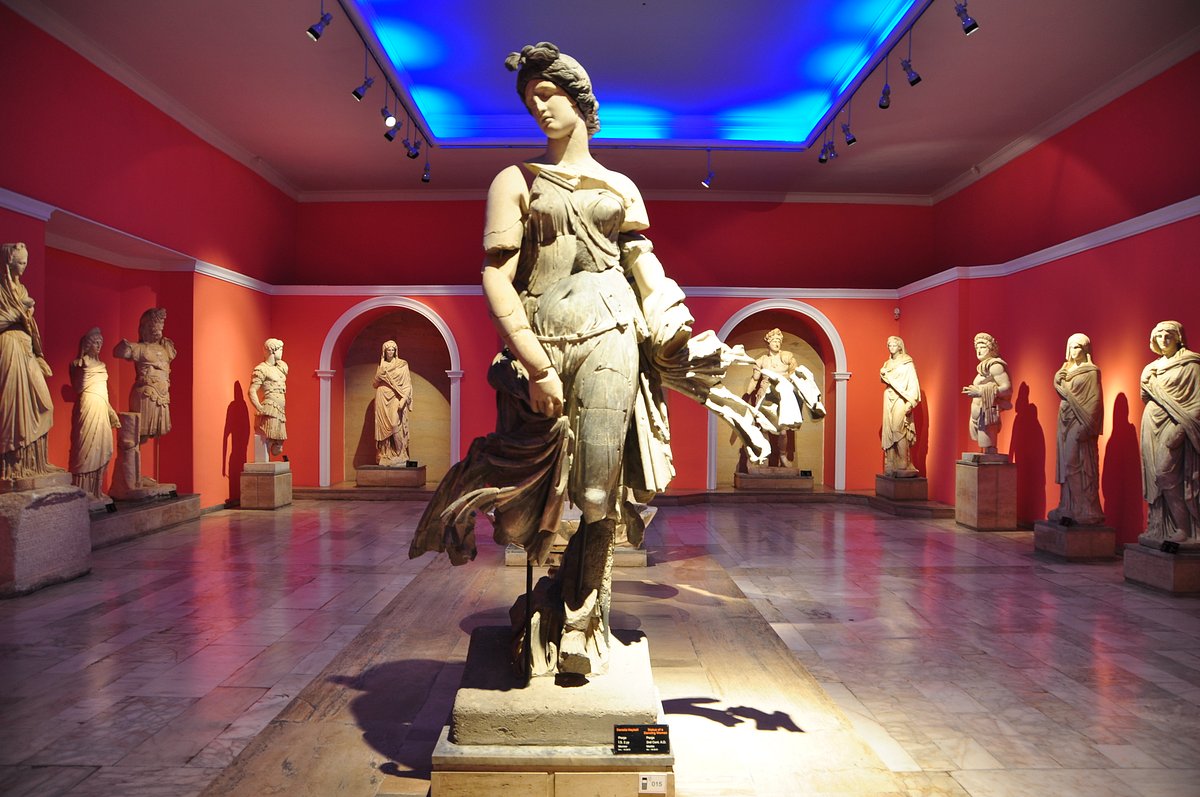 Tourist attractions in Antalya also offer many things, such as visiting museums. If you want to enjoy historical tourism, you can visit the museum to find historical relics. As you know, this labyrinthine old city is full of historical sites. This museum is also a great place for those of you who want to know the history of Antalya Türkiye.
Istklal street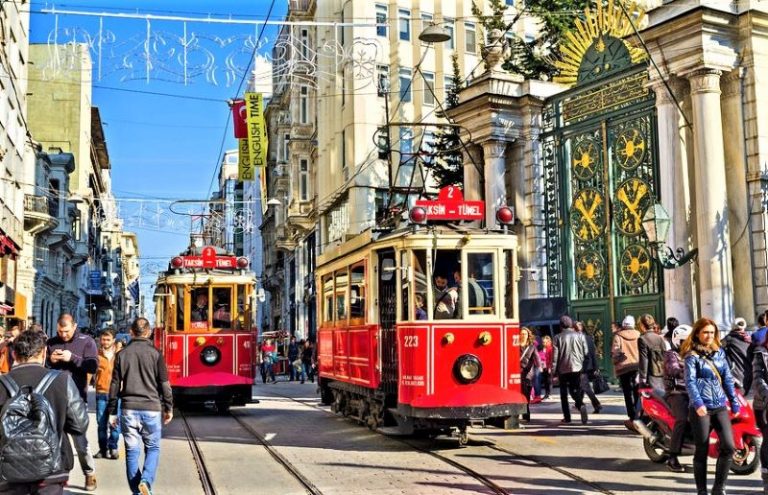 The tourist attraction Istiklal Street or Istikal Avenue is one of the famous streets in Istanbul, consisting of a mix of typical buildings from the Ottoman era to modern ones that stretches 1.4 km and leads from Taksim Square to the Galata Tower. This street is very busy passing by locals and foreign tourists, and almost 3 million people every day. Türkiye has always offered its beauty. So this country has become a tourist destination in the world.
This street is also filled with shops selling clothes, books, cafes, cinemas, and many other things. This place is perfect, especially if you like to walk while feasting your eyes or take the Tram that crosses Istiklal Street. Even though the Covit-19 pandemic is still endemic in several countries, Turkey has opened its tourism gates to accept tourists visiting their country.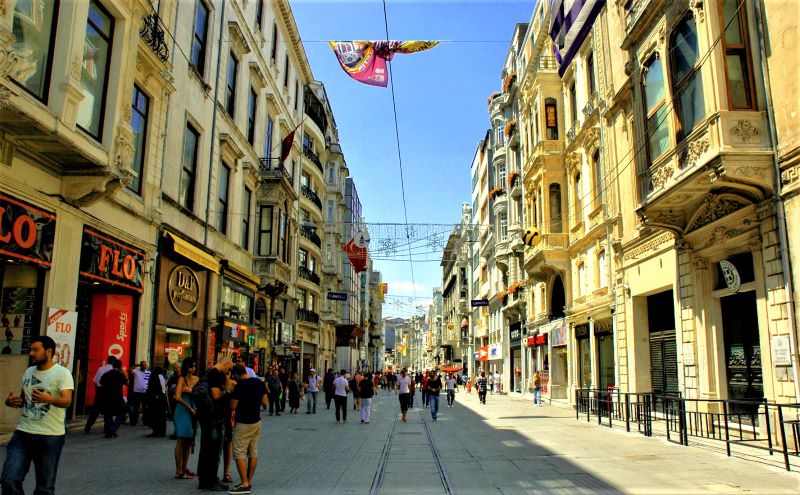 Salah satu object wisata yang asyik dan juga banyak peminatnya di Turki yaitu Istiklal Street tepatnya bernama Istiklal Caddesi, kota ini menjadi salah satu tempat yang dijadikan titik pertemuan paling populer. Tempat ini merupakan pusat kegiatan rekreasi dan jalan-jalan di Istanbul. Istiklal Street sepanjang 1.5 Km, adalah salah satu tempat bersejarah di Istanbul. Pada kiri kanan jalan, tempat ini diwarnai bangunan-bangunan lama dengan arsitektur khas Ottoman. Keindahan inilah yang menarik jutaan wisatawan ramai-ramai mengunjungi tempat ini setiap hari. Begitu juga keberadaan trem tradisonal Turki yang berwarna merah yaitu Highlight Istiklal Caddesi,  yang sudah beroperasi sejak tahun 1875. Rutenya dari Taksim Square sampai ke ujung satunya yaitu Tunnel Square, dekat Galata Tower
Taksim Square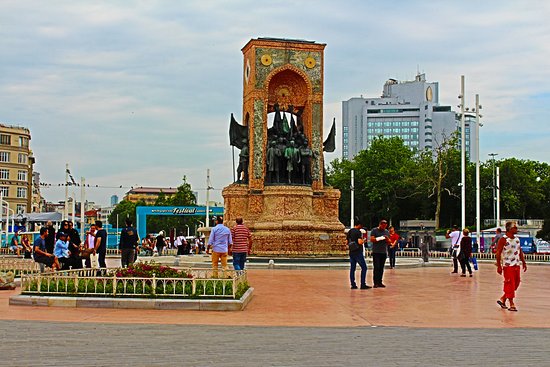 Tempat ini disebut-sebut sebagai jantung kota Istanbul modern.  Disini ada Monument of Republic yang dipahat oleh pemahat Italia bernama Pietro Canonica, dan diresmikan tahun 1928. Monumen setinggi 11 meter ini dibangun untuk memperingati ulang tahun ke-5 berdirinya Republik Turki tahun 1923.
Istiklal Caddesi (Independence Avenue), dulu disebut Grande Rue de Pera, juga gudangnya para gerobak penjual makanan, seperti penjual kastanye (chestnut) bakar, jajanan khas Kota Turki. Banyak juga toko-toko yang menjual camilan yang menjadi oleh-oleh wajib Turki yakni baklava (sweet pastry khas Turki), Turkish delights (lokum), kunefe/ kanafeh (semacam pastry juga), juga dondurma (es krim khas Turki plus atraksi penjualnya).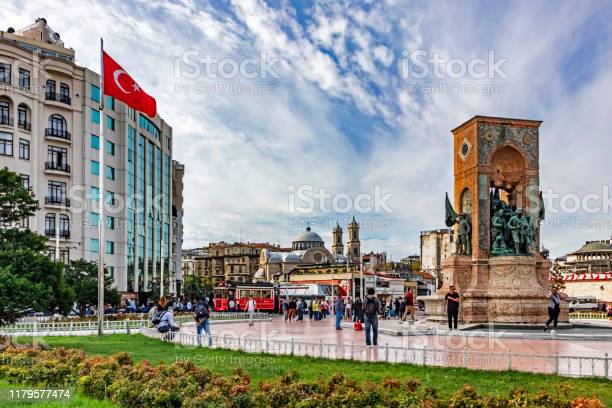 Along Istiklal Street, there will be many classic buildings and tourist spots that can be enjoyed. You will find the French Consulate Building, a beautiful building located just at the start of Istiklal Street, on the right. It is also a cultural center offering French language lessons, events, and festivals throughout the year. There is also Surp Voskeperan Armenian Catholic Church which is located behind the consulate.
St. Church Anthony of Padua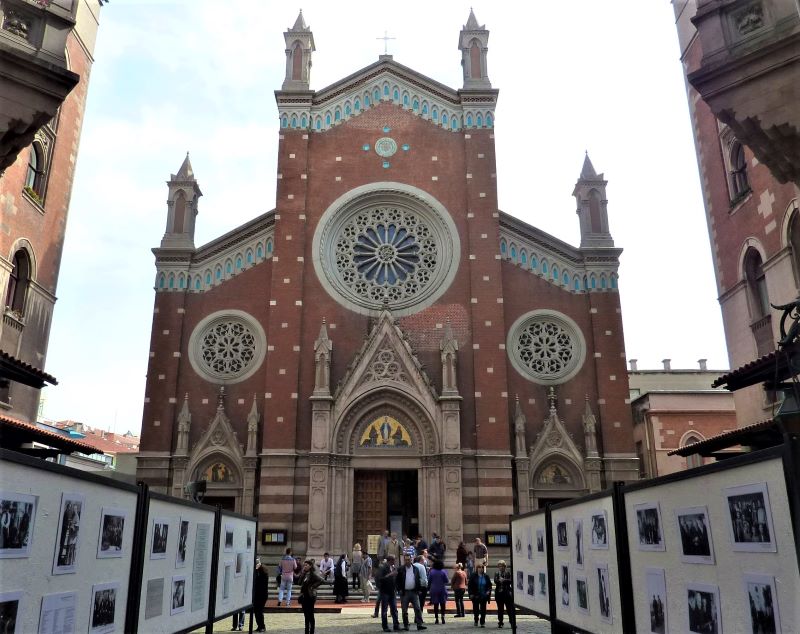 If you walk down this street, you will come across the Madame Tussauds Wax Museum, a wax museum and entertainment center located in a 2,000 square meter space in the Grand Pera building on Istiklal Avenue. Madame Tussauds is a museum chain for life-size wax replicas of celebrities and historic icons. Apart from wax figures of foreign celebrities, there are also historical and cultural heroes from Turkey. This place is great fun, especially for families and kids.
Along this road, you will also see churches with classic buildings, such as the church of St. Anthony of Padua Church. This church is in neo-Gothic style, built between 1906 and 1911 by an Italian architect Giulio Mongeri. This church is one of the largest churches and has the largest Catholic community in Istanbul.
2. Conclusion
Those are some of the recommendations for beautiful tourist attractions in Türkiye that we recommend. But many more popular tourist attractions in Türkiye have not been visited by many tourists. Therefore, we want to share ideas with you to explore some beautiful tourist attractions. For that, don't forget to complete your holiday trip by following our review. Have a great vacation in the hot air balloon city of Türkiye.