Foodntravelling.com – It must be fun traveling around the world, knowing and learning about different cultures around the world. And surely to taste some of the best food from its region. If you are dreaming to visit and go travel to the land of Queen Elizabeth. You will find dozens of great architectural sites, cool shops, and good food for sure!
London is a home that accommodates quite varied, which means England is a  friendly home for many people. The diversity in this country creates lots of unique cultures and of course varied food.
The capital city of England, London offers us a bunch of interest many cultures from many different countries. The citizen there is going destination ideas and lots of delicious food all around the globe! Talking about legendary food vendors in London, we cannot leave behind Borough market, this legendary food vendors market in London was established in 1885. This market is a dream paradise for food lovers. There are fresh food produce, massive food vendors, and a lot of cured meat.
Let's go around to this legendary food market in London, find what to eat at London's most famous market down below!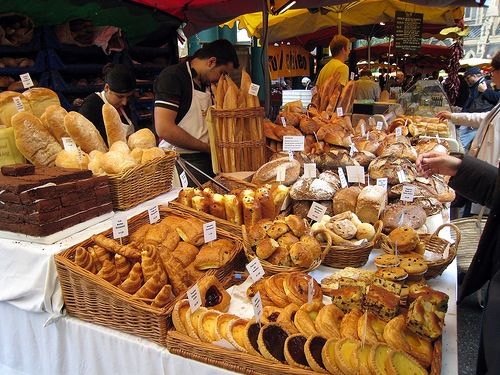 When you enter the food court section, there is an abundance of food displays that will satisfy our eyes. At the first entrance, we will see a lot of bakery shops. There are piles of bread product come with various flavor, from sweet to the salty version that will successfully fulfill your taste bud!
Traveling to Europe we will find a lot of cool bakery shops that display an abundance variety of bread. They usually make fresh bread every single day. The woven baskets are full of bread, plenty of variation, and a nice fresh bread aroma that just out from the oven, it is so irresistible to grab some piece of bread to accompany our breakfast or snacking with a cup of coffee.
I can say that Europe is the home of good-baked products. Especially if you are living in Asia which typically not eating bread as the main course. You have to try some of the baked products while in Europe!
Cheese Olive Sticks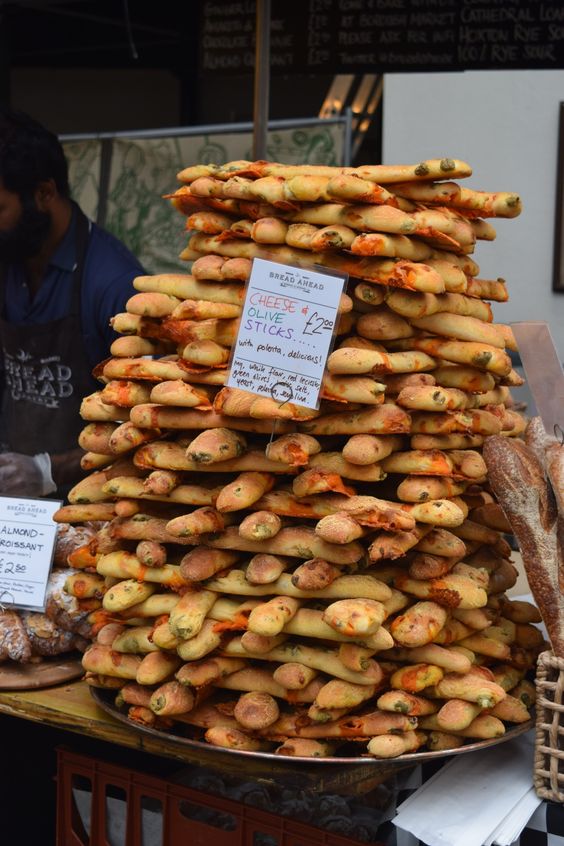 There is a must-eat bakery product in the Borough market, that is cheese olive stick. They usually stacked the bread layer upon layer like a pyramid. The bread is awesome, crusty outside and the baked cheese inside plus salty olives give a nice flavor. This bread looks like a french bagel in appearance but it has a thinner shape. It's so crusty and salty, you have to try Borough market bread delicacy, cheese olive stick!
Bread lover paradise!
To begin our journey in London, there is nothing wrong to go on the borough market food tour! This cool market offer abundance of mouth-watering food! From the small delicious meringue donuts to the gigantic crusty bread, all we can get here, right in this legendary market! There are sourdough, bagel, the croissant they are available in this market, what a dream bread lover market!
Try this Portuguese egg tart before you move on to the next stall!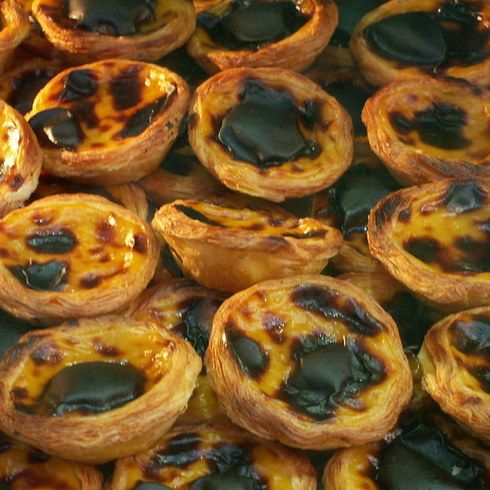 When you come top borough market, make sure to prepare your tummy and wallet very well. Because almost all the food here is so tantalizing! We can go to the Portuguese bakery stall, and let's find the delicious egg tart called pastel de nata!
The crispy layer outside and the custardy texture inside will fulfill your mouth, it's awesome egg tart! We recommend you eat the warm Portuguese egg tart because the crispy layer outside meets the soft and custardy taste inside, which will melt in your mouth!
Chorizo sandwich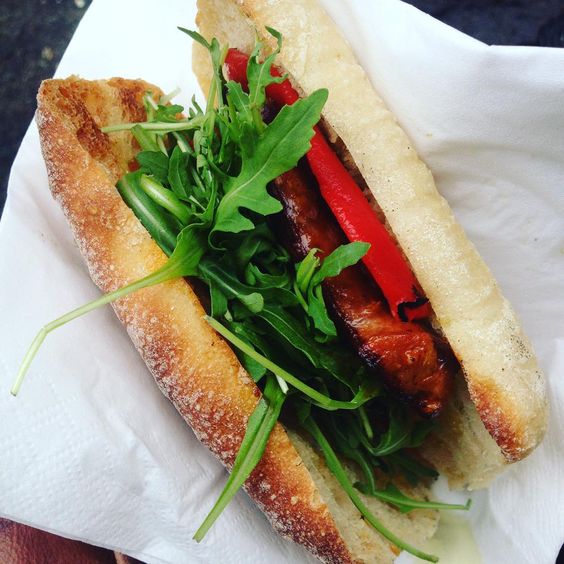 Moving on from the sweet snacks, let's dig into the salty food version! There is some famous Spanish food in this market, one of them are selling chorizo sandwich. If you don't have an idea about chorizo, well, it's a Spanish pork sausage that seasoned perfectly. The salty grilled chorizo combine with roasted red chili and a handful of fresh green vegetables. The smoky chorizo burst and provides the entire flavor of this sandwich! You can actually order the sandwich with double chorizo, but you have to give an extra money a little bit. But it's worth it, if you love the meaty sandwich style, so you've got the bold chorizo taste in your mouth!
Duck confit sandwich
As you enjoy and walk around in this market, you will smell the irresistible meat aroma in the air! It comes from the duck confit sandwich stall. We just have to follow our natural talent to smell where the good food is come from! The duck is being cooked in a large hot pan. The duck is sizzling, we just have to order it. They have a fluffy bread and then lightly buttered it, then pour some fresh rocket on it. Finally, they loaded the bun with a full scoop of the ultra-tender duck confit. The way they serve the sandwich and when they take a big amount of duck meat, that is so satisfying! The meat is piping hot, the duck is salted perfectly and a little bit sweet, it just a mind-blowing duck sandwich!
fresh produce in the Borough Market!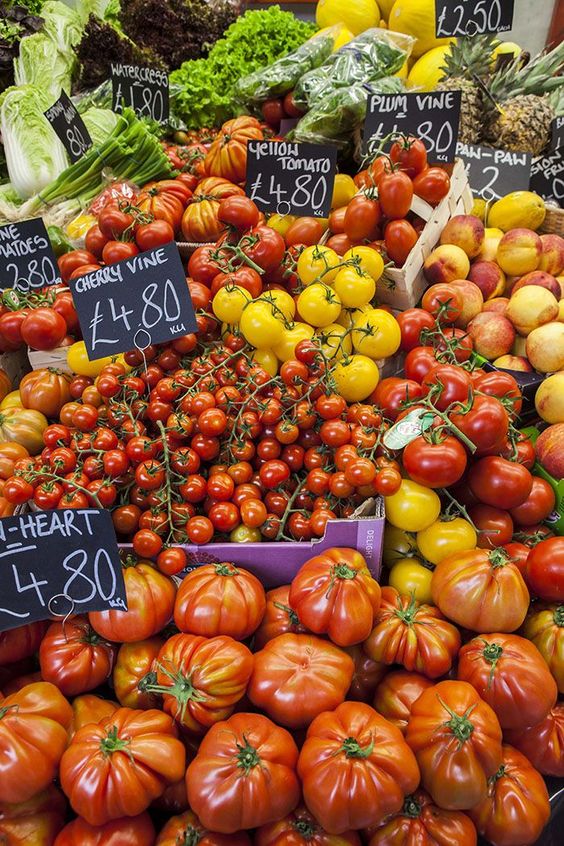 After you finish all out the food tour in this legendary London market. We can go shopping for some fresh produce in this market, wash it down the meaty aroma in our mouth with fresh juicy fruit!
there is plenty of fruit and vegetables to choose from here. Besides offering dozens of street food vendors, a beautiful view we can get from the colorful fresh produce in this market. They come with a high-quality product!
What I notice and adore a lot in the almost fresh produce stall are the heirloom tomatoes. They have a unique shape and beautiful colors. I would love to sit and have a cup of heirloom tomato juice in the borough market!
Cured meat shops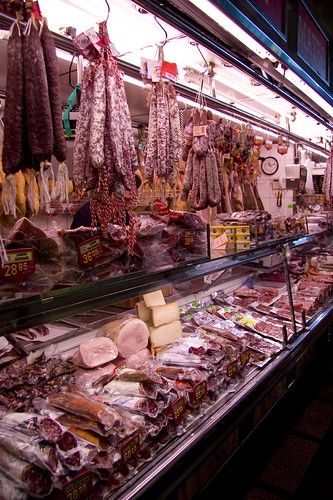 The food lovers, we will be happy walking around the borough market in London! This market offers is definitely gives what we need and a bunch of delicious food of course! If you find that you are a fan of European cured meat lover kind of type. You have to go to the cool meat cured shops in this market. They are serving chorizo, ham, and prosciutto. In addition, there are some English cheeses you can try in the meat shop!
Conclusion
Traveling anywhere we go would feel incomplete without trying some of the best local food. Besides creating an unforgettable journey, the taste of the food will remind us about the country we already had visited.
If you come to London, aiming to satisfy your taste bud you have to come to the most historic market in London, Borough market. This market has been established in 1885, and one of the most well-known markets in London. Here, we will find a dream food tour, this market is like heaven for food lovers! There is plenty of fresh produce, baked goods, cured meat shops, and irresistible food from many countries. Visiting only this market in London, immediately we will feel satisfied in the food tour journey in London!
Borough market also well-known as one of the largest food markets in the world. Although we can't say the food here is cheap, we will do understand the price, because they sell a lot of quality and trusted food! So, if you come to London, don't forget to visit this old and cool historic and one of London's most famous markets!