Foodntravelling.com – When you are visiting Istanbul or any other city in Turkey. You don't wanna miss tasting the Turkish Food. Without a doubt, this country has to offer a lot of variety delicious food from savory to sweets. You cannot deny the seriously delicious food. Have you ever taste the Turkish kebab? The flat dough stuffed with meat, pickles, some tomato sauce wrap together is called Turkish kebab. I think there is a lot of Turkish kebabs you can find not only in Istanbul but in any city around the globe! Now, we want to share with you a very famous Turkish dessert, Baklava! Enjoy the lovely city landscape of Istanbul and enjoy the view with dangerously delicious Turkish dessert Baklava is a great idea! There are many types of Baklava in taste and types. We will be sharing with you some various Baklava that could satisfy your sweet tooth!
The brief history of Baklava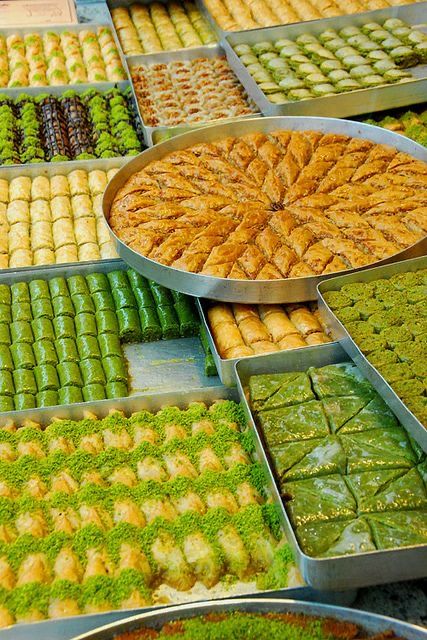 There are quite controversial about Baklava history, there are many Mediterranean countries, Greek, Arabs, to Turks claim that Baklava is their traditional dessert. Despite this controversial news that spread to many countries. But, we can clearly enjoy and eat delicious crispy sweets around Istanbul and all over Turkey!
Dating back to history, in the medieval era when the Ottoman empire reign Constantinople (now well-known as Istanbul). The Ottoman sultan Fatih era asking some cooks in the Topkapi Palace to make Baklava. We can see the history by reading the notebook in the Topkapi kitchen. Reportedly, the sultan asks the chef to make a complicated and high-quality Baklava making process. High-quality skill is needed in making Baklava. A very thin layer pastry layer with pistachio and layer it ion again. It is not easy as you think, the perfect ratio of thin layer and the proper amount of filling making Baklava one of the hardest Turkish desserts to make. The quality product and complicated process make Baklava is not a cheap dessert for Turks. They are prepared Baklava only for some important occasion and a big celebration for such wedding reception. And there is a proverb that says that only upper-class Turks can eat Baklava every day!
Fistikli Baklava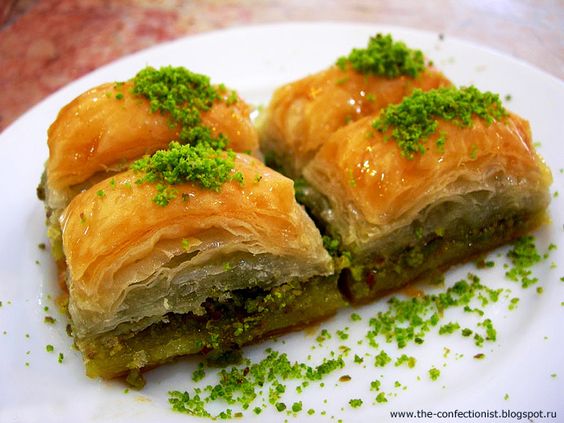 Avery common Baklava type you can find is called Fistikli Baklava. It has pistachio filling and then sprinkles of dried pistachio powder on top. It has a crispy layer of dough and very sweet syrup pour onto the dough right before on the oven. When the crunchy layer meets the nutty filling and then combine with sweet syrup. This Turkish dessert is a must-try, especially if you love the sweets snacks, baklava is a worth trying dessert when you come to Istanbul. Eating this sweet dessert combine with plain tea is just perfect, the tea will balance the sweetness of Baklava! You can find a lot of Baklava stores around the Istanbul store. They have assorted Baklava, and the common and classic one is a square pistachio Baklava for such in the picture above!
Kuru Baklava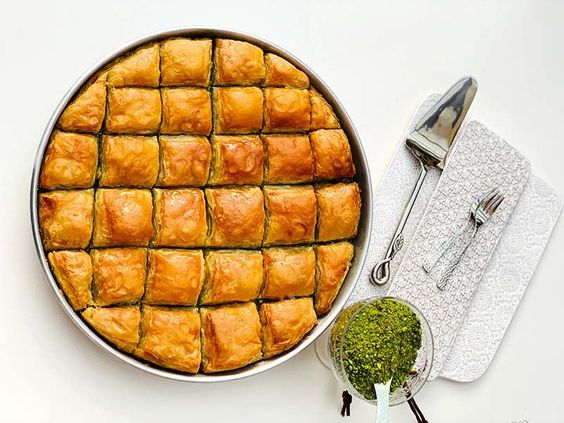 Kuru in Turkish means dry, so, kuru baklava simply means dry baklava. It has a dry texture rather than moist different from common baklava. It usually rejoices with sugary syrup, so it has a moist texture rather than dry. When you try kuru baklava, it does not rejoice by syrup, so the texture is quite dry and so crunchy. But, still, you can taste the sweetness from the sweet filo or the crispy layer itself. But, when you are not tolerant of too much amount of sugar in the dessert, kuru baklava might be the best option for you! Kuru Baklava also has a square shape and a nutty taste from pistachio, it's a dangerously delicious Turkish dessert we have a try!
Walnut Baklava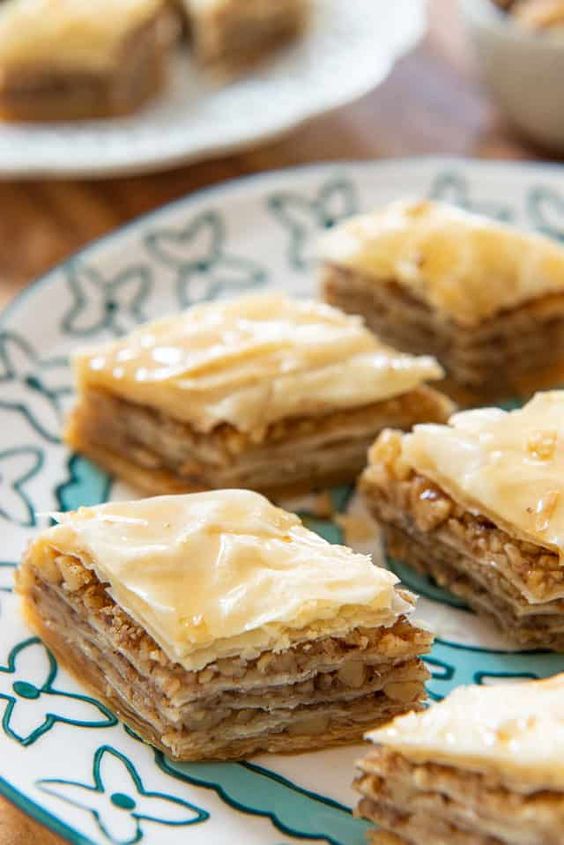 Another common baklava filling is made from walnut. The crispy pastry layer and then filled with salty and sweet walnut filling has another flavor of the baklava you can try.
Bülbül Yuvası baklava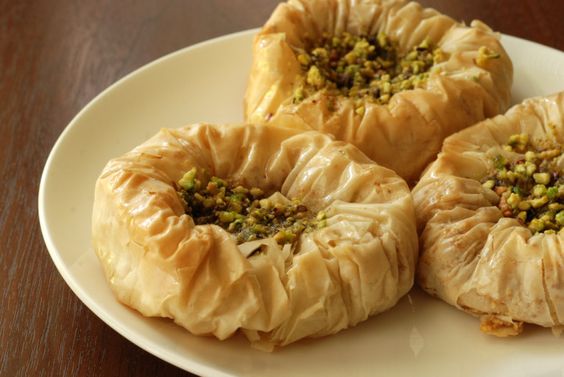 Bülbül Yuvası is also called the nightingale's nest because of the shape itself. It has a round shape and has a hollow inside. The common filling for this baklava is walnut or pistachio, or the combination of both pistachio and walnut. Just like another baklava, this one is watered with syrupy sugar water. This baklava type is tighter when you chew it because of the shape itself that has been wrap tightly in the circle shape. It's different from a pillow shape than has more crunch and is softer when you bite it.
Sütlü Nuriye bakalava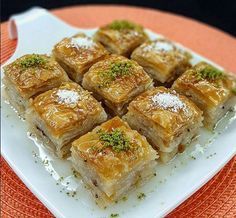 If you are looking for the lighter baklava type, this one could be your option to eat! Different from other baklava topped with syrupy sugar, this one is topped with fresh milk. So, it has a wet texture and light taste. It's quite recommended to eat it as fresh as possible right out from the oven. You've got the fresh taste of this wet baklava when it is still hot and fresh! Finally, this wet baklava is topped with pistachio powder. Feel the creamy and soft baklava texture in your mouth, and it's very light. So, when you are looking for the lightest and wettest baklava, you can definitely choose Sütlü Nuriye baklava.
Conclusion
When you come to Istanbul, there are lots of extremely delicious food to eat! From meat paradise to the heavenly sweets dessert, assorted baklava! In addition, there are lots of historical sites worth visit all around Istanbul that will make your journey unforgettable.
Talking about baklava, this dessert has a crucial history. There are many countries from the Mediterranean, Arabian, and Greek that claim they have their own baklava style. Including Turkey, it has a great history of baklava.
Dating back to history, in the medieval era around the 15 century, reportedly the Ottoman Sultan Fatih asked his staff in Topkapi palace to make baklava as the special dessert in the palace. He asked the staff to make special baklava that is made with quality products and high skills to make it. As a result, only a few people now can make this traditional Turkish dessert. So, when you visit Istanbul, baklava is a must-try Turkish dessert. It has assorted variants that you can choose based on your taste and desire!
We have shared with you some variants of Baklava you can try. You can go to the Baklava store or pastry all around Istanbul. After knowing the assorted baklava above, which one would you like to taste the most? We, guarantee all of them are dangerously delicious Turkish desserts that will satisfy your sweet tooth!