Foodntravelling.com – Have you ever watched the ice cream vendors in Istanbul that prank their customers? We have seen a lot of them play the sticky ice cream before they give your ice cream. When you are buying this ice cream, you know exactly to be a victim of it.
Traveling to any city around the globe gives us a new lesson and experience. And for sure unfold the new culture, and eating with local, that's all precious moment we will never forget! Talking about trying the local food when we are traveling. In this writing, we will be sharing with you the famous and most entertaining Istanbul street food serving sticky ice cream. The sticky consistency of Turkish ice cream makes it easier to play with.
Basically, there are lots of delicious Turkish food available. There is an abundance of intriguing food from salty to sweet. From the perfect salty grill meat and savory food to the sweet amazing Turkish dessert. We love the sweet Turkish dessert for such Baklava, Turkish delight, and many more. Well, right down below, we will be sharing some information about sticky Turkish ice cream. It is a must-try Istanbul street food, now let's dig into the sweet, sticky, and cold Turkish ice cream down below!
Turkish ice cream (dondurma)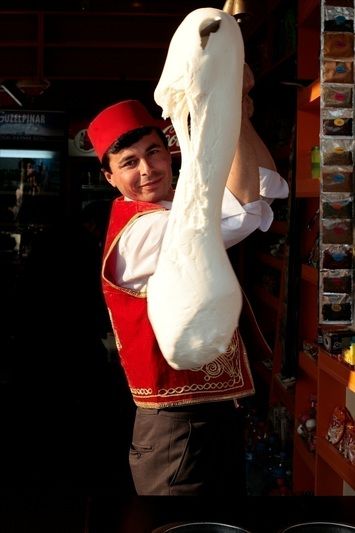 When you are traveling to Turkey during the summer season, you will find a lot of ice cream vendors jazz up the street. Especially in the touristy and busy city of Istanbul. You are gonna be amazed and thinking about how the ice cream vendor can lift and twist on the air. That is so entertaining especially for those who see it for the first time!
Actually, they can lift and twist the ice cream in the air because of the sticky and very elasticity consistency of the ice cream itself! We find this quite different from western style ice cream. But, still, it tastes creamy and good tho.
You might be thinking about what's inside or the ingredient in Turkish ice cream. So the ice cream is so playful, they don't fell off even the ice cream vendor play and take it on the air, and spin it so fast! Well, we will be sharing with you the essential ingredient to make perfect sticky ice cream! They are added to the mastic, it's an aromatic resin. And the main ingredient of Dondurma is milk and sugar. In addition, they added in a special ingredient called salep. It is a starchy meal ground made from the dried root of the various orchid. This is why Turkish ice cream smells good and also has a very elasticity to it!
The ice cream vendor play doing prank to their customer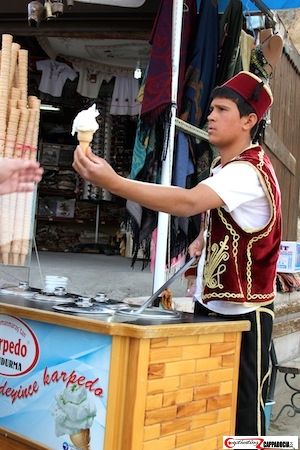 It is very entertaining watching the customer waiting for their ice cream but the vendor of it prank them. First, he will give you a cone, and then he pretends to drop a large amount of ice cream to your cone. They play so fast and you do not even recognize that he takes your cone. After they fill your cone, they will give it to you, but once you will take your ice cream. He starts to fool you, taking your ice cream and give it back to you. They usually repeat it again which will make you feel annoyed sometimes! So, when you come to Istanbul, we recommend you to come to the ice cream vendor. And let see how the game gonna be, we are pretty sure the ice-cream vendor will fool you!
Favorite flavors of Turkish ice cream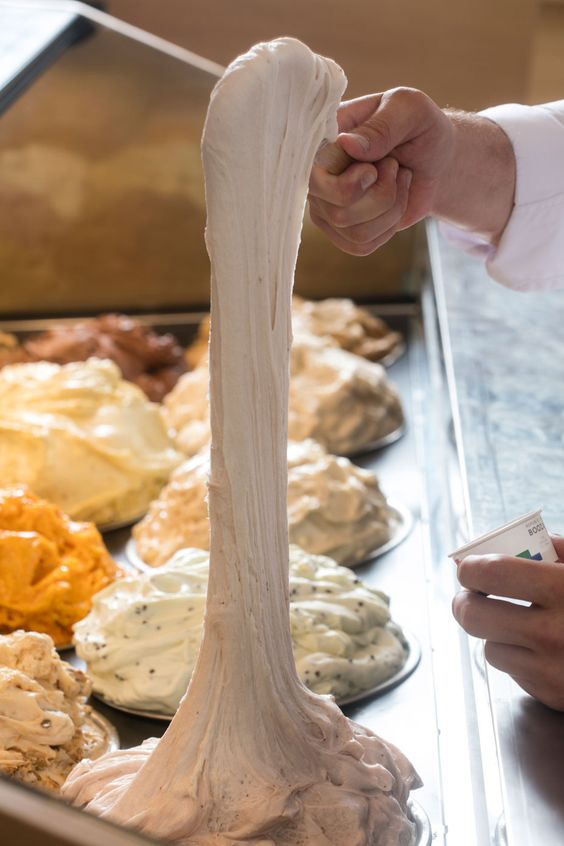 Istanbul is a beautiful city that offers tons of historical sites, lovely city landscapes, and deep history. And not to forget, when we travel to this city, we do not need to worry about the food. Because the food there is so delicious. A bounty of yummy food will satisfy your taste bud and also make you happy during your trip to this city!
If you are a fan of Turkish street food, and you have a chance to visit Istanbul make sure you do not wanna miss the Turkish ice cream! This elastic ice cream has variously flavored for such as strawberry, chocolate, vanilla, rose Turkish delight, and many more. In addition, you will have such an entertaining serving of ice cream right at the time you order it. That you might never experience before anywhere you travel to!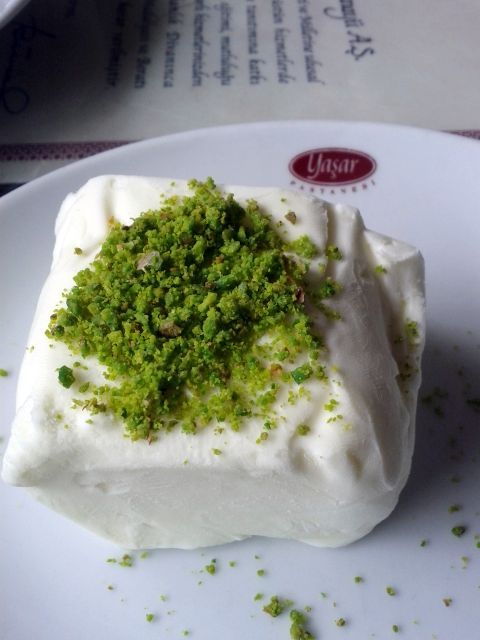 When you come to the stall and ask for your favorite flavor. The ice-cream vendor will say there are vanilla, chocolate, and pistachio. We recommend you to taste pistachio ice cream. The flavor of creamy vanilla ice cream and then top with pistachio elevate the taste. When you taste it the flavor is quite light combine with a nutty flavor from pistachio and balanced the sweetness. The taste is just perfect, it is not too sweet at all, and perfect to accompany your summer travel day!
The word of dondurma means freezing. The sticky texture and a very cold type of ice cream make the locals called it dondurma or freezing! The main ingredient of this ice cream is usually made from fatty goat milk.
The ice cream vendors will open till the night in the summertime, so we can enjoy this ice cream anytime in the warm weather. To enjoy this ice cream, it is not only available in summer. In winter, you still can get this cream, but it is just available in some cafes and restaurants. The street ice cream vendors will be closed during winter. So we can get it from the restaurant!
Conclusion
Istanbul is the capital city of Turkey that is divided by the Bosphorus strait and two continents Asia and Europe. There are lots of the world's tops tourist attractions in Istanbul. For such museums, ancient buildings from the medieval era to the oldest market Grand bazaar is a favorite tourist shopping place! Moreover, there are lots of delicious food that will satisfy your taste bud. From the street food to the highly-rated restaurant, you will find a lot of various delicious food!
In this writing, we have shared with you an entertaining Istanbul street food serving sticky Turkish ice cream. When you order it and the ice cream vendor will play some tricks before they give your ice cream. It's a very interesting and unique street food we must try when we travel to Turkey. We hope you enjoy some sort of information about the Turkish ice cream we have shared with you. Which flavor of the Turkish ice cream you wanna try?