Foodntravelling.com – There are a lot of things to say about Spain. The attractive performance flamenco, outstanding architecture sites, and of course the food! The country in Europe offers the taste of Mediterranian cuisine. For the food celebration, Spain is a little bit slow compared with its neighboring countries. The dinner comes so late at 11 PM when others tend to rest at that time, but Spaniard feels lots of energy till late at night. Besides that, we appreciate the laidback lifestyle in this country, which affects low pressure makes a happier life. Well, that is a really good thing, enjoy our life!
The warm, spicy, and mouthwatering delicious Spanish food is considered among food lovers around the globe! Who will resist the warm delicious rice dish, paella? Or dipping churros into a chocolate paste, that will make us jamming in the colder season! There are still lots of Spanish mouthwatering food has to offer. Without further ado, let's dig into the delicious food down below!
Pimientos de Padron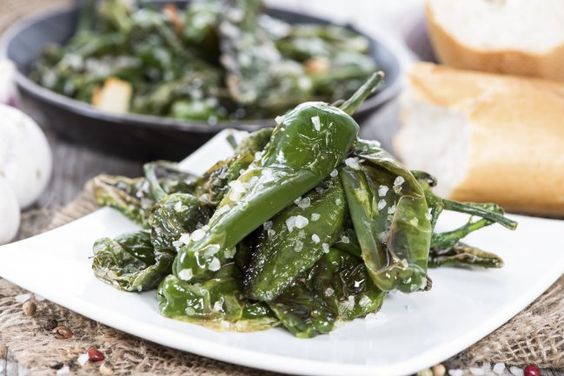 Talking about Spanish cuisine we cannot forget about the amazing and delicious tapas. In the previous article, we have written the list the best of Spanish tapas we can find on the menu! Tapas mean a little or light meal that complements your laidback time while drinking beer or anything you like. Pimientos de Padron is a famous Spanish tapas and also worth trying Spanish food. The fried green chilies with a sprinkle of sea salt bring all the entire flavor. It is so good to complement the lunchtime or having a light afternoon meal. Especially, enjoy the laidback day eating pimientos de Padron with a glass of beer, that is a simple way Spaniards enjoying their life!
Paella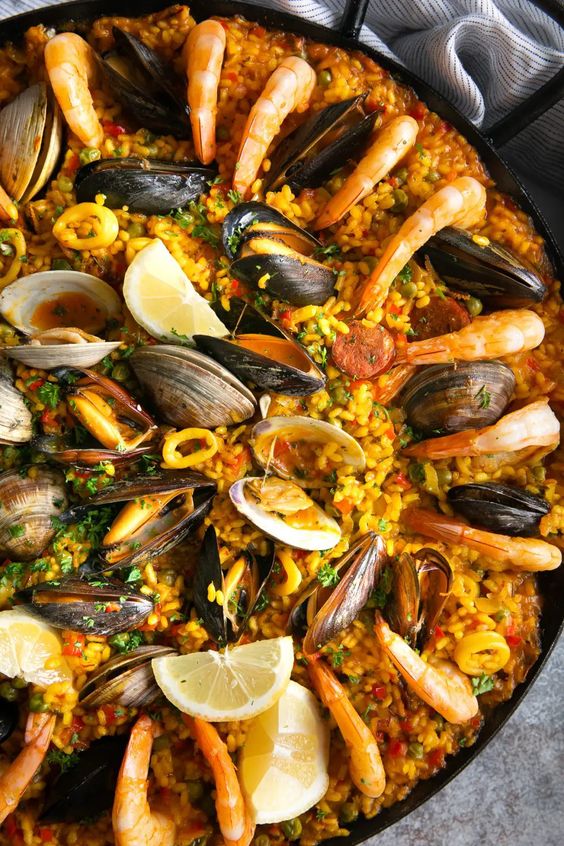 There is a very famous rice dish from Spanish, it is called paella. Traditionally, there are a few paellas, there are seafood paella, Valencia paella that has chicken and rabbit meat toppings, and they're also chorizo paella. Nowadays, we can find lots of various toppings for this dish in restaurants. Basically, paella is a rice dish that combines with a meaty topping. The main ingredient of this dish is actually the Spanish Bomba (the Spanish rice which has a gooey texture similar to Japanese sushi and Italian Rissoto rice texture). You can imagine the soft rice combine with rich spices, then gather with seafood that is so aromatic! Finally, give a touch of fresh lemon juice, it brings out the flavor and also gives freshness taste to it. This one dish is a remarkable Spanish food you have to try at least once in a lifetime cause this is too good!
Cocido Madrileño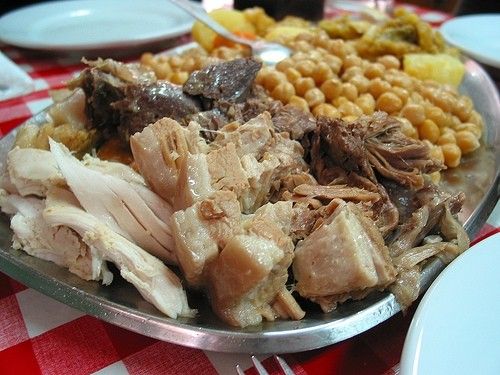 A remarkable Spanish food that represents Madrid taste. This is such warm and comfortable food that you can find in every home in the city. For the ingredients, there are lamb stew, chickpeas, and some pork stew too. The potato and the soup also complement this comfort food. The meat and some vegetables are being stewed until all of them are fall-apart tender. As we can see this dish is very comforting, not heavy on the spices but reminds the taste of the original food itself. That is what makes Cocido Madrileño taste so good and soothing!
Spanish Tortilla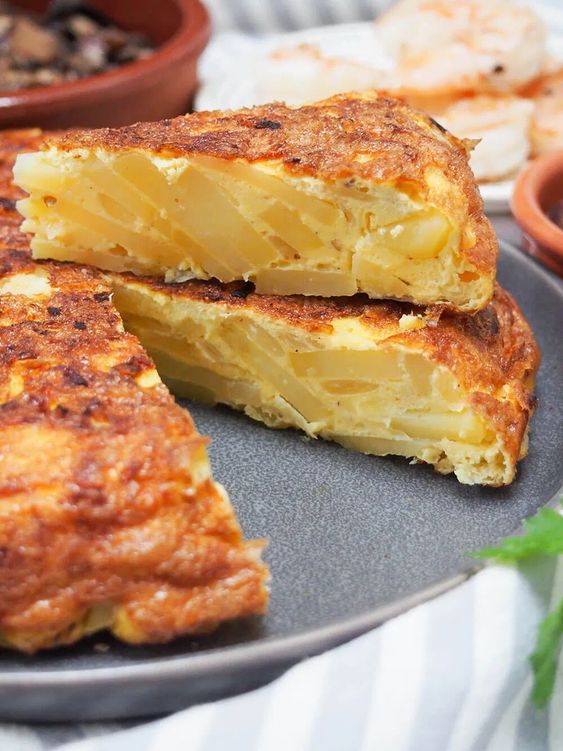 It is fair to say Tortilla de Patatas is the most simple, delicious, and quick meal to make. We only need potatoes and eggs to make this special dish. Beat the end and mic with the slices of potatoes then we only need salt and pepper for seasoning and that's it. Fried it in the slow cooking mode so the potato cooked well inside the layers. We can taste the crispy on the edges and soft inside, The potato gives this Spanish omelet creamy, and rich. This one dish is so popular all over Spain. We can find this on the tapas menu or even make it at home at any time we want, cause it is remarkably good but remain a simple ingredient!
Jamon Iberico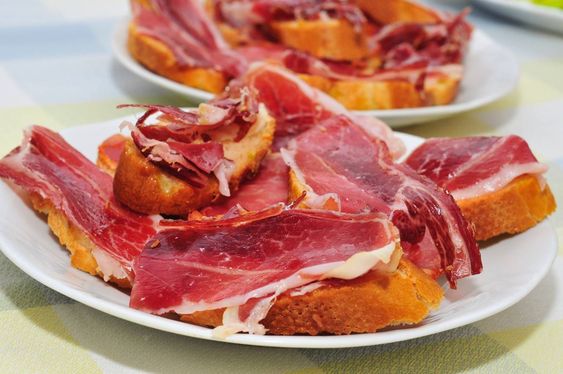 We cannot doubt that Spain has quality cured meat products. One of their signature cured meat is Jamon Iberico. This ham is made from the local Iberico pig, which comes from the forest. We can enjoy these precious slices of cure meat only or eat it with crispy bread. The chewy texture and smoky aroma from the ham meet the crispy bread is a delightful tapa you love to grab anytime! Around the cities, we can find a lot of Jamon Iberico in the cured meat store. Usually, they are selling a lot more varieties of meat products and some cheeses, including wine and beer too! In the meat store, there is also a Spanish meat product signature, chorizo. It's a pork sausage Spanish version, so if you come for trying the original Jamon Iberico, don't miss trying chorizo too!
Churros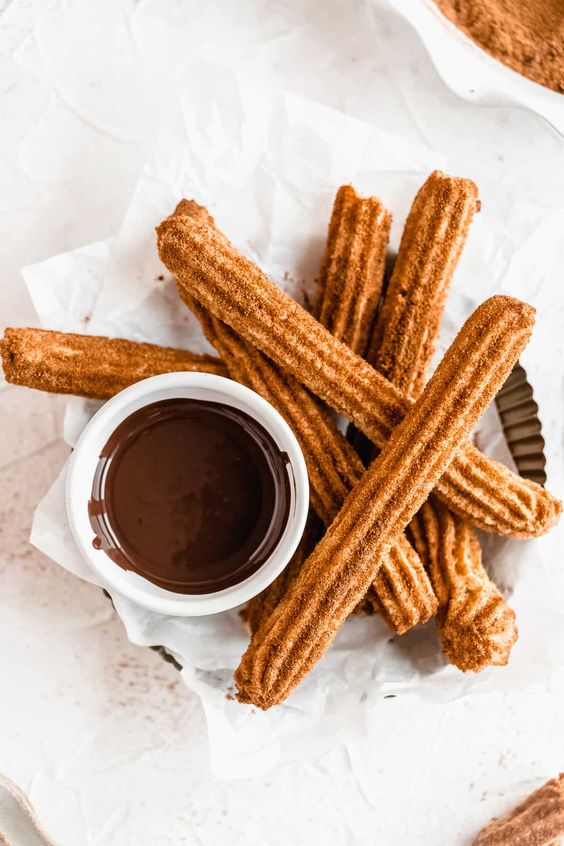 One of the most famous Spanish culinary is churros. Who does not know these sweet sticks and deep into a sweet chocolate paste! This snack is available along the street, mall, and in all shopping places. The crispy batter meets melted chocolate successfully makes your day happy as we can say! After it is fried, then coded into a cinnamon powder so it's aromatic. Classic churros are served with hot melted chocolate while now this snack transforms more globally. It has lots of various dipping such as matcha, cheese, custard, and many more! Imagining when the rain falling and we stay at home eating warm churros and its warm chocolate it's so pleasing!
Empanada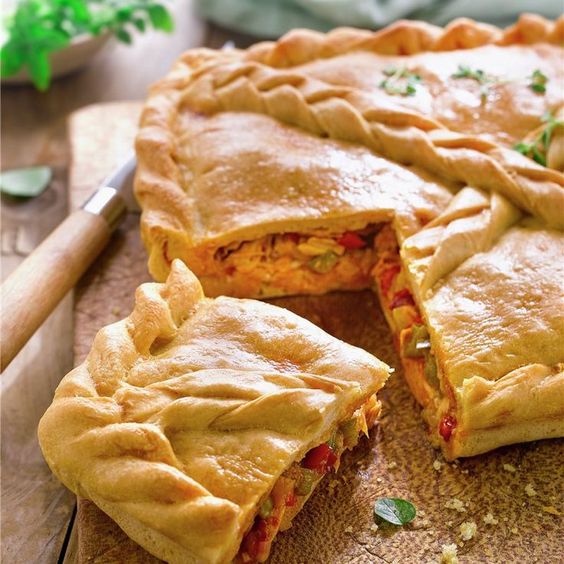 This one dish is a classic Spanish food, it is folded dough and baked over various fillings. There are various vegetables and minced meat. The crispy on the outside and the perfect golden color tone are awesome. And the vegetable mix with minced meat provides the entire amount of flavor. This salty baked product is so delicious, we can eat it as a light meal waiting for the sunset and chill with a cup of tea, that is perfect!
Gazpacho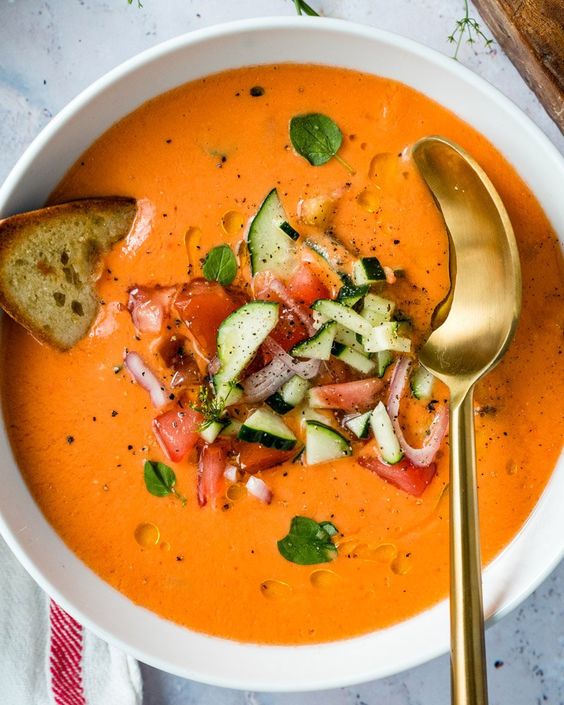 Gazpacho is an authentic Spanish dish made from ripped tomatoes, olive oil, garlic, cucumber, etc. It is served cold and the pieces of bread are complement it. This kind of mouthwatering Spanish appetizer!
Spanish Chorizo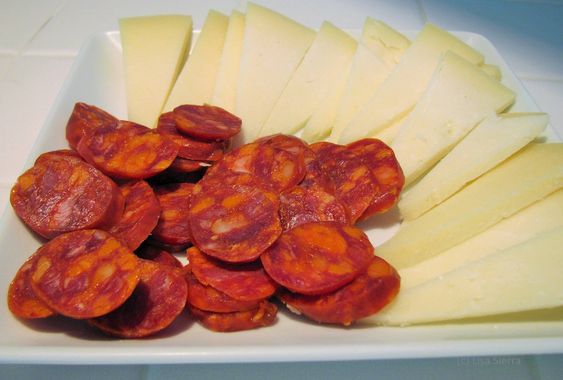 Chorizo is the type of sausage that has fermented along with paprika and smoked red peppers. This sausage is so popular in Europe, along with Spanish chorizo, it looks deep in red cause it's been fermented with smoked paprika and red chilies. Chorizo is so famous served in a tapas bar, it is cured into thin slices and served with cheese. Another thing we can find chorizo is cooked by simmered with wine and some spices.
Conclusion
Spain is located in the Mediterranean region and along with its ancient history brought by the Arabian (the moors). The country offers attractive and warm dishes that could be a distinctive thing from all European countries. As we highlighted above, the eating culture in Spain remains chill, they usually eat in the late time. For such having dinner at 11 pm where others are supposed to rest and sleep. In this case, we highly appreciate the locals have a pretty good deal doing their life, having a laidback lifestyle, and get rid of the pressure. We think that is key happiness of doing our life.
Back to the topic where we talk about delicious Spanish food. the rich culture and a laidback lifestyle, this country have lots of various delicious and attractive foods! Starting off their quality cured meat, simple dishes, to the warm and full of spices, they already have it all to enjoy the meal! In this writing, we have shared some of the best Spanish food that will satisfy your tastebud. We hope you enjoy it and can't wait to eat the taste of Mediterranean dish style, Spanish culinary need to embrace!