Foodntravelling.com – Austria is a beautiful country located in the center of Europe offers a spectacular Alps scenic view. But, most importantly, traveling to Austria, you will be able to taste their classic pastry delicacies. And their desserts represent European pastry pride! Just because they are perfect and so good! Let say one of the biggest Austrians dessert delicacy Afpelstrudels that love by all Europeans and also many people all around the world. The Capitals Vienna the biggest and the most populous city in Austria has offered lots of attractive destination places to visit. And also we will find lots of cool coffee shops, cafes, restaurants, and some good baking products! In this writing, we will give you an Austrian food and travel guide, eating sweet delicacies that are irresistible to resist!
Austrian pastry and baking products are considered one of the best in Europe. Their classic pastry and old baking goodness are truly loved by all Europeans. It is not surprising, we will find a lot of Austrian bakeries in all of the big cities in Europe. So, make sure you know it well, and let's dig into the most popular Austrian dessert lists down below!
Viennese Apple Strudel (Apfelstrudel)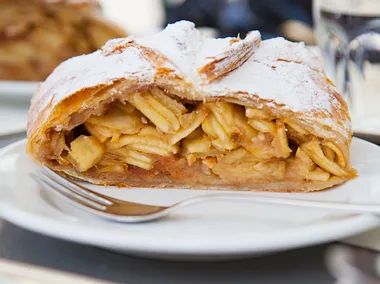 We cannot make a list of Austrian dessert's delicacies without mentioning Apfelstrudel. One of the most legendary Austrian desserts coming from Vienna. The technique in making this pastry is difficult to master. The perfect kneaded by smacking the pastry dough into a sharp thin layer of pastry. Then filled with sharp apple filling, the crunchy layer of pastry give a good crust when we bite it. Then, the apple will have such a good melt in our mouth. Combine with cinnamon, and dusted with icing sugar makes this pastry remarkably good! In addition, there is a cream and custard accompany this sweet dish. If you have a chance to visit Vienna or other Austrian big cities, do not wanna miss this Apfelstrudels to complete your meal! We can enjoy the plate of Apfelstruddle with piping hot tea or coffee, which is perfect!
Salzburger nockerl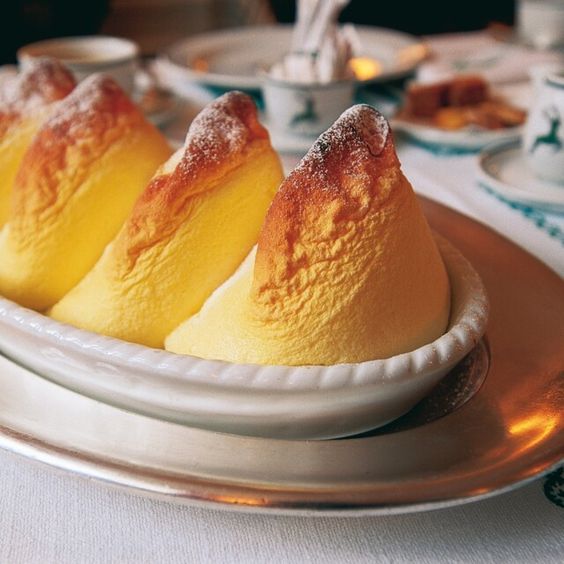 The second list of our most famous Austrian desserts delicacies is called Salzburger Nockerl. It is the sweet dish that was invented in Salzburg in the 17th century. The Salzburger nockerl usually has three mounds, it represents the three hills in Salzburg city, the original place of this dessert. The airy mass in this dumpling feels so smooth when it landed on our tongue. The vanilla-flavored souffle cake is baked perfectly and has a jiggly texture when you shake it. On the top of this souffle dusted with powdered sugar and served with a variety of fruits paste. We will have the creamy vanilla, then the smooth texture meets the sweet fruit jam and powdered sugar. This Austrian shuffle is so rich in texture and taste!
Topfenstrudel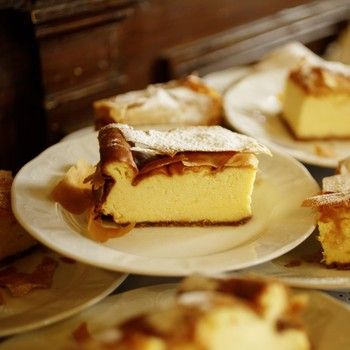 The pride of Austrian desserts is famous for their old and classic pastry. The crunchy texture outside, and then the perfect taste filling. From the creamy to the fruity dimension of layer taste, that is sensational! Although topfenstrudel is not as famous as the apfelstrudel, it is still one of Austrian's dessert favorites! The same pastry layer as the Apfelstrudel, the topfenstrudel has a different filling. It has the sweetened quark cheese in the middle. There are raisin, apricot, and peaches mixed on the quark cheese filling. And then give the fresh flavor by gently squeeze the lemon. The cream is served to complement this pastry. Looking at the gorgeous Alps scenic view over the chic cafe, eating sweet Austrian delicacy accompanied by a sizzling hot cup of tea or coffee!
Apricot cake (Marilenkuchen)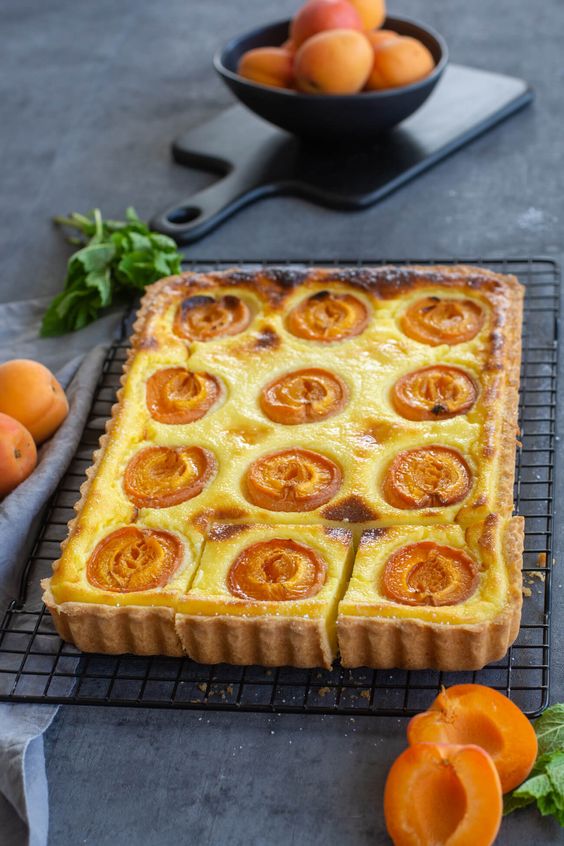 If you are looking for a light Austrian dessert but pack with flavor, then the apricot cake can be your option. The cake is remarkably smooth, it topped with juicy sweet apricot and at the base, you will taste the fresh sour lemon. The sourness from the lemon gives a balanced flavor to the tartness cake. It's perfect to eat apricot cake for the afternoon snack with a cup of tea. It's a light and comforting dessert. Or we can have it after eating Austrian food, that will complete our hunger and fulfill our tummy with joy!
Austrian chocolate cake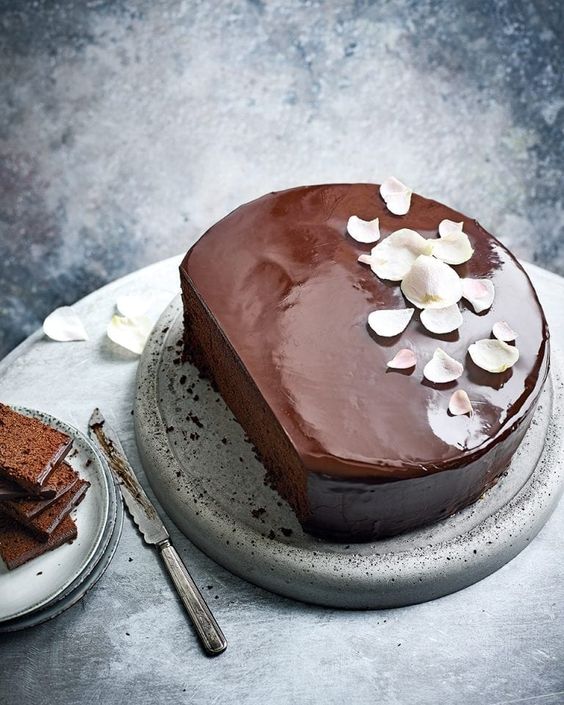 When we come into the Austrian sweets delicacies, we cannot forget this sweet darling, chocolate cake. It is assembled in two layers, the comforting indulgent chocolate tort, and then the layer of apricot jam in the middle. Sachertorte is the famous Austrian chocolate cake from Vienna, the capitals city. It is so popular because of its perfection of dark chocolate and the sweet apricot jam filling in the middle. Then topped with the coating dark chocolate on the top. It looks simple and the chocolate glaze makes this cake look simple and shining but also elegant!
If you are a chocolate lover, this cake is an award-winning chocolate cake you have to try. You will roll up your eyes and your head when you bite into this scoop of sponge chocolate cake.
The chocolate ball Mozartkugel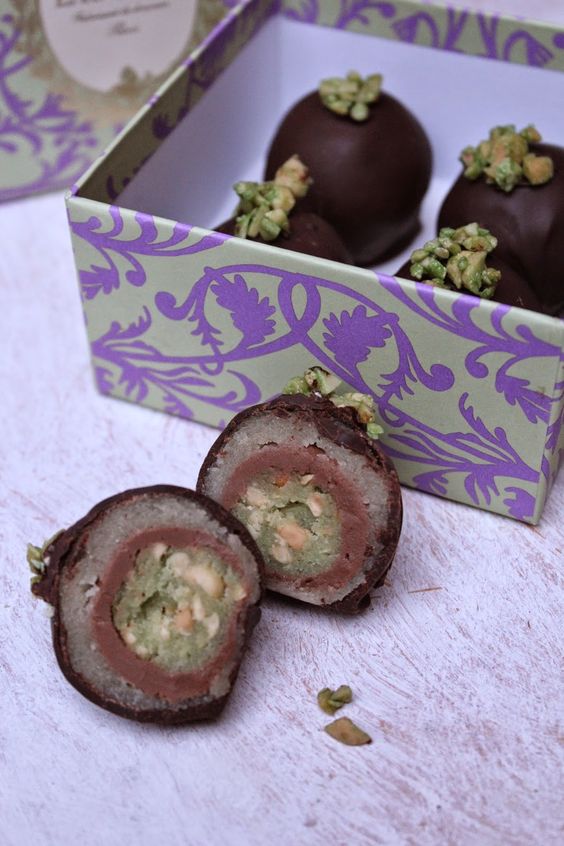 The chocolate ball with pistachio filling begins the pride of Salzburger. This chocolate was made by Paul Fürst in 1890 to commemorate Wolfgang Mozart, the native Salzburger. The famous Austrian musician that his art is well-known across the globe, he's invented calm and genius music. So, then Paul makes this chocolate ball as the praline to give the honor of the hits musician Wolfgang Mozart.
Can you imagine the chocolate ball that has rich dark chocolate flavor on the inside? When you bite it, there are a few layers that will melt in your mouth. The nutty taste mix with sweet and bitter chocolate feel make a perfect dimension of the sweet dish! You can order this chocolate ball all over Austrian bakeries, they will serve it in the box if you want to take it away and ring back home. These Austrian sweet delicacies need to try!
Legendary Austrian scrambled pancake Kaiserschmarrn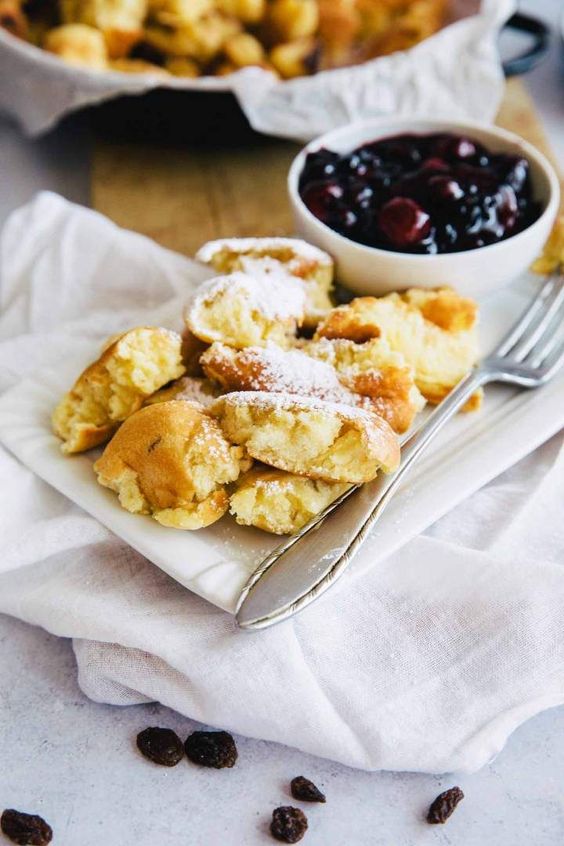 This legendary Austrian dessert was loved by the former emperor Franz Joseph 1. Kaiserscharrn is the simple light pancake and perfect sweetness to complete after a meal. The simple ingredients are made from batter and then dusted with icing sugar. After that, it serves with blueberries and is topped with raisins. The simple ingredient in making and the process but the taste is awesome. Make this dish loved by all people. You can find it in the Austrian bakeries, or making it at home. It's quite simple, fast, and yummy for sure. Would you like to cook the Austrian scrambled pancake at home?
Krapfen – The classic Austrian donut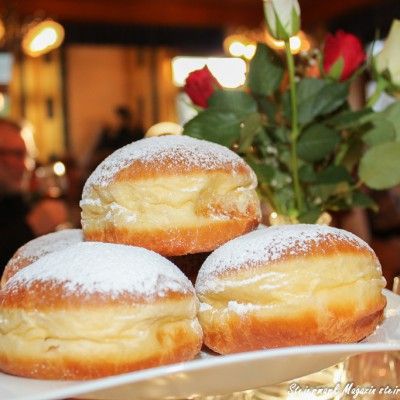 Krapfen is a simple airy dough that is deep-fried. It has custard, chocolate, and fruity jams. It is the classic European donut style. We can definitely get this Austrian donut by visiting the bakeries. They will serve a lot of classic Austrian pastries. With a various filling flavor that is insanely to resist. This donut is dusted in powdered sugar. The dough is so soft and airy make it light and perfect to be a snack on the go!
Classic Austrian cookies Vanillekipferl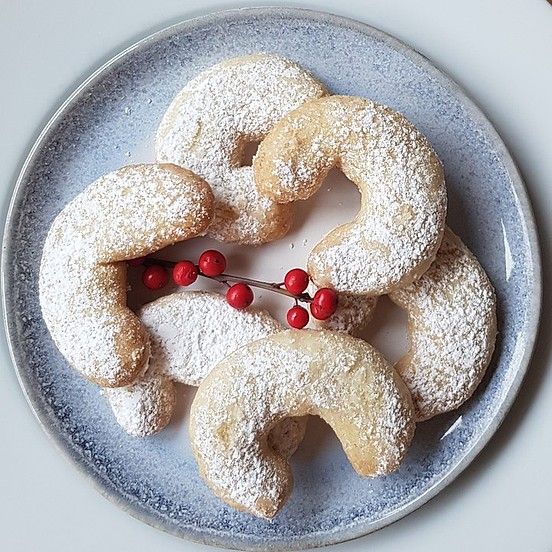 This classic cookie is commonly found in Austrian, Hungarian, and german regions. Date back to the history when the Austrian empire succeeds beat down the Turkish empire in Vienna. They celebrate making butter cookies that look like in the Turkish flag shape. This cookie is made from butter, vanilla extract, some ground nuts and dusted with icing sugar. But, now we can find these classic cookies to celebrate Christmas day. When they usually served these butter cookies with icing sugar or dip into the melted chocolate, you have to try these classic german butter cookies. They are salty and sweet tho!
Linzer Torte – The oldest cake in the world!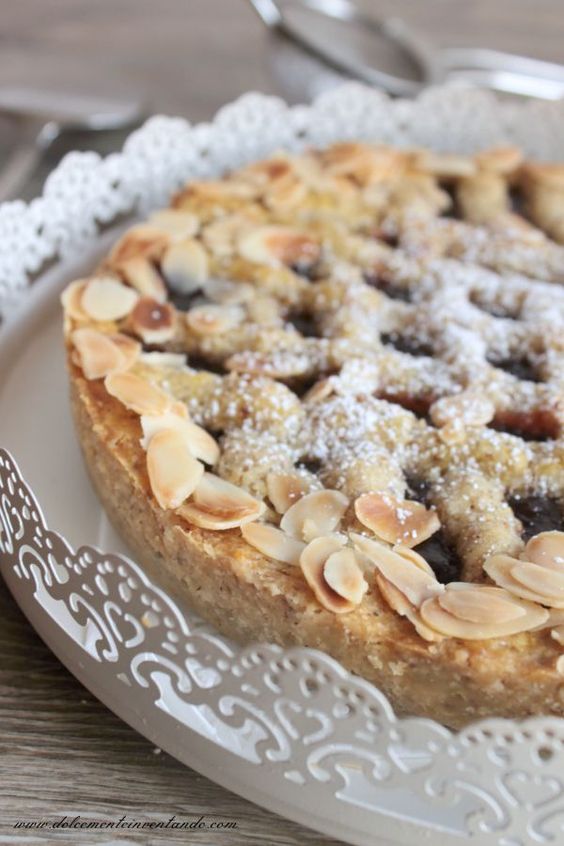 Linzer torte is the Austrian cake coming from the Austrian city called Linz. It might be the oldest cake that has ever been made in history. It is the cake with the crumbly and crusty pastry top layer texture. Made with butter, flour, and pastry dough. Filled with apricot jam or berry jam, shape into criss-cross pastry layer above. Then topped with some nuts for such almond, walnuts, cashew. We have tried this classic Austrian cake that has a long history behind its presence. When you imagine the cake meets the crusty pastry dough, then this cake is definitely what you need to try! The buttery taste combine with sweet berry jam and topped with nutty flavor give an extra dimension of cake lover!
Conclusion
Austria is a beautiful country located in the central of Europe. The most famous attraction when we come to Austria is we can see the gorgeous Alps scenic view over the major cities. For such Vienna, Salzburg and so on. This country is gifted with the difficult pastry skill to master. It's such a complicated way of making their desserts but the quality baking goodness, as a result, makes your eyes rolling up after you bite them. They are so remarkably good! In this writing, we have compiled the 10 most popular Austrian desserts delicacies that are irresistible to relish after your big meal! The combination of salty and sweet taste Austrian desserts gives the perfect hints in our mouth. It is also good to complement the afternoon tea or coffee cause they are light and rich in flavor! We hope you enjoy it and let's try Austrian desserts in the bakery shops!