Foodntravelling.com – Barcelona is a beautiful city in Spain that offers amazing historical sites, attractive culture, a delicious seafood menu, and many more. There is the biggest football stadium in Spain too. Barcelona is a truly fun, artistic, convenient, a beautiful city in the Catalan region. In this writing, we will share with you lots of amazing tourist attractions in Barcelona. From the historical site, the amazing building made by Antoni Gaudí, beautiful park, amazing stadium, and possibly to taste delicious seafood. So, let's explore tourist destinations in Barcelona together!
Why people called Barcelona is the city of Gaudí?
Antoni Gaudí is a Spanish architect that really well-known for his Art Nouveau architecture design. Most of his artwork living in Barcelona, one of the biggest art he made is La Sagrada Familia, the cathedral church that still has renovation until now. He was born in the neighboring province of Barcelona, Reus. He loves art since he was a kid. Then he continues his education in Barcelona. After graduating, he loves to transform his idea to come true. As a result, we can see the amazing Art Nouveau church Sagrada Familia standing beautifully and recorded in the world heritage site by UNESCO.
More than that, we can see a lot of his architectural designs in this city for such as Casa Mila, Casa Batllo, and many more. He sharing most of his designs in gothic and modern Art Nouveau design. Most of his amazing artwork is living in Barcelona. That is why this city is also called the city of Gaudi! What something cool about Barcelona is this city hold The Royal Gold Award in society architecture in 1999. Tons of his work are still well-kept from ancient history to now. So, no wonder that people also called Barcelona is the city of Gaudi. The way we respect his contribution to the art!
La Sagrada Familia is the must-visit attraction in Barcelona!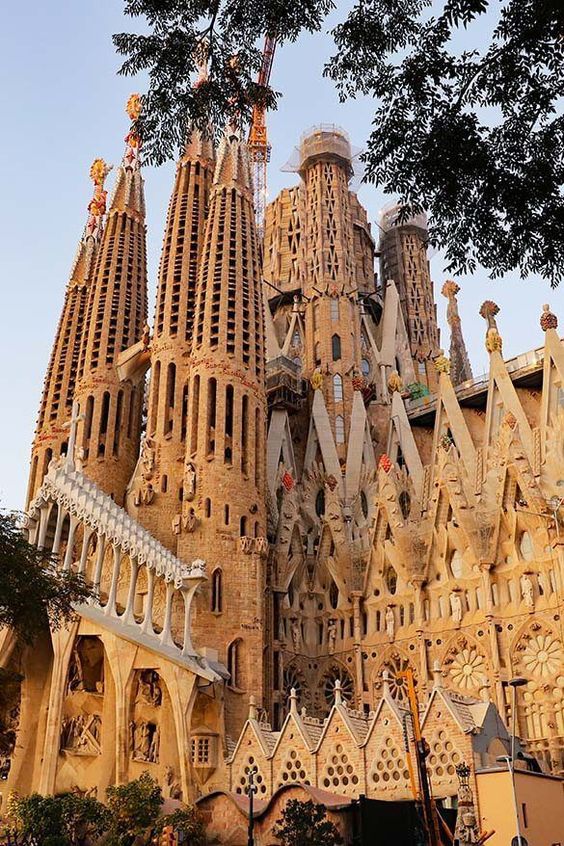 If we are going to decide the main attraction in Barcelona, La Sagrada Familia is the answer for any of you. The most extensive and historical building by Gaudi. A big margin for the construction makes this church does not have finished its construction from 1882 to now. Gaudi worked a lot to make this amazing architectural art finish. Sadly, he didn't finish the plan design fully, he died when Sagrada Familia only has a 25% construction estimation. There are many architectural works on Gaudi's plan. It is a massive Art Nouveau Roman Catholic church design we need to visit whenever we are in Barcelona!
Camp Nou Stadium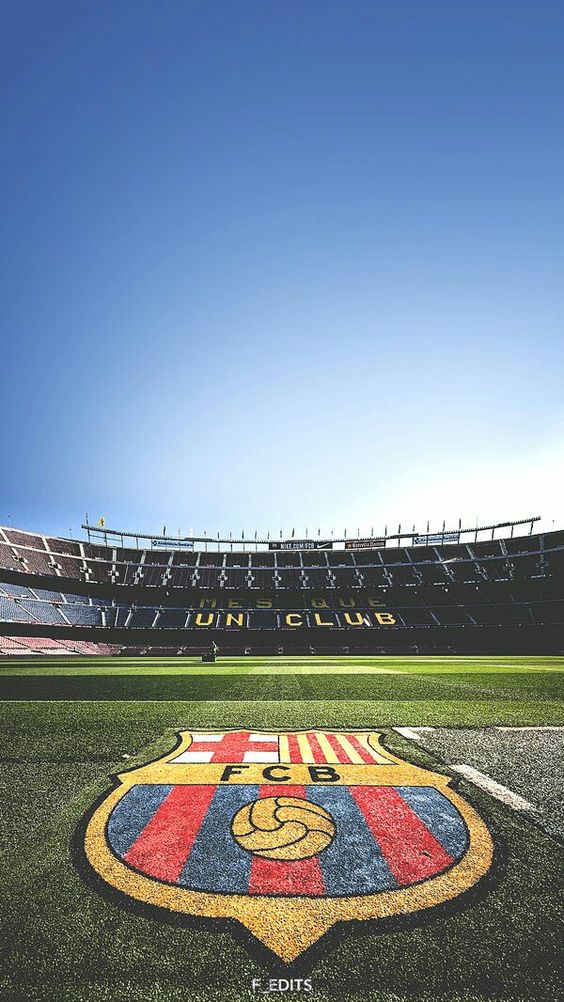 The home of FC BARCELONA, Camp Nou stadium holds the largest one in Spain. It can cover more than 90.000 spectators. The pitch is a pretty good design similar to FIFA 2004. The great ambiance when the match of Barcelona's football team pride plays, it's roaring and full of energy inside. For those who come to Barcelona but do not have a chance to watch a home match game. You don't need to be sad, because Camp Nou stadium is open to the public. We can have the stadium tour, by visiting the award galleries, Barcelona's changing room, and also we can buy some merchandise such as their jersey. So, if you are a fan of football games especially a Barcelona fan. Visiting Camp Nou stadium is a must!
Casa Milà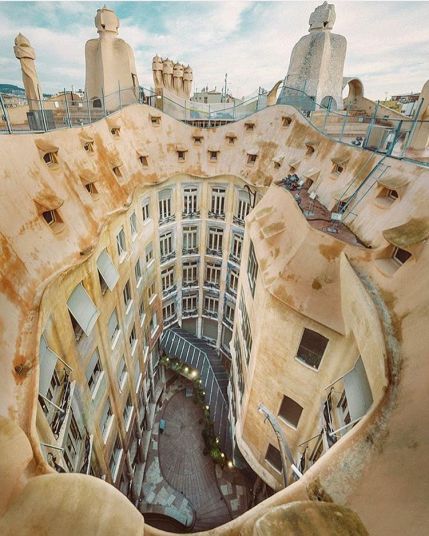 One of the greatest artwork from Antoni Gaudi is Casa Milla. The unique structure makes this site is one of the imaginative Gaudi's thoughts. As we can see the roof is designed with wave style. There are some chimneys on this roof too. Casa in Spanish means a house. So, casa Mila is the building that refers to a home design. But, with his ideas, he transforms the stone, broken tile shard mosaic, marble, and ceramic into a beautiful site. Now, this UNESCO heritage site is open to the public. The highlight of visiting Casa Mila we can see the unique structure design that is waving. There is some concert held in this building too. And there is also some accommodation we can rent in this amazing building. There are lots of rooms structured like apartments. So, would you have a plan to visit this Gaudi's artwork architectural building?
Park
Güell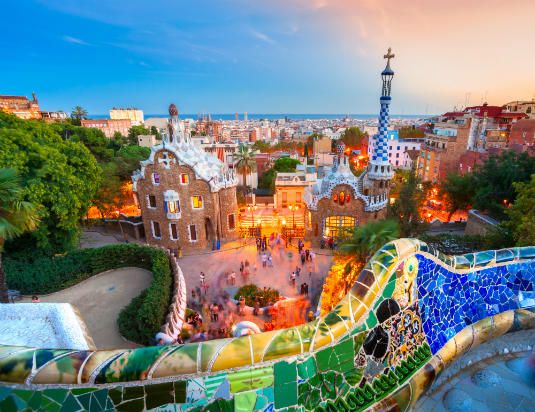 The colorful royal park in Barcelona is definitely park Güell. Located in the hilly ground, we can see the panoramic view from this park! There are many things this park has to offers. For such the beautiful Salamander icon that made from various ceramic tiles. The calvary is the mountain garden landscaping, El viaducto dels enamorats is the beautiful landscaping showing height rock landscaping surround with greeneries all around. There is also a large open square which is fun to enjoy with friends. It is one of many outstanding Gaudi projects. 
La Boqueria market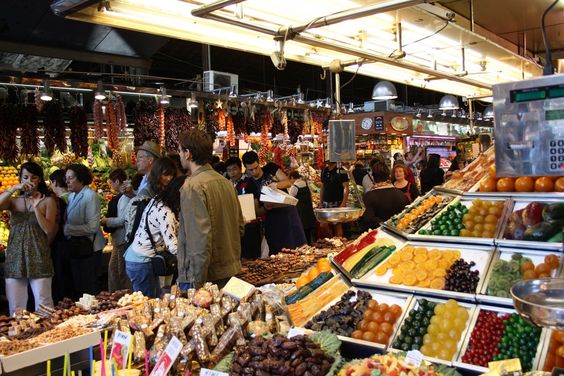 Food is something beneficial, wherever we go to we can survive by it. Travel to different cities in the world is not just all about visiting historical sites, beautiful open public space, entertainment, but also food! Located in the heart of the city, La Boqueria market is easy to catch. This is the best place where you can satisfy your gastronomic. This market is well known for its fresh produce. When you enter it, we will find colorful fresh fruits and vegetables! More than that, the cured meat section and seafood section are available too! Moreover, there are some stalls selling Spanish food especially coming from the Barcelona region. This is the place where you need to eat when thinking all about Spain. Enjoying the great ambiance in the tapas bar is a simple thing we can do in this market. Infuse our energy and fill our tummy with delicious Spanish cuisine!
The famous street in Barcelona, La Rambla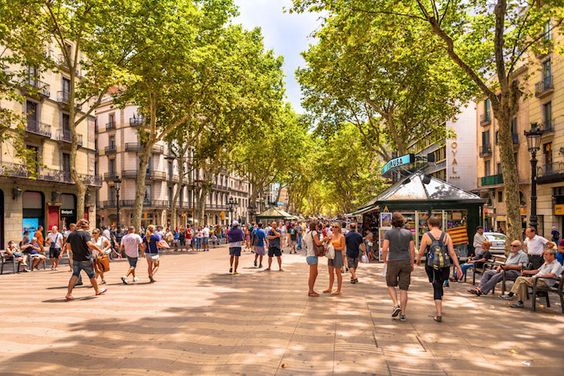 When Madrid has Gran Via street that holds lots of attractive tourist attraction spots, In Barcelona here we have La Rambla street. It connects the Plaça de Catalunya, it is Barcelona's famous square. Line up on the street, we can find tons of cool shops, food stalls, attractions. What an attractive street it is! From the morning till late night this street is always busy and sparkling. It is a shopping paradise for locals and tourists! Just strolling through this street and connect to the city square area will make you feel the energetic Barcelona's urban lifestyle! So, don't miss this street to your itinerary list when you are in Barcelona, it is worth visiting!
 Bogatell Beach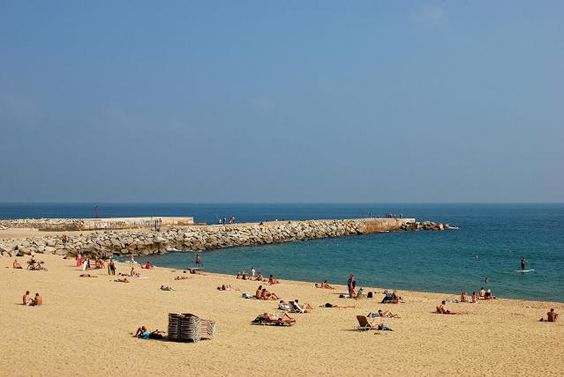 Talking about destination places in Barcelona, we cannot forget to mention one of the best beaches in Barcelona. There is the beautiful Bogatell beach. It is the beach where support some beach sports such as volleyball and there is possible to play ping-pong too. A very fun beach to have beach sports or even just laidback at the coastline area. More than that, lining up this beach, we can find lots of amazing stalls and restaurants selling paella. The Spanish rice dish offers seafood or chorizo toppings. This beach is well-known for its delicious paella! So, let's go to the beach and enjoy the late summertime this year!
Conclusion
Barcelona is the province and also a famous city in Spain. Located in the coastline area makes this city is gifted by the scenic Mediterranean sea. So, we are not surprised that we can find lots of seafood dishes as the highlight cuisine in this city! We notice that this city is also called the city of Gaudi. He is a well-respected Spanish architect. Many of his projects stand in Barcelona. One of the biggest artworks he was made is the Catholic Roman Church, La Sagrada Familia. He also design Casa Mila, Casa Bastilo, Guell Park, and many more awesome architectural designs that were recorded in the world heritage site of UNESCO. Barcelona was also awarded the Royal Gold society cityscape in 1999. The distinctive modern Art Neoveu design is the highlight of Antoni Gaudi's architectural style along with Spanish gothic influence. We have to conclude that this city offers complete tourist attraction places! The artful city is accompanied by an amazing market, scenic beach, delicious food, and an attractive vibe! When you are going to visit Spain, make sure to include Barcelona in your destination place because it's all worth visiting!