Foodntravelling.com – The beach is a very pleasant tourist destination for those of you who like water. On the beach itself, you can do a variety of fun things, including doing water sports. Water sports will make your vacation more enjoyable. So besides you having fun in the context of a vacation, you will also get various benefits from water sports at wonderful beaches in England.
You can do this at the same time when you visit the UK. England has many beaches that you can visit for a vacation. The beaches in England are very famous for their beauty, besides that, they are also famous for the tourist attractions around the beach. You can invite family, friends, or business relations to travel to the UK. You will be able to find a variety of beauty and excitement when visiting the beaches in England. We have summarized the things above in 10 Wonderful Beaches in England for Refreshing Summer Vacation. Let's discuss!
Brighton Beach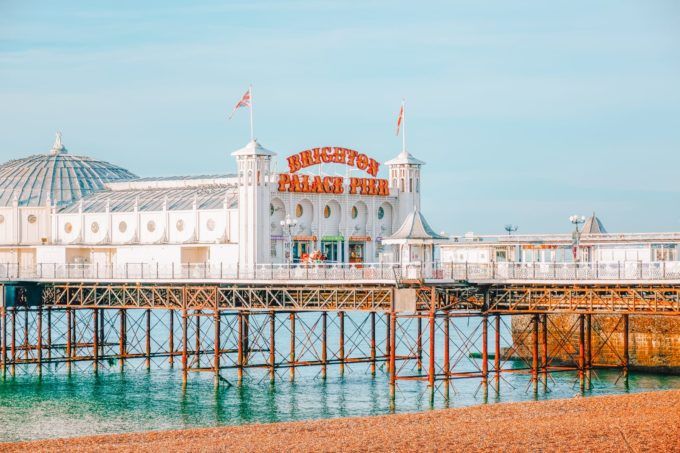 The first wonderful beaches in England is Brighton Beach. If you want a beach close to the city, Brighton beach is the answer. Here you will enjoy views of office buildings or tall buildings adjacent to the beach. Here you can use several public transportation or private vehicles. The parking lot to go to the beach here is fairly wide and easy to find. So you don't have to bother to pay attention to where you will park.
In addition, you will also be presented with a view of the blue water that is ready to make your holiday enjoyable. Brighton has a beach feel that combines well with several attractions such as a gym, a Ferris wheel, and restaurants. In addition, this beach has several water sports that you can do. Like kayaking, and skating to playing with boats. If you prefer to enjoy the beach because of the air and hot sun. You can bring your own beach seat. You can also do volleyball or do sports playing ball here.
1 of 10
Fistral Beach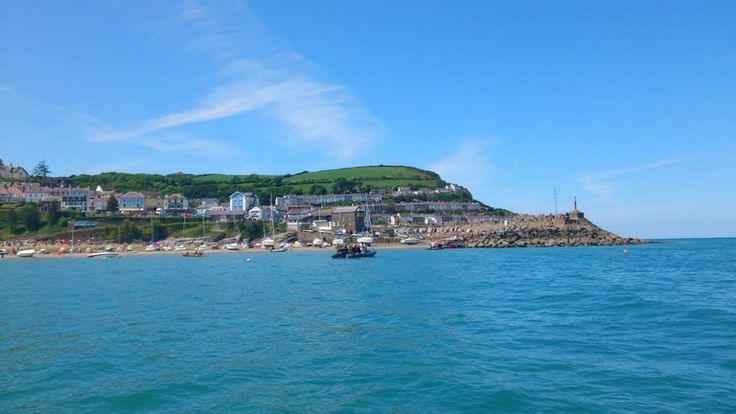 The beach, which is located on the north coast of Cornwall in England, presents some interesting things for you. You can see interesting things when visiting this beach. Among other things, this beach has waves that are very liked by surfers. The right thing to describe this beach is home to surfers. If you are a surfer who happens to be visiting in England, you will definitely visit this place. The waves are high and friendly to surfers and will make their own scenery for tourists.
Beside that, tourists will always see the interesting actions shown by the surfers on this beach. You will also be amazed by the surfers who have been trained to surf on this beach. In addition, you can also enjoy several other attractions on this beach. You can visit shops full of delicious dishes and menus around this beach. There is one restaurant that is run by a famous chef in England, chef Rick Stein.
2 of 10
Bournemouth Beach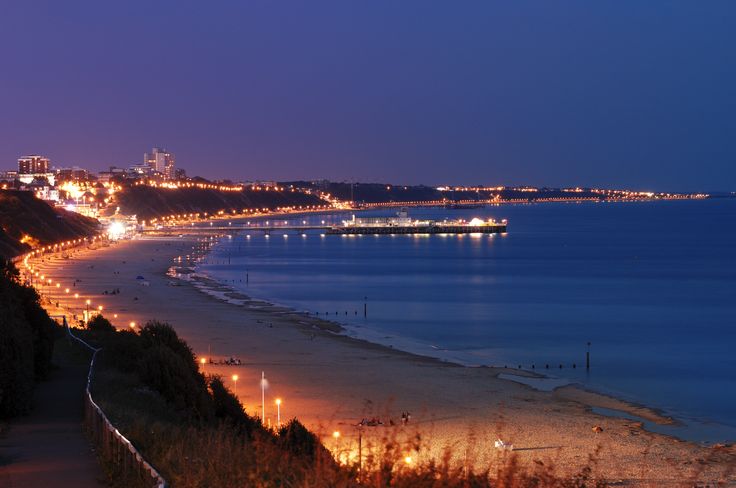 Bournemouth beach is a beach that is the number one destination for tourists when visiting the UK. The beach, which is located in Bournemouth or southwest England or only 2 hours from London, is a beach with a strategic location. On this beach, you can do many things, from traveling with family, and playing in the water to eating at beachside shops. Family tourism on this beach is quite lively, you can visit the Happylands amusement park.
In fact, Happylands is very thick with blue paint and is the name of a big game. There is another family tour that you can enjoy on this beach, namely the Bournemouth oceanarium. Bournemouth oceanarium is a kind of place for sightseeing that gives you the experience of seeing marine life behind a large aquarium. Children will definitely be happy with this tourist ride. There are also many events that are held in the summer at this beach, although in summer still bring a jacket because the air on the beach will be very strong and cold.
3 of 10
Bigbury on Sea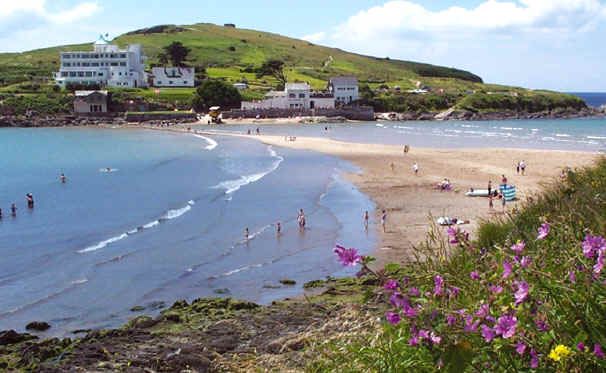 You imagine vacationing on a blue beach with a wide stretch of white sand. You can visit this amazing beach called Bigbury on the sea. This beach is famous for its stunning beauty, namely the white sand that is split apart. This white sand will split the ocean like a miracle. You can witness this beautiful sight by visiting in the summer.
In addition, this beach is also very famous so that several films take scenes with the backdrop of this beach scene. However, don't worry if you are hungry you can enjoy several restaurants around the beach. Of course, it will be very difficult to determine a good place to eat, because here all the restaurants have a good taste. You can also visit this beach to stay overnight. Hotel Deco is located on the island opposite. You can take it on foot or by boat. In addition, you can also do water sports on this beach.
4 of 10
Blackpool Beach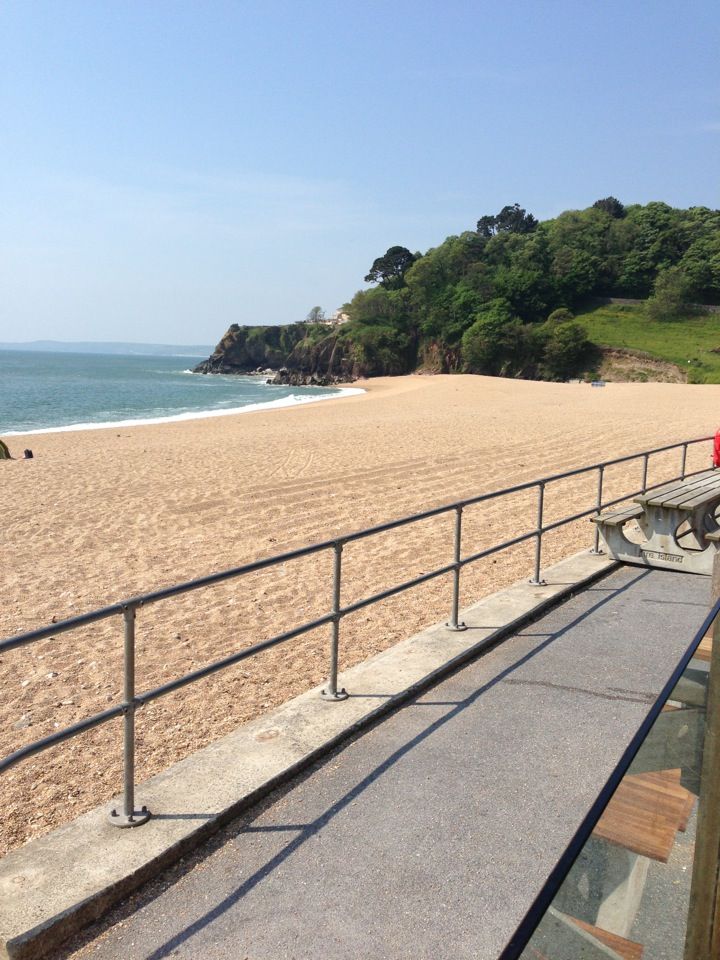 The next wonderful beaches in England is Blackpool Beach. Blackpool beach is located in Blackpool, Lancashire, England. On this beach, you can do many things, one of which is sunbathing. Many of the tourists or local tourists near this beach glorify this beach because of its healthy sun exposure. You can also do sunbathing when you visit this beach in that way. In addition, you can also enjoy playing in entertainment venues. Blackpool beach has an entertainment place called Blackpool pleasure beach amusement park.
Beside that, here you can take your family for a vacation by playing on a roller coaster. The roller coaster at this amusement park is the first in the UK to use a double launcher. But if you want to enjoy the beach in a calm way, you can take advantage of the beautiful scenery under the beautiful tower. You can visit the 513-foot tower of Blackpool. The tower was built in 1879 and is used for several festivals there.
5 of 10
Woolacombe Beach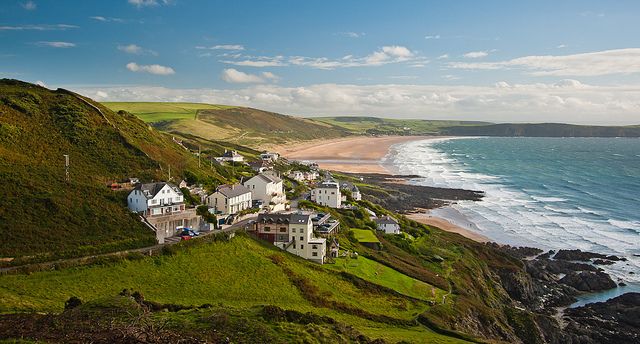 This beach is located in Woolacombe, Devon, England. If you visit this place you will be presented with some amazing views. This beach has golden sand that makes anyone's eyes fascinated with it. This golden sand blends beautifully with the stunning sun exposure not to be missed. Some people or tourists when visiting this beach are waiting for it in the summer.
Moreover, during the summer sun exposure will be more effective for your skin to make it healthier and also the benefits of tanning. In addition, during the summer the seawater will be warmer. At this time the surfers are also very happy to surf there. For those of you who visit this beach, you don't need to worry because on this beach there are several lifeguards on guard there. In addition, if the children need ice cream, you don't have to worry because there are several ice cream shops that are open.
6 of 10
Saunton Sands Beach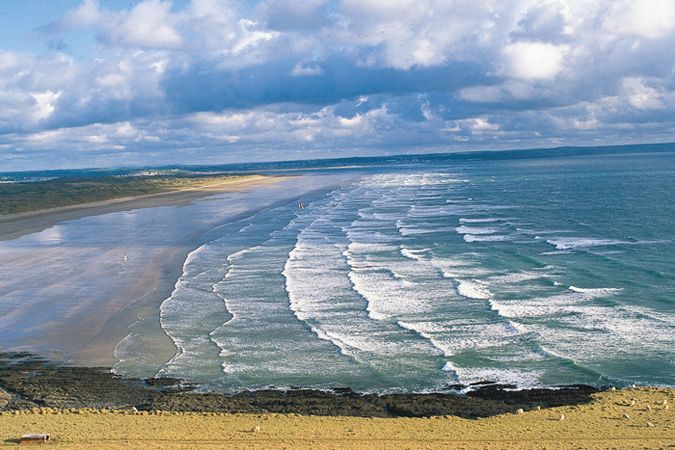 The next wonderful beaches in England is Sauton Sands Beach. Saunton Sands beach is located in the Devon area, Devon is indeed very famous for its beautiful beaches. The waves in the Saunton sands are very friendly for swimmers as well as for surfers. Many of the visitors or tourists visit this beach to do water sports activities. You can recognize the waves moving very calmly to the shore. Moreover, the beach here seems to provide a calm pool that is not too deep. It is ideal for traveling with family or those closest to you.
Moreover, this beach is also used by several directors to shoot their films. Among other films that have been shot in this place are Aquaman and The Lost Kingdom and The Guernsey Literary and Potato Peel Pie Society. This is because this beach has been awarded UNESCO as a Biosphere Reserve. Saunton sands beach is indeed famous for its beautiful golden sand beaches. In addition, this beach has complete visitor facilities such as toilets, beach chair rentals, and some special attractions.
7 of 10
Bamburg Beach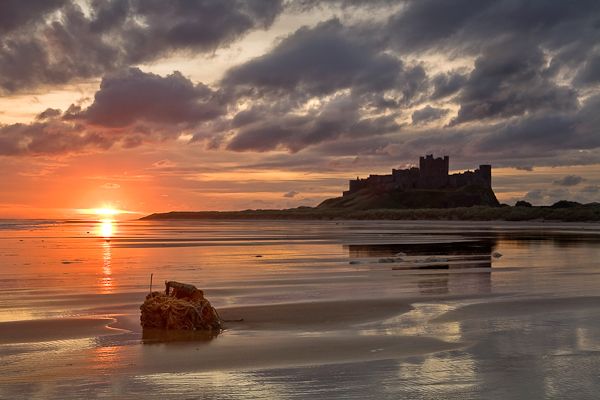 A beautiful castle located right on the beach is an imagination for a pleasant vacation. But if you are in Bamburg Beach the imagination will come true. Bamburg Castle is the name of the castle located on the beach. This castle was built in the 6th century, this very old castle has a beautiful yet stunning feel. The beach with this castle is in Bamburg, Northumberland, England. This beach is the main destination for beginner surfers or kitesurfing. For the waves, this beach is relatively calm and not too dangerous. For this, you don't need to worry because the lifeguards are always watching for any danger. When summer comes, many visitors swim here, so you have to bring a change of clothes for that.
8 of 10
Compton Bay Beach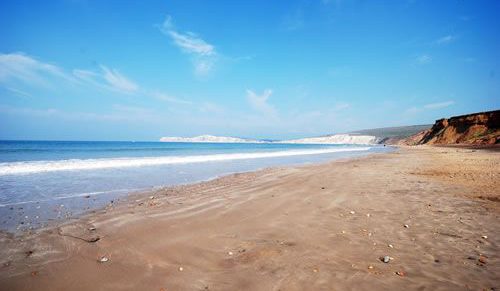 The next wonderful beaches in England is Compton Bay Beach. A beach that is not too crowded, or even a beach with your own comfort. Relax, you can get it all when you visit Compton Bay beach. Here you will bring all your own equipment. So when visiting this beach you need to bring, beach chairs, mats, and other equipment independently. The beach that focuses on the beauty of the blue sea as well as the golden sand will make anyone tempted to play on this beach. Summer is the favorite time in this place. Besides that, if you visit this place you have to keep this place clean because you have to take care of garbage and the like yourself.
9 of 10
West Wittering Beach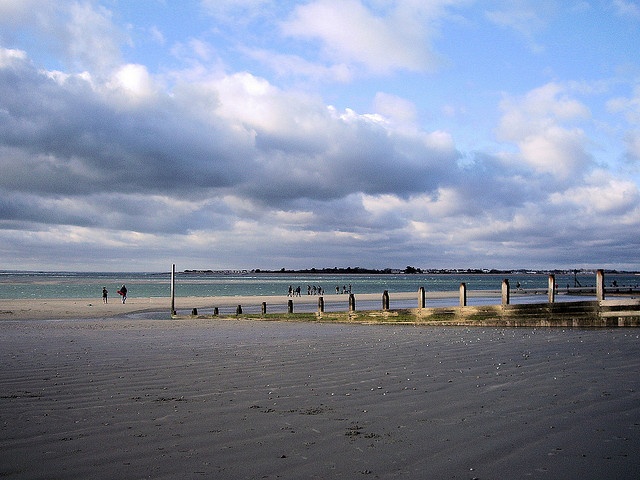 The last wonderful beaches in England is West Witching Beach. If you want a beach with a very blue sea and white sand, you can visit West Wittering Beach. This beach is one of the most beautiful beaches in the UK. This beauty is what makes celebrities like Kate Winslet and Keith Richard have a place to live around this beach. In addition, this beach is a beach owned by the government as well as to conduct research. Research conducted in this place is a study that focuses on wild plants, rare birds, and nature that is still beautiful. This is what attracts many visitors to travel on this beach.
10 of 10
Thus our discussion of 10 Wonderful Beaches in England for Refreshing Summer Vacation. After seeing the beach above you will not wait to visit it soon. Taking a walk or exercising around the locations of the beaches above will make your vacation different this time. Various accommodations around the beach make your vacation more comfortable this time. Accommodations around British beaches will also allow you to enjoy the beautiful views of the beautiful beaches. The difference in the colors of the sand or the flora and fauna around the beach will certainly never make you bored. If you have plans for a holiday on the UK's beaches, we hope you get going as soon as these beaches can't wait for you any longer. Happy traveling!