Foodntravelling.com – An appetizer is a dish that must be served when visiting a restaurant. Serving the appetizer is very diverse from sweet to savory. Besides that, the Philippines is a country that has mouth-watering appetizers. Even many tourists who are visiting this country want to try it again. The interest of tourists who are visiting this country will definitely try the appetizing street foods. Moreover, if you are interested in appetizers in the Philippines, then you are obliged to taste the main dishes that are unique to this country. So, there is no need to linger on this matter, which we have summarized in Find a Good Tastes: 11 Delicious Filipino Appetizers. Let's discuss one by one!
Pork Siomai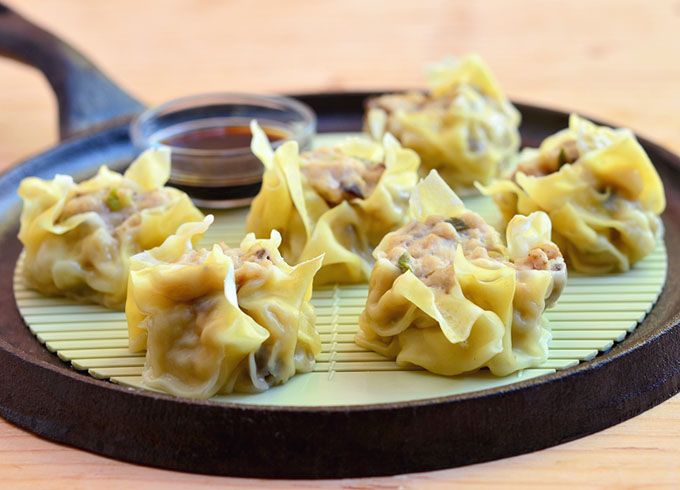 The first Filipino appetizers were pork siomai. Maybe you are no stranger to this one food, yes, this food is the Filipino version of Chinese dumplings. The taste of this food is also not much different from delicious Chinese dumplings. However, there is something that slightly distinguishes these foods, namely the taste. Pork siomai has a taste with typical Filipino spices that are appetizing.
So, if you are visiting this country for the first time and try this appetizer, it will shake your tongue. Moreover, to add to the taste of pork siomai, it comes from the sauce. The sauce used to complement this dish is made from chili garlic paste and soy sauce. This will create a delicious combination of flavors in your mouth.
1 of 11
Okoy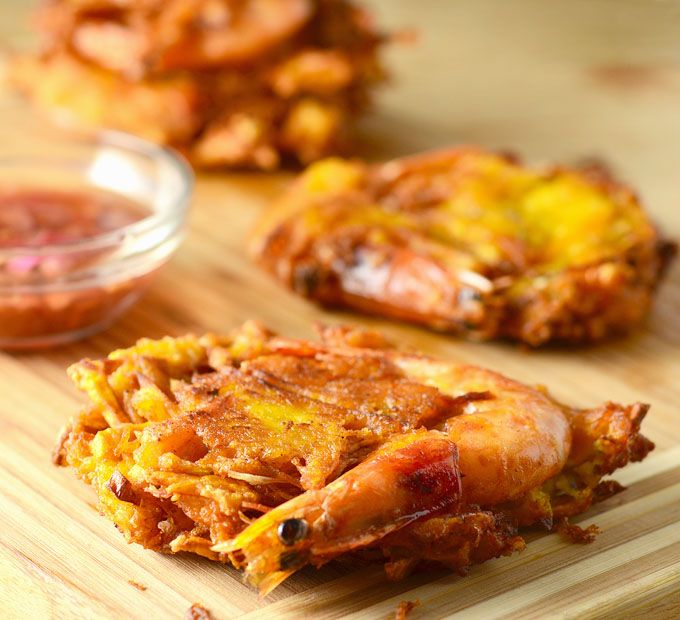 Fried vegetables may be very foreign to some people. This is very common for the typical food of the Asian continent. Okoy is a Filipino fried vegetable. And vegetables that are usually fried are carrots, green beans, and green onions. Then to make this food look delicious, shrimp is usually added on top. Besides that, Filipino people often eat this food with a bowl of white rice as a side dish. If you are interested in this food, it is very easy to find it in several corners of cities in this country. In addition, if you want to add a spicy taste, some of these food vendors provide spicy excise sauce. That way you will feel a spicy sensation when eating okoy.
2 of 11
Lumpiang Tinapa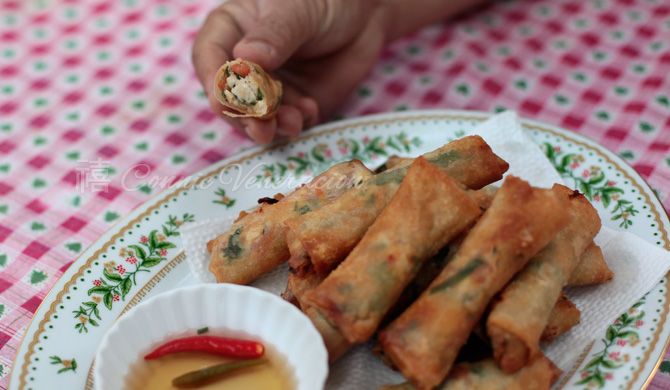 Diversity in form, taste, and presentation is often found in Filipino appetizers. Lumpiang Tinapa is one example of a variety of foods that have a taste that is absolutely mandatory to try. The crunchiness of this lumpiang tinapa skin is made from egg rolls, which will make a crunchy sound when it arrives in the mouth. It is also a favorite of food lovers who are visiting this country. Besides that, lumpiang tinapa with this presentation is to attract tourists who are visiting the Philippines.
Meanwhile, lumpiang tinapa is always filled with vegetables and pieces of pork. Filipinos often eat these appetizers with various types of sauces, which are typically thick brown in color. And the way to eat lumpiang tinapa with the sauce is by dipping it. When it arrives in your mouth you will feel a savory, delicious and crunchy taste.
3 of 11
Chicharon Bulaklak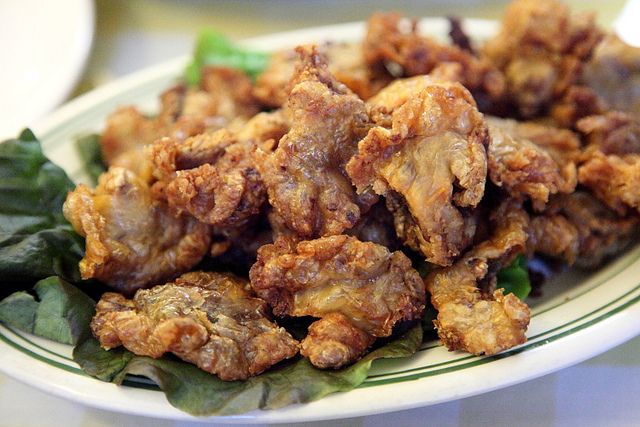 Exploring culinary delights in the Philippines is not enough just to taste one or two times. Because the culinary world in this country has various types of food that must be tried. And one of them is the bulaklak chicharon which is made from fried pork intestines. The unique shape rolls up to form like a rubber ball. Besides that, chicharon bulaklak has a savory and soft taste on the inside. This food is often found before starting to drink beer. Because it has become a tradition of drinking beer in this country. If you are interested in this food, you can simply visit the nearest bar or cafe in this country. That way you will feel the sensation of drinking fresh beer while eating the bulaklak chicharon appetizer.
4 of 11
Crispy Tenga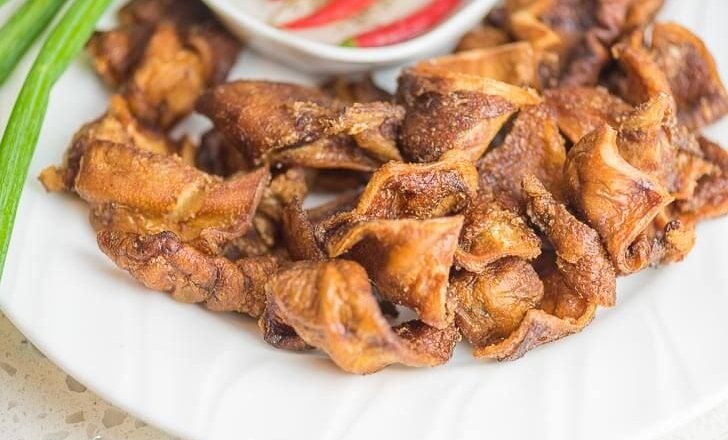 The next Filipino appetizers are crispy middle. You will often encounter processed pork when visiting the Philippines. Crispy Tenga is processed pork taken from the pork ear area. Maybe it will be a little unique for some people the first time they eat this typical food. No need to worry about crispy middle already through a proper cooking process. That way you will be sure to taste this delicious food. However, if you try a little bold for processed soft wet pork ears. Because through the cooking process by boiling. That way the pork ear will be soft and supple when it arrives in your mouth. So, once again all of these things depend on the taste of choosing crispy middle.
5 of 11
Crispy Fried Calamari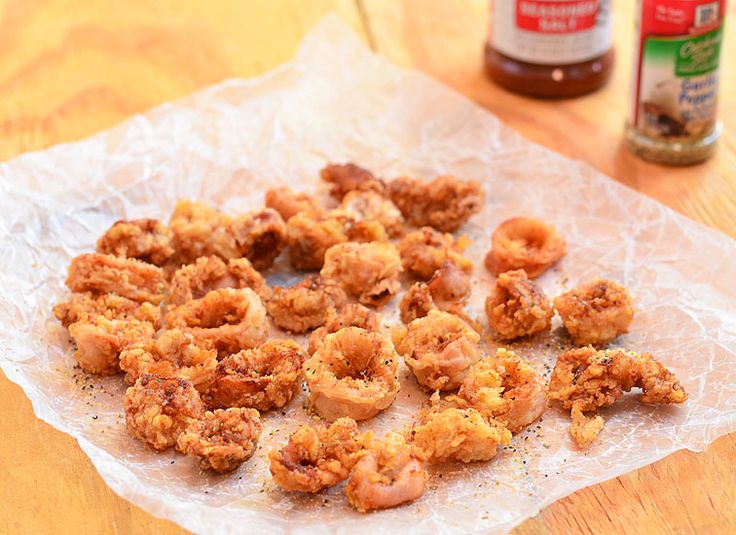 Shops or restaurants in the Philippines will definitely provide this typical food. Yes, that's right Crispy fried calamari, a typical Mediterranean dish. Calamari itself is made from fried squid. When fried you can also choose fried flour or fried without flour. So, adjust your taste when eating crispy fried calamari. However, usually, tourists who are visiting this country must order those that use flour. Which will create a savory and crunchy taste when it arrives in the mouth. In addition, the shape of the cut squid resembles a ring which is a very interesting presentation.
6 of 11
Panara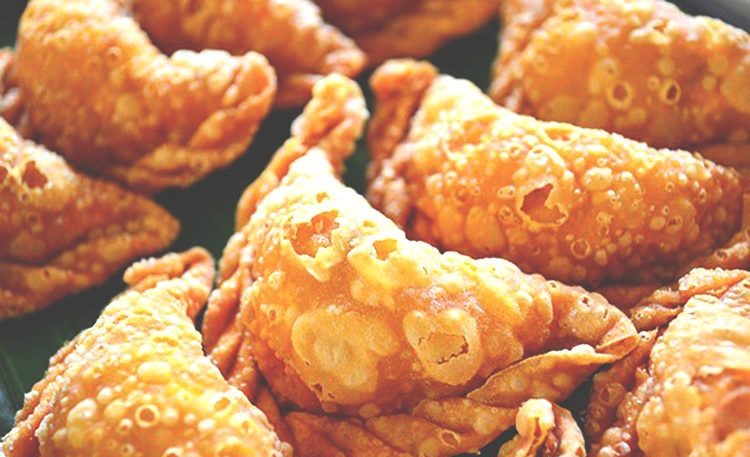 Fried prawn dumplings are a food that is often hunted by tourists who are on vacation in this country. Especially when you come to several street food places in this country, you will definitely find panara. Because panara is a delicious Filipino appetizer and many of which match the taste. On the other hand, panara is mainly made from prawns and scallions for the filling. Then wrapped in wonton skin and go through the process of frying. That way the sensation of crispy wonton skin will sound in your ears. That way you will feel an extraordinary taste in your mouth when you eat this panara.
7 of 11
Beef Empanadas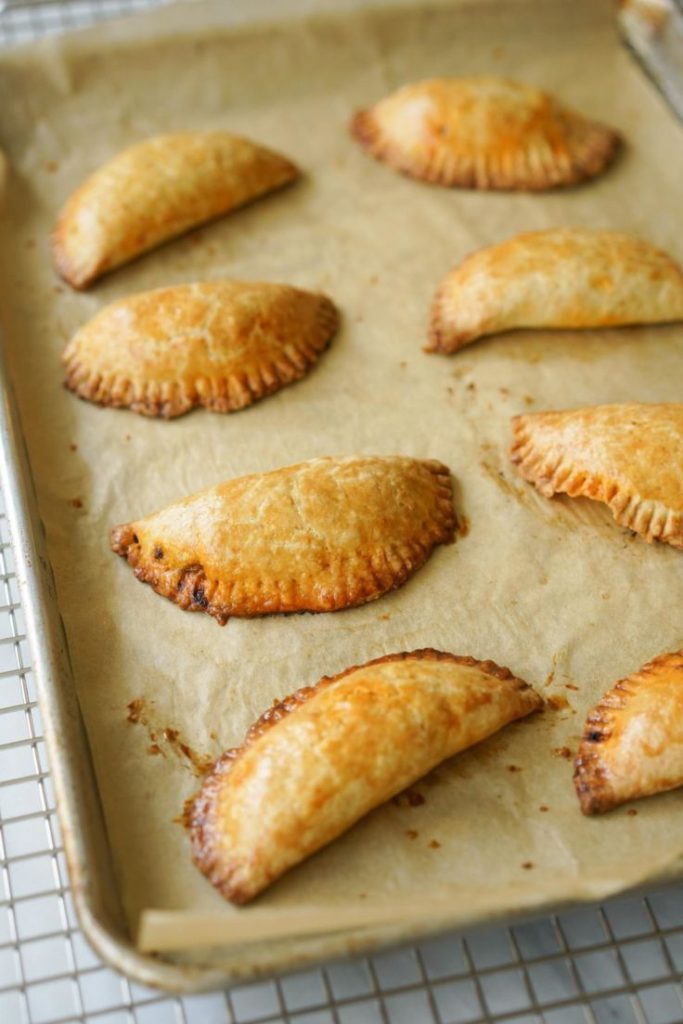 Uniquely shaped food will often be glimpsed and people want to try it. Beef empanadas are a typical Filipino food that is shaped like a shell. With so many local people and foreign tourists like this form of food. In addition, this one pastry preparation has a perfect taste, because it is combined with seasoned beef. What's more, when the butter comes out of the oven, you can see the golden glistening shells. So, when you are on vacation in the Philippines, we highly recommend tasting this food.
8 of 11
Crispy Tadyang Ng Baka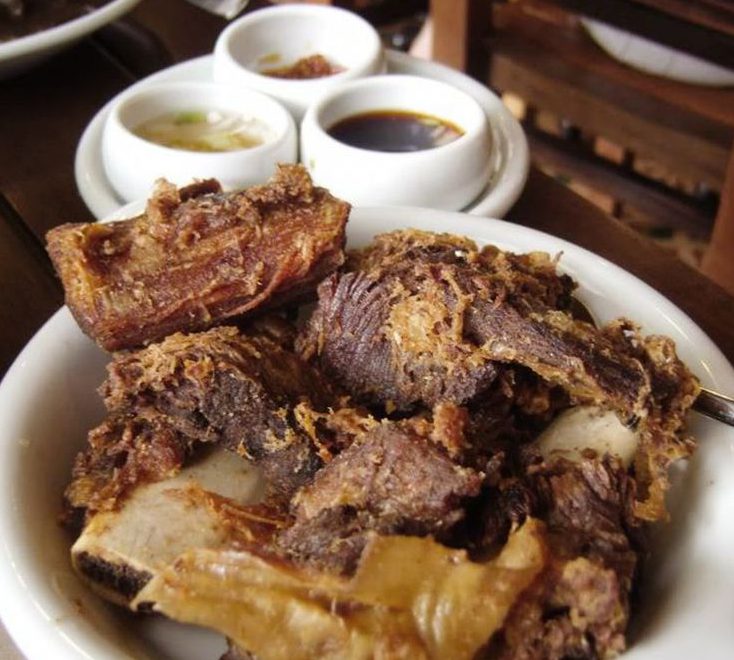 The next Filipino appetizers are crispy ng baka. Beef ribs are the right part to be processed into delicious appetizers. This country is one of those countries that can process beef ribs into appetizing food. To make this food delicious through two cooking processes and then given special spices from the Philippines. What's more, you can make crispy pastries that are baked as a reference for appetizers that you must try when you visit this country. That way you also have to try eating this food with warm white rice and a little vinegar sauce typical of this country. That way you will feel the complete sensation of eating crispy pastries that are immortal.
9 of 11
Sisig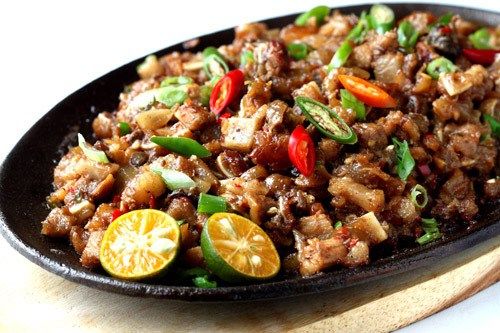 Processed pork is often a delicious Filipino appetizer. One of them is the sisig, which is where pieces of pork are cooked with onions and chilies. Then combined with the country's special spices to make processed pork. Besides that, sisig is served on a hotplate or metal plate. That way this food will produce a sizzling sound and a delicious aroma. When you try this food it has a slightly spicy taste, so you have to be prepared to bring a drink beside you. In addition, this delicious sisig can be found in several restaurants in the nearby cities of the Philippines.
10 of 11
Tokneneng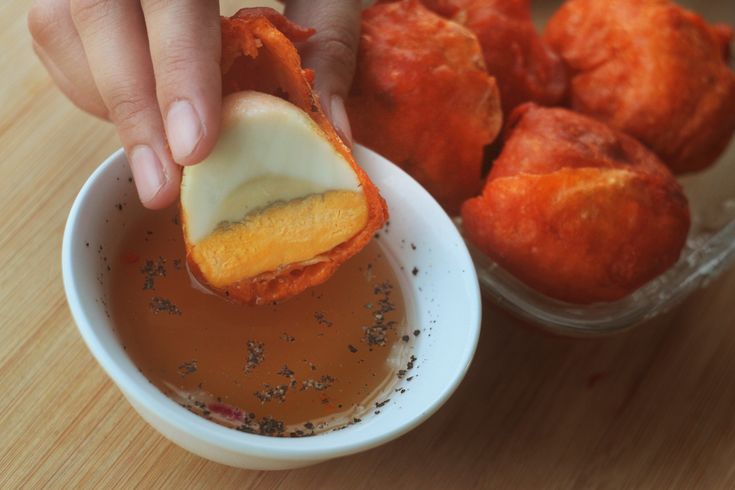 The last Filipino appetizers are tokneneng. Vacationing to the regions of Southeast Asia is very easy to find delicious and pocket-friendly dishes. From the list above you will feel pocket-friendly food. Tokneneng is a boiled egg snack that is fried and colored orange. The orange color contained in this food is from the color of annatto powder or a type of food coloring. Besides that, this eye-catching food is very easy to find in various street hawker places located in urban areas. And the time to get it is enough for you to come to the street foods area in the afternoon or evening. Because at that time tokneneng traders were selling this special food.
11 of 11
Thus our discussion Find a Good Tastes: 11 Delicious Filipino Appetizers. Appetizers in this country have always been a favorite of foreign tourists. Especially for lovers of dishes from tropical countries. However, there is another delicious appetizer, which is Thai specialties. Thailand more or less has almost the same appearance as the Philippines. Because these two countries have still one part of the Southeast Asian country. Where the diversity of unique flavors on the tongue of tourists is an interesting thing to try. Hopefully, if you continue your holiday trip to the Philippines, try our recommended list. Enjoy your foods!