1. Overview of the Country of Singapore
Traveling has now become part of the lifestyle of the world's people, especially those living in big cities. Vacation by traveling abroad is a necessity to get happiness with family. Many people say this method is considered the best way for urban people to relieve stress and give happiness to their families.
Several companies serving tourist trips in Singapore promote their services such as hotels, airlines, and popular tourist attractions. Therefore, many tourists enter Singapore. They are interested in traveling to Singapore to spend their vacation time seeing the beauty of nature, historical attractions, cuisine, and shopping. One of the factors supporting this increasing trend is that the country has relaxed rules on tourist permits. For that, let's review that Singapore is a small country but can attract foreign tourists.
2. A charming little country
The country of Singapore has continued to strive to maintain the growth of the tourism industry even during the pandemic. One of the efforts made is to establish strategic cooperation with various partners in Southeast Asia and Associations of Travel Agents around the world. This collaboration aims to promote Singapore as an attractive tourist destination of choice for the world community. They carry out integrated marketing campaigns throughout the year. As you know, Singapore relies on income from foreign exchange. Therefore, various efforts have been made to attract tourists to enter this country.
They said the partnership and collaboration with travel agent partners would strengthen Singapore's position as a dynamic tourist destination for world tourists. This strategic partnership aims to expand Singapore's potential in order to increase tourist arrivals and tourism receipts. Several airlines were recruited to launch an integrated marketing campaign to expand consumer reach and promote Singapore as an attractive tourist destination. Therefore, even though Singapore is a small country, it can convince foreign tourists with the programs they carry out. To support this, we recommend several Singapore tourist attractions that attract foreign tourists. Welcome to our review!
Merlion statue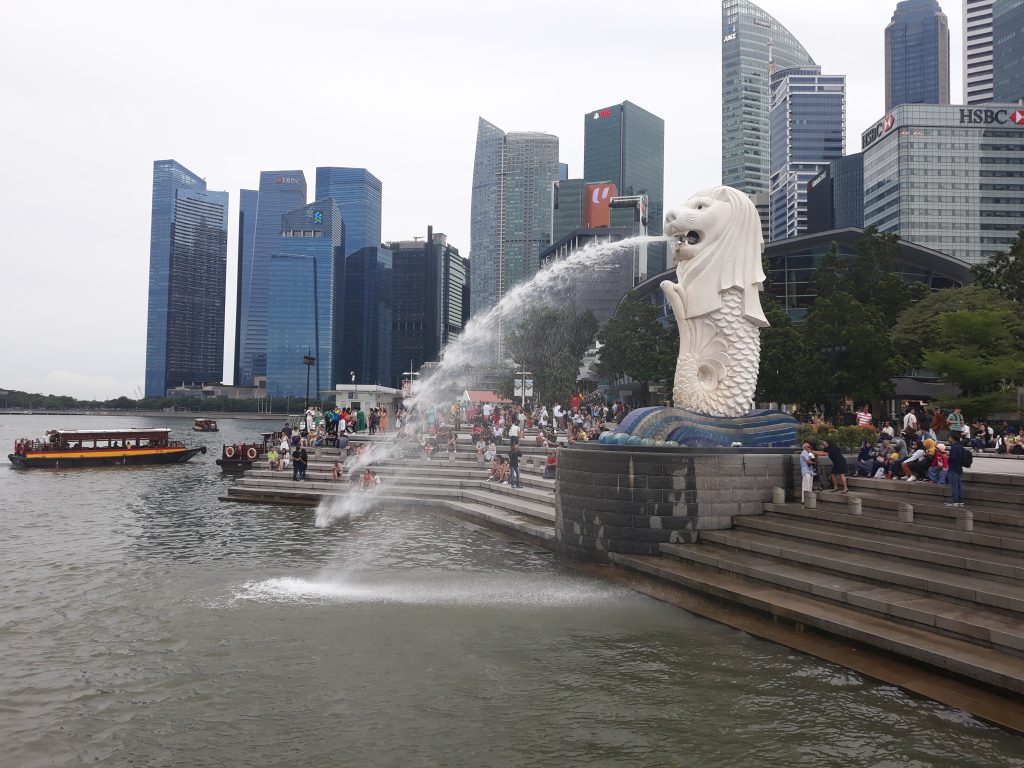 If you are on vacation to a country, it is incomplete if you have not visited a tourist object that is an icon or symbol of that place. The Merlion statue is one of the national icons of Singapore, which is one of the destinations for tourists from various countries.
This legendary statue of Singapore is located in the middle of Singapore City, at Merlion Park to be precise. This fish-like body statue with a lion-shaped head is very much visited by foreign tourists. The Merlion statue is also a trademark of Singapore. The Merlion Park complex is surrounded by dozens of skyscrapers and is next to the Singapore River. If you visit this place, you can take pictures in the Merlion statue area.
Near Merlion Park there are also various places that can be visited, which are free like at Merlion Park. For those who like to spend time enjoying the atmosphere at Merlion Park, there are the twin skyscrapers of Marina Bay whose top resembles a cruise ship called Esplanade. In addition, there are many attractive parks and monuments to visit. Then, you can also visit two theaters with roofs resembling scaly salak skins. So for those of you who want to take a vacation to Singapore, you can buy a plane ticket and book a hotel immediately.
Colonial architecture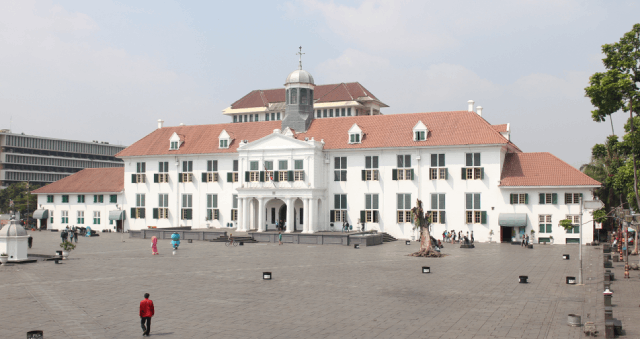 Singapore has decorated with magnificent colonial architectural city buildings. These buildings from the 19th century were built by the British who once ruled the Land of the Lions. Unlike other former colonies, in Singapore, all forms of buildings are maintained, and the government has protected them and made them a national heritage site since 1971. Several buildings have become tourist attractions, such as the Fullerton, Old Parliament House, and the Singapore Arts Museum. In addition, you can visit the Victoria Theater and Concert Hall.
Culinary center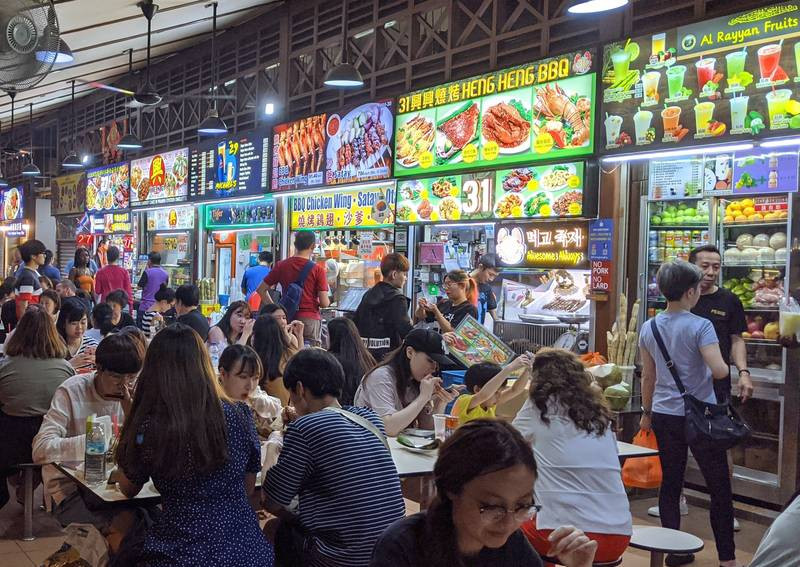 One more tourist object for tourists to gather in Singapore is a culinary center. In this place, you can choose a variety of your favorite food because it has many restaurants with international celebrity chefs. For those of you who want to save on your travel budget, in this place, cheap and quality food is also available on the streets. You can choose according to the menu that you want.
For you to know, the culinary center of Singapore is very neat and clean. The various foods and drinks served have been standardized. So the quality is guaranteed. Along the way you can see decorated with beautiful neon lights. So the tourists are happy and comfortable. For those of you who want to take a vacation to Singapore, you can include this place in your list of tourist visits. Happy holidays!
Gardens By The Bay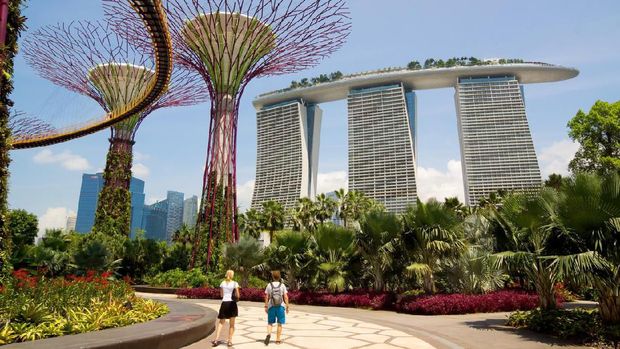 Gardens by the Bay tourism object is one of the attractive places that is always visited by tourists. More than 500,000 plants and flowers from all over the world grow here. Apart from that, tourists who visit can also see a giant tree which is the main attraction during the laser show at night.
For those of you who want to travel to nature in Singapore, Gardens by the Bay can be an alternative choice for the best tourist destination. This 100-hectare man-made park is designed in a very grand and famous manner. Then, the existence of the very iconic Supertree Groove can make you happy to see it. In addition, you can climb the Skyway bridge between the Supertrees to enjoy the beauty of Gardens by the Bay from a height. Hopefully, this review can be useful for you.
Esplanade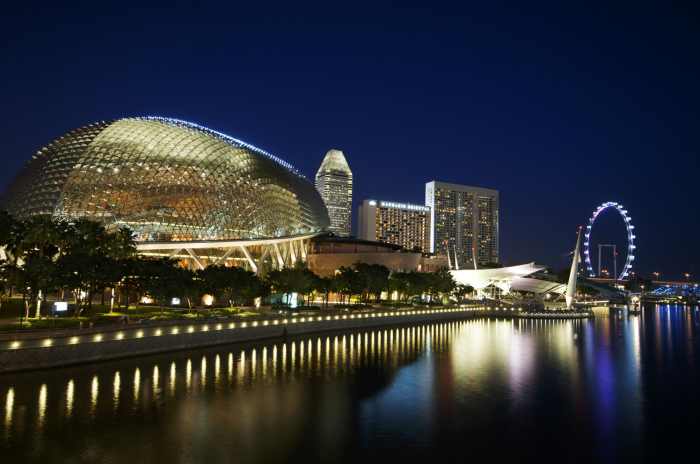 Singapore is not a big country, but the city setting is very beautiful for you to enjoy. If you are in the city center, not far from the Merlion Statue, you can visit the Esplanade. This place is an art center that is popular because of the unique architecture of the building and is often equated with the shape of a durian fruit. The world's most active and busy arts center, equipped with various facilities ranging from concert halls, theater halls, libraries, exhibition halls, and various other facilities. So for those of you who want to visit Singapore, you can include this beautiful tourist object in your visit list.
Sentosa Island
Tourist attraction Sentosa Island or Sentosa Island is a trendy tourist destination in Singapore. This artificial island, separated from the mainland of Singapore, was built with a variety of tourist and entertainment facilities that are quite complete, such as sports, hotels, amusement parks, aquariums, and other exciting tourist attractions. On this island, you can also relax at Siloso Beach Sentosa, an artificial beach equipped with a 37-meter-high Merlion statue. So you can bring your family to this place to relax and take pictures as memories from Singapore.
Universal studio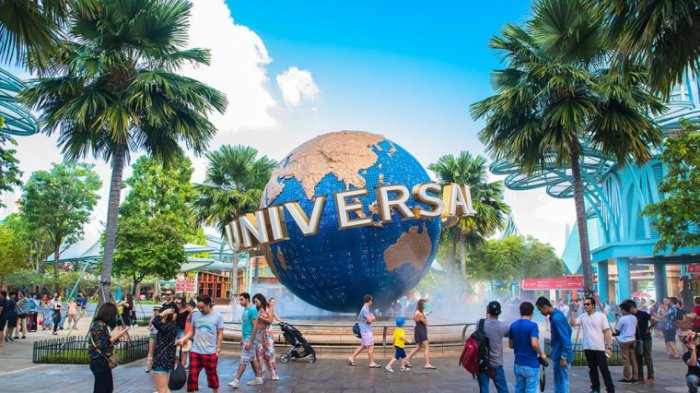 One of the most popular leisure destinations on Sentosa Island is Universal Studios. This theme park is themed on characters and films from Universal Studios. In this place, you can enjoy movies ranging from Jurassic Park rides, and Transformers, to Madagascar which you can play in this place. So you feel like you are in the film. This place is visited by many local and foreign tourists. For that, you can bring your family to share happiness with them. Have a nice holiday in Singapore.
Art Science museum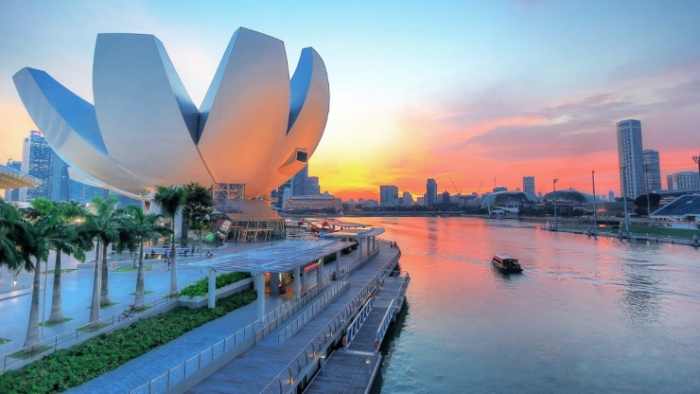 As you know, there are a lot of beautiful tourist attractions in Singapore, in the middle of the city. So if you pass through the area around Marina Bay Sans, you will see a building that has an architectural design that is quite eye-catching. This bowl-shaped building with a lotus flower concept is the Singapore Art Science Museum. That is one of the most popular tourist destinations in Singapore. As a place for world-class art exhibitions, of course, there are many attractive things that you can find in this place. In addition, you can also enjoy a boat ride on the lake in Marina Bay Sans area. Even in this place, there are facilities for those of you who want to walk along the lake. Hopefully, your trip will be more enjoyable.
East coast park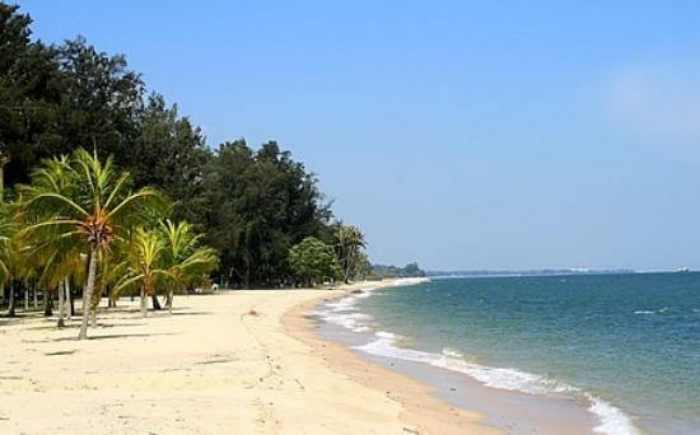 The East Coast Park tourist attraction is a city park in Singapore. This place is famous and located on the beach. So it is an attractive place for tourists for recreation while relaxing. Apart from enjoying the panoramic view of the beach, various activities such as cycling, fishing, picnics, and jogging are the choices of activities that are often carried out in this park. Besides that, you can also see Batam Island from this place.
This tourist object is one of the currently popular city parks in Singapore. Its location by the beach makes this park one of the favorite recreational spots for Singaporeans and also for tourists who visit there. Then, you can enjoy various activities, such as jogging, cycling, picnicking, or fishing. Here is also available a center for various food snacks called Hawker Centers. Therefore, you can include this place in your list of tourist visits in Singapore.
Marina Bay Sans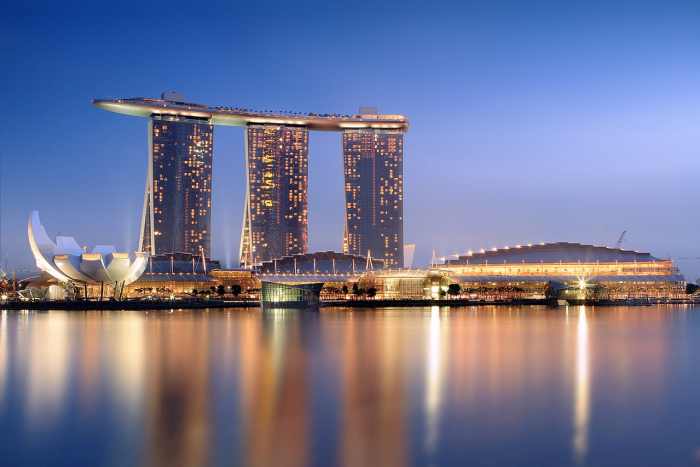 If you talk about the splendor of Singapore, Marina Bay Sans is one of the icons of the splendor of Singapore which is very popular. The three-tower building with a top that resembles a ship has many entertainment and recreational facilities, such as hotels, malls, restaurants, casinos, and various other tourism facilities. If you visit Singapore, of course, it won't be complete without taking pictures with the splendor of the Marina Bay Sans complex as a backdrop. In front of this location, you will see other popular tourist objects such as the Merlion statue and skyscrapers. Therefore, don't forget to include this tourist spot in your visit list.
Singapore Flyer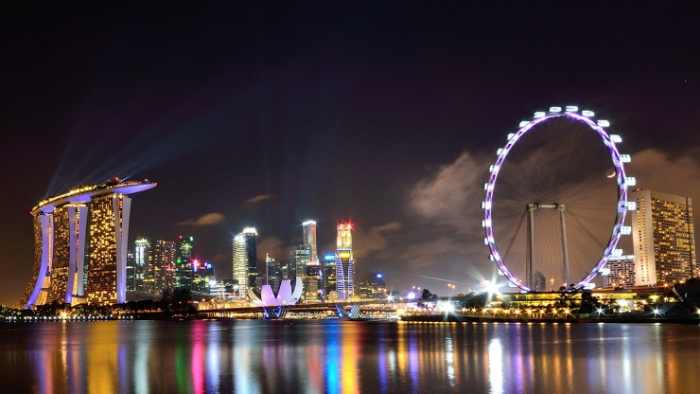 Many say Singapore is a developed country with magnificent city design and architecture. Then, to enjoy the splendor and beauty of Singapore, you can visit and enjoy the Singapore Flyer. The Ferris wheel, which has a height of 165 meters or the equivalent of a 42-story building, takes you to enjoy the panoramic view of Singapore city from a height of about 30 minutes. From this height, you can see the island of Batam, Indonesia. So what are you waiting for, immediately prepare yourself and your family for a vacation in this city.
Bugis street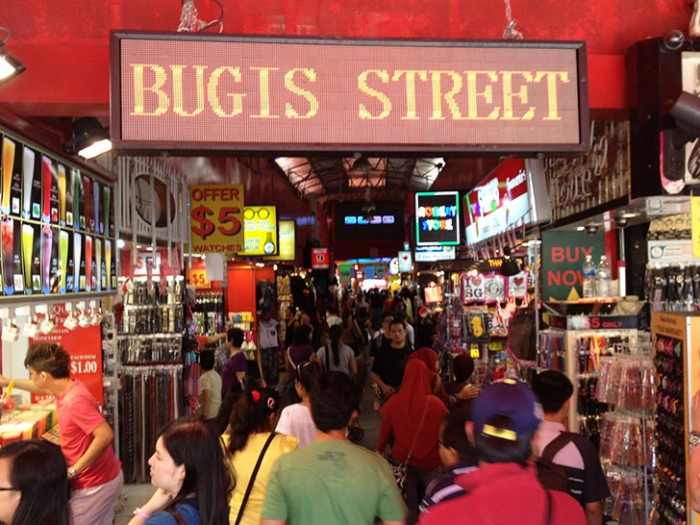 This one tourist object is interesting for those of you who like to shop for goods by the bargain. So in this place, you can shop for various kinds of goods, such as clothes, t-shirts, luggage bags, souvenirs, and other attractive items. This shopping destination in Singapore is visited by many local and foreign tourists.
This popular place names Bugis Street. The location is not far from Orchard Road. This shopping area has become one of the favorite tourist destinations because the prices of goods sold are famously cheap, and there are a lots of choices. There are also many budget hotels in this area. So you don't have to bother to go to this shopping center. Of course, you can save your travel budget.
Chinatown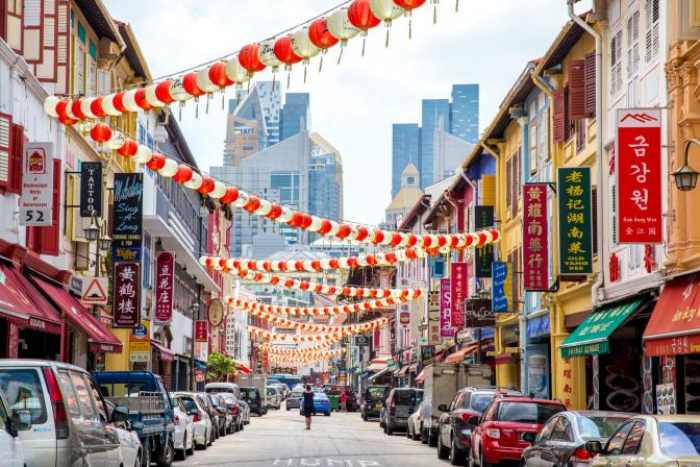 Other tourist destinations are tourist areas that are visited by many tourists. This place is a tourist attraction named Chinatown. This area in Singapore is a typical Chinatown area with its cultural architecture. Chinatown is one of the tourist destinations in Singapore that attracts tourists because of the many shop outlets so you can not only enjoy the culture and architecture of this area but also have a shopping tour at the same time. This place has become popular because most of Singapore's population is Chinese. Its design is similar to that of a Chinese city, attracting many people to come to this place. So you can include this one tourist spot in your visit list.
Little India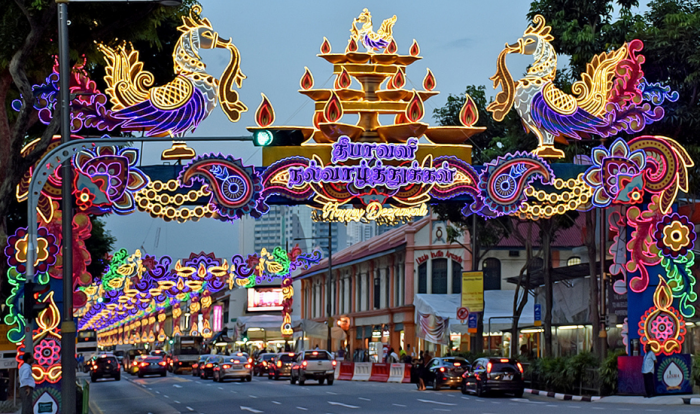 Apart from the tourist object of Chinatown, there is also Little India which is an area dominated by a community of people of Indian descent in Singapore. This area looks unique because it has typical Indian architecture. Here is also famous as a place to shop and hunt for souvenirs typical of India. If you are in this place, you will be greeted with beautiful Indian lights. In addition, on certain days, you will see some typical Indian performances. Therefore, this place is one of the tourist objects that you can include in your visit list. Then, you can capture pictures with your family with beautiful lights later.
Arab street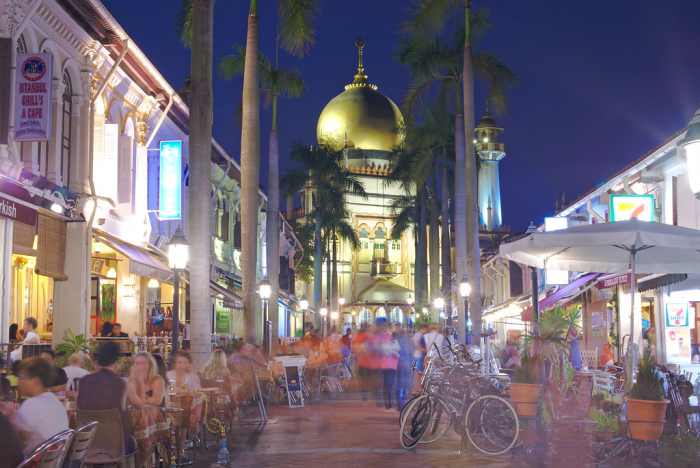 Singapore consists of various nationalities. As a tourist object in this country, not only the community of people of Indian, Chinese, and Malay descent. In Singapore, there is also a community area of ​​people of Middle Eastern descent, namely Arab Street. This area is the center of the Muslim community in Singapore, so it is not difficult to find shops selling various Arabic knick-knacks, halal food, and various Muslim worship items.
This place becomes a shopping center during the day. Meanwhile, toward night this tourist area in Singapore turns into a place for you to hunt for typical Arabic culinary delights. So for those of you who are happy with Arabic menus, you can visit here at night. Generally, those who come to this place are Muslims who are looking for halal food.
La Pa Sat festival market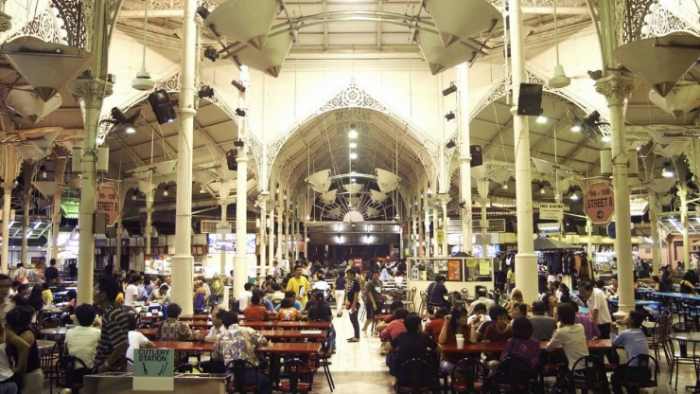 The other tourist destination in Singapore for culinary delights is the La Pa Sat Festival Market. This place was formerly the Telor Ayer Market. In this place, you can taste a variety of food menus. The interesting thing about La Pa Sat Festival Market is the many choices of halal menus that you can find in this place. So, for those of you who are Muslims, of course, La Pa Sat Festival Market can be included in the list of must-eat places while in Singapore. In addition, you can also choose a menu of Padang, Malay, Thai, and Malaysian dishes. However, because many tourists eat here, you have to be patient in the queue.
Chinatown food street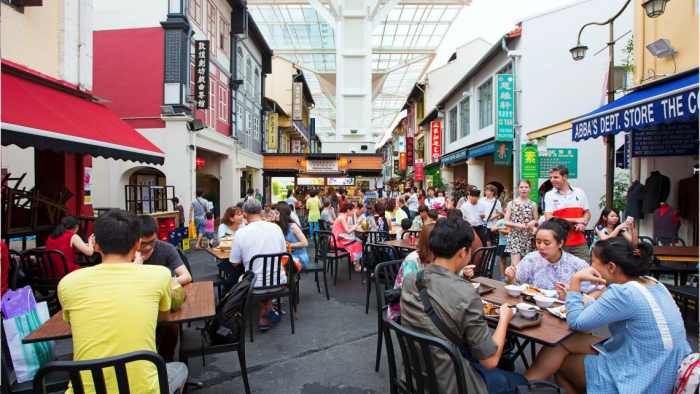 Currently, you are still in the Chinatown area, and then you can go to the Chinatown Food Street section. In this place, you can taste a variety of typical street food menus with oriental flavors. One of the famous mainstay menus in this place is the roast duck and various delicious noodle variants. Therefore, almost all Chinese tourists choose food in this place. Then, for those of you who are Muslim, you can look for halal restaurants that sell Chinese food. Enjoy the culinary delights of Singapore.
Newton food center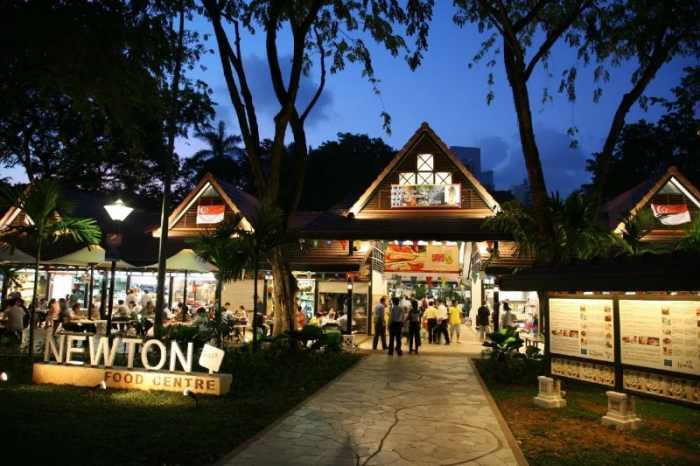 After you are tired of shopping along Orchard Road, you can take a break and then go on a culinary tour at the Newton Food Center. This place is located not far from Orchard Road. This Singapore culinary tourism destination is famous for its seafood menus, especially crabs. However, there are various other menu choices that you can sample, starting from Indian and Arabic dishes. Then, you can enjoy the beautiful scenery while enjoying a delicious seafood menu. So if you are happy with seafood menus, you can include this place in your culinary tour visit.
Masjid Sultan
If you come to Singapore and want to see historical buildings, you can visit this tourist attraction. This tourist attraction is located in Kampung Glam, an become a tourist destination in Singapore. This tourist attraction is often a pilgrimage destination for Muslim travelers visiting Singapore. The Sultan Mosque has a Middle Eastern style of architecture with its very iconic golden dome. This mosque was built in 1824. Now this mosque is one of the religious tourism destinations in Singapore. At the same time a place for Muslim tourists to hunt for halal culinary items sold around the mosque. So you don't need to worry about halal food in Singapore.
St Andrew's Cathedral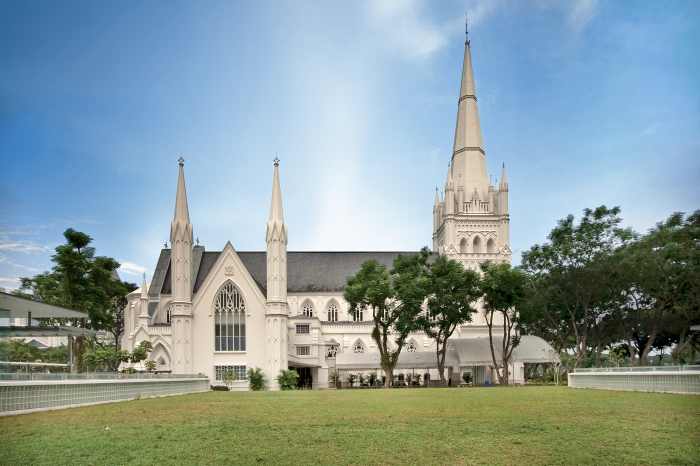 St. Andrew's Cathedral is the largest and oldest church in Singapore. This church was designed by Colonel Ronald MacPherson in 1859. Not only is it rich in historical value, but this heritage building from the colonial era also has a very beautiful and distinctive architecture with stained glass windows depicting historical figures of Singapore and the world, such as Sir Stanford Raffles, Second British President John Crawfurd, to Governor of Select country Major General Willam Butterworth. In addition, this church is visited by many Catholics who come to Singapore. They perpetuate this old building through the pictures they take. So for those of you who are Catholics, you can travel while worshiping in this place.
Sri Krishna temple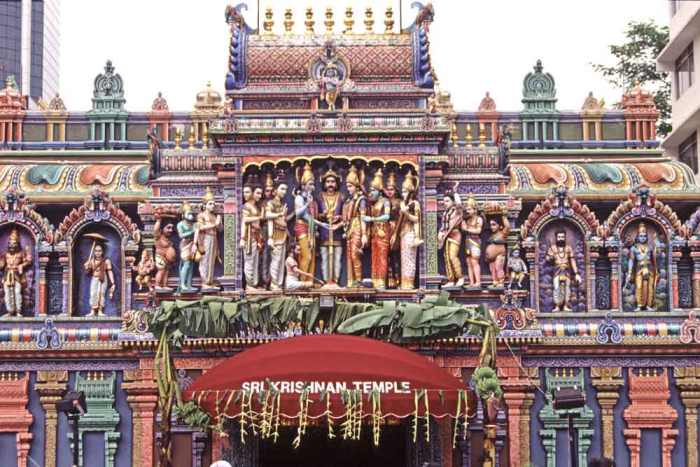 For your information, Singapore consists of various nations and religions. Therefore, religious tourism destinations are by their respective beliefs. However, even this place of worship can be used as a tourist attraction from various nations. For that, then we recommend other tourist visits to Singapore. This place is Sri Krishnan Temple which is in the Waterloo Street area. This worship place was built in 1870. So if you want to find a historic place of worship on Waterloo Street, it's not difficult. The advantage of this building is its contrasting architecture so that it steals the attention of tourists. With striking colors, various statues of gods and goddesses in Hindu belief adorn the building where this place of worship is. So it makes an attraction for tourists visiting this place.
Thian Hock Keng temple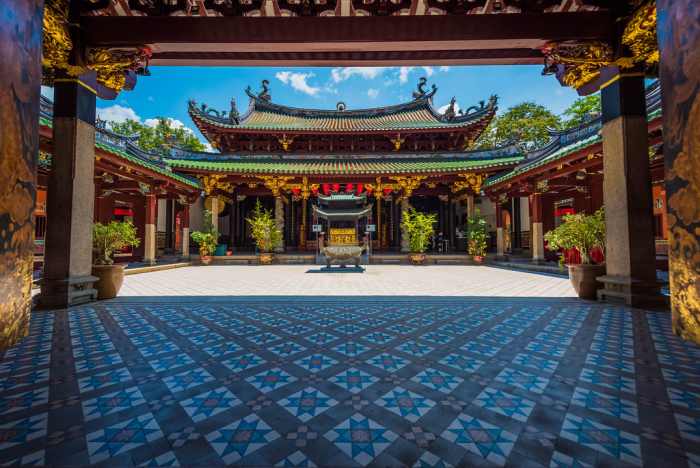 In addition to Muslim, Christian, and Hindu tourist objects, then, we will review tourist objects like the picture above. This worship place is used as a Confucian adherent tourist attraction in Singapore. In this place, there is the Thian Hock Keng Temple, the oldest historical Hokkien temple was built as a form of respect and thanksgiving to the Goddess of the Sea by immigrants from China who managed to cross the South China Sea. So it can reach Singapore safely.
This temple is located at Telok Ayer Street. This temple was built from 1839 to 1840 with traditional Chinese architecture. So if you visit this place, you will find the uniqueness of this building. The advantage is the architecture of this building which does not use nails at all but a special technique to lock all the wooden structures in this temple building. So if you are curious and want to know in detail, you can visit this place. Hopefully, you can find its uniqueness.
Clarke Quay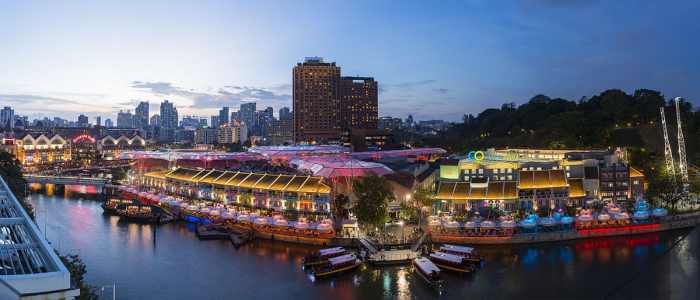 Next, we will find beautiful tourist objects at night that are visited by many tourists from abroad. For those of you who want to find a place to hang out at night while staying in Singapore, Clarke Quay could be one of the popular tourist destinations in Singapore that you can visit. If you are in the historic Chinatown building, you will find a busy area with restaurants, cafes, and bars at night. Not only that, but the scenery in the riverside area is also beautiful at night. In this place, you can enjoy a variety of food menus while looking at the beauty. Happy holidays to Singapore!
3. Conclusion
Those are some of the attractive tourist attractions in Singapore that we recommend. Hopefully, our review can be a preparation for those of you who want to take a vacation and visit Singapore, and become your travel guide. With this review, you can choose the location of a tourist attraction that suits your taste. Immediately prepare your vacation with the airline you trust. Happy holidays to the Land of the Lions!