Foodntravelling.com – Do you love observing some places that serve delicious food? Walking through the little alley, enjoying street food, to taste high-class food restaurants. Then you are definitely a true food lover! There is nothing worse when you are traveling for food, observing delicious food from many regions around the globe!
Do you love kebabs? Well, we do also! Talking about this meat culinary, we cannot forget Turkish kebab. The country that serves tons of tantalizing delicious kebab! You will find some sort of Turkish kebab when you travel to Turkey! One of them is called Adana kebab. This type of kebab is well-known over the world. This Turkish food invasion seems to have many fans around the globe. Alright, Adana kebab originally came from the region in Turkey called Adana. But, calm down, you will find a lot of this kebab throughout many cities in Turkey, including Istanbul! There you will find some of the best restaurants serving original Adana kebab style! In this writing, we will peel off what is Adana kebab to enlighten your knowledge about Turkish food. Let's dig into the best ground lamb Turkish Adana kebab style down below!
Beautiful Adana Province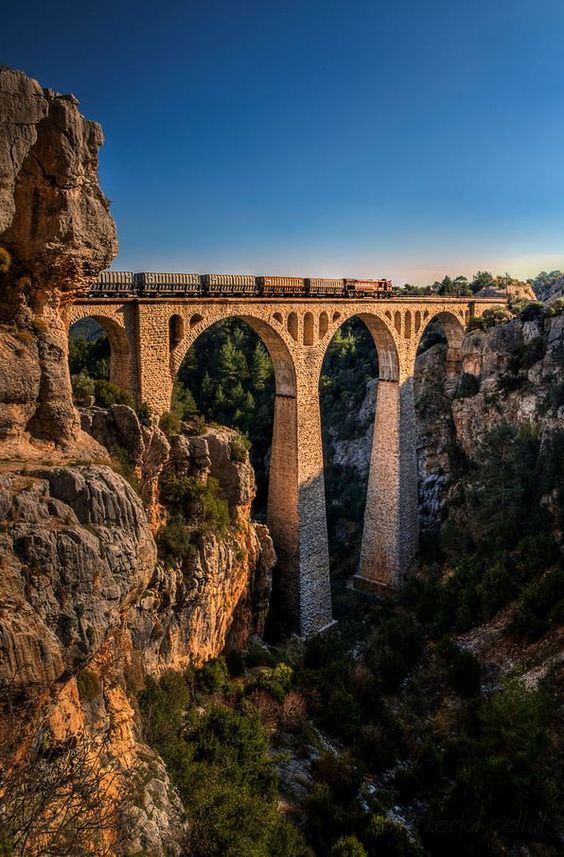 Before we talking about the must-eat delicious Turkish food, Adana Kebab style. It's better to talk and sees the panoramic view where this delicious kebab came from. Adana is one of many provinces in the Republic of Turkey. Located in the southern Anatolia region (Turkey) and straightway with the Mediterranean coastline, this province is the sixth populated province in Turkey. For the traveler, we can go on the trip to Adana. Same as many other cities in Turkey that serves a lot of historic attraction. One of the best attractions in Adana is seeing and adore the panoramic view of The Stone Bridge called Varda Viaduct. This stone bridge has an awesome Roman architecture style and standing over the lowest canyon. You can cross this bridge and see the great view over the stone bridge!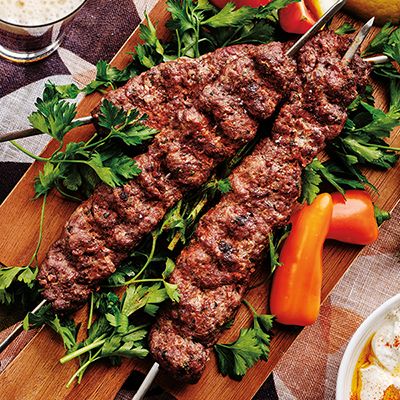 When we are traveling to any city or the suburban places over the globe. There must be delicious local food that is worth trying! Looking for delicious food that comes from Adana province of Turkey. We couldn't forget one of the most famous world's kebab culinary called Adana kebab. This kebab is simply made from fresh ground lamb and mixed with simple spices for salt and pepper. Then the ground lamb sticks to the giant metal skewer and simply grilled it onto the heated charcoal. You can imagine the smoky grilling meat amora over this type of kebab. All of the spices and the fresh quality ground lamb make this kebab is so tantalizing to our taste buds! This kebab from Adana is literally a gifted culinary to the world, especially if you're a meat-lover food, you would definitely love the taste of this smoky and remarkably smooth lamb kebab!
The beautiful platter of Adana kebab and its condiments!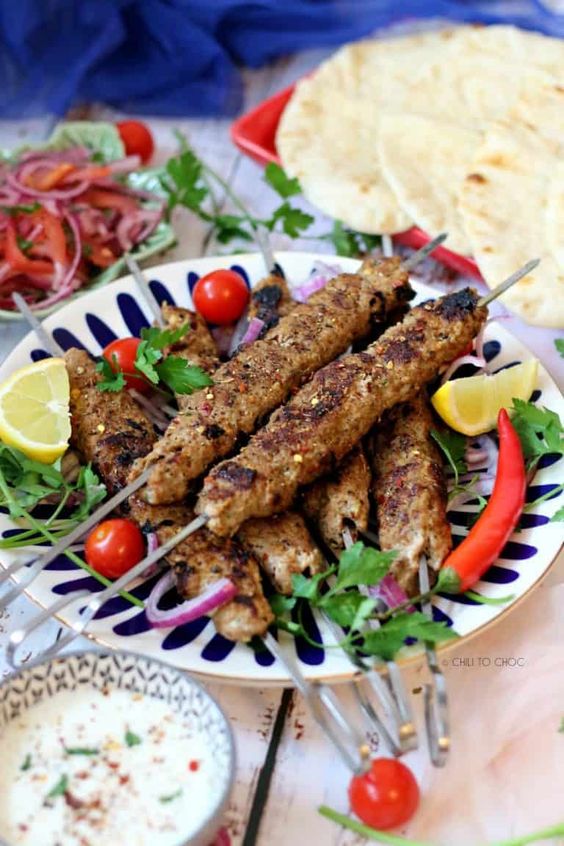 When you come to Adana for seeing some famous tourist attractions there. You don't wanna miss a delicious and probably one of the most famous food from the Adana region, definitely fall to Adana Kebab! The beautiful presentation of the Adana kebab platter with its condiment will raise your appetite to eat this food! The colorful single platter coming from various spices, vegetables, and herbs that is an absolute beauty of the kebab presentation. You can order how many lamb skewer Adana kebabs are on your platter. And they will add some complementary, for such the charred tomatoes and chilies, slices of onion and some sprinkle I think sumac on top of it! In addition, there are a few lemons to give the sour taste and improve the grilled lamb taste!
Adana kebab served with fresh pita bread and rice – A combo platter for your hungry stomach!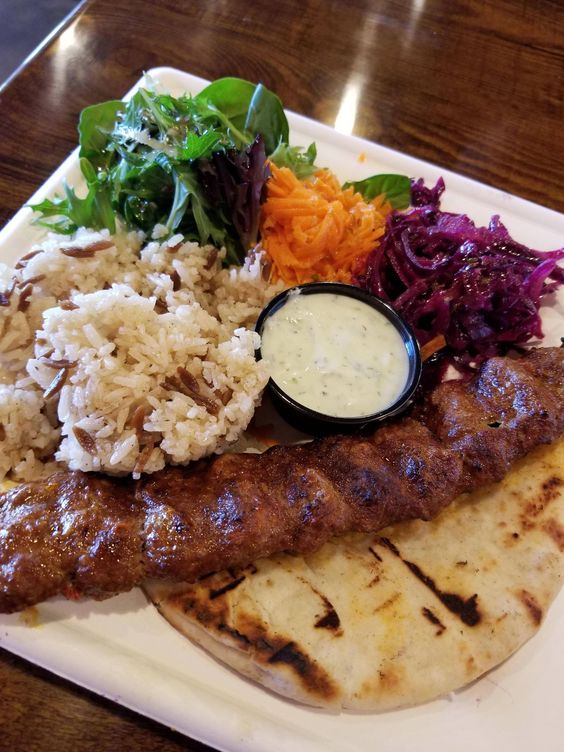 When you come to Turkey, you will find a lot of delicious food for sure. But, there is one thing we have noticed from Turkish food, they are usually served in a giant size, I mean, it's pretty enough to make your tummy full! Let's have a look at this Adana kebab platter! A delicious and tantalizing ground meat kebab combine with pita bread and then mix with another carbo, rice! When you are so hungry during the trip, eating Adana kebab will satisfy your hunger! Completed with some fresh salad made from fresh colorful vegetables, dipped your kebab into rich yogurt sauce. It's definitely a combo kebab style you would like to eat!
Adana kebab style platter served with thin Turkish bread (lavash)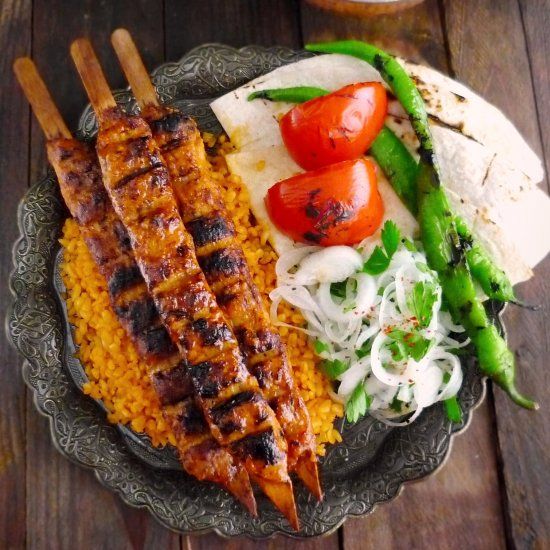 When you order Adana kebab, you will commonly find there is a flatbread called pita bread. But at some restaurants, we can also find this kebab complement with the very thin bread Turkish style, it is called lavash. You can choose based on your style, the pita bread or lavash to accompany your delicious lamb ground meat! When you take the thin bread style, you can easily wrap your meat and mix it with some condiments, you will exactly feel the real grilled lamb in your mouth! When you have the pita bread, you will feel a more chewy taste when you bite your kebab!
Raki a complimentary drink for your big feast!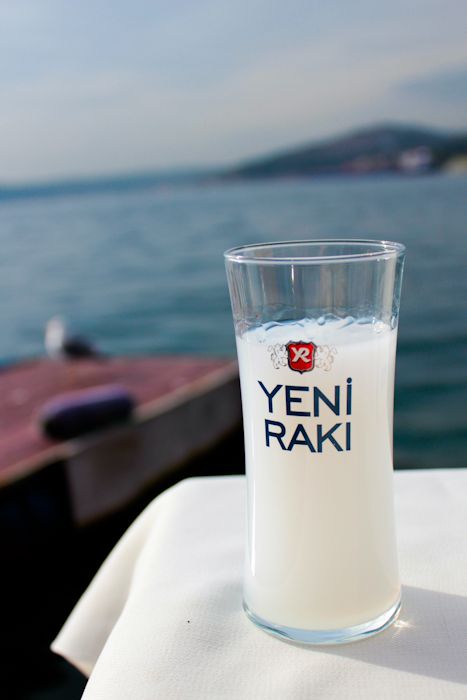 Raki is a complimentary drink and commonly to celebrate the big day and having a feast. But, do you know what exactly Raki is? Raki is an alcoholic drink made from twice-distilled grapes and aniseed. It's so refreshing! Usually, the Turkish people are drinking this national drink, Raki to celebrate a big moment, big say, and a big feast for sure! When you eat Adana kebab and then washed the meat aroma in your mouth with this Turkish drink will be awesome! Would you like to try Raki?
Where we can get Adana kebab?
When you come to travel to Turkey going to see some of the best tourist attractions in Anatolia land. You would never want to miss trying the local food where you travel to! There is a famous Turkish kebab you have to try when you travel to its original place coming from, Adana province! You will easily find many restaurants around the street in this province. And when you come to the capital city of Turkey, you can also find a lot of restaurants serving this Adana kebab style! Especially in the Taksim, the part of Istanbul. There is a famous restaurant serving this kebab, just walk around Taksim street and ask people, they will be generous showing you where the best restaurant serving Adana kebab is!
Conclusion
Turkey is one of many beautiful countries in Europe! This lovely country offers an abundance of tourist destinations. From the beautiful capital city, you will find a lot of historic sites in Istanbul. Not only Istanbul has lots of beautiful and mesmerizing tourist attractions. We have come to the southern region of Anatolia (Turkey), we can visit the beautiful province called Adana. Where the legendary Turkish food, Adana kebab comes from. Enjoying the panoramic view over the stone bridge, Varda Viaduct. Then, complete your trip by trying the famous food, Adana kebab.
Adana Kebab is the ground lamb meat grilled over the charcoal on the giant metal skewer. The simple blend of spices and combine with fresh ground lamb when you bite it will bring you to the next level! The lamb meat is remarkably smooth, and the smoky aroma of the meat combine with charred tomatoes and fresh vegetables. Not to forget, the flatbread and rice will satisfy your taste bud, what a combo kebab platter! We hope you enjoy the description all about this delicious Turkish food, Adana kebab style. Let's eat the best ground lamb Adana kebab style!