Foodntravelling.com – Haben sie hunger? are you hungry? With the neighboring country of Germany, the food in Austria was influenced by German food. But, what makes Austrian-German food special? The high-quality ingredient and you will be able to experience comfort eating when you dive into Austrian food!
Austrian cooking is influenced by many German, Swiss, and Hungary foods, they are known for their comfort food. And Austrian have pride in their classic Austrian desserts delicacies. Well, we are going to talk about the top 6 Austrian dishes you have to try at least once in a lifetime! You must be so familiar with Wiener Schnitzel, it is one of the most well-known Austrian comfort food that is loved by all! In this writing, we will bring you more mouthwatering food that will satisfy your taste buds, let's dive into some delicious Austrian food paradise!
Käsespätzle – Austrian cheese delight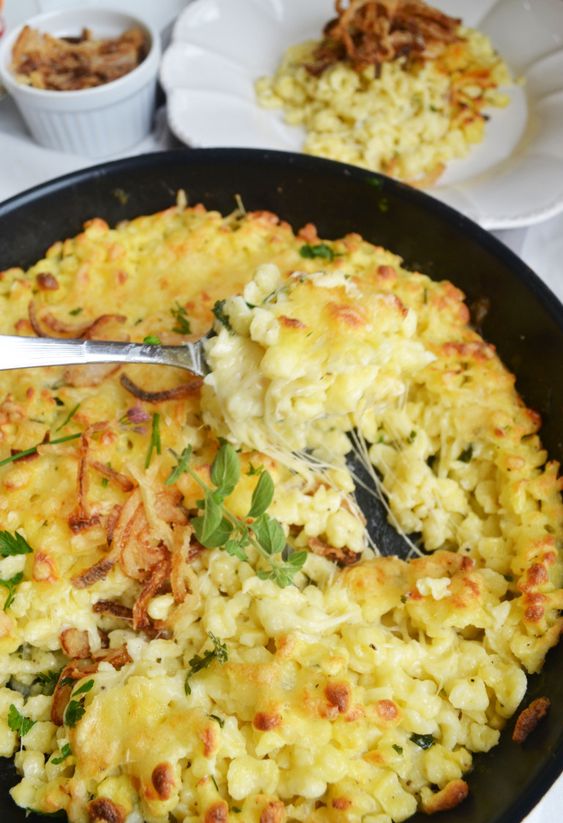 Do you want to travel to the capitals city to see the historic buildings in Vienna, beautiful sightseeing in Salzburg and many more cities in Austria? There are lots of world heritage sites in Austria. Located in central Europe make Austria gathers diversity in food and culture. One of the most well know food throughout this country is called Käsespätzle. This is another version of American mac and cheese but this one is Austrian and German mac and cheese style. There is no better-eating comfort food on the chilly winter days. This Austrian cheese noodle is so comforting, the main ingredient is egg noodle. It is a simple dish in making, we only need to boil the egg noodle and then mix it with cream and melted cheese. Then topped with fried caramelized onion. These onions bring out the flavor to the next level. Serving in a hot plate keeps the cheese oozing with the noodle, the rich creamy flavor burst in your mouth and the caramelized onion is crisp and smells good. This dish is worth trying when you come to Austria or even cooking at home cause it remains easy and fasts to make but has rich flavor!
Vienna sausage
When you are looking for comfort delicious food, searching for Austrian food is the right choice. We will find a lot of comforting food in this amazing country. The custom of eating comfort food starts many times ago. The landscape of Austria surrounded by Alps mountains makes the temperature cool and chilly weather makes people choose comfort food for eating daily life.
We will find lots of meat dishes throughout Europe, meat is the main ingredient in most European countries. Now, let's specific to central Europe, where we will get a lot of meat products such as sausage. They are so famous among Austrian and German. We can find a lot of culinary food made from sausages. This Vienna sausage is made from pork or beef. This sausage commonly cooks by frying and is simply served in a bun. We can add some cheese and green vegetables inside the bun. It's a popular snack among young people and a simple Austrian meal for lunchtime.
Creamy beer cheese soup
When you come to Austria, you will find a lot of cool beer garden which is good to relax, this country is such a beer paradise.
One of the legendary classic Austrian-German food is the classic beer cheese soup. There is cheddar cheese, fresh beer topped with herbs, and then mix with croutons. We can taste the creamy flavor from the cheese and then the frothy beer taste is so good. Trying this beer soup and enjoy the beer outdoor garden that will bring you into a relaxing meal experience. You will find a lot of cool beer gardens all over Austria!
Tafelspitz – Awesome Boiled veal Austrian dish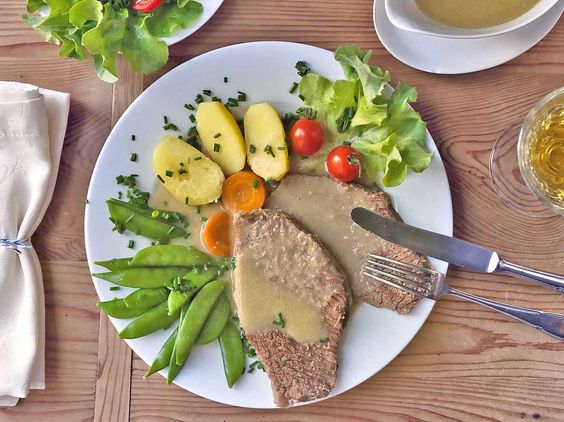 One of the most well-known Austrian cuisines is Tafelpits. It is the legendary Austrian boiled veal dish style serve with spicy broth and complete with fresh vegetables. There are potatoes, peas, carrots, and tomatoes. Topped with chops chives, it is a pleasantly Austrian dish you have to try. This dish coming from Vienna, the capital of Austria. We have complete nutrition in one plate of Tafelpits. There we have protein from beef and fibers with vitamins from various vegetables. So, if you are looking for simple, delicious, comfort food then this Austrian high-quality food should be on your list!
Wiener Schnitzel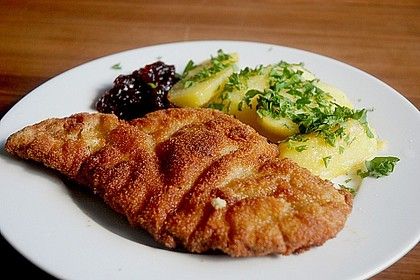 One of the best Austrian food and well-known culinary is definitely Wiener Schnitzel. It is the pork or chicken cutlet wraps in the breadcrumbs then fry it into golden crispy. This is a must-eat dish when you come to Austria. This delicious comfort food serves with boiled potato and berry sauce (the popular sauce in Austria). When you bite this chicken or pork cutlet, the crispy texture, salty flavor meets sweet sauce is perfection. Again, the food in Austria really embraces a simple cooking style, but focus on the high-quality ingredients that will bring out natural goodness flavor!
Tiroler Gröstl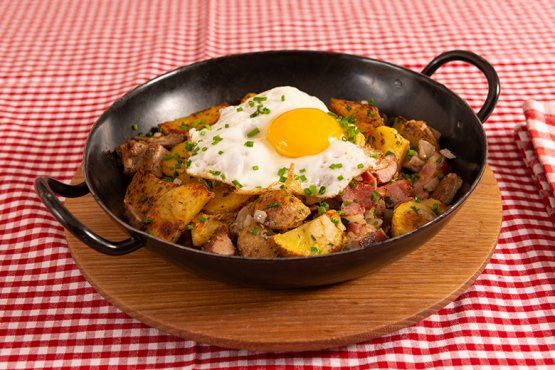 Another popular dish from Austrian is Tiroler Gröstl. This is a popular Sunday roast dish and is loved by all people. This food originally coming from the hiking region of Tyrol in Austria. They love to roast meat and potatoes to share a quick delicious meal. The main ingredient is pork and potato that roast altogether perfectly. Then lightly season with salt and pepper. We can give a nice hint of flavor by adding a few fresh chopped chilies on top of that. Finally, this dish is topped with a fried egg. Break the oozy sunny side up egg onto the roast pork and potato, it creates rich flavor!
Conclusion
Austria is a beautiful country located in central Europe, surrounded by the Alps landscape makes the weather is quite cool. This ambiance makes Austrian people love to eat a quick simple dish that remains comfort food to keep their metabolism living in the cool weather region. Cheesy and meaty Austrian cuisine influences by Swiss, German food. The cheesy Swiss dish transform into a delicious hot and creamy cheese noodle dish. Enjoying the natural landscape is like eating culture all around Austria. We will find lots of cool outdoor places, each one of them is beer garden style. It's a gathering eating food culture, where you can take the fresh beer right from the barrel, typically is a self-service, you can grab your glass and then fill the fresh beer into your cup!
The main reason why eating Austrian food is so comforting. They cook with simple seasoning and cooking styles. Then the fresh quality ingredients are a must. Choosing high-quality meat and fresh vegetable is the reason Austrian culinary love by all European and spread to the world! Just enjoy the simplicity of the high-quality food by joining the social eating food gatherings, which is the best way to respect the eating culture in Austria! And we hope these food recommendations could be your travel guide to Austria. So you will not confuse to choose what to eat there!
Traveling to Austria is so much enjoyable, the easy transport system, cool weather, beautiful mountain landscape view over the historic building will make you fall into paradise! Besides that, eating delicious comfort food with their awesome classic pastry, all will satisfy your taste buds!