Foodntravelling.com – Don't ask how many different cultures there are in South Korea, of course, there are so many. If you explore South Korea you will find the splendor of their culture reflected in their exotic historical heritage. Yes, the ancestral heritage of this country is a historic temple. Moreover, the temples in South Korea will take your vacation into the beauty of the past. And of course, you will be amazed by the beauty of South Korean cultural places. Apart from this, South Korea is a country that holds fast to its culture. Not only culture, but events or festivals are also often held in this cultural place. Therefore, we will provide a list of 12 Amazing Cultural Places in South Korea for Your Culture Experience to you. Let's discuss!
Cheoneunsa Temple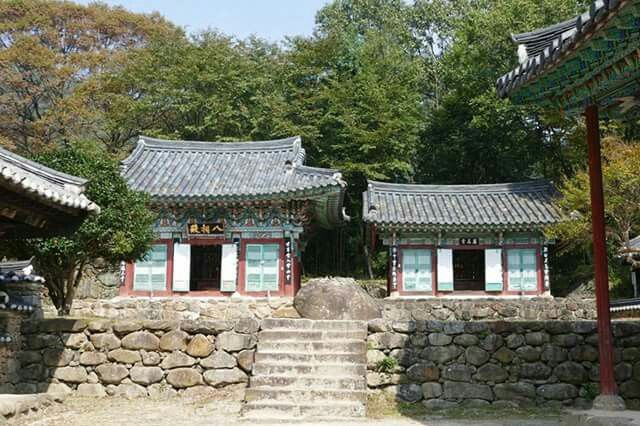 The first cultural places in South Korea is Cheoneunsa Temple. Cheoneunsa Temple is located on Mount Jiri, this mountain has a long history. If you visit this place you will find that this temple has an amazing story and history. The temple, which was built in 828, witnessed three fires. These fires occurred in 1592, 1676, and 1773. In each of these events, the temple was built like the first building was erected. And then, people in ancient times believed that there was a snake near this temple which was killed in 1592 thus starting a fire in this temple.
1 of 12
Hyangilam Temple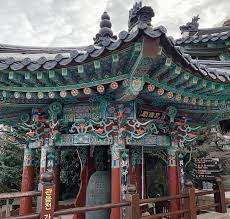 You can find temples with mountains and sea nuances in South Korea, precisely in Hyangilam. The temple which is located right near Mount Geumo and the South Korean Sea makes the view at this temple not to be missed. Although, the road to the temple is a bit uphill and winding. However, you will be presented with a panoramic view of the beautiful scenery when the sun sets from the top of Mount Geumo. In addition, these things make you forget the tiring journey earlier and will pay off with its beauty.
2 of 12
Songgwangsa Temple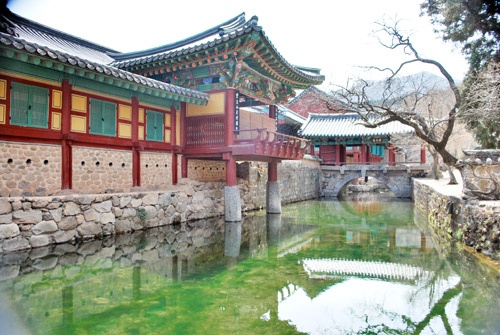 The next cultural places in South Korea is Songgwangsa Temple. Songgwangsa Temple is a temple that is still attached to Buddhist beliefs to this day. This place is still actively used as a temple offering to the Buddha. In addition, when you visit there you will be greeted with a pond that surrounds the Songgwangsa temple. And in fact, the water of this pool comes from the flow of the Jogye mountain river. After that, you will cross this pond through a beautiful slightly curved bridge. Then after entering you will be presented with a panoramic view of the beauty of the temple which is still beautiful and calm. This will also add to an amazing experience while on vacation in this country.
3 of 12
Hwaeomsa Temple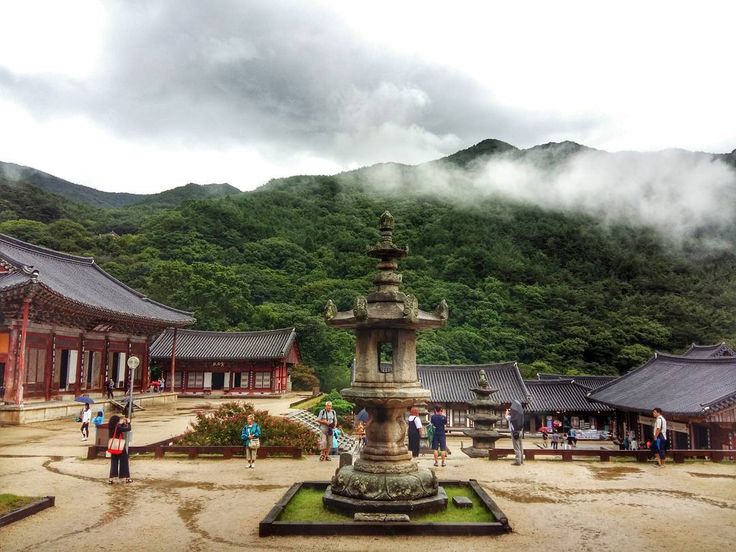 This temple was built over a very long period, from 544 AD to 875 AD. In addition, the long process of making this temple has greatness in every building. And in fact, Hwaeomsa Temple is the only largest temple in South Korea built with wood. Although the Japanese invasion in 1592 occurred but the splendor of this temple building was not lost. Make sure you visit this temple in spring. The beauty of the cherry trees that bear fruit and bloom in the spring makes the road to Hwaeomsa very amazing. For that, come to Hwaeomsa when spring comes.
4 of 12
Oeosa Temple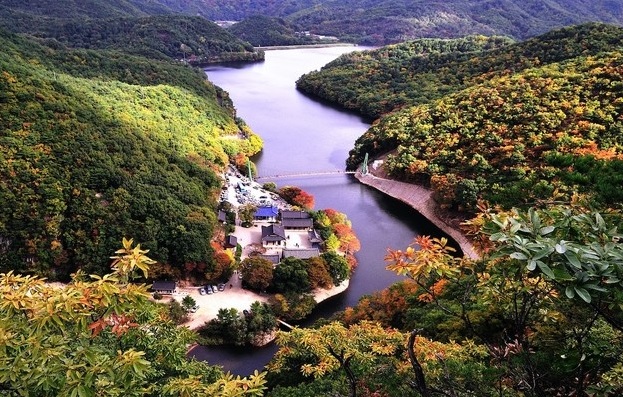 The next cultural places in South Korea is Oeosa Temple. The temple which is located near the Oeo river presents the beauty of the civilization of the Silla dynasty. Oeo which means my fish has a legend about the construction of this temple. The temples at that time were used to meditate on the local people's ascetics, namely Wonhyo Dalsa and Hyegong Sunsa. Meanwhile, they then had a magical fight by looking for fish in this oeo river when they got a fish they shouted oeo which means my fish. Therefore, the historical knowledge contained in this temple is a must for you to learn. And also the sciences you learn will lead you to the extraordinary science of history.
5 of 12
Boriam Temple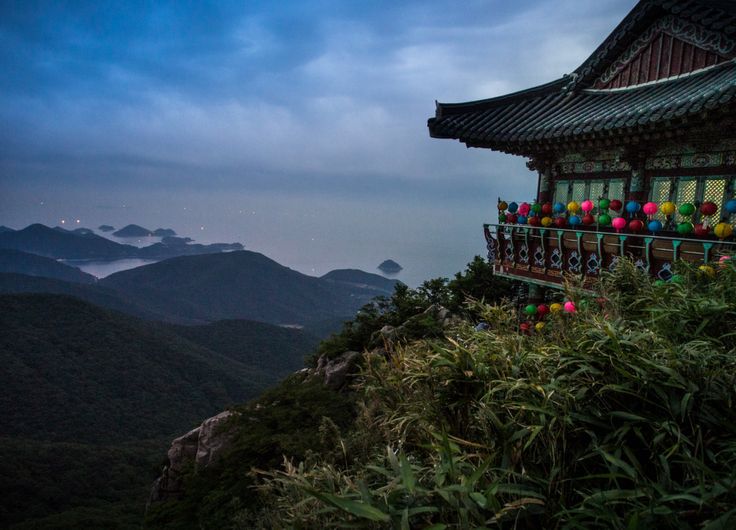 Temples in Korea are mostly built near mountain cliffs. One of them is the Boriam temple. This temple is located on the cliff of Chuwoisan mountain. When you visit this temple make sure you are not afraid of heights. However, you don't need to worry at this temple there are safe stairs for you to climb up to the temple. Meanwhile, after arriving at the temple you will be presented with a view of the vast Damyang Lake that makes your heart and mind at peace. In addition, if you come with your partner, it will add romance to your relationship.
6 of 12
Sasungam Temple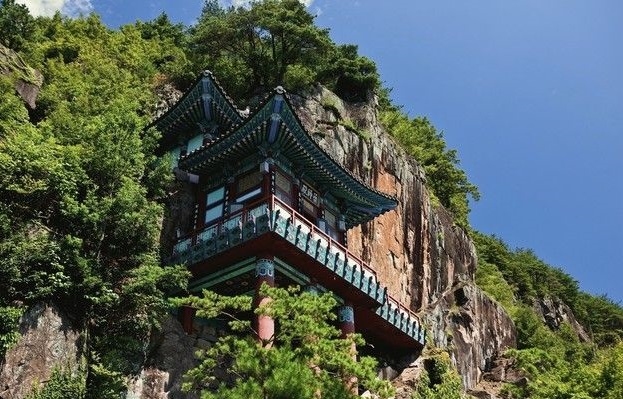 The next cultural places in South Korea is Sasungam Temple. This temple, which is located near Mount Jiri, you must try to climb it because it is high with stone stairs that you have to go through before arriving at Sasungam temple. The stairs made of stone and also the arrangement of wood are the hallmarks of Sasunggam once you arrive at Sasungam you will definitely be amazed by the sights you see. The pine forest and the Seonjingang River to the Jiri mountains are views that are very, very suitable to treat your tiredness while climbing the stairs. This shrine is often used for filming the famous Korean drama Chuno.
7 of 12
Buseoksa Temple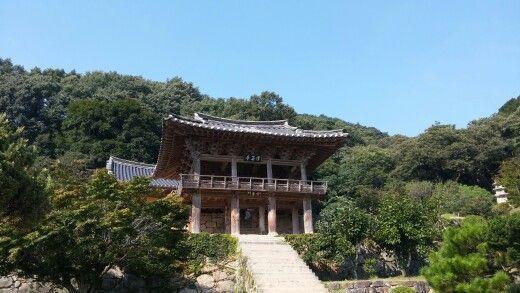 The temple, located in Buseoksa Muryangsujeon, is one of the oldest wooden temples in South Korea. This spacious and quiet temple is also included in the list of the largest temples with the 18th rank in South Korea. It's very broad to see the facts that you have heard, because the breadth of this temple is included in one of the cultural assets of Korea. If you want to visit this temple you don't need to note the best season to go there. Buseoksa will always look beautiful in any season, whether it's winter, summer, or spring. For that, schedule your vacation to South Korea.
8 of 12
Daejeonsa Temple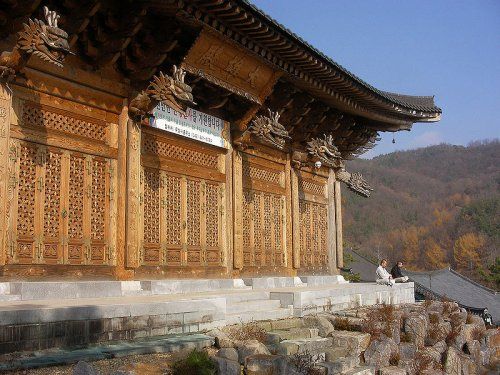 The next cultural places in South Korea is Daejeonsa Temple. The temple in Cheongsong-gun is one of the largest temples that hold ancestral history in it. The historical legacy is a letter engraved on a wooden board that has existed since the Ming dynasty. It is this historical heritage that makes the Daejeonsa Temple even more unique and historic. In addition to the history of Daejeonsa temple also has an amazing view. The view that you will enjoy when visiting this temple is the beauty of the towering Juwang Mountain. This is also a special characteristic of this area.
9 of 12
Taeansa Temple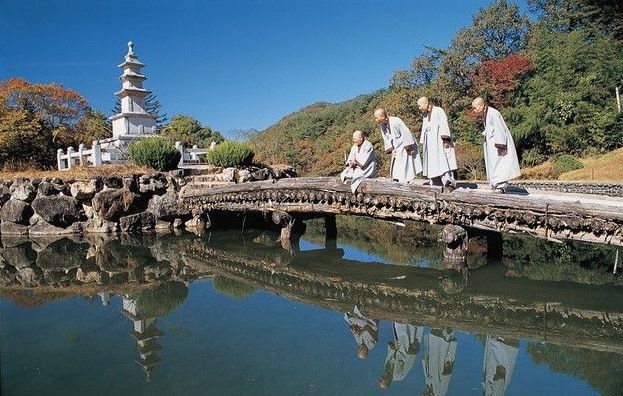 The typical rural scenery with green trees will impress you with a trip to the Taeansa temple. The temple is near a long river that will accompany you on an extraordinary journey. In addition, the rural atmosphere that is attached to rice fields and fields makes Taeansa have cool and fresh air. And also the beautiful trees add to the distinctive rural atmosphere. And one of the advantages of this tourist spot is to enjoy the things above. If you are interested in this place, it will add peace to your soul.
10 of 12
Suguksa Temple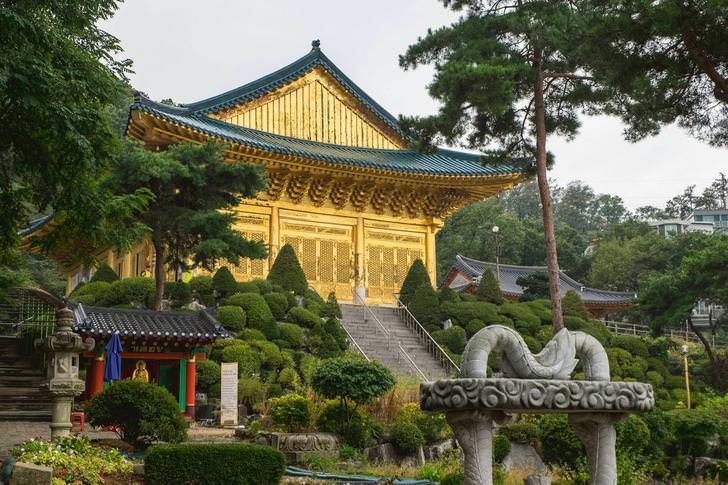 The next cultural places in South Korea is Suguksa Temple. The temple with the gold color is one of only two temples in Korea that only uses this color as the color of the temple buildings. The temple, which was built in 1459 by the Joseon dynasty, was used exclusively for members of the royal family who had suffered hardships in their lives. With the construction of this temple, it is hoped that the suffering of someone will disappear with a calm atmosphere, the streets are also far from the crowds making the atmosphere in Suguksa very peaceful. If you want to visit Suguksa temple you can visit whenever you want, but it is recommended before the big day of Buddhism, because Suguksa Temple will install several candle lights around the temple.
11 of 12
Haeinsa Temple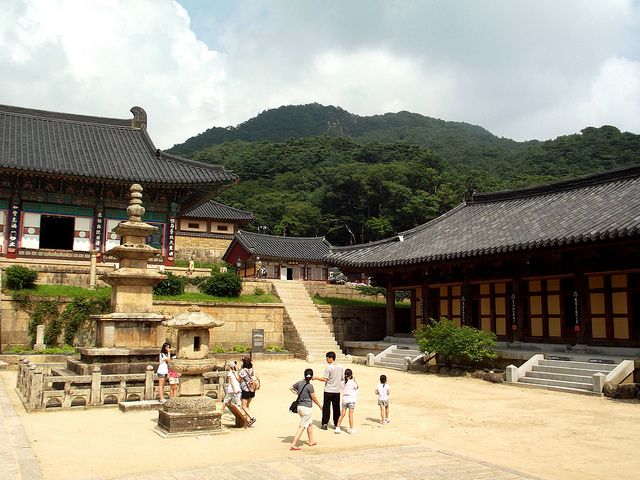 The last cultural places in South Korea is Haeinsa Temple. This temple is located in Hapcheon, South Korea. The temple, which was built in 1087, has millions of meanings and history in its buildings. This majestic building can make you amazed by South Korean culture. For those of you who want a journey full of new knowledge about the Korean version of the Tripitaka script and the Hanja script, you can visit this temple. Although this place is very beautiful, you are forbidden to immortalize the Tripitaka and Hanja manuscripts engraved on the 81,258 wooden planks at Haeinsa temple. You have to go there yourself and prove that the magic of the building is really amazing.
12 of 12
Thus our discussion of 12 Amazing Cultural Places in South Korea for Your Culture Experience. South Korea offers amazing beauties for you to explore. In terms of culture, this country has cultural places like the temples from the list above. For those of you who want to go to South Korea, we hope that the lists above are cultural places that you must visit. And we hope that this list of temples will make your trip even more interesting and enjoyable. In addition, by traveling in this country you can also learn about the culture and history of South Korea. Happy traveling!