Foodntravelling.com – Have you ever thought about the sound of the waves in the sea, the chirping of birds in the forest, the sound of small children playing in the park. It is certainly the sound of natural beauty when you are bored with your daily routine. If you've ever experienced it, then you should spend your vacation in South Korea. Moreover, the nature destinations in South Korea are never ending. Various types of tourist destinations are ready to make your holiday atmosphere fun and calming.
Meanwhile, tourist destinations in this country will not disappoint you. And also one of the most interesting is a natural tourist destination. Nature tourism in South Korea will never be boring. Because the natural attractions that are served really make you fresh again and make your soul calm. Therefore, we will provide some lists for you to explore in South Korea. The list is summarized in the Top 10 Beautiful Nature Destinations for Best Visit in South Korea. Here's the discussion!
Sokcho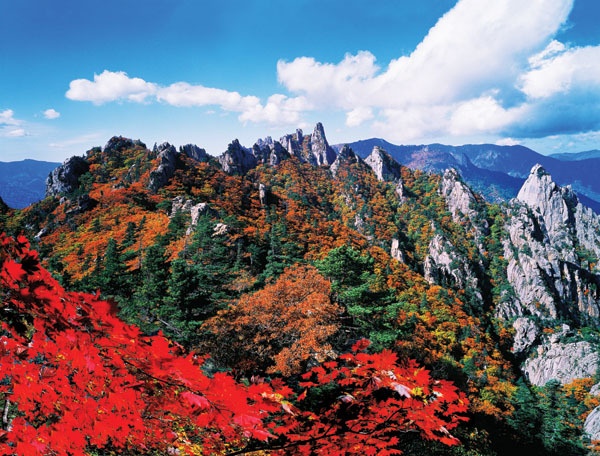 The first nature destinations in South Korea is Sokcho. Sokcho is located in Jungang-ro. Sokcho offers natural scenery with a blend of two sides of nature that you can enjoy in one tour. In Sokcho you can enjoy the mountains and the sea at the same time, but you have to be careful because Mount Seorak where Sokcho is located is a mountain that is famous for being steep and difficult to climb. You don't need to worry, you don't want it to be difficult to climb Mount Seorak you can take the cable car. The cable car in Sakcho is provided for those of you who want to enjoy the beauty of the sunrise and several other beautiful scenic spots. Guaranteed after you visit Sakcho your mind will be refreshed.
1 of 10
Jinhae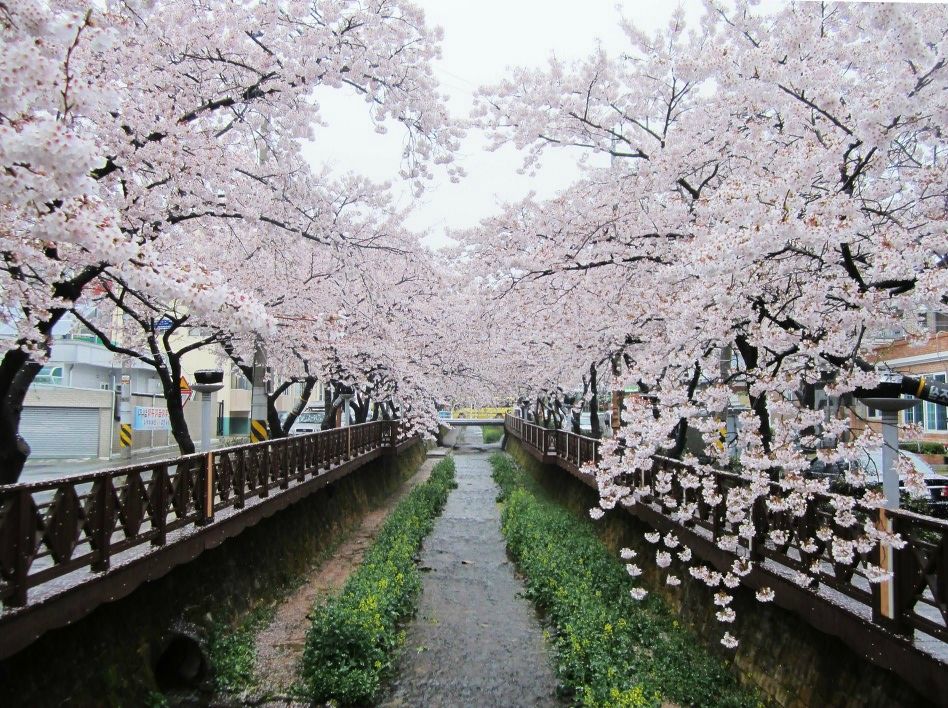 If you want to feel how it feels like your holiday is pink, you can visit Jinhae city in spring. When spring comes and you are in Jinhae you will find yourself in the middle of fallen trees with pink leaves that make your holiday atmosphere different. During this spring period, you can also attend the biggest festival in South Korea, the Jinhae Gunhangje Festival. This festival showcases the splendor of the cherry blossoms that bloom this season, making Jinhae city pink on every corner. The attraction of cherry blossoms is what makes the city of Jinhae a tourist destination in spring.
2 of 10
Jang-ho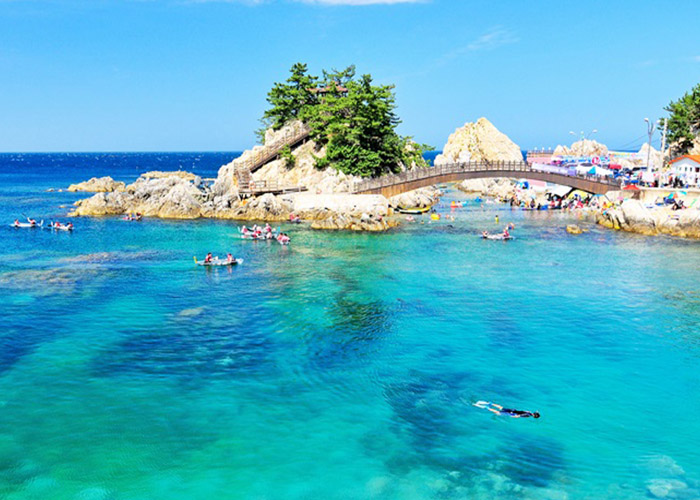 The next nature destinations in South Korea is Jang-Ho. Calming yourself to the sound of the calm sea waves and drinking coconut water under a shady tree are the main destinations for nature tourism in Jang-ho. Jang-ho, located on the northeast coast close to Seoul, is the best place to unwind from a hectic routine.
The beach with calm waves blocked by unique rocks arranged and sparkling white sand makes you feel at home to spend your weekend at this beach. Besides you can enjoy the beauty of this beach, you can also do snorkeling, diving, and rafting for you so you don't get bored with your many activities. Visit Jang-ho where the blue sea water and white sand beaches will be waiting for you there.
3 of 10
Nami Island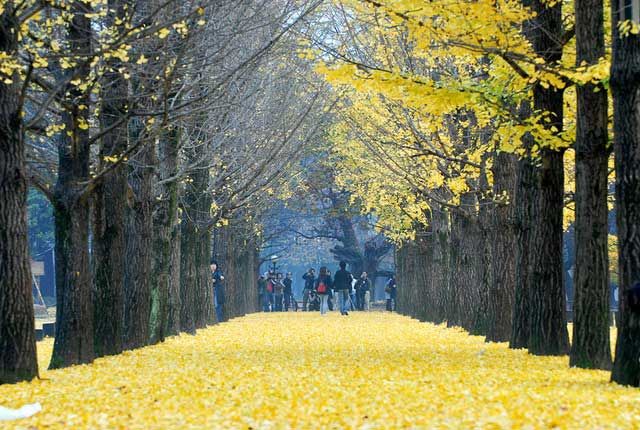 The island which is located near the Bukhan river is a suitable tourist spot for families. This small island is used as a park where most families and people often enjoy the beauty of this park when they are bored or looking for fresh air. You can enjoy two different periods on Nami Island. For the first period, you can enjoy the beautiful pink color when you visit in spring. The second period you can enjoy the yellowing leaves when autumn arrives. There are also many agendas held on Nami Island and most of them are big agendas such as festivals to shows. What are you waiting for, quickly bring your family here.
4 of 10
Juknokwon Bamboo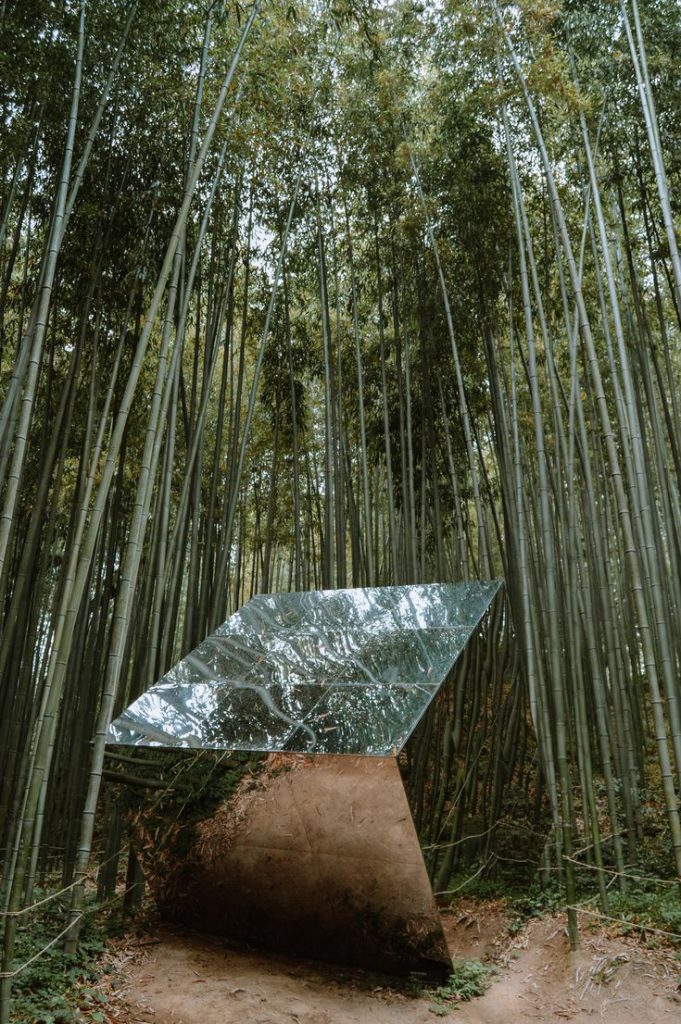 The next nature destinations in South Korea are Juknokwon Bamboo. Juknokwon Bamboo is a bamboo forest located in Damyang. The forest with millions of bamboos that live in it makes everyone who visits this place will feel peace and tranquility in his mind. You will feel the cool cold air will take you away from the atmosphere of your very busy routine. This forest offers tours by walking and there are places to rest such as gazebos and cafes. You have to try the "Jukro tea" which is made from water found from bamboo here. Enjoying tea with serenity from the shady and cool bamboo forest will make your vacation more meaningful this time.
5 of 10
Boseong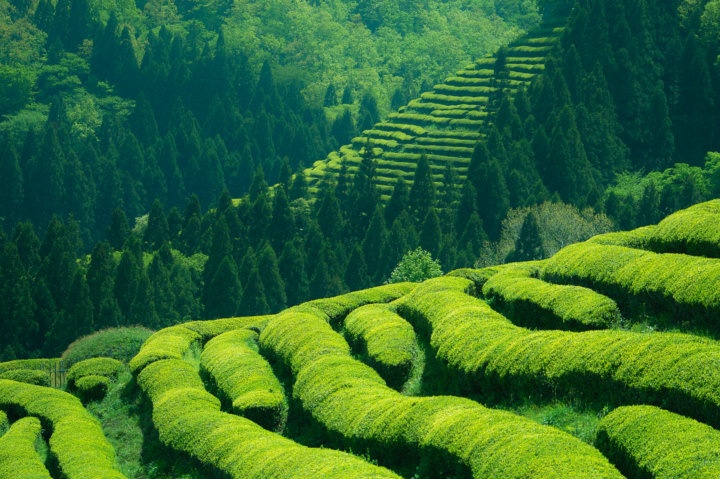 The vast green scenery and cool mountain air are the main attractions that you can enjoy while visiting Boseong. The green tea plantations arranged on a terrace make the eyes of anyone who looks at it will never get bored. The cool cold air of the Boseong mountains will make your body fresh again. The purpose of this tour to Boseong is a beautiful tea plantation and several restaurants there will sell tea from this plantation. A little information Boseong is a tea plantation that produces most brands of tea sold in South Korea. If you are a tea connoisseur you must visit this place.
6 of 10
Pocheon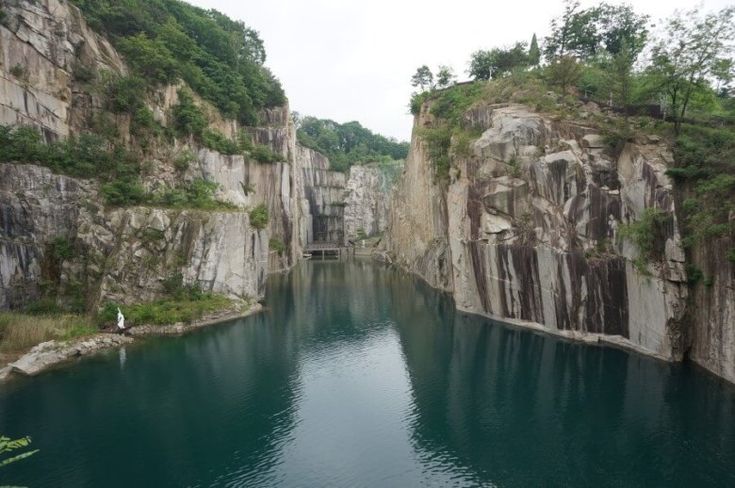 The next nature destinations in South Korea is Pocheon. Waterfalls, pristine forests, lakes, and towering hills are the characteristics of this Pocheon tour. Pocheon, which is located not far from Seoul, is a place for those of you who want to calm down from the hectic urban atmosphere. In Pocheon, you will be greeted with beautiful green forests, calm lakes, and most importantly a beautiful waterfall. You can relax among the hills in Pocheon accompanied by the sound of water splashing from Pocheon Waterfall. You will definitely feel at home for a long time in this Pocheon.
7 of 10
Jeju Island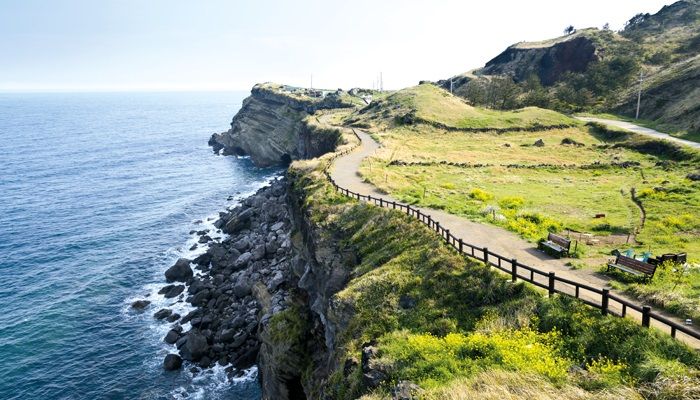 You want to enjoy the natural beauty like a tour on a tropical island. You can really enjoy things like that when you are on Jeju Island. This tourist destination is famous for its natural coastal beauty like the island of Hawaii. On Jeju Island, you can find the oldest volcano called Mount Hallasan. This mountain is a special attraction for those who like to climb mountains to enjoy the beauty of Jeju Island from above. Not only is Hallasan Mountain where you can enjoy its beauty, but there are also lots of delicious seafood restaurants that are ready to make you full while on vacation on Jeju Island. Most visitors to Jeju Island are families and couples who are on vacation for their honeymoon.
8 of 10
Gangneung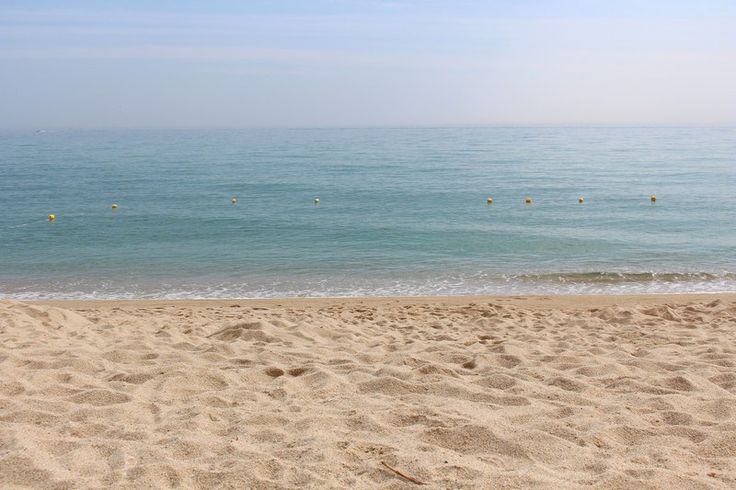 The next nature destinations in South Korea is Gangneung. Gangneung is located on Gyeongpo beach and Anmok beach. In Gangneung you can feel the beauty of the vast sea view and the green hills that stretch along this beach. In Gangneung, you can cross a bridge made of wood to get to the hills and beaches that offer wide sea views. If you are on vacation to Gangneung you can also enjoy some of the cafes or restaurants that are there. Make sure you take a vacation to Gangneung this summer because apart from being able to travel, you can also snorkel or swim at this beautiful beach.
9 of 10
Taean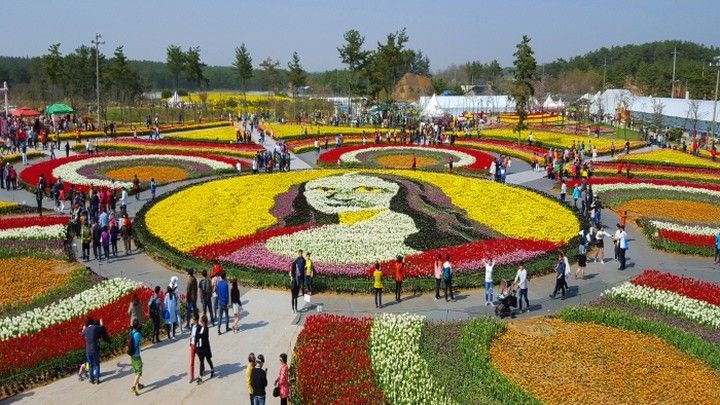 The last nature destinations in South Korea is Taean. Taean is a place for those of you who want to find the beauty of the beautiful and wide coastal scenery. Go to Taean Coast National Park here, you will be spoiled with the beauty of the beach that displays the sunset, besides that, here also displays the beauty of the lights of the houses around Mongsanpoo and Manlipo beaches. Don't forget that if you visit Taean you can also enjoy delicious seafood that is sold on the beach. Oh yes, to enjoy the scenery here you have to walk.
10 of 10
Thus our discussion of the Top 10 Beautiful Nature Destinations for Best Visit in South Korea. The beauty of nature tourism that is presented by the South Korean state is not inferior to the natural beauty of other countries. Meanwhile, while on vacation to this country, you also shouldn't miss some of the special dishes that are very appetizing. Moreover, the natural tourist destinations in this country are very diverse and have several activities. Regardless, we hope that with this list you can enjoy it like a tourist on vacation. Therefore, hurry up and grab your suitcase and schedule a vacation to South Korea.