Foodntravelling.com – Seafood dishes are never timeless. With the presence of seafood dishes also creates a very diverse menu of dishes. You can find a variety of seafood dishes in South Korea. And the dishes served also have a unique taste and make people curious. In addition, this country never escapes the taste of its extraordinary dishes. As well as processed shrimp, octopus, squid, to lobster are processed in this country. Due to the fact that South Korea is a maritime country neighboring Japan. Moreover, what list will we provide for you, which has been summarized in You Must Try This – 10 Delicious South Korean Seafood Cuisine. Let's discuss!
Hoedeopbap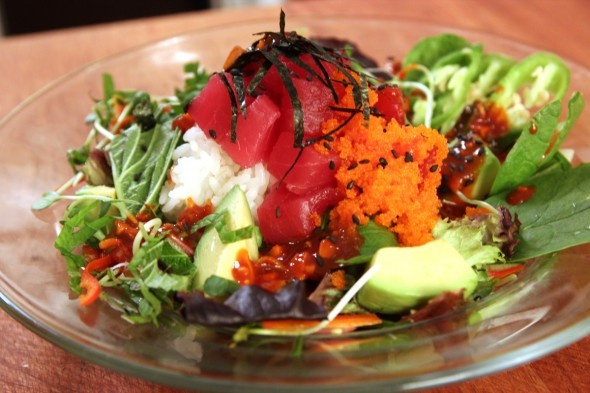 The first delicious South Korean seafood cuisine is hoedeopbap. This seafood dish is almost similar to a vegetable salad with pieces of fresh fish. Which is where the fish are combined with spices such as chili powder, vinegar, spicy paste (gochujang), garlic, and a little sugar. In addition, hoedeopbap is a dish that is similar to a Japanese dish called kaisendon.
Moreover, the fresh fish that you can choose in this seafood dish include tuna, sea bass, and salmon. Then the fish is cut into thin strips or diced according to your taste. In addition, and of course this one dish you need to know too, to make it using high-quality ingredients. So, you don't need to doubt the freshness you get in enjoying this Korean seafood cuisine.
1 of 10
Bajirak Kalguksu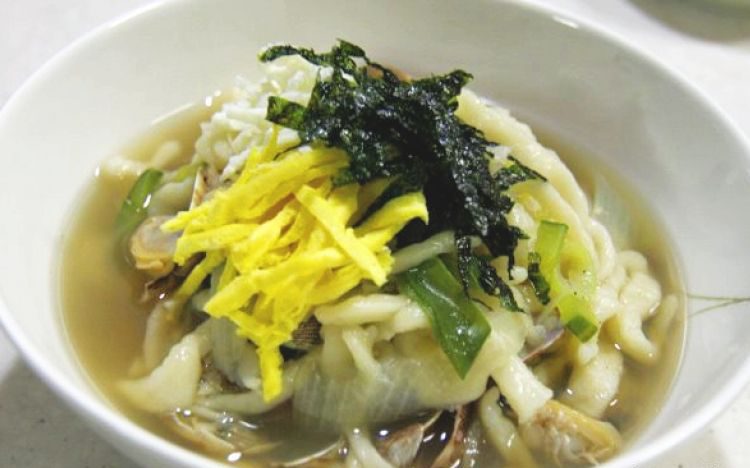 For those of you who are noodle connoisseurs, you must try one of these seafood dishes. Which is where the contents of your mouth will be spoiled by the extraordinary taste. In addition, this dish is a dish that we highly recommend for you. Because when you go on vacation, South Korea is not complete if you don't taste this dish. Bajirak kalguksu is the most unique seafood soup dish in our opinion. Because this dish has an authentic taste and thrills your tongue. The broth soup of this dish uses bits of seafood. And of course, this makes bajirak kalguksu in demand by local and foreign tourists.
2 of 10
Haemul Pajeon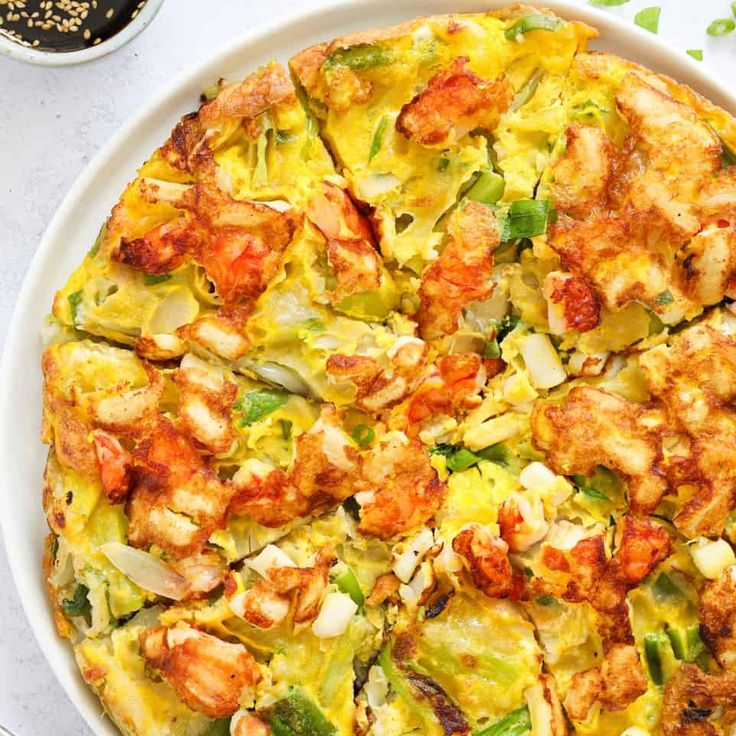 The next delicious South Korean seafood cuisine is Haemul Pajeon. This dish is a simple dish that everyone can enjoy. And of course, you should also taste this haemul pajeon. Which is where this dish is made from processed eggs with a variety of seafood fillings. You can find seafood fillings such as shellfish, shrimp, and many more.
Besides, haemul pajeon is not complete when you taste it with sauce. Because the sauce on this seafood dish adds an appetizing taste. In addition, the sauce of haemul pajeon is made of vinegar, red pepper, black pepper, and soy sauce. So, when you dip pieces of haemul pajeon in the sauce, then put the dish in your mouth creating a delicious taste.
3 of 10
Agujjim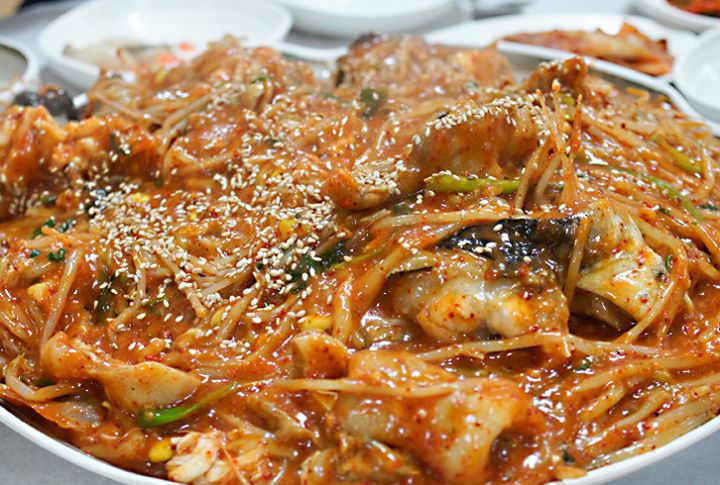 Sour sauce, savory and with a light taste is the right dish to relax. Agujjim is a seafood dish that might be suitable for those of you who are enjoying a vacation. Because you will be brought to a comfortable taste when it arrives in your mouth. However, if you don't want to relax, you can enjoy this dish with a spicy taste. The spicy taste of agujjim really makes you want to eat it again. However, you also have to be careful when this dish is served, as it is very hot when it comes to the serving. The filling of the agujjim includes sea beef and bean sprouts in a fairly large size.
4 of 10
Ganjang Gejang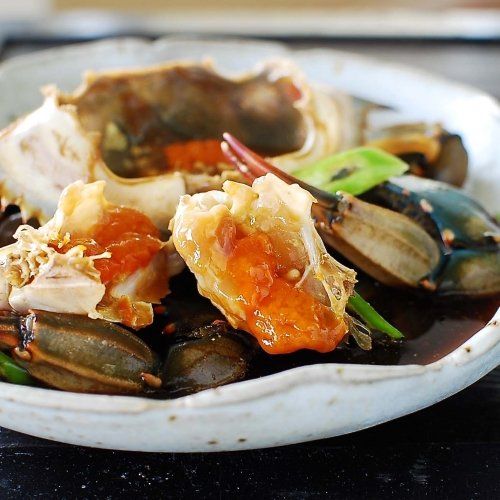 The next delicious South Korean seafood cuisine is ganjang gejang. The level of spiciness in this seafood dish makes food lovers go insane. This is where the level of spiciness of ganjang gejang is very sharp and pierces your nose. A tip for you to be careful when this dish comes served to you. However, this dish is a delicious fresh crab soup. And you are not complete if you taste this dish without using rice, because rice is a compliment that you should not forget. In addition, the ingredients of soy sauce and vinegar are the main things to make a ganjang gejang dish. You will feel the unique taste when you try this seafood dish for the first time.
5 of 10
Godeunggeo Gui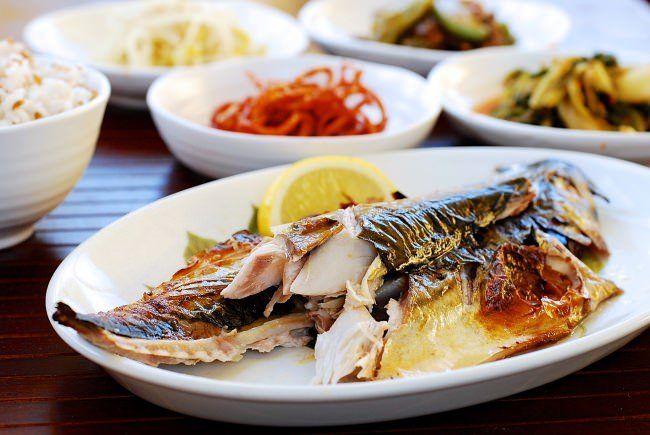 Apart from fresh crabs, white rice is the most important thing to eat in South Korean seafood cuisine. At a fairly affordable price, you can enjoy this dish easily. Especially with the low price, you also get a source of energy from omega-3 fatty acids contained in salted mackerel. Godeunggeo gui is a simple dish that contains high levels of vitamins, protein, and minerals. Therefore, this seafood dish is often found in various food stalls to restaurants.
6 of 10
Jjambbong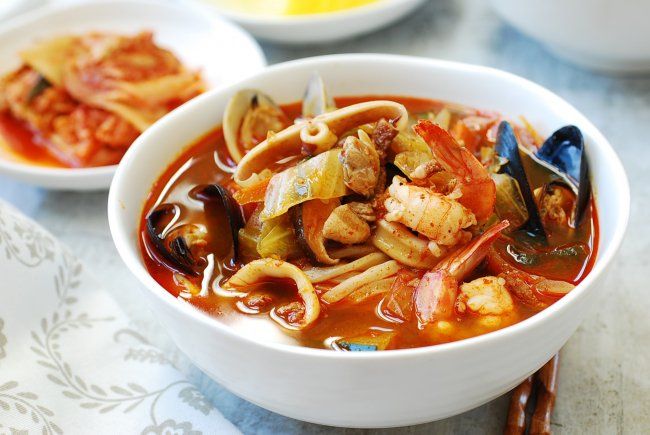 The next delicious South Korean seafood cuisine is jjambbong. The delights of this noodle will lead you to an extraordinary dish. Because this dish has a taste that you should not miss. Besides, these noodles made from black beans attract tourists who are on vacation to South Korea. And maybe one of the people who are interested in this seafood noodle. You can adjust the filling of this black noodle to your taste, such as squid, shrimp, and clams. The filling of this dish is very appetizing, but the texture of this noodle is very chewy and fibrous. Of course, this dish is very healthy for your body.
7 of 10
Guljeon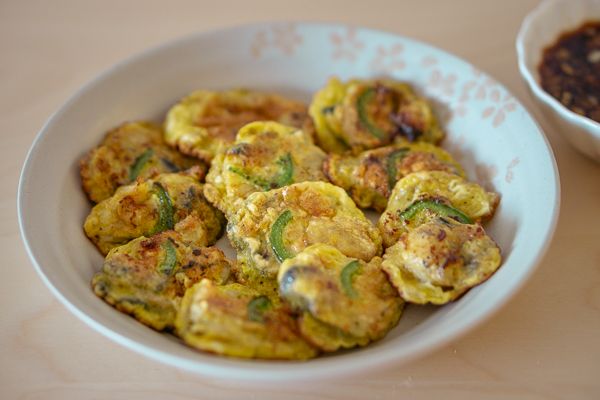 You can't miss a single traditional dish in this country, and one of those things is guljeon. Eggs with shellfish filling are in great demand by local residents of this country. Not only that, every tourist from abroad is looking for this dish as the main destination. The ingredients for this dish are easy to find in many traditional markets in the country. Moreover, this fried oyster egg is incomplete if it has not been dipped in the special sauce of this dish. And to enjoy the right guljeon is when it comes served and still hot.
8 of 10
Nakji Bokkeum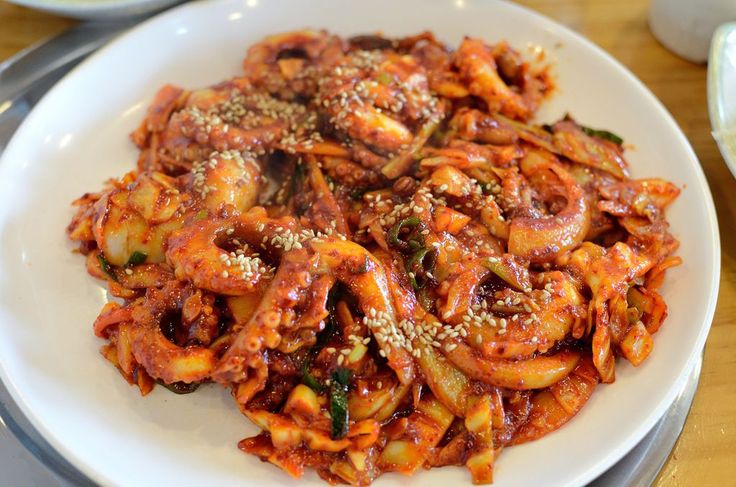 The next delicious South Korean seafood cuisine is nakji bokkeum. Chewy octopus with a thick special sauce is the hallmark of this seafood dish. Which is cooked by frying and then combined with fresh vegetables to add a delicious taste. Besides, the sauce is made from chili powder, paprika powder, chili paste, and many more secret ingredients of this dish. However, you don't have to worry about that, the taste of nakji bokkeum will treat the taste. The most interesting thing about this dish is the process of making it, you might be interested in this. Which is where the heat of the fire will decorate the process of making this dish.
9 of 10
Maeuntang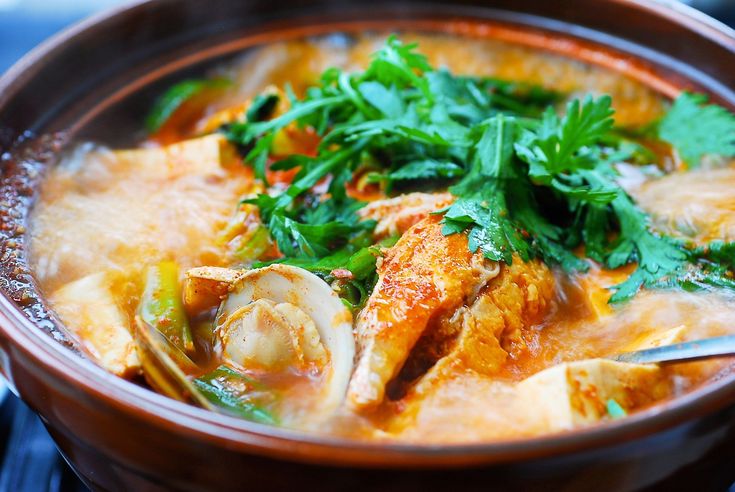 The last delicious South Korean seafood cuisine is maeuntang, and will also end the discussion of this list. The spicy gochujang paste is the main thing to make this seafood dish. Then saltwater fish is the filling that completes this delicious dish. In addition, fresh vegetables and tofu complement the maeuntang topping. Moreover, the fish are cooked directly with the head, because this is something that must be done.
And of course, the head of the saltwater fish has a unique taste for this dish. In addition, you are not completely eating this dish accompanied by drinking a typical Korean wine, namely soju. Soju drink is a complimentary drink to eat this dish, this has been confirmed by the citizens of this country.
10 of 10
Thus our discussion of You Must Try This – 10 Delicious South Korean Seafood Cuisine. Almost every day the sea caught in this country supplies to several neighboring countries or to other Asian countries. However, it is not only the catch of the sea that is interesting in this country. The interesting thing that you can find is the refreshing beaches. Moreover, the long sea line also attracts tourists to visit South Korea. Therefore, if you are on vacation in this country, don't forget to try seafood dishes and enjoy its extraordinary natural destinations. We hope that with the list above you can try these dishes. Mas-issge deuseyo!