Foodntravelling.com – Visiting the Philippines for vacation, of course you will also eat the typical food in that country. Food in the Philippines will definitely make you confused and greedy. Of course, because there are many delicious foods that can make you full. Not only that, the Philippines, which is included in the Southeast Asian continent, certainly has dishes that are thick with Asian characteristics. Foods with basic ingredients ranging from rice to meat and even vegetables will have a rich taste. So you don't have to worry about trying every Filipino dish. Ranging from unique dishes to dishes that have been modified with Filipino flavors that will make your tongue and stomach more comfortable. So, here are 11 Must-Try Main Course Dishes for Best Experience in Philippines. Let's discuss one by one!
Tokwa't Baboy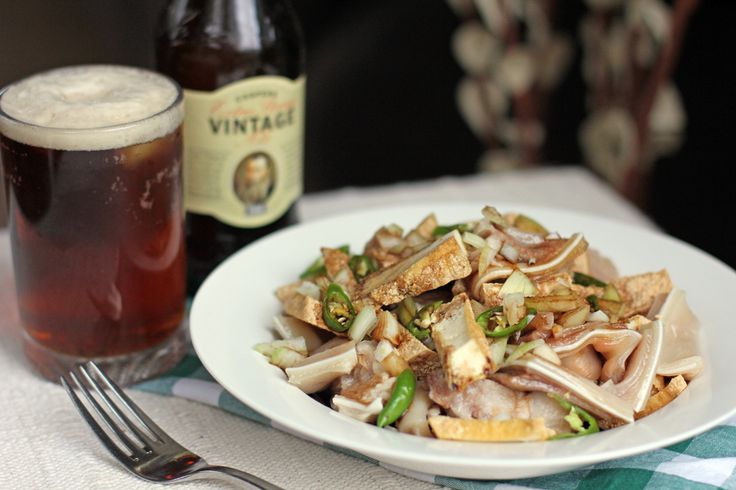 The first main course dishes in Philippines is tokwa't baboy. For those of you who are looking for delicious main dishes in the Philippines made from tofu, you can order this menu. This menu is called Tokwa't Baboy, a simple, Filipino main dish. Not only that, this menu can also be used for appetizers and even snacks for anyone. The composition of this food consists of tofu and pork. Here pork will be cooked by roasting or boiling with secret Filipino spices. After that, fry the tofu in a dice or square shape.
Fried tofu can be customized according to your request, you can ask for dry or wet fried all delicious. Then, after that the sauce used is sweet and salty soy sauce combined with vinegar and onions. However, according to some tourists, the seller has its own secret ingredients. Usually, this food is served together with rice, and porridge to be eaten immediately. The sweet, salty, sour, and juicy flavors of the pork and tofu are a mix that is hard to forget.
1 of 11
Pinakbet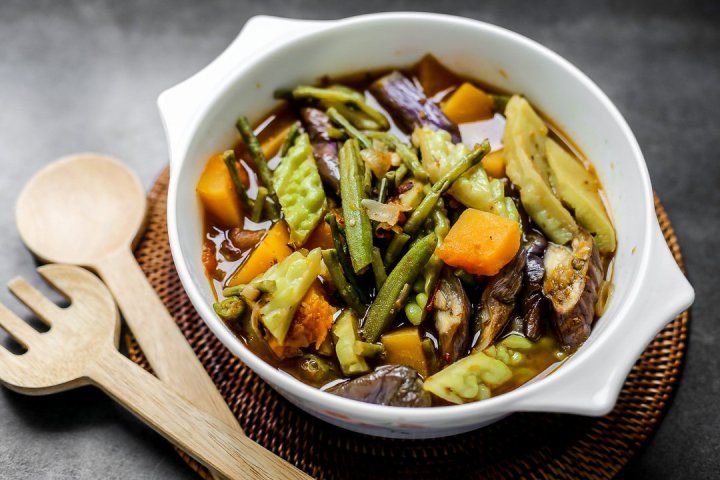 For those of you who like vegetables and spicy sauces, you can try this menu. This menu is called Pinkabet which is so delicious and healthy. The thing that makes this food healthy is that the composition of this food is mostly vegetables. You can find some carrots, mustard greens, eggplants, ampalaya, and so on. However, if you want additional meat, you can ask the seller. The composition used in the broth consists of shrimp sauce and fish. The sensation when you first scoop is the delicacy of the savory shrimp sauce meets the rich vegetables.
In addition, several regions in the Philippines offer Pinakbet in two variants. One variant in the form of sauce used is fermented fish sauce. Second, the variant used is fermented shrimp sauce as well. You can taste both of these variants because both are very delicious for your hungry stomach. Usually, Filipinos eat this pinakbet together with hot rice, so they are full and satisfied.
2 of 11
Pork Barbecue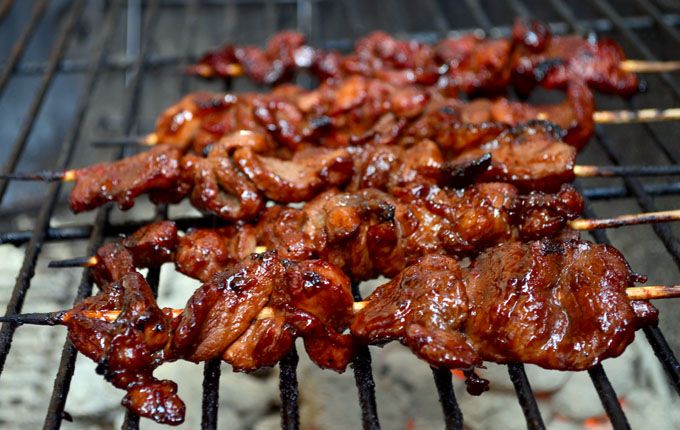 The next main course dishes in Philippines is pork barbecue. You can't refuse this one food because of the delicacy of a tempting barbecue pork. This food is called Pork Barbecue, a food similar to satay. But here the spices used are different from satay and this food is a favorite of tourists. When you visit a street food market you can see many sellers selling this one dish. This food is made from diced pork and then marinated with secret Filipino spices.
After that, when the pork turns the color of the marinade, it means it's ready to be grilled. However, here the meat will be skewered with small bamboo like satay and then grilled over charcoal. The brown color of the grill will tempt you to continue eating it. This food is usually served with rice so the taste will be more delicious and filling. So, when you visit the market on the street you can try this one food along with a plate of rice to make it more filling for you.
3 of 11
Crispy Pata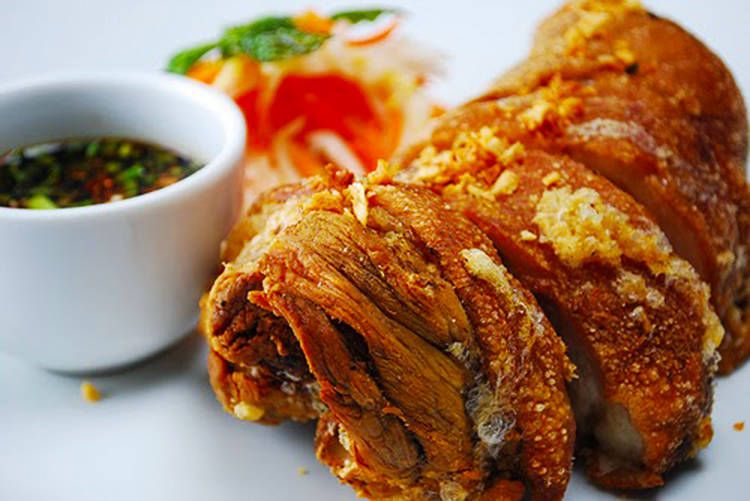 The next food that is somewhat unique is the food that you will also find in markets on the street. This food is called Crispy Pata, a food made from pork. However, the pork used here is the pork that is in the pig's feet. You would think this food would be too tough for you to eat, but in fact, it's not at all. The secret to cooking this dish lies in the fact that pork legs must be boiled first with the marinade.
The purpose of boiling is to soften the pork feet and make it easier for you to enjoy this delicacy. After being boiled for a long time, the pig's feet are then deep fried in manyak. This will create a crispy texture on the outside. Not only that, if you bite into this meat you will feel melted in it. Tourists usually order this menu for their main dish along with warm rice and some green vegetables to give it a fresh taste.
4 of 11
Sinigang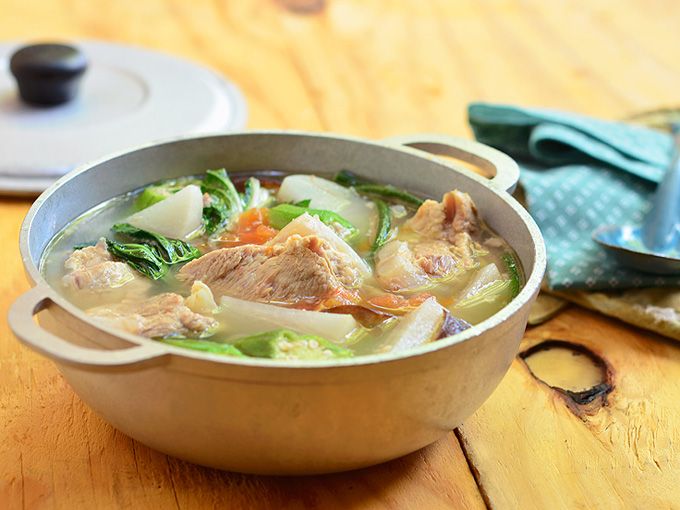 The next main course dishes in Philippines is sinigang. If you visit the Philippines and when you are in the highlands you can look for this one menu. This menu is called Sinigang, and the food for the main course is so delicious. The delicacy of sinigang comes from its processing, which not everyone can make delicious. This food is a kind of food with a soup. Although the spices used in this Sinigang are very simple. However, if not in the Philippines you will not find a delicious sensation. Not only that, in the Philippines this food is usually served with rice.
No need to be surprised, in the Philippines almost all main dishes are eaten with rice. The main ingredient in this food is meat, which can be fried or boiled. The meat used can be pork, beef, chicken, and even fermented fish. In addition, the taste of this one food will make your tongue curious about the delicious sourness mixed with the savory spices. Therefore went to the Philippines to try it.
5 of 11
Torta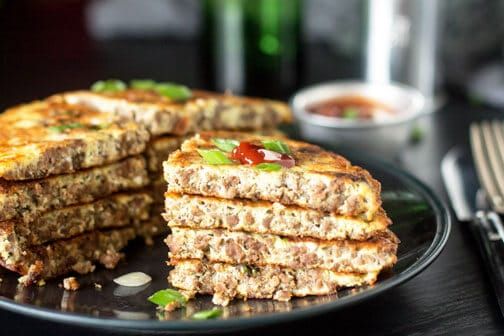 When you want to find a dish menu with crispy fried food, you can order the following menu. The following menu has the name torta, torta itself refers to fried foods. This torta is a food that is covered in eggs and then fried in hot oil and has a crispy texture. However, you can make this torta yourself at home. But another thing, if you visit the Philippines, is that this torta has a special sauce, namely banana sauce. Most tourists say that the uniqueness of this torta comes from its delicious sauce.
If you are in the Philippines to try this food then you need to know two things. The first thing you need to know is that this food is made from vegetables and the second is made from meat. For vegetables, usually use eggplant, for meat, it can be pork, beef to large chicken meat. Most Filipinos eat this food with warm white rice to make it more delicious.
6 of 11
Tinapa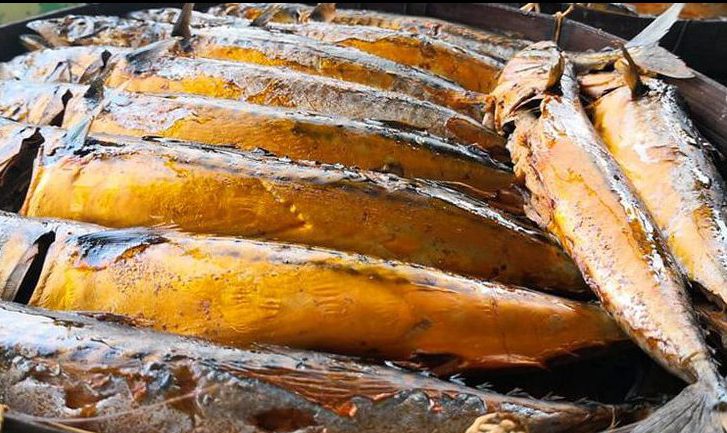 The next main course dishes in Philippines is tinapa. If you are looking for food made from fish, you can choose this fish menu. You can order this menu with the name tinapa, fresh fish food. This main dish food is food that is much sought after by tourists because of its delicacy. Not only that, but the processing of this fish is also unique because it is smoked. If you visit fish markets on the coast of the Philippines you will definitely find this tinapa production. You can even see the small houses used to produce this tinapa. The shape of this house is so simple made of wood.
Also, you can see the house is emitting a lot of smoke. You can also see the fish on display in front of this house by hanging. This uniqueness makes many tourists see the tinapa fish production process. However, if you want to buy this food at a restaurant, you will be served with some fresh vegetables and chili sauce. For the taste that you will get is a savory, smoked, and sour taste that is so complete.
7 of 11
Laing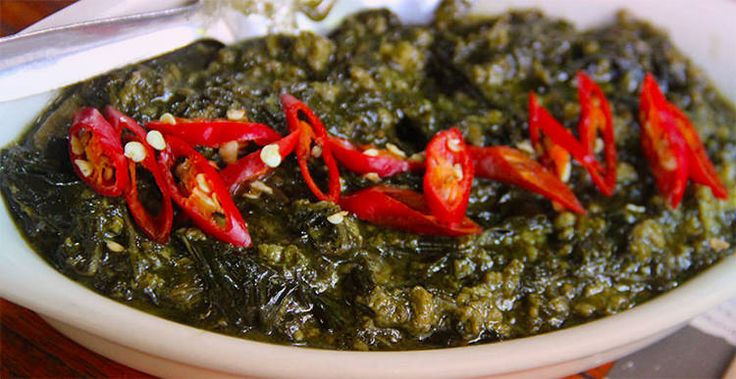 For those of you who are curious about the taste of taro leaves, you should try this menu. This menu is usually called Laing, a main dish from the Philippines that has a unique taste. It wouldn't be the Philippines if the cuisine wasn't unique, this one has a different taste from other dishes. You can find a taste like coconut milk combined with typical Filipino spices. Not only that, but you can also feel the savory taste of taro leaves which have been cooked in several stages. There are several unique spices served at Laing, including the composition of freshwater crabs.
This fresh water crab is what makes the other unique. Apart from that, you can also feel the spiciness of the chili which is pounded with other spices. You can usually find this dish in several roadside stalls or restaurants. Make sure when you eat this cake you also order white rice. Therefore you have to go to the Philippines to taste the delicacy.
8 of 11
Kare-Kare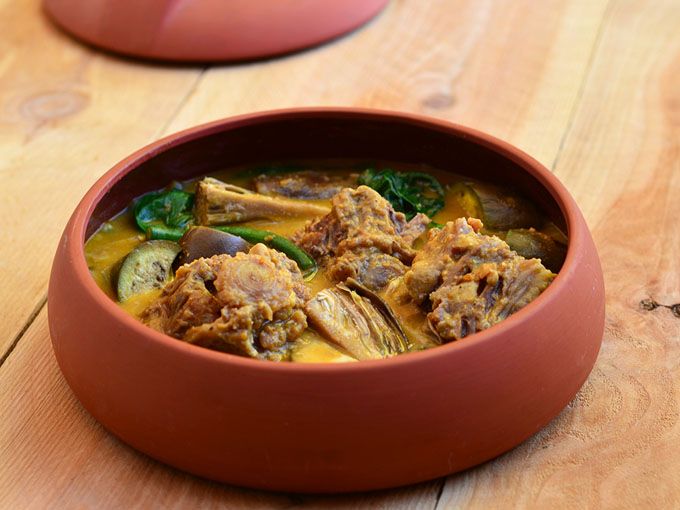 The next main course dishes in Philippines are kare-kare. The Philippines will never end with mouth-watering processed meats. Kare-kare is a dish that you will often encounter when visiting this country. How come you don't often come across this one dish that is always on the menu of a restaurant or food stall? Which you don't need to worry about the taste. In addition, this dish is often served with various kinds of meat. Because many tourists have their own tastes. Therefore, kare-kare is usually made from beef, chicken, and pork. In addition, the kare-kare in this Filipino dish is an adaptation of an ancient Indian dish. And until now this dish is often known as kare-kare.
9 of 11
Longganisa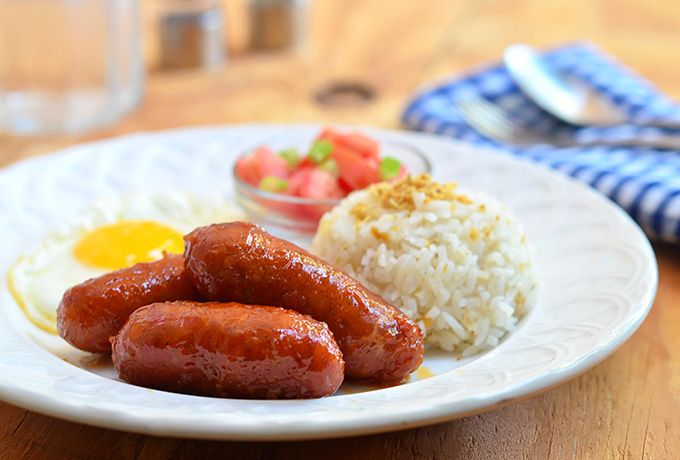 Processed meat, one of which is sausage, is a dish that is easy to make and serve. Longganisa is a typical dish from the Philippines which is quite famous for its delicious taste. The delicacy of this dish lies in the herbs and spices in the manufacturing process. Because of this, this dish has an authentic taste until now. Besides that, the spices to make this dish include lean meat, black pepper, onions, sugar, salt, and many more. Moreover, longganisa is often served with processed pork. However, you can also choose longganisa made from beef and chicken.
10 of 11
Chicken Inasal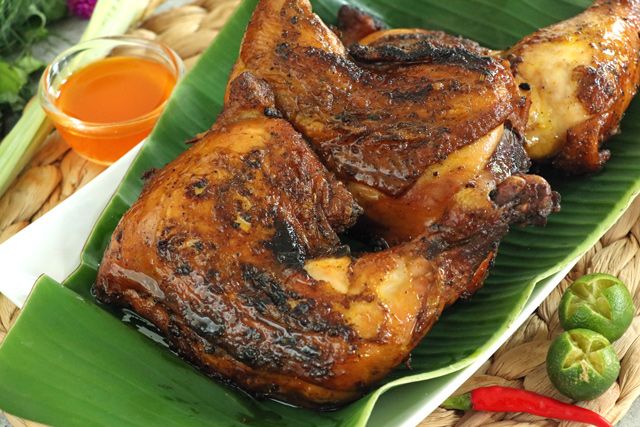 The last main course dishes in Philippines is chicken inasal. This list also ends our discussion of the main dishes in the Philippines. Chicken inasal is processed chicken meat that is roasted and soaked in vinegar. And not only vinegar, other spices also add to the delicious taste of this grilled chicken. In addition, even before roasting the chicken has been smeared with this country's special sauces. With this in mind, this dish is very appetizing in the tongues of the people of this country.
11 of 11
Thus our discussion of 11 Must-Try Main Course Dishes for Best Experience in Philippines. Food cooked by Filipinos will have its own taste. Not everyone can make this hearty dish with a Filipino taste. For that, it will be very helpful for you to read this article to map out the main dishes in Filipino restaurants. Apart from that, you can also enjoy the core dishes above, not always at restaurants, but also at street food and traditional markets. This signature dish from the Philippines will never fail to amaze you when you eat it. Therefore, invite family, friends, partners or go alone to the Philippines. Enjoy your dish!