Foodntravelling.com –  Austria has an abundance of heart-warming food that is loved by all Europeans. When you come to Austria, you do not wanna miss visiting the best beer garden in Salzburg. Here we will guide you to know more about Austrian cuisine and culture. You might not expect there is a really cool place to enjoy the best Austrian traditional beer behind the quiet giant door! It's a typically European hidden gem for food lovers!
Eating outside and enjoying the natural beauty is the family aspect in Austria. When we come to Salzburg, Austria, make sure do not miss visiting the beer garden. There we will be able to feel an eating and socializing experience in this beautiful country! In this writing, we will be sharing with you the best place where you can have a good beer and taste Austrian culinary. Unfold your journey in this historical and lovely city!
What is a beer garden?
The beer garden is a common authentic brewhouse (Gasthaus) in Austria. It is an open-air garden that provides lots of tables and chairs serving traditional Austrian beer. They have one of the best beers in the world which is fresh out of the barrel. Enjoying the fresh classic beer in the lush outdoor spot is part of the culture in Austria!
Eating and socializing culture in Austria
Austrian is well-known for their eating and socializing culture. In Salzburg, there are many beer gardens to enjoy the drink and simple food there. But, more than that, they love having meals together outside in the garden and having quality time with family and friends. It is such a beautiful social gathering custom in Austria. So, when we travel, never miss experiencing eating and socializing in a beer garden!
Best Beer Garden in Salzburg
Traveling around Europe feels incomplete before visiting Austria. The beautiful place where the great musician ever lived there in Salzburg, who does not the masterpiece Wolfgang Mozart, the greatest musician in history! Well, more than music, Salzburg offers a lot of heart-warming food and beautiful eating outside customs that we could find the brewhouse all around Salzburg! Here down below, we will be sharing with you some of the best beer gardens in Salzburg and some food you will love to eat!
Augustiner Bräu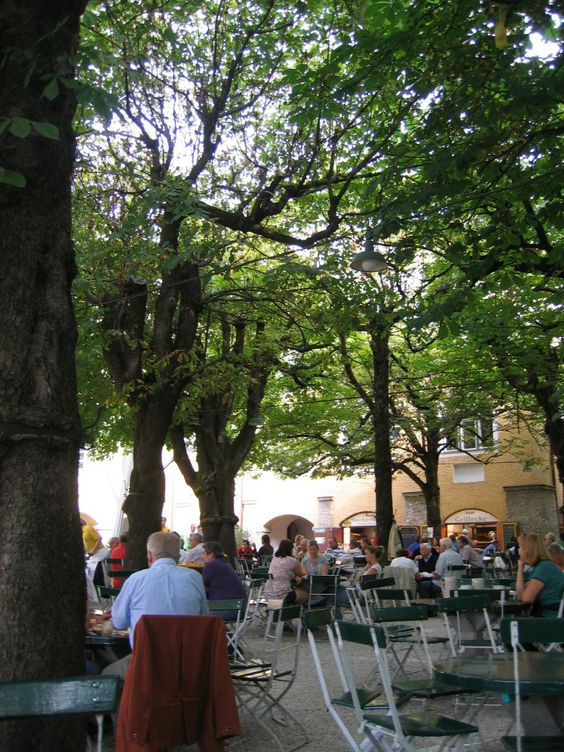 Looking for the best beer garden in Salzburg that serves high-quality and comfort food, one and the only best brewhouse is Augustiner Bräu. Located in the heart of the city, this brewhouse turns into a favorite eating and drinking spot among locals and tourists. There are lots of tables and chairs set up under the shade trees. And there are some food stalls selling grilled meat, Austrian sausages, desserts ready to enjoy your meal for lunch!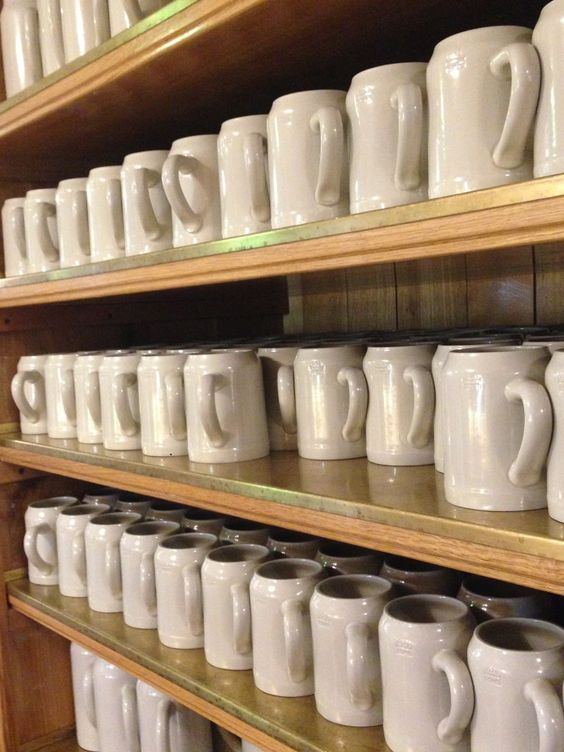 Something interesting about having a beer in Augustiner Bräu, beer garden inn is that we can choose our own cups. From small, medium, and large stein. We can grab the stein we want and then washed up with water. Then, give it to the bartender to fill your cup with the fresh Austrian beer out from the barrel!
The beer quality in this in Augustiner Bräu is so good, it is cool and has lots of frothy taste, that such proof that the beer is in high-quality version. Drinking beer under the lush shaded trees and chit-chat with friends is something we could not miss experience eating local customs in Salzburg!
What we can eat in Augustiner Bräu (beer inn)
Smoked Steckerlfish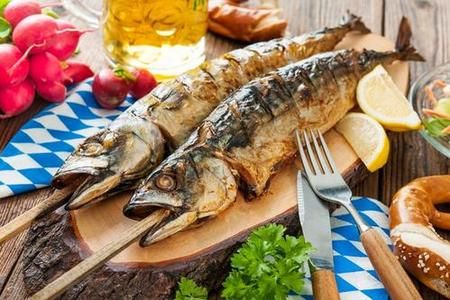 As we alluded to earlier, visiting the beer inn is not all about the food, but respect the ambiance together with beautiful outdoor scenery is the highlight! When we enter this place, we will see lots of people enjoy their meal under the trees while the food court setting perfectly beside. The simple and comfortable dish is the highlight of Austrian dishes. One of the top culinary in this beer inn is smoked Steckerlfisch. It is the river fish that is commonly found all over the Austrian and German river banks. They are stick with a giant wooden skewer and smoked into a golden crisp. When you bite this fish, it's fleshy, salted perfectly and then the squeeze of lemon improves the taste. It is such a simple dish but remains a good food, so let's try this fish when you come to the beer garden in Salzburg!
Viennese sausages
Sausages and Austrian are something that couldn't be separated in daily life. They love the meat product for light meals and heavy dinners. The most popular sausage all over Austria is Viennese sausages. There are lots of selections from original and spicy sausages that will satisfy your taste buds! In the beer garden, you can choose the original or the spicy sausages, and then it is commonly served with custard, tomato sauce, and fries in addition.
Austrian pretzel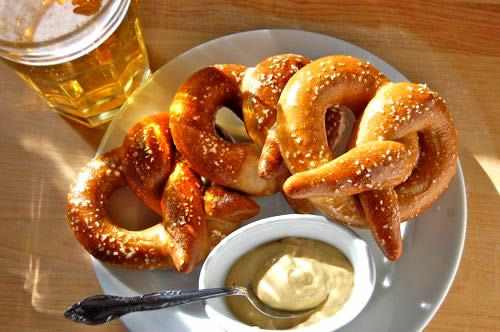 We love to eat pretzels to enjoy after lunch meal is finished or even enjoy the beautiful day outside with a glass of fresh beer! Austrian desserts are well known for their baking good products. Since antiquity, they already know mastering pastries. One of the most popular sweets for snacking is the pretzel. The Austrian bagel looking gorgeously bronze outside topped with sesame seeds and then dip into the creamy mustard sauce, it's so delicious!
Die Weisse Beer inn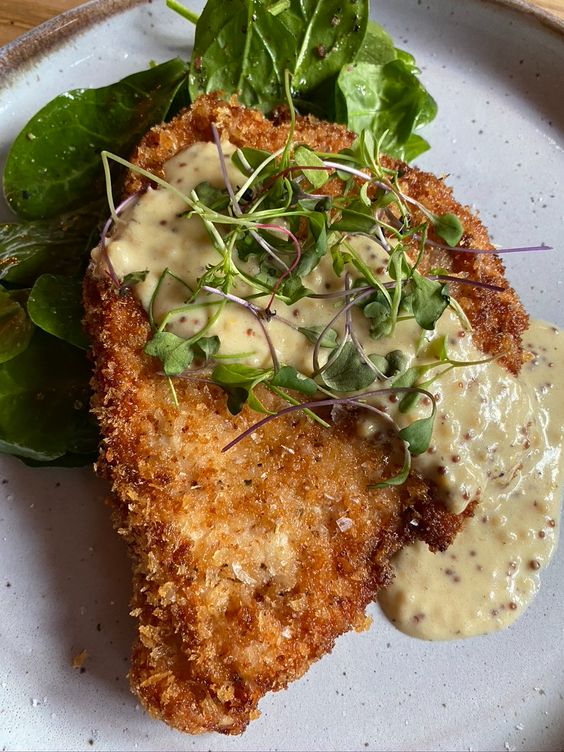 If you are looking for the perfect place to enjoy a good beer at a reasonable price, Die Weisse could be the answer. This brewhouse is located in the town side of Salzburg. There are lots of shaded trees and complete with both indoor and outdoor eating areas. When you come to this beer inn, you have to try their signature, the blonde beer. In addition, we can order chicken schnitzel and bratwurst. Austrian food is so comforting and delicious!
Stiegel-Keller brewhouse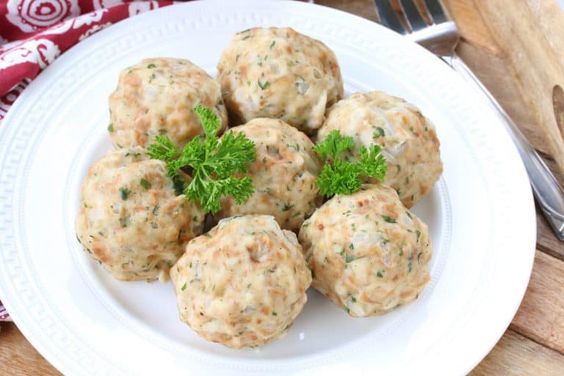 Our next recommendation of the best brewhouse in Salzburg is Stiegel-Keller. This is not the biggest and oldest beer in Salzburg. But, the beautiful location in the town side and then the view is crowned with Austrian hilly castle make it's worth it to enjoy our meal here! Located in the town area, and not as famous as the Augustiner Bräu beer in. The prices on the menu are quite reasonable, and we guarantee the food here is also spectacular! The signature menu in this place is the Austrian dumpling or called semmelknoedel. The heart-warming food packed with pork meat inside and soft dumpling wrapper is such a good treat on a rainy day in Salzburg!
Conclusion
Austria is gifted with the panoramic Alpes view around the cities. One of the biggest and most visited cities in this country is Salzburg. The home to the world musician masterpiece, Wolfgang Mozart, and home to much heart-warming food and beer garden in Austria. There is no doubt to visit Salzburg at least once in a lifetime!
Talking about eating customs in Austria and specifically in Salzburg. Embracing the beauty of outdoor views such as in the park, garden, and many more. It's a family aspect we can feel since we visit Austria. They do respect the eating and socializing aspect of every single day meal they have. Socializing means eating together in an outdoor place having a good conversation while enjoying comfort food!
One of the most well-known beer gardens throughout Salzburg among locals and tourists is definitely the Augustiner Bräu, the biggest beer in the city. The amazing outdoor setting and great eating ambiance make this place is worth visiting experience real eating and socializing in Austria! The smoked Steckerlfish and Viennese sausages are the highlights menu in this garden. And the best thing we could possibly get is the fresh traditional Austrian beer out from the barrel, and we can garb our own stein and washed it down with water before giving it to the bartender. The great service, hospitality, quality food, fresh beer, and great lush garden ambiance will bring the eating experience to the next level! We hope you enjoy the writing and our travel guide about visiting the beer garden in Salzburg!