Foodntravelling.com – This trip will take you to Korea, so fasten your seatbelt we will be landing soon. That's right, now you are in Korea to enjoy all the beauty that this country has to offer. Starting from the natural beauty, variety of tourist attractions, and culture to their traditional food. So, this time we will start exploring Korea starting with their traditional food which is certainly delicious. Therefore, the discussion of what traditional foods will accompany your vacation in South Korea. No need to linger, here are the Top 10 South Korean Traditional Foods with a Flavorful Taste. Let's discuss!
Gimbap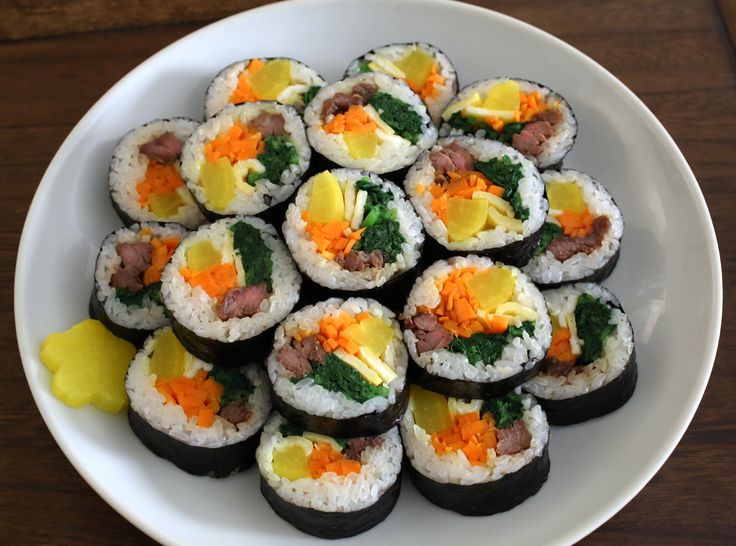 The first South Korean traditional foods is gimbap. You're in a hurry and chasing time to explore Korea today Korea has one traditional food for you to enjoy in a hurry. That's right, this food is called Gimbap, a traditional dish that you shouldn't miss. Even if you are in a hurry, you can enjoy this food because the simple form of this food does not require a lot of cutlery to enjoy it.
Gimbap is made of rice rolled with dried seaweed (nori) filled with several vegetables such as spinach, cucumber slices, and carrots. Not only vegetables, usually the sellers there will serve several choices of gimbap with a meat filling that has been seasoned such as gimbap with bulgogi filling, sea fish, and lobster, not forgetting sliced eggs. For that, grab some gimbap to stock up on your rush trip. Besides being cheap, gimbap is also delicious and nutritious.
1 of 10
Bibimbap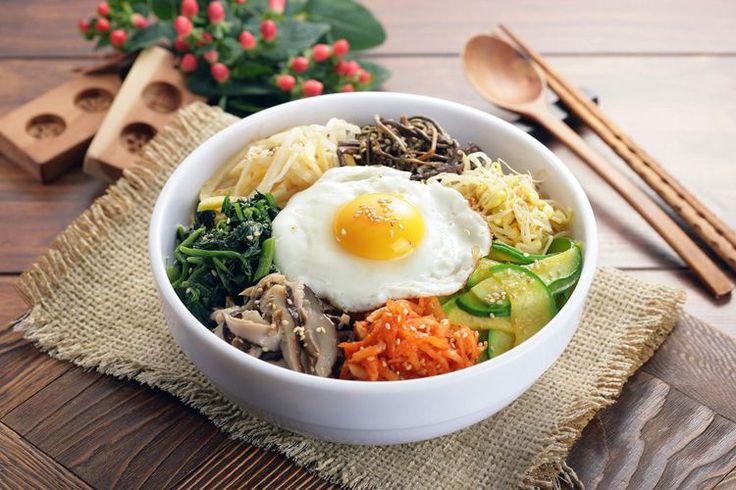 After a trip that is enough to make you hungry again, then you have to take a break at a restaurant and order one food that makes you fresh again. And that food is bibimbap. This traditional Korean food makes you fresher because of its unique presentation. Bibimbap will be served with rice covered with various types of fresh vegetables and lots of it to fill your bowl, plus gochujang sauce (chili seasoning) which you can add as you like.
Then after that, the top dish itself is fried eggs to make this food more interesting. Looks very delicious, doesn't it? Don't forget before eating it you have to stir the rice and vegetables that are full of it together and then you can eat it. After eating this traditional food, you will definitely be excited to explore Korea further.
2 of 10
Kimchi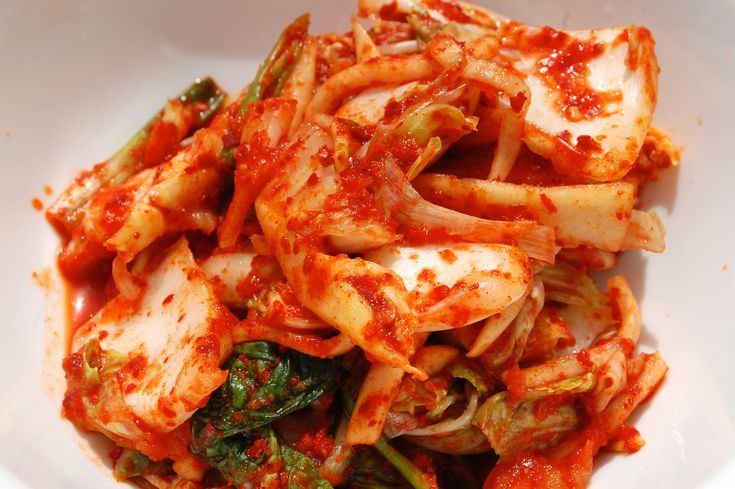 The next South Korean traditional foods is kimchi. On the way, are you still curious about the spicy taste that South Korean cuisine serves you? don't worry you can stop at the nearest restaurant and order this traditional food. Tell the chef at the restaurant you want to order kimchi. Meanwhile, this traditional food is very famous around the world. Because of its unique taste and widely eaten in Korean drama scenes.
Kimchi is made from chicory, radish, and lettuce which is fermented together with chili, garlic, shallots, scallions, and ginger for 18-22 days. Fear not because chefs in Korea know the right way to prepare this dish deliciously. Kimchi will be red because of the spicy chili seasoning. After the kimchi is served, eat it with rice, guaranteed you will add one more serving.
3 of 10
Tteokbokki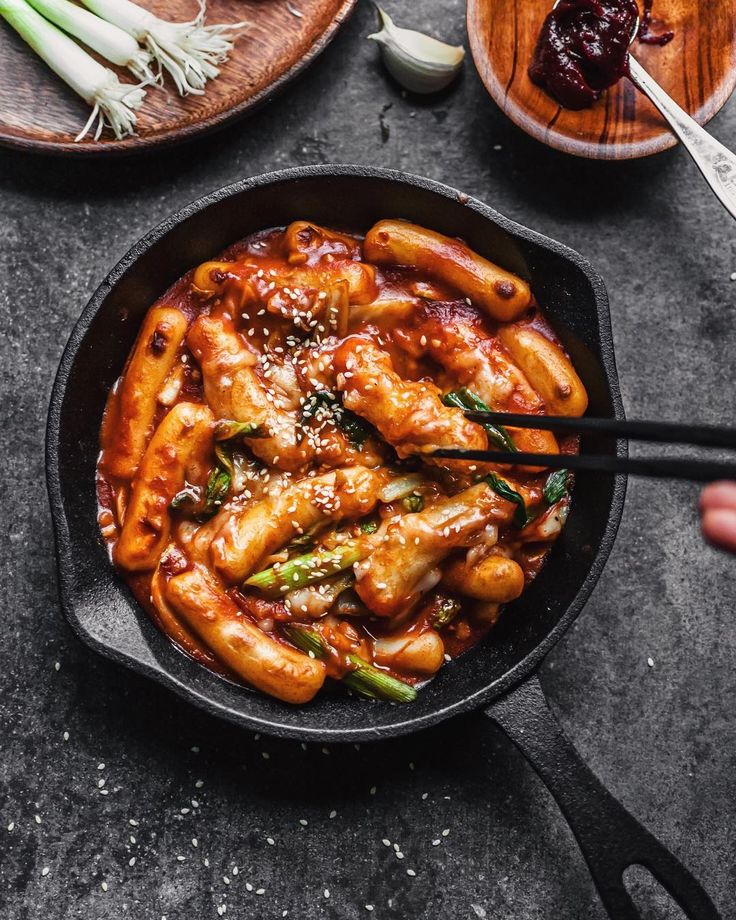 Do you want to visit street markets to try the street food that Korea has but you still want to eat spicy food? well, there is one traditional Korean food that is tteokbokki (rice cake). The way to cook this dish is by cutting the tteokbokki and then frying it with gochujang sauce until it turns red. Usually the seller there will add tteokbokki with a mixture of sausage or boiled eggs. Once you're done cooking, you're ready to enjoy every bite of spicy tteokbokki in your mouth. How are you interested in delicious traditional dishes, right?
4 of 10
Oden
The next South Korean traditional foods is oden. Look beside the tteokbokki seller you will also find an oden seller. Oden is a traditional Korean dish served with tteokbokki. This dish is made from the basic ingredients of fish mixed with flour. Oden can be served fried and then mixed with tteokbokki or boiled with a savory sauce according to your taste. Most oden sellers in Korea are open at night because of the cold temperatures then enjoying hot oden soup will feel more enjoyable to enjoy traveling in Korea.
5 of 10
Samgyeopsal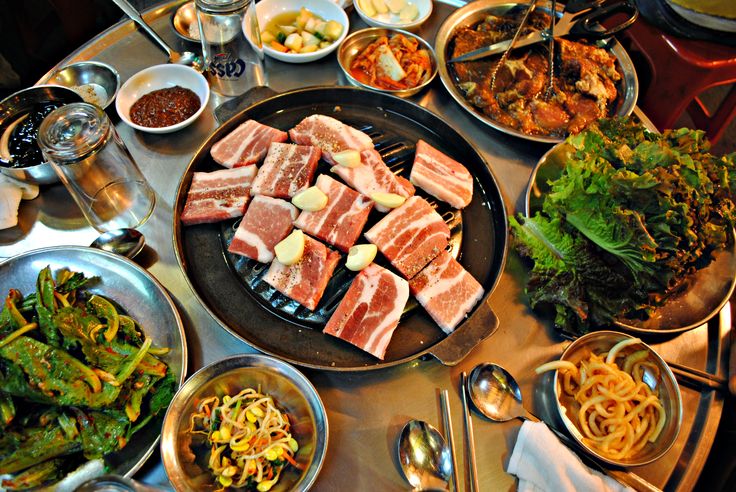 Now you are really hungry and want to eat a lot? go to the all-you-can-eat restaurant and choose the samgyeopsal menu. Yes, that's right, you will be served with typical Korean spices. Samgyeopsal is a pork-based food that you can grill BBQ-style. The taste produced from this meat will make your tongue enjoy the juicy and thick Korean-flavored meat. You will find new flavors that you have never tasted before in other all-you-can-eat restaurants because here you will eat samgyeopsal with kimchi lettuce. So, quickly order samgyeopsal and feel the pleasure of this traditional food.
6 of 10
Gogigui
The next South Korean traditional foods is goigui. If you don't like eating pork, you can eat beef ribs which Koreans call gogigui. Gogigui itself is made from beef ribs that have been layered and then dipped in ganjang soy sauce which adds a savory and Korean taste. Then after the gogigui is seasoned it is ready to be grilled directly over the coals. Unlike the samgyeopsal which is grilled on an iron grill. Restaurants that sell gogigui have their own characteristics. The restaurant will have a chimney that leads directly to the gogigui grill so that visitors will experience a new cooking atmosphere without being surrounded by smoke. Don't forget that before eating gogigui you have to roll the gogigui with fresh lettuce that the restaurant has prepared for an unparalleled delicacy.
7 of 10
Bulgogi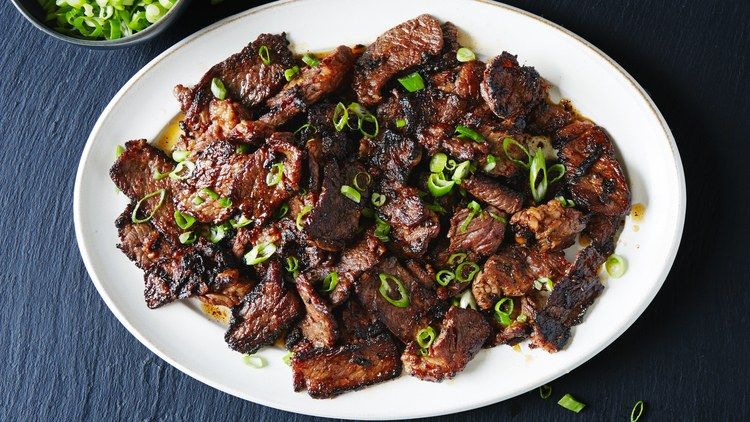 Aren't you tired of baked goods? You will never be bored if you visit Korea. Try one of the traditional Korean foods that are well known throughout the world. Your guess is right. Yes, bulgogi or can be interpreted as grilled meat. If you can't eat pork you can eat this bulgogi. Most bulgogi is made of beef that is thinly sliced and marinated with gochujang sauce, soy sauce, and Korean barbecue seasoning. Once marinated, the bulgogi is ready to bake. Koreans like to eat bulgogi rolled up with fresh lettuce. The taste of delicious thinly sliced beef mixed with barbecue spices then grilled and then wrapped in lettuce leaves you will not stop to eat it.
8 of 10
Naengmyeon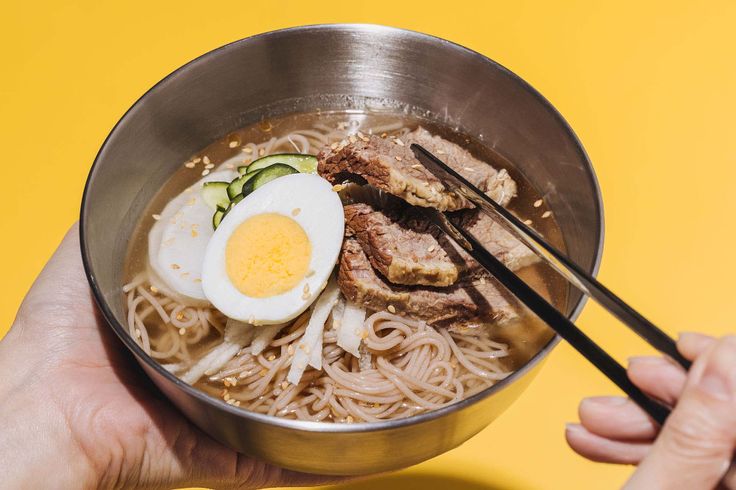 The next South Korean traditional foods is naengmyeon. Are you satisfied with food from meat? It's time to try unique foods that you can only find in Korea. The food is naengmyeon (cold noodles). How can you eat cold noodles? Of course, you can and you should try it. This traditional food is served with noodles soaked in ice water along with vinegar to add a sour taste, radishes add a sweet taste then topped with vegetables such as cucumber and boiled eggs.
The combination of sweet, sour, and savory noodles makes it unique to eating this traditional food. When you order naengmyeon pay attention to the flavor you want to choose, because this dish has two alternatives. If you don't like spicy you can choose mul naengmyeon but if you are a fan of spicy you can order bibim naengmyeon. Be careful this food can burn your tongue.
9 of 10
Jajangmyeon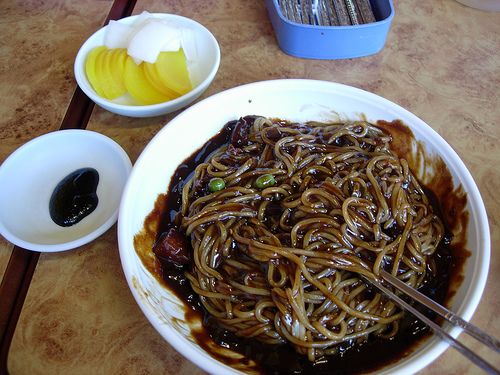 The last South Korean traditional foods is jajangmyeon. Are you still curious about noodles again? No need to worry because traditional Korean food has many types of processed noodles that you must try. You are certainly familiar with the name jajangmyeon food. This dish is very famous in Korean dramas, every film or series there must be a scene of eating jajangmyeon. And this makes this food so popular with people in this country. Then what makes this food so delicious is the black soybean sauce. This black soybean sauce is served with Korean noodles topped with radish, sliced meat, vegetables, and boiled eggs. This combination is what makes jjangmyeon so delicious to enjoy when your stomach is hungry.
10 of 10
Thus our discussion of the Top 10 South Korean Traditional Foods with a Flavorful Taste. Vacationing in the country of South Korea is more fun, while tasting traditional dishes. Besides that, traditional Korean foods will never run out if you haven't explored all of their traditional cuisines. And of course, the taste is delicious and makes you don't want to move to other Asian countries. We hope that from our list of recommendations above, you can enjoy a pleasant holiday in this country. Happy traveling!