Foodntravelling.com – The nightlife in the South Korean capital is never-ending. Especially when you go on vacation here, you definitely need some references to go to the places you want to go. Starting with night tourism destinations, cafes, restaurants, to bars. In addition, the bustle of the city is filled with night lights that attract tourists. This is especially true for nightlife lovers who have unlimited time. Therefore, you will also feel the sensation of having a vacation with local residents in this country. Without further ado, let's get into the discussion 10 Best Tourist Attractions to Complete Your Exploration Nightlife in Seoul. Let's talk about the discussions!
Seoul Sky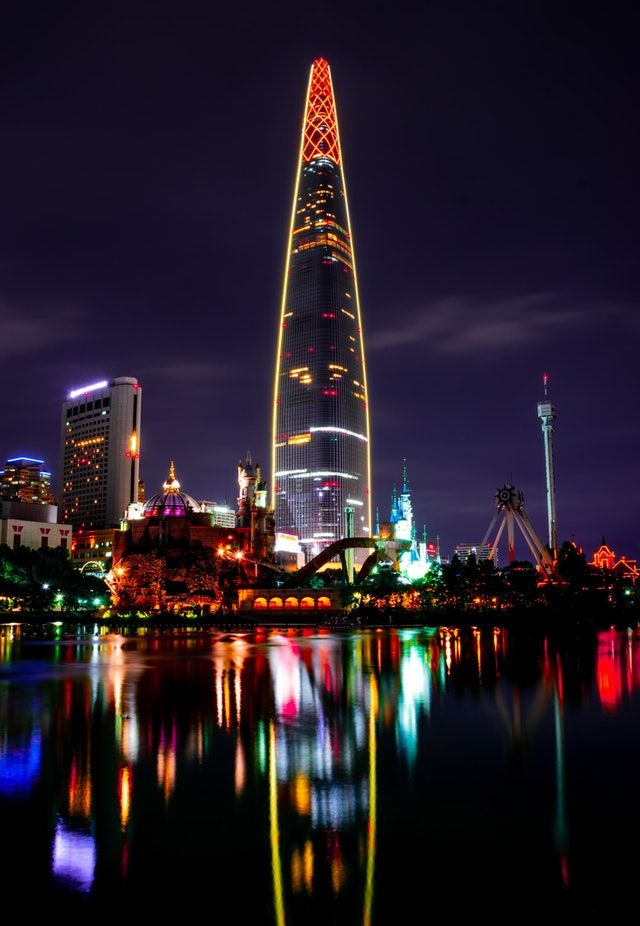 The first tourist attractions in Seoul is a very interesting place for us which is Seoul Sky. This place is one of the places that you must visit at night. For you while exploring this capital city, where Seoul Sky is an amazing place. The amazing thing about this place is that it has 117 floors. However, there is one more floor above that floor, which is the Sky Deck. Therefore, you get things like great nighttime panoramas. Besides that, Seoul Sky is a tourist destination for you to spend in this capital city.
1 of 10
Banpo Hangang Park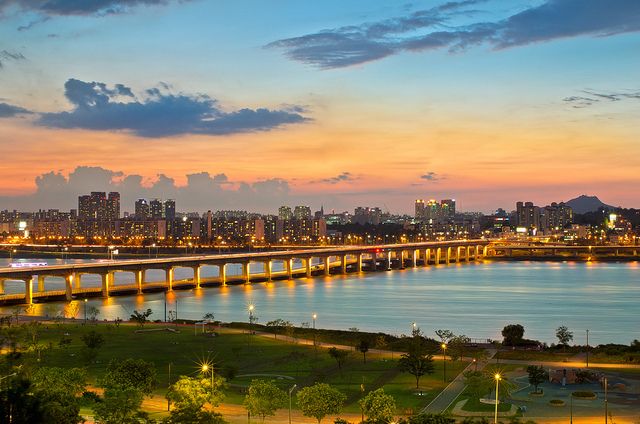 If a visit to Seoul at night is not complete without exploring its beautiful gardens. Banpo Hangang Park is a very beautiful park at night. Because you will be presented with some interesting spots. These interesting spots include a rainbow fountain, a night market in the garden area, and many more. The rainbow fountain is the most important thing that tourists look for. Because the beautiful color combination and the show will amaze you. Besides, when you come in the right weather like summer, Banpo Hangang Park will look beautiful. So, during that season you are obliged to schedule a visit to Banpo Hangang Park.
2 of 10
Naksan Park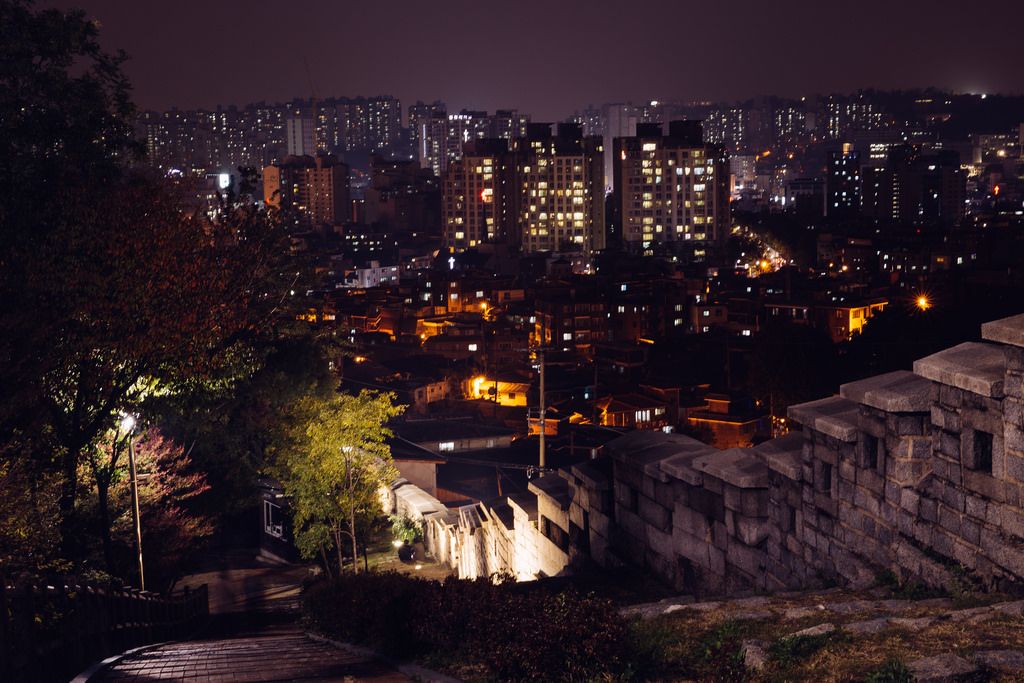 The next tourist attractions in Seoul is Naksan Park. The lights at night make the park in the capital city of Seoul very beautiful. Naksan Park has an attraction that is rarely known by tourists at night. Moreover, we provide this for you to visit this park at night. That's why this park is filled with twinkling lights all over the walls of the fort in Naksan Park. And the interesting fact is if you are looking for peace in the center of town Naksan Park is the right place. In addition, this place is also a romantic spot for those of you who have a partner. So, you must invite your partner or closest person to enjoy the beautiful atmosphere of Naksan Park.
3 of 10
Seoul Jimjilbang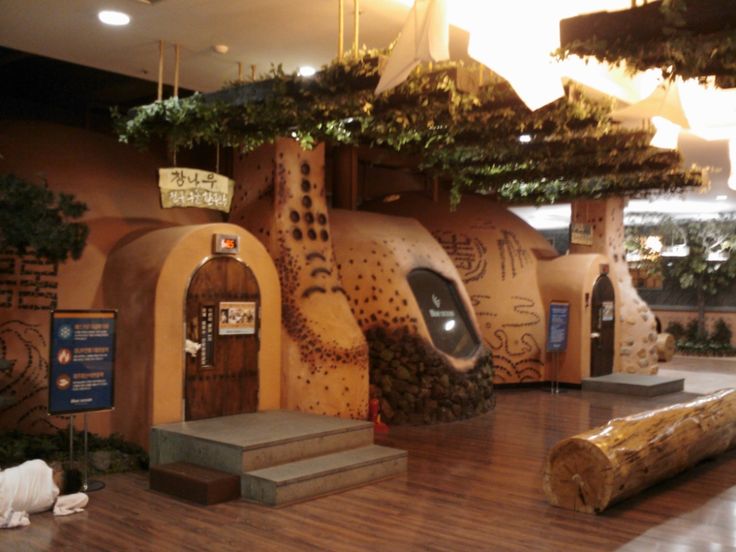 A place of rest and at the same time a comfortable tourist destination is a sauna. Seoul Jimjilbang is a traditional bathhouse that is very unique in the country. In addition, you can enjoy a variety of very enjoyable activities including hot spring baths with bars, swimming pools, gyms, and many more. There are so many things you can do in Seoul Jimjilbang that you feel complete when visiting a tourist destination. Moreover, if you have completed some of these activities, this place provides fun karaoke. And an interesting fact that you need to know about this place is that it is open 24 hours per day. So, you don't have to worry if you don't get a place in Seoul Jimjilbang. And we highly recommend this place to visit at night. Because of this, you can relax your tired body in a relaxed manner.
4 of 10
Bugak Skyway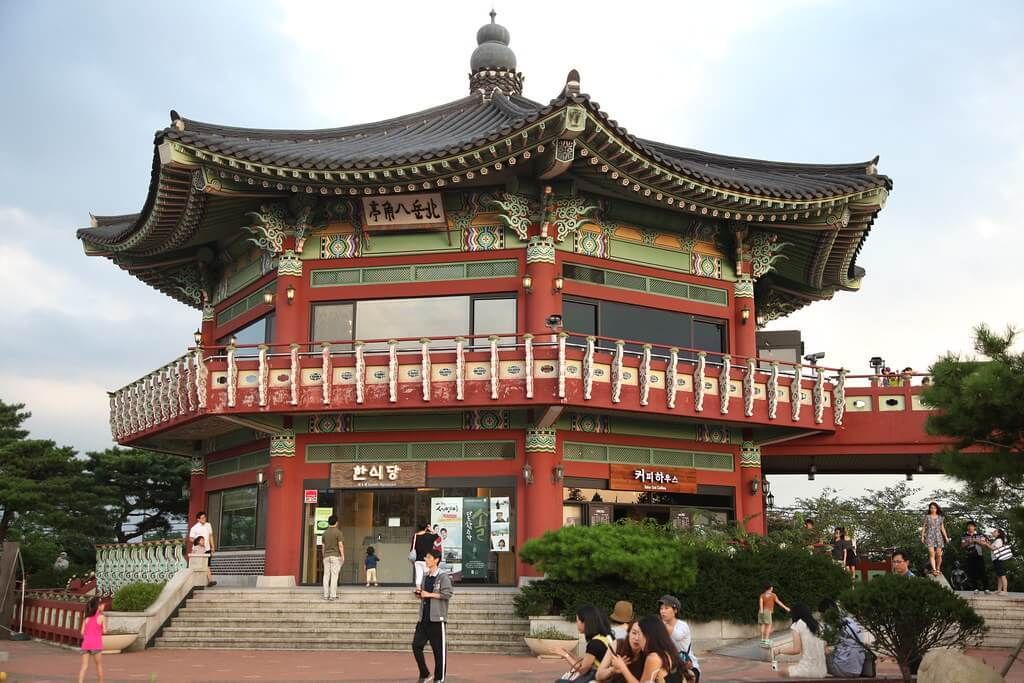 The next tourist attractions in Seoul is Bugak Skyway. This place is located on Mount Nam, which is in the center area of the nation's capital city. With that also this place is perfect for couples who are dating. The atmosphere of this place is very romantic if you bring your partner or closest family. Therefore, when you visit this place, you will often find people in pairs to date. In addition, at night this place is very interesting for you to visit. Because Bugak Skyway is decorated with sparkling lights with beautiful lights. You should not miss the beauty of the night at Bugak Skyway when you are on vacation in Seoul.
5 of 10
Seoullo 7017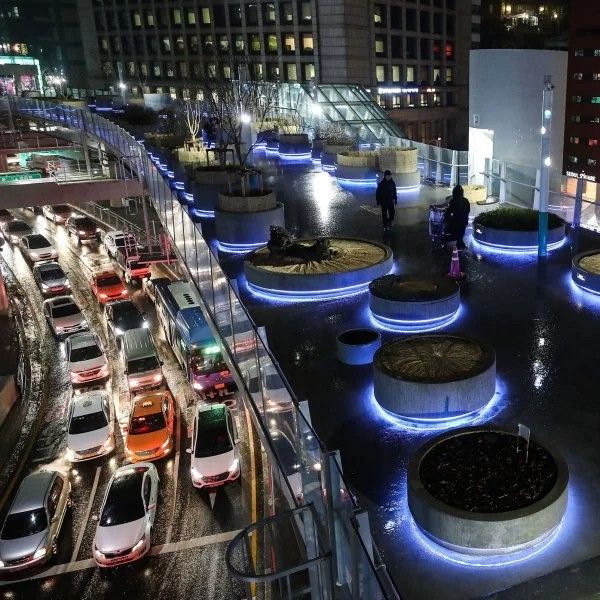 The view of Seoul Station is the main thing that tourists look for when visiting Seoullo 7017. That is also the attraction of this beautiful place. Moreover, this place is a very popular city park in Seoul. So, you shouldn't miss this one of the most popular parks. Besides, the best time to visit this city park is at night. Because at night Seoullo 7017 has a very amazing garden charm. And if you visit on a certain night, you will find a pianist who has very good playing.
6 of 10
N Seoul Tower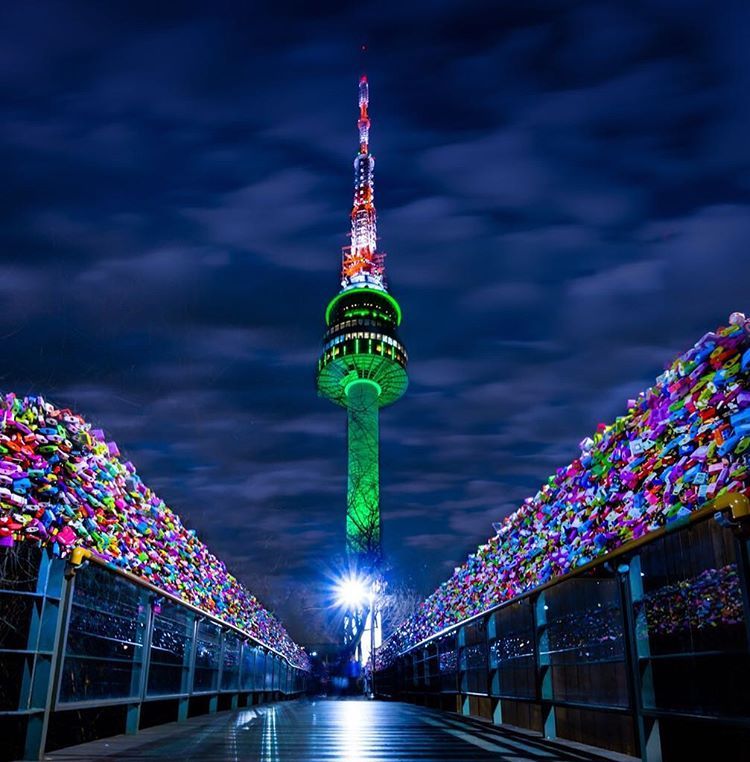 The next tourist attractions in Seoul is N Seoul Tower. If you have visited Paris, you will find a tourist destination that is filled with locks with the inscription of both partners on them. N Seoul Tower is a place that offers that for you. However, in this place, there are not only padlocks but letters or souvenirs from their partners and then hung on the fence in the N Seoul Tower area. After you pass through the gate, you will be taken to a height of 237 meters. This is where at that height you will see an amazing view of the city of Seoul. Especially if you visit at night it will look very stunning.
7 of 10
Yeouido Hangang Park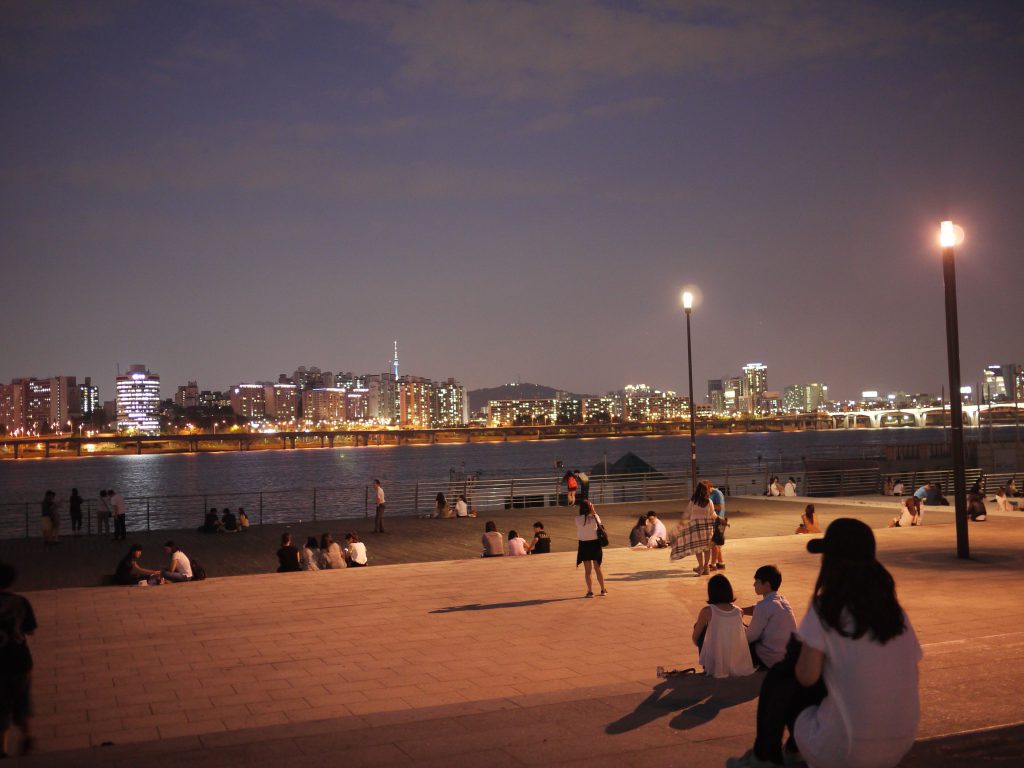 Spring is the most awaited thing when visiting the park. Yeouido Hangang Park is a park that has a variety of beautiful ornamental plants and flowers. In addition, in this garden area, there is a shop that sells a variety of souvenirs that you will take home later. And at nightfall, you will be presented with several culinary activities that are appetizing. Because at night the Yeouido Hangang Park area has delicious street food stands. Therefore, one of these beautiful parks you should not miss while on vacation to Seoul
8 of 10
Myeongdong Nanta Theatre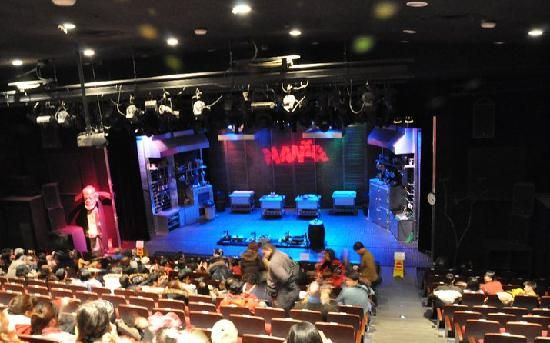 The next tourist attractions in Seoul is Myeongdong Nanta Theatre. The performing arts in South Korean culture are interesting. This place offers things that you must visit at night. In addition, this performing art is in great demand by foreign tourists. Maybe you are a connoisseur of theatrical performing arts, and Myeongdong Nanta Theater is the perfect destination. Moreover, the culture of this country is very thick, and the art that is presented will amaze you. In addition, Myeongdong Nanta Theater has several types, such as comedy to romance. So, prepare yourself to enjoy this very interesting show.
9 of 10
Namdaemun Night Market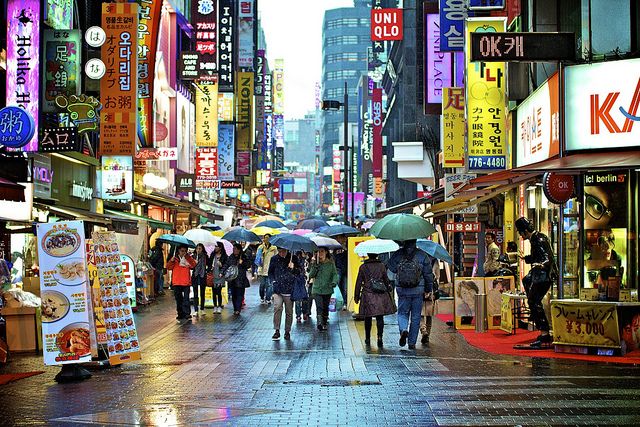 The last tourist attractions are Namdaemun Night Market. Which foreign tourists do not like this one-night activity. The night market is one of the most awaited tourist destinations for tourists. The things that can be obtained from night market activities are very diverse. However, one of the things you will get from Namdaemun Night Market is the culinary tour. Culinary tours were available from Namdaemun Night Market as well as traditional dishes, street foods, to snacks that are typical of this country. With this, tourists don't want to leave the night activities at Namdaemun Night Market. In addition, with this, you can explore more about what foods are found in this country.
10 of 10
Thus our discussion of 10 Best Tourist Attractions to Complete Your Exploration Nightlife in Seoul. Enjoying a holiday with a night atmosphere is indeed a little different than usual. Because at night it has a very interesting atmosphere for those who enjoy it. Therefore, if you are on vacation in this country and are looking for a destination or place you want to go, the list above is the most appropriate thing. Therefore, we hope that with the list above you are able to visit some places with extraordinary nightlife. Happy holiday!